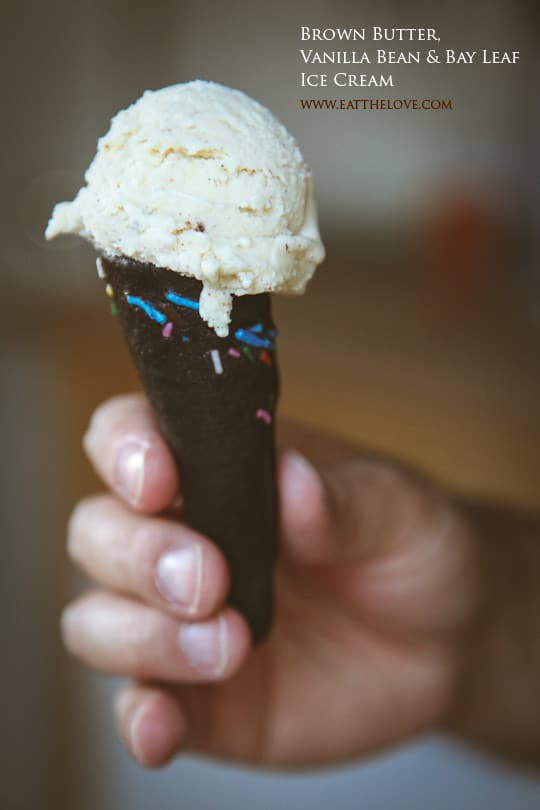 Back in June, just days before I left to go to Maui, I was invited by the California Milk Advisory Board to an ice cream social with a number of other food bloggers. July was "National Ice Cream" month and they wanted to highlight ice cream and Real California Milk, an initiative to promote California dairy products. I had every intention of immediately posting about the event, but then I ended up going to Maui, and it all fell by the wayside, missing my chance to post something during the national ice cream month of July. But really, ice cream is seasonless and as the days get shorter and fall arrives, I still find myself reaching for a scoop of cool ice cream, but not the same bright fruit flavored ones that I craved in the summer time. Recently I decided to churn a batch of a more fall inspired ice cream and thus I give you a sophisticated new favorite: Brown Butter, Vanilla Bean and Bay Leaf ice cream.
Ice cream is such a wonderfully blank palate to work with. San Francisco ice cream shops like Humphry Slocombe, Mr. & Mrs. Miscellaneous and my local fave BiRite Creamery all have pushed the envelope to create some truly fantastic out-of-the box flavors. The ice cream social I attended back in June was inspired by the same creativity, with Pastry Chef Tim Nugent (you might recognize him from Top Chef: Just Desserts, season 1) showing us innovative flavors and toppings to put on our ice cream.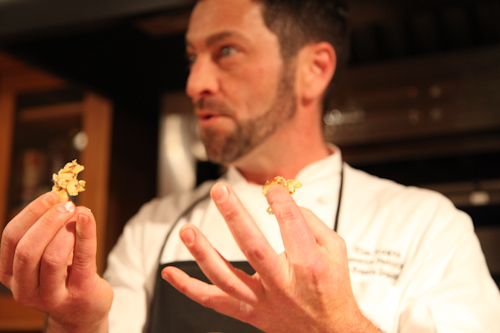 My fellow bloggers and food writers were given samples of seven ice cream combos to taste. Some of my favorites included a salt and pepper sundae (chocolate ice cream w/chocolate syrup, smoked sea salt and pink peppercorns), a tropical sundae called "On the Beach" which featured coconut pineapple ice cream with lemongrass syrup, grilled pineapple and toasted shaved coconut and a brilliant strawberry, basil and balsamic sundae that had strawberry ice cream, balsamic vinegar reduction and deep fried basil leaves. I was pretty enamored with the deep fried basil leaves myself. Chef Nugent (who, by the way, is NOT related to Ted Nugent) also served his own sundae concoction with vanilla bean, pitted bing cherries, fresh almonds, salted almond pralines, whipped crème fraiche and smoked sea salt.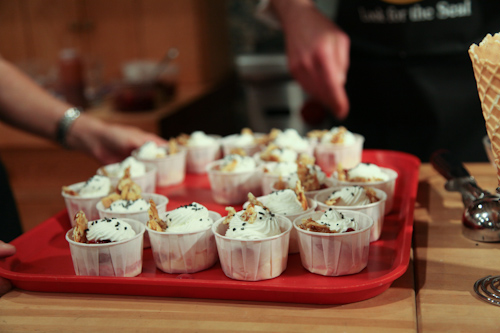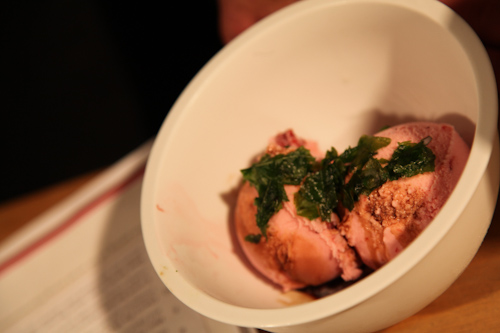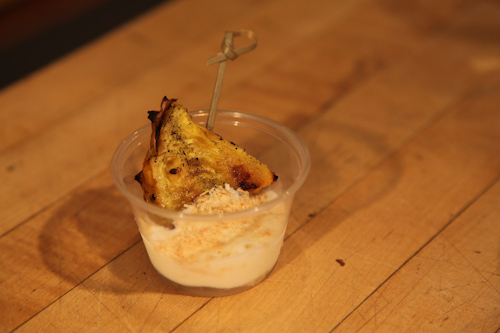 I think everyone at the event was rather sugar buzzed with sample after sample of ice cream, which we couldn't refuse to taste (that would just be rude!). I think some of the bloggers got rather sassy and feisty from the sugar, though Sean Timberlake, Carina Ost, Luna Raven and Amy Sherman are pretty much sassy without any help from sugar. It's probably why I get along with all of them so well.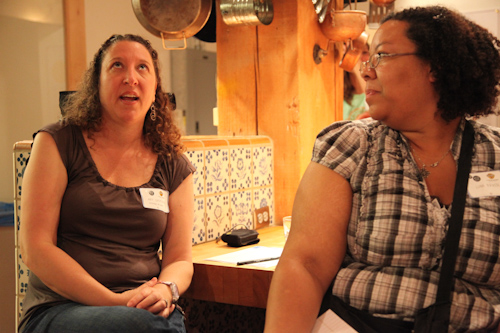 If you've never been to an ice cream social, you're missing out. Not only is it a great excuse to eat ice cream (like anyone needs an excuse to eat ice cream) but you get to explore different ways to eat ice cream. Most of the ice cream flavors at our ice cream social were fairly standard (vanilla, chocolate, mint, pistachio, coffee) but the toppings they provided were nothing but standard. Olive oil shortcake, toasted coconut, meringue with cacao bits, grilled pineapple, the list goes on and on, and pretty much everything was laid out on the table for us to make our own ice cream sundae after the demonstration.
I ended up making a sundae with vanilla bean, caramel sauce, crystallized ginger and pink peppercorn. I've actually been slightly obsessed with pink peppercorn for the past few months so I was pleased to see it available on the sundae bar. But when I decided to make my own ice cream a couple of weeks ago, I wanted a flavor that didn't need to add additional toppings to. Thus the brown butter, vanilla bean and fresh bay leaf.
Fresh bay leaf always reminds me of fall, with it's pungent green aroma. The combination of bay leaf and vanilla really work well together, in a way that most people don't expect. Nutty brown butter ties the two together, grounding the ice cream and giving it legs. Without it, the vanilla and bay leaf would just float in a cloud of heady aroma. But all three together are magical. And though the summer months are behind us, don't let the cooler weather stop you from making ice cream, at least one more time. Trust me, this is worth it.
[Special thanks goes out to the California Milk Advisory Board. They did not pay me for this post, but they did invite AJ and me as their guest to their ice cream social, inspiring me with their wonderfully ice cream combinations. As always, all opinions are my own.]
Brown Butter, Vanilla Bean and Fresh Bay Leaf Ice Cream
By Irvin Lin
Before you even take a bite of this ice cream, you will be immediately hit with its heady aroma. The texture isn't the smoothest, because of the brown butter bits. If you want a smoother ice cream texture, once the custard is made, remove the bay leaves, puree the custard in a blender, and then place the bay leaves back in the custard to steep as it chills overnight. That said, I'm a bit lazy and getting the blender out just seemed like a lot of work, so I left the brown butter bits by itself.
It's important that you use fresh bay leaf in this recipe, and not dried bay leaf, as the dried bay leaf won't give enough flavor to the ice cream. Fresh bay leaves embed an amazing scent that you won't get with the dried stuff, so if you haven't ever used it, now is the time. As always, I recommend top quality ingredients as ice cream is pretty pure and there aren't a lot of filler ingredients to mask inferior quality items.
Flavor combination inspired by a Babbo dessert created by Pastry Chef Gina DePalma
Ingredients
1 cup (225 g or 2 sticks) unsalted butter
1/2 teaspoon sea salt
3 large egg yolks
2 cups milk
1/2 cups heavy cream
3/4 cup (150 g) sugar
2 fresh large bay leaves, broken in half
3/4 teaspoon vanilla extract
1 vanilla bean
Directions
1. Put the butter in a medium sized pan (preferably with a silver base, not a black nonstick base). Turn to medium heat and cook until the butter starts to brown. Once the fat from the butter starts to brown, turn the heat off immediately and swirl the butter around to let the residual heat brown the rest of the butter. If it is taking too long, turn the heat back on to give it a little nudge. Just be careful, as you don't want to burn the butter. You want a golden brown and a nutty aroma coming from the brown butter. Once is reaches that point, remove from heat and sprinkle with the sea salt.
2. Place the egg yolks in a medium heatproof bowl and put the bowl on a silicon heating pad or damp towel to prevent it from moving. Heat the milk, cream, sugar and bay leaves in a medium pan on medium heat until you start to see bubbles form on the the side of the pan. Lower the heat and simmer the liquid (makes sure not to boil) for 5 minutes.
3. After the 5 minutes, slowly pour about 1/4 of the hot liquid in a thin stream into the bowl with the yolks, while whisking them. Once you have incorporated the hot liquid, scrape the yolk and milk back into the pan with the remaining liquid and heat the pan on medium heat for about 5 minutes whisking continually as it cooks. You want the custard to thicken and coat the back of a spoon.
4. Remove the pan from the heat, add the vanilla extract and split the vanilla bean lengthwise, scraping out the seeds into the custard. Scrape the brown butter into the custard as well, and whisk by hand the custard for a full minute (60 seconds) to make sure the butter is fully emulsified and blended into the ice cream custard.
5. Add the empty vanilla bean pod to the custard and then cover and place in the refrigerate to chill and steep overnight. Once fully chilled, remove the bay leaves and vanilla pod and then churn the ice cream as per your machine's instructions.
Makes 1 quart