A couple of months ago, my friend Azmina forwarded me a New York Times article about this crazy new party trend called "Food Swaps" happening all over the country (okay, maybe just in hipster places like Austin, Brooklyn and Portland but still). Azmina had asked me if I knew of one happening in San Francisco, and I said I didn't and we should just start our own. But then, it turns out, we didn't have to, as SF had their very first one last month! I tweeted Azmina about it the minute I found out, (she strangely did not sign up however) but I immediately signed up for myself. Though overloaded with food events that weekend (the SF Food Blogger Bake Sale that I was helping to organize and the Meals on Wheels Gala which I was attending, both of which I WILL be blogging about soon) I carved out some time to bring a trio of jumbo cookies. Included in that pack of cookies was my Blueberry and White Chocolate Chip Jumbo Cookie.
So here's how a Food Swap works. You show up with 5 to 10 items that are prepackaged and ready to swap. You also show up with samples of your item to entice other people into swapping with you. The classic food swap items would be something like homemade jam or chutney, or honey or eggs (if you're the sort of urban dweller that keeps bees on your rooftop or chickens in your backyard – no store bought stuff!). You want to something both unique and individual, but not TOO off the beaten path (show up with something crazy and no one will want it. Show up with something too familiar, and people will ignore it because they can get it at the store. You want to find that sweet spot in the middle.). You spend a little time sampling everyone's wares and you write down your name on a piece paper next to the item offered, as well as what you have to offer as a swap. Not everyone will take you up on your offer, so write down offers on as many items as you want.
The food swap was scheduled from Noon to 3pm and there was also a potluck brunch that went along with it. People brought some fantastic stuff for the potluck part, from maple candied bacon (this went fast! I snagged the last piece) to devil eggs and coffee cake to salads. I brought some leftover muffins that I had rescued from the SF Food Blogger Bake Sale that didn't sell (hey, I didn't have time to make anything! Don't look at me like that). The brunch part was pretty fantastic, with people asking why certain items weren't part of the swap (I TOTALLY would have swapped my cookies for a pack of maple candied bacon – and I was not the only one).
The food swap itself was pretty awesome. I didn't know what to expect but I arrived with five packs of jumbo cookies to swap and an open mind. My friend Sabrina of The Tomato Tart had said she was going to show up as well, but she was overwhelmed with other events going on that weekend and was feeling under the weather. As I walked in, I saw a huge table that was set up, running down the middle of the apartment, loaded with treats. With some trepidation, I thought to myself "oh man, I hope my stuff is worthy of the awesomeness I see before me."
Alone, but open to meeting others, I was happy to run into my friend Mary who had brought some homemade Srirachi sauce (a recipe from the fabulous Andrea Nguyen's blog, Viet World Kitchen). I made sure that I wrote down my name for one of those!
One of the secrets to being a successful food swapper is to have your stuff attractively packaged. The prettier the package, the more likely you'll have someone coveting your item. Being the designer that I am, I had made sure to create a proper label for my cookies, as well as packaged them in a professional manner. This, of course, nearly backfired on me, as I had one woman ask me where else I could get my cookies. I asked her to clarify as I was totally confused by the questions. "Oh you know. Where do you sell them?" I told her that I didn't. I was a food blogger and I don't sell my baked goods commercially. Her eyes widen and she quickly wrote down her name on my paper, as she explained that she had hoped she could just buy my cookies at Rainbow Grocery (a local food co-op) and she hadn't realized that I wasn't a commercial vendor.
Lesson: Make sure your stuff looks attractive, but not TOO attractive/professional I guess.
That said, the food swap items ranged from home jams and marmalade to vanilla extract, savory sweet simple syrups, vodka infused beverages, to candied walnuts, homemade chutney, kimchi, perogi dumplings, enchiladas, pickles, hummus, caramel candies and more. It was hard to pick what I wanted to swap with, and in truth I felt bad that I had only brought five cookie bags to swap.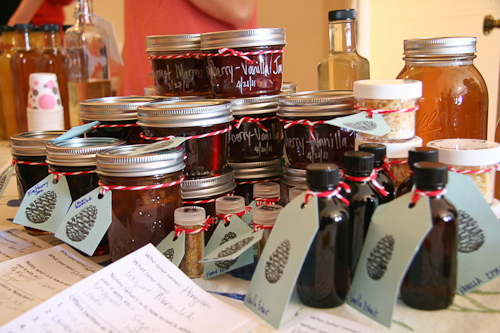 After wandering about, taking pictures and sampling food, I went back to my item and saw that people had not only sampled my cookies, but had written down their names for my cookies! So many, in fact, that they had spilled over to another sheet of paper! Whoo hoo! I was loved.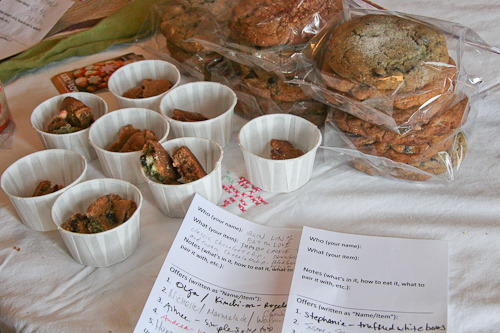 When they announced the items were ready for swapping, people started to bargain and I pretty much made a bee line to the items that I wanted, offering what I had. One of the things to keep in mind is to not take it personal when you ask to swap and people say no. With only five items to swap, I had to be judicious about what I chose and in the end I had to, sadly, refuse someone who has asked me if I wanted to swap. If I had more items, I totally would have taken her offer, but since I was down to one cookie pack, I needed to save it for the savory sweet simple syrup.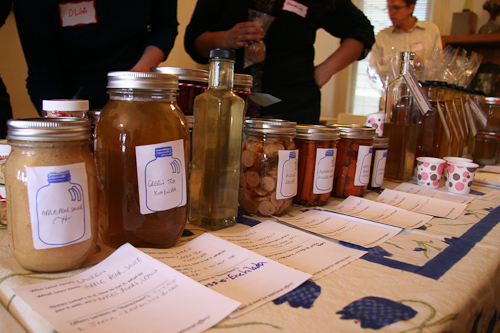 In the end I scored homemade kimchi, vanilla limoncello, srirachi, blackberry jam and a trio of savory sweet simple syrups. There was so much more that I wanted to swap for and I know if I make it to another Food Swap, I'm definitely bringing more items.
For those who are interested, the next SF Food Swap will be held this coming Sunday, June 19th. For more information about it you can pop over to the SF Swappers Facebook page or reserve a space at the event at their Eventbrite page (it's totally free to attend). There will also be a special guest, Kate Payne, the blogger and author of Hip Girl's Guide to Homemaking, who will be there with some of her fabulous books for sale.
For more pictures from the SF Food Swap in May, feel free to visit my flickr page and check out my Food Swap set.
In the meanwhile, if you weren't one of those five people who got my jumbo cookie trio, here's the recipe for the Blueberry and White Chocolate Chip Jumbo Cookie. Enjoy and I hope to see you at the next food swap!
Blueberry and White Chocolate Chip Jumbo Cookie
By Irvin Lin
I made these cookies using a little KAMUT® wheat flour, an ancient flour related to wheat. It has less gluten in it than regular wheat and has more protein. It has a mild buttery flavor and a slight sweetness. I like to use it to give a depth of flavor to regular cookies. You can find it in specialty stores or natural food stores. But if you can't get ahold of it, feel free to substitute 1 cup + 3 tablespoons (180 g) of cake flour in it's place.
This recipe also uses freeze dried blueberries. These are different than regular dried blueberries (which I use as well in the recipe). You can find freeze dried blueberries at specialty stores like Trader Joe's and Whole Foods. You can crush the freeze dried blueberries by using a mortar and pestle, or you can just place them in a Ziploc bag and use a rolling pin or the flat bottom of a drinking glass and crush them into powder. The freeze dried blueberries adds a great violet blue tinge to the cookie and a fruity flavor to the cookie dough itself that you can't get with just the dried blueberries. That said, if you can't find it, skip the dried blueberry powder and add an extra 1/2 cup of dried blueberries to the dough.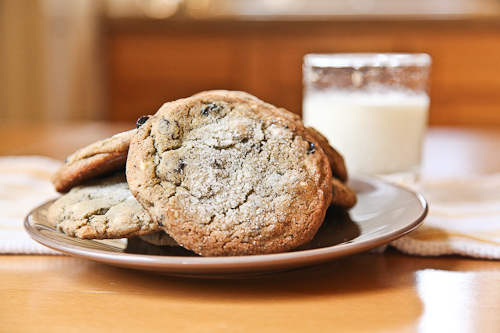 Ingredients
2 cups (300 g) All Purpose Flour
1 cup (180 g) KAMUT® wheat flour or cake flour (see above for substitutions)
1/2 cup (18 g) freeze dried blueberries, crushed into powder
1 1/4 teaspoon baking soda
1 1/2 teaspoon baking powder
1 1/2 teaspoon sea salt
1 teaspoon cinnamon
1 1/4 cups (285 g or 2 1/2 sticks) unsalted butter at room temperature
1 cup (230 g) dark brown sugar
1 cup + 2 tablespoons (230 g) white granulated sugar
2 large eggs
2 teaspoons vanilla extract
10 oz white chocolate chips
1 cup (150 g) dried wild blueberries
2 tablespoons white granulated sugar to sprinkle on top
Directions
1. Preheat the oven to 350˚F and line a baking sheet with parchment paper or a silpat.
2. Place the all purpose flour, Kamut flour, freeze dried bluberry powder, baking soda, baking powder, sea salt and cinnamon in a medium bowl. Using a balloon whisk, vigorously stir until the dry ingredients are evenly distributed and uniform in color.
3.Place the butter and sugars in the bowl of a standing mixer fitted with the paddle attachment. On medium speed, cream (mix) the butter and sugar until light and fluffy, about three minutes. Scrape down the sides of the bowl with a large spatula. Add one egg to the creamed butter and beat on medium until incorporated. Scrape down the sides and repeat with the second egg and then the vanilla. Remember to scrape down between additions.
4. Add 1/3 of the dry ingredients to the butter and beat on slow speed turning up the speed to medium as the ingredients incorporate into the dough. Scrape down the sides of the bowl and then add an additional 1/3 of the batter repeat, beating on slow to medium. Scrap and add the final 1/3 dry ingredients. Add the white chocolate chips and dried blueberries to the cookie dough and turn the mixer on to slow speed, mixing in the chips and blueberries until evenly distributed.
5. Scoop out about a 3 1/2 ounce of the dough and form into a ball (somewhere between a larger golf ball and stingy baseball). Flatten into a disk between the palms of your hand and place on the lined baking sheet. Sprinkle with a little white sugar. Repeat with the dough on the baking sheet, placing the cookies dough about 2 inches apart from each other. Bake for about 13 – 15 minutes or until the edges of the cookie starts to look golden brown. Remove from the oven and let rest on the pan for 5 to 10 minutes to cool before moving them to a wire rack to cool to room temperature.
Makes about 18 cookies.