I've been out of the loop for a couple of months for the Gluten Free Ratio Rally but with the topics of brownies coming up for April, I knew that I had to get back into the game and carve out some time to bake. Brownies, at least the way I love them, are incredibly easy to make gluten free. I prefer a chewy dense brownie, not cakey but not too fudgy. This usually requires less flour and so replacing the all purpose flour with non gluten flour isn't that difficult. The challenge for me was what sort of flavor twist to create. Enter the Blueberry Citrus Marble Brownie, made gluten free of course.
I actually stumbled across the combination of blueberry and chocolate while flipping through a book that I received in the mail called Norwegian Cakes and Cookies by Sverre Saetre. AJ jokes that I get a new cookbook a day in the mail but he exaggerates (it's more like once a week). Truth is, even though I get absolutely positively giddy with excitement every time the doorbell rings and it's UPS with a package for me, a large number of them end up in the stack, under my desk gathering dust. Yes, under my desk, because I have run out of room on my shelf – a sad indication of my cookbook obsession, but really, leg room is underrated. Of course, getting specialty cookbooks that features cuisines that I'm not familiar with are always more likely to get my attention and ultimately get me into the kitchen. Norwegian Cakes and Cookies fit that bill exactly.
It, of course, helps that I actually always wanted to go to Norway, or really any place in Scandinavia, which I mentally lump together (something that I'm sure is annoying to the countries of Norway, Denmark, Sweden and Iceland, just as the Canadians probably find it annoying that everyone thinks they are from the United States when they travel). From their gorgeous fjords on the coastline, to their musical exports of Royksopp, Kings of Convenience, and Annie to the fact that my partner AJ once played a Norwegian patriarch in a play, one of these days I will eventually get myself over to Norway. In the meanwhile, flipping through Norwegian Cakes and Cookies (which, by the way, has more than just recipes for cakes and cookie) I found myself wondering where I could get lingonberries or some of the other specialty ingredients to attempt Chef Saetre's contemporary versions of Norwegian classic treats. Perhaps I might break down and order something online – or brave the crowds at IKEA to see what sort of ingredients they have there.
In the meanwhile, I found Chef Saetre's combination of blueberry and chocolate fascinating. I'm not in love with the combination of berries and chocolates, though I'm not against them like some pastry chefs are. But the ubiquitous strawberry and chocolate or raspberry and chocolate seems to be everywhere. Lesser known is blueberry and chocolate, though I see the combination of blueberries with white chocolate fairly often, and in fact make a pretty tasty cookie with that exact combination. The Norwegian Cakes and Cookies book had it paired with milk chocolate in a truffle form. I took it a step further and went with a dark bittersweet chocolate, while punching up the flavor of the blueberry with both canned blueberries in syrup (which worked out well since blueberries aren't in season) and freeze dried blueberries, trying to balance the assertive flavors of the dark chocolate with the subdued flavors of blueberries.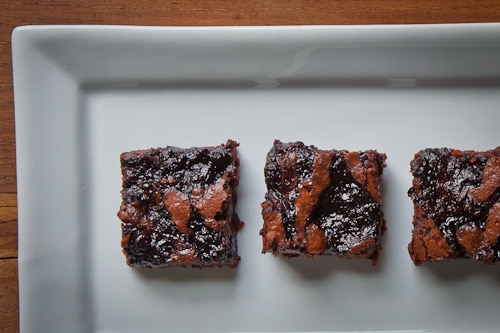 The third flavor in the brownie, which almost gets lost, is a novelty citrus fruit that I found at my local store, BiRite Market. Called a Wekiwa Lavender Gem, it's a cross between a grapefruit and a Sampson Tangelo. The Wekiwa, when cut open, is a lovely pinkish orange color with lavender like aroma. I can't imagine it is easy to find, so feel free to substitute a common lemon, orange, or grapefruit instead of the Wekiwa. However, if you can source it, give it a try. It's wonderful in cocktails and adds a lovely subtle delicate perfume to the blueberry jam as well as a complexity to the chocolate.
As always the Gluten Free Ratio Rally is hosted by a different food blogger each month and this month it's Mary Fran from Franny Cakes. Be sure to bounce over there to check out the other fantastic brownie recipes that everyone has made. I'm glad to be back in the loop and baking away gluten free especially when the results turned out to be as fantastic as they did.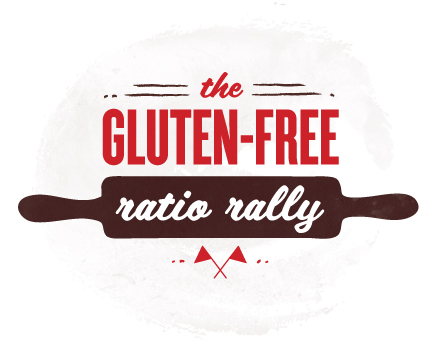 Special thanks goes to Skyhorse Publishing for sending me a review copy of Norwegian Cakes and Cookies. Though I was sent a complimentary copy of the book, I was not compensated or paid for this post and all my opinions are my own.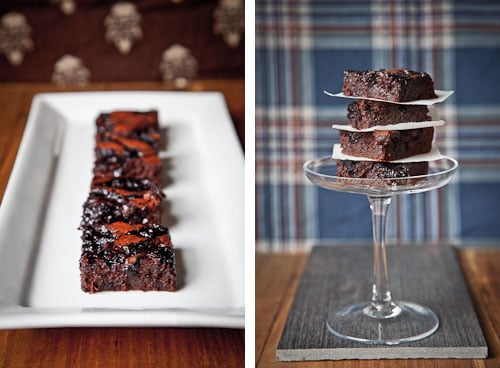 Blueberry Citrus Marble Brownies (gluten free)
By
Irvin Lin
Blueberry and dark chocolate isn't a flavor combination that comes to mind immediately, but I'm not sure why because they work beautifully together in this brownie, with the subtle citrus notes laying low as a secondary subtle read into the treat. The idea behind the Gluten Free Ratio Rally is that everyone picks a ratio and makes the same baked good out of the ratio. You can easily substitute flours in the ratio, meaning if you don't like teff flour or you can't source mesquite flour, you can substitute different flours, just as long as you use same weights. I personally picked flours that I thought would work well with a chocolate, but feel to use what you have on hand, or what you prefer. The ratio I used for the brownie is as follows: Flour 1; Sugar 3; Solid chocolate 4.5; Fat 1.75; Eggs 2.
If gluten is not an issue, feel free to substitute in 50 g of all purpose flour for the quinoa, teff, mesquite and tapioca flours. Also feel free to substitute in a different citrus of your choice in place of the Wekiwa Lavender Gem, which is difficult to find. Freeze dried blueberries can be found at health food stores, high end grocery stores like Whole Foods and specialty stores like Trader Joe's.
Inspired by a recipe from Norwegian Cakes and Cookies by Sverre Saetre
Loosely adapted from a brownie recipe by David Lebovitz from his book Ready for Dessert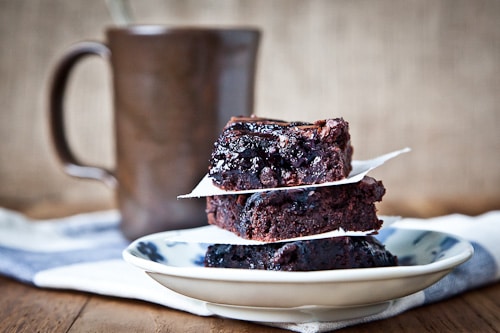 Blueberry jam mix-in
3 tablespoons Wekiwa Lavender Gem Juice (or another citrus fruit juice like orange, tangerine or lemon)
1 tablespoon sugar
210 g (1 cup) canned blueberries in syrup (drained)
8 g (1 tablespoon) tapioca flour
1/2 teaspoon cinnamon
34 g (1.7 oz) freeze dried blueberries, crushed to a powder
Brownie batter
225 g (8 oz) bittersweet chocolate, chopped into 1/2 inch pieces
85 g (6 tablespoons) unsalted butter
150 g (3/4 cup) white sugar
Zest from 2 Wekiwa Lavender Gem (or another citrus fruit like orange, tangerine or lemon)
2 large eggs
1 teaspoon vanilla extract
1 teaspoon chia seeds, ground
1/2 teaspoon sea salt
18 g (2 tablespoon) quinoa flour
18 g (2 tablespoon) teff flour
9 g (1 tablespoon) mesquite flour
8 g (1 tablespoon) tapioca flour
1. Make the jam by combining all the ingredients in a medium pot and cooking over medium heat for 5 to 6 minutes or until the jam thickens up. Remove from heat and let cool as you make the brownie batter.
2. Preheat the oven to 350˚F and spray a 9 inch square baking pan with cooking spray. Line the pan with a piece of parchment paper, letting 2 inches of the paper hang over the edges of the pan.
3. Place the chopped chocolate and butter in a microwave safe bowl and microwave on high heat for 30 seconds. Stir and microwave again for 30 seconds. Repeat one more time and stir until the chocolate and butter are mixed and smooth. If there are any stubborn pieces of chocolate that have not melted, continue to microwave for 15 seconds more, stirring thoroughly between microwaving. If you prefer, you can also melt the chocolate and butter in a metal bowl, placed over a pot of steaming water that is barely simmering (where the bowl is not touching the water).
4. Add the white sugar and zest into the chocolate and beat until is incorporated. Place one egg in the batter and beat until incorporated (about a minute by hand or 20 seconds by hand mixer/stand mixer). Repeat with second egg, beating until incorporated. Add the vanilla, ground chia seeds and salt and beat until incorporated.
5. Add the four flours to the batter and beat vigorously with a wooden spoon or stiff spatula, for at least a full minute by hand, 30 seconds on medium speed by mixer or until the flours have incorporated into the batter and is smooth. Keep in mind that there is not baking soda or baking powder in this batter, so the rising of the brownies is really dependent on you beating the flour into the batter for a full minute by mixing in tiny air bubbles.
6. Scrape the batter into the lined pan and then spoon the cooled blueberry jam into the brownie. Decoratively swirl the jam into the brownie batter with a butter knife, by making "figure eights" with the knife in the batter. Do not overmix though, as you want them to stay separate. Bake for 30 to 35 minutes or until a few crumbs cling to the side of a toothpick inserted into the middle of the brownies. Cool completely in the pan, on a wire rack, until room temperature. Then remove by grabbing the overhanging parchment paper and lifting directly up and moving the entire baked brownies to a cutting board. If you want to get fancy pants, you can even chill the brownies before cutting them, which is easier (the jam and the brownies themselves are a bit fudgy) but I never have the patience for that.
Makes 16 medium sized brownies