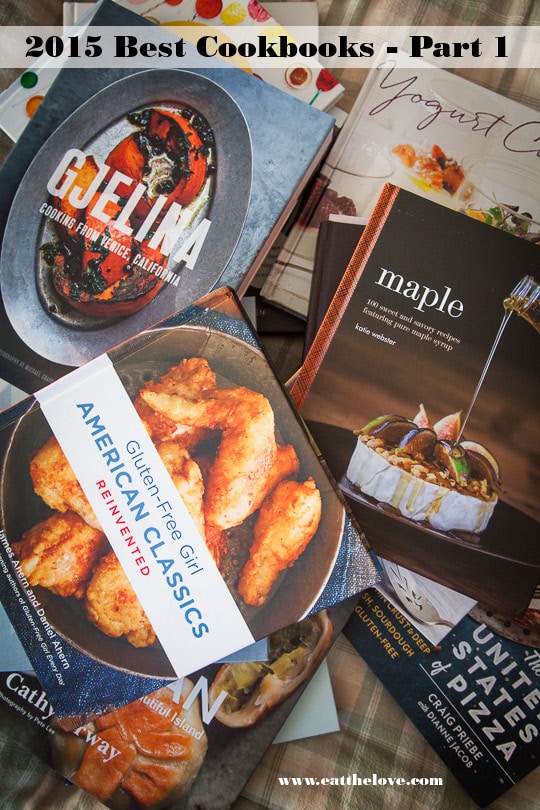 "You have a lot of cookbooks…" said my partner AJ, in what might be the understatement of the year. This year I've accumulated some pretty awesome books and I want to share some favorites with you! Here are my favorite cookbooks of 2015, broken down into 3 cookbook roundups! AND I'm doing an awesome giveaway for each of the roundups. So be sure to scroll down to the bottom of the post for details on how to win THREE cookbooks, as well as check back tomorrow and Thursday for more cookbooks and a chance to win more cookbooks as well! [THIS GIVEAWAY IS CLOSED]
If you don't know my friend Shauna James Ahern over at Gluten Free Girl and the Chef you're probably living under a rock because she's a rockstar. One of my favorite people in the world, her latest cookbook Gluten Free Girl American Classics Reinvented is exactly what it sounds like. Shauna and her husband (the Chef) Danny Ahern went around the US collecting regional classic recipes and reinvented them gluten free! From Chicken Fried Steak to Corn Dogs to Pineapple Upside Down Cake, this book has all the food you grew up reworked gluten free. But honestly, with Shauna and Danny next to you explaining how to make these classics, you won't even know it's gluten free.
If you've ever seen the movie Eat Drink Man Woman you'll know that Taiwan has a long history of mouth watering food. But there hasn't been a lot of cookbooks out there focusing on Taiwanese cuisine. Thankfully Cathy Erway has filled that gap with The Food of Taiwan. From the classic Beef Noodle Soup to Salt Pepper Fried Chicken Bite (which I adapted for my blog), this cookbook explores the deep food culture of the island right off of China. Both my parents are from Taiwan and this book is filled with familiar recipes that I grew up with. I'm thrilled that there is finally a readily available book for all those who are looking to discover the wonders of Taiwanese food and culture.
There are some cuisines and cultures I'm just not as familiar with. Turkey and Turkish food is one of those. I mean, I'm familiar with the classic Mediterranean dishes like dolmas and kebabs but Engin Akin, the "Julia Child of Turkey" dives deep into Turkish cuisine showing the culture and the long history of the country in Essential Turkish Cuisine. With recipes like Cornmeal Pancakes with Anchovies to leek Kofta to Lamb with Quince Leek, this book is my new go-to book for Turkish cuisine. I can't wait to start making some of the dishes and expanding my palette in the kitchen.
I'm a huge fan of homemade pizza so I was excited to hear my friend Dianne Jacob was working with Craig Priebe to write a cookbook on that exact subject. It didn't disappoint Organized by crust and dough, The United States of Pizza has it all! From New York style pizza to Sicilian Style to Cornmeal and even a chapter on gluten free crust, this is book not only walks you through the steps on making awesome pizza crust, but fantastic tasting pizza, all with short stories and locations of where the pizza recipe comes from. Nucci Pizza with baby arugula and capicola is from Varasano's Pizzerie in Atlanta, Georgia while Shrimp Scampi pizza is from Santarpio's in Boston Massachusetts. It's like visiting all the great pizzerias across the country without even leaving your kitchen or home.
I have yet to visit Scandinavia but one of these days I will. Until then I'm loving this explosion of Nordic cookbooks come out and the latest in the batch is Fire + Ice by Darra Goldstein. A glorious introduction to Nordic cuisine encompassing the countries of Denmark, Finland, Norway and Sweden, this book is as gorgeous as the countries that inspired the recipes. Recipes like Slow Roasted Salt Beef and Blueberry Tosca Cake are all fairly accessible and most of them don't need you to track down ridiculous difficult to find ingredients. I'm excited to explore this region of the world that I've always want to know more about.
I once ate at Gjelina in Venice years ago with a friend of mine. It was a memorable experience. Down the street they were shooting a pilot for a show (I don't think it was picked up) and I had just bought a cake stand at a shop where the cake stands were towering all the way to the ceiling. Part hipster, part L.A., part new California cuisine, Gjelina's food is the sort of food I adore. The Gjelina cookbook by Travis Lett has recipes for Rustic Corn Grits with Mushroom Sugo and Poached Egg or Braised Green Chickpeas with Pomegranate and Feta. This is the food that I often crave but don't think about making at home. But with this gorgeous cookbook, now I can.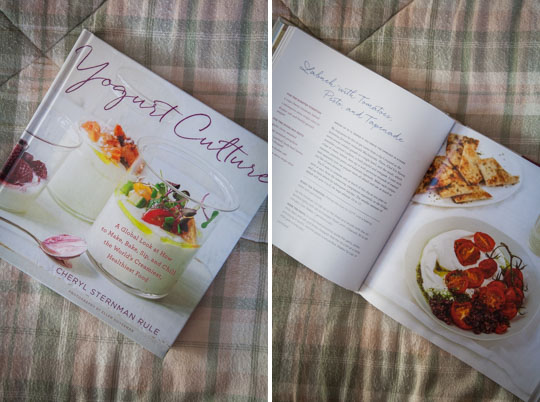 I absolutely adore my friend Cheryl Sternman Rule. She writes the ever brilliant 5-Second Rule blog and her second cookbook Yogurt Culture is equally brilliant. I've never thought about making yogurt at home but both Cheryl, and this book, has changed my mind. I love how Cheryl shows not only how easy it is to make yogurt but also the different cultures (<– see what I did there?) that use yogurt in their cuisines around the world. From sweet to savory, yogurt is everywhere. And this book makes me love the tangy creamy stuff more than I ever thought I would.
Audrey at Home by Luca Dotti and Luigi Spinoa is a collection of recipes and stories about the iconic Audrey Hepburn. This book, written by her son Luca Dotti, isn't just a collection of recipes but rather stories, photos and notes that show a little bit of Audrey the mom and her life outside of Hollywood. The recipes aren't necessarily groundbreaking, but they are classic just Audrey was herself. For everyone who loves to "read cookbooks like a regular book" this is the book for you.
Who knew that Maple as an ingredient could be so versatile? Well apparently Katie Webster of the blog Maple, has 100 recipes that are not only gluten free but paleo friendly as well. But don't let that scare you off if you happen to love gluten and don't care at all what paleo means. The recipes, ranging from sweet to savory, include such gems like Smokey and Sweet Turkey Chili, Maple Tahini Chicken with Broccoli and Maple Apple Almond Torte with Maple Cinnamon Glaze. Luckily I buy my maple syrup by the big jug so I can't wait to dive in and start using this book.
My friend Anita Chu of the blog Desserts First wrote the cutest little book called Lollipop Love and I'm totally smitten with it. With innovative flavor combinations like rosewater saffron lollipops and champagne and glitter lollipop, these lollipops are not only beautiful to look at but make me smack my lips with anticipation of tasting them. If you have any interest in candy making at all, or if you have a friend that is interested in trying their hand on making their own lollipops, this adorable book is the perfect hostess gift or stocking stuffer.
I've been a longtime fan of Joanne Chang and her Flour cookbooks. Her latest book, Baking with Less Sugar focuses on using natural sweeteners as well as little-to-no white sugar. With classic recipes reworked with less sugar (her yellow birthday cake has only 3/4 cup of white sugar in it, while her blueberry nectarine pie only has 1/4 cup of sugar in it) as well as recipes using natural sweeteners like molasses, maple syrup or honey. There's a chapter focusing on just using chocolate and another focusing on just using fruit. For those who are looking to cut down on their refined sugar, this cookbook is the perfect one for you.
Jeanne Sauvage writes the popular blog The Art of Gluten-Free Baking) and her Gluten-Free Wish List is pretty fantastic. Jeanne tackles recipes that people always say they miss when they go gluten free. From pita bread to animal crackers to deep dish pizza, this cookbook is the book you need to get for those folks who lament "oh no, I just found out I have to go gluten free! What am I going to do?" Well, just pick up this book and you'll find that you won't have to go without much longer.
One of my biggest annoyances in the world of vegan cooking is the phrase "you'll never miss the meat!". Yeah, I probably won't miss the meat. UNTIL you mention that I won't miss it. Then I will, because you put the idea of meat in my head. But the cookbook Crossroads by Tal Ronnen avoids this trap. Each recipe is so enticing that I probably would order it on a menu that was laden with other meat dishes. And I'm a pretty big fan of meat. But when you have recipes like Roasted Fennel with Clementine Beurre Blanc and Toasted Buckwheat or Chives Fettuccine and Asparagus, Morels and Prosecco Sauce I'm probably going opting for that dish over some boring chicken dish. If only vegan recipes were more exciting like this, more people would be opting for a plant based diet!
I'm a huge fan of the restaurant Camino over in Oakland and Russell Moore, Allison Hopelain and Chris Colin's This is Camino did not disappoint with their first cookbook. Their warm interior restaurant is replicated in this gorgeous book with recipes that focus on seasonal fresh ingredients with a California slant. This cookbook walks the line between a restaurant chef-style cookbook and a warm comforting accessible cookbook for everyone. The recipes are very detailed but not necessarily complicated and each recipe is packed with information. This is the sort cookbook that not only tells you what to do with the ingredients but WHY you are doing what you are doing (cut the lamb into small 1/4 inch cubes because you want the meat to melt into the ragu, toast some white sesame seeds with black sesame seeds so you can gauge how long you should go). For anyone that loves to cook, this is a must have book.
[THIS GIVEAWAY IS CLOSED. THANKS SO MUCH FOR EVERYONE THAT ENTERED!]
That's it for today's cookbook roundup. Check back tomorrow for another round of awesome cookbooks as well as another giveaway for cookbooks. And now for details on how to win a few of these books!
COOKBOOK GIVEAWAY!
I'm giving away a copy of Gjelina, Gluten Free American Classics and Maple to one lucky reader of Eat the Love! It's easy to enter, all you need to do is leave a comment below telling me the first cookbook you ever bought or received as a gift. Super easy!
You have until Tuesday, December 22nd, 2015 9am PST to enter! (Only one entry per person please.)
The Fine Print
By leaving a comment below to enter, you are agreeing to the Official Rules.
▪ NO PURCHASE NECESSARY
▪ VOID WHERE PROHIBITED
▪ You must be over the age of 18.
▪ This contest is only open to U.S. Citizens. Sorry non-US people!
▪ The contest starts as of today, and will run until Tuesday, December 22nd, 2015, 9am PST.
▪ The combined retail value of everything is about $87.94.
▪ Only one entry per person please. Any additional comments by the same person will be discarded in the final selection process.
▪ The winner will be chosen by a randomly selected comment. All comments will be numbered and I will use Random.org to pick a random number.
▪ The number of eligible comments below determines the odds of winning.
▪ If there's a problem with contacting the winner, I reserve the right to award everything to someone else randomly chosen. So in other words, make sure you type in your correct email address if you want the books and respond within 72 hours to me when I contact you or I'll give everything to someone else.
▪ The prize is being delivered directly from the publishers. If they have not delivered the prize to you within three weeks of me notifying you of winning, please reach out to me again and I will do follow up to make sure everything is OK. Please keep in mind we are all human and things happen. I will do everything within my power to make sure the prize is delivered in a timely manner.
Thank you to Artisan, Chronicle Books; Harper Design; Houghton Mifflin Harcourt; Rizzoli; Ten Speed Press; Stewart, Tabori & Chang; and Quirk Books for providing review copies of the cookbooks above. All books were sent to me free of charge for review but there was no obligation to feature them and I was not monetarily compensated for this post. All opinions are my own and not endorsed by the publishers.
An extra special thank you to Chronicle Books, Houghton Mifflin Harcourt, Quirk Books for providing copies of Gjelina, Gluten Free Girl American Classics and Maple as a giveaway to one lucky reader! You guys are the best!