If you're looking for the best Christmas cookie recipe, look no further, these glazed orange cookies with cinnamon and cloves are THE taste of Christmas! (Jump directly to the recipe.)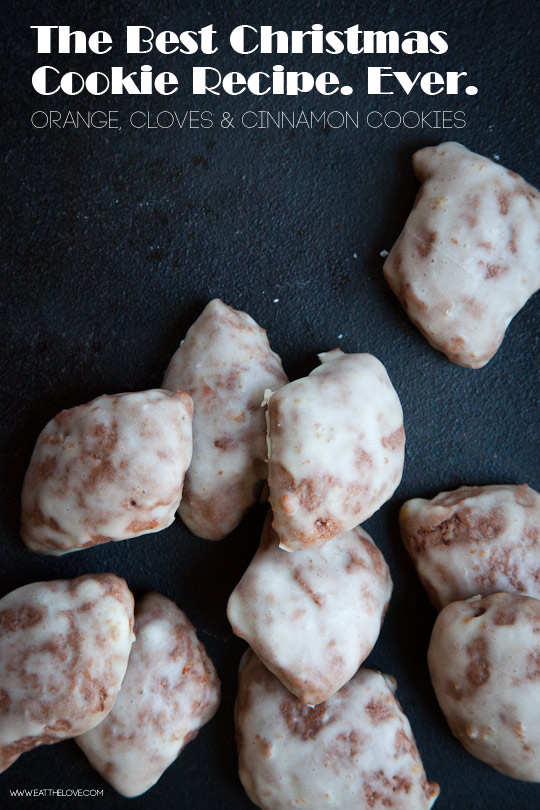 "Those SMELL like Christmas." said AJ when he walked into the apartment after going for bike ride. I had just read my friend Pat's article about the smells of Christmas so I was pleased to hear him say that. In fact, I'm going to throw caution to the wind and call these the Best Christmas Cookie Recipe Ever! These orange and cinnamon cloves cookies DO smell like Christmas, in the best possible way. Even after baking a slew of desserts for my party, I was happy to be back in the kitchen, baking these, and these cookies are the perfect ones to end my run of 12 Days of Holiday Cookies.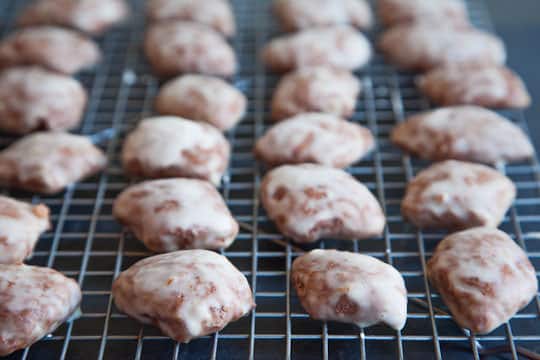 Orange and cloves is a classic Christmas scent like the modern day pomanders  that people make and give out as handmade gifts. I've never been that crafty, and the idea of poking tiny little cloves into an orange sounds a bit tedious but I'm always impressed when I see them at friend's houses. The scent is intoxicating and, of course, is perfect for the holidays.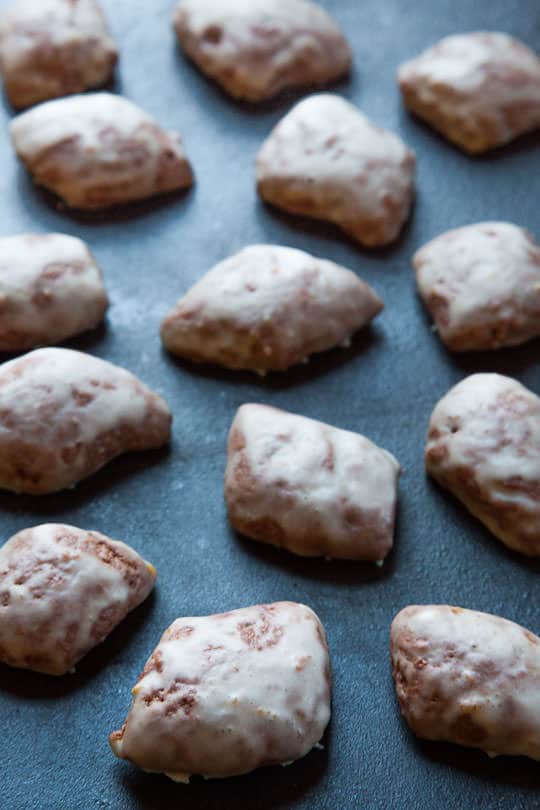 So when I came across a recipe for Pezzetti di Cannelle (little cinnamon cookies) in Southern Italian Desserts by Rosetta Costantino I knew I had to immediately adapt it to include orange and cloves like a cookie form of pomanders. Turns out that the cookies not only smell like Christmas but they taste like Christmas too! AJ took one bite and turned to me and said, "Yep, Christmas is here." See, Best Christmas Cookie. Ever.
Best Christmas Cookie Recipe – Glazed Little Orange Cookies with Cinnamon and Cloves
By Irvin Lin
These deceptively simple bite size cookies smell and taste like Christmas in the best nostalgic way possible. Cinnamon, cloves, orange and a touch of chocolate cocoa make these cookies a great addition to any holiday cookie tin you're making. Or just make them by themselves and inhale (and taste) the essence of Christmas! Keep in mind that you have to let the cookies dry overnight after you glaze them so make sure to allow time for that.
Adapted from Southern Italian Desserts by Rosetta Costantino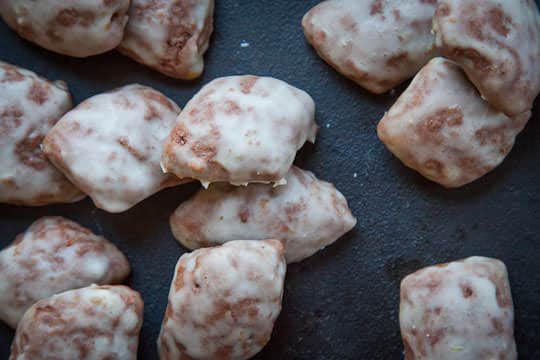 Ingredients
Cookie dough
2 cup (280 g) all-purpose flour
1/2 cup (100 g) white granulated sugar
2 tablespoon Dutch-processed cocoa
2 teaspoon ground cinnamon
1 teaspoon ground cloves
2 teaspoon baking powder
2 large eggs
1/4 cup extra virgin olive oil
2 tablespoon whole milk
zest of 2 medium oranges
Glaze
2 cups (250 g) confectioners' (powdered) sugar
1/4 cup fresh squeezed orange juice
1 teaspoon Cointreau or Grand Marnier (optional, substitute orange juice in place)
Directions
1. Place the flour, sugar, cocoa, cinnamon, cloves, and baking powder in medium-sized mixing bowl. Using a balloon whisk, vigorously stir the dry ingredients together until well blended and uniform in color. Make a well in the middle of the dry ingredients and add the eggs, oil, milk and zest. Using a large spatula, stir until a rough dough. Switch to your hands and start to knead the dough until all the dry ingredients are incorporated. Cover the dough and let rest for 30 minutes.
2. About 20 minutes into the rest period, preheat the oven to 350˚F and line a baking sheet with a silpat or a piece of parchment paper. Once the oven has preheated and the 30 minutes are up, pull out roughly a quarter of the dough and roll it into a rope somewhere between 1/2 inch and 3/4 inch in thickness. Flatten it slightly with your hands until it's about an inch wide and cut the dough diagonally like a diamond about 1 1/2 inch long. Basically you want the dough to be the size of a gnocchi dumpling. Place on the lined baking sheet about an inch apart. Bake for 9-11 minutes or until one of the middle cookies are dry to the touch and feels done. Let rest on the baking sheet for 5-7 minutes, then move to a wire rack. Cool to room temperature (about an hour or more) before glazing.
3. When you're ready to glaze, sift the confectioners' sugar into a clean large bowl and add the orange juice and Cointreau (if using). Stir until the glaze is made. Gently add one cookie to the bowl and toss with the glaze and place back on the wire rack. If the glaze is too thin, it will run off the cookie and you need to add more sugar. If the glaze is too thick you might risk breaking the cookie in the bowl as the glaze won't properly coat the cookie, just thin with 1/2 teaspoon of water, orange juice or cointreau continuing until the glaze is the proper consistency. Once there, add the remaining cookies and toss gently with your hands. Pull the cookies out, one at time and place on the wire rack. Let the glaze harden overnight, for at least 12 hours (longer if your kitchen is humid) and serve.
Makes about 60 small cookies.
If you like these cookies, check out the rest of my 12 Days of Holiday Cookies:
Chocolate Crackle Cookies
Chewy Oatmeal Cookies with Dried Blueberries and Crystallized Ginger
Gluten Free Ginger Snaps
Butterscotch Cookies with Triple Chocolate Chips
Chocolate Double Rye Cookies
Hermit Cookies with Brown Sugar Icing, Dried Cherries and Crystallized Ginger
Chocolate Shortbread Cookies, Aztec Style
Chocolate Chip Oatmeal Cookies with Hazelnuts
Lemon Cookie Bars with Pomegranate Seeds
Mocha Cookies with Dark Chocolate and Pistachios (Gluten Free)
Caramel Bars with Salted Roasted Cashews (and Gluten Free option)
And check out these other awesome holiday cookies from around the web:
Sprinkle Bakes' Chocolate Sugar Cookies
101 Cookbooks' Minty Chocolate Christmas Cookies
Tidy Mom's Red Velvet Gooey Butter Christmas Cookies
Simply Recipes' Walnut Snowball Cookies
Chocolate Chocolate and More's Swedish Christmas Cookies