This Bergamot Orange Thyme Cake with Polenta is incredibly moist and sophisticated with notes of savory and sweet all bundled together. (Jump directly to the recipe.)
I had been in Ohio for a couple of days and I was already impressed with Amish Country. We had stayed at the charming Inn at Honey Run as well visited a small Amish bakery called Miller's Bakery. We took off from the bakery for the next inn, the alluringly named Inn at Cedar Falls after stuffing ourselves with baked goods. I expected rustic and woodsy and it didn't disappoint, but was surprised with the the addition of spa treatments and sophisticated fine dining (no roughing it here!). The dessert we had for our dinner inspired this Bergamot Orange & Thyme Semolina Olive Oil Cake with Honey Vodka Glaze.
The meandering drive through local roads, before we hit the highway, offered plenty of postcard worthy shots, as us food bloggers kept on sticking our cameras out the window to try to capture the scenery. From Amish men walking their horses, to red barns and cows lazing about, every way I looked, I had my camera out taking shots, trying to capture a part of the country I had never seen before. Had they actually slowed down for at ever single picture opportunity, I don't know if we would have made it to our destination at all.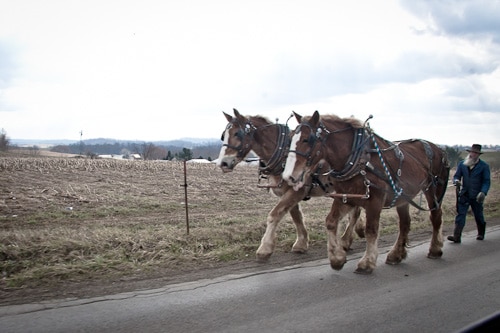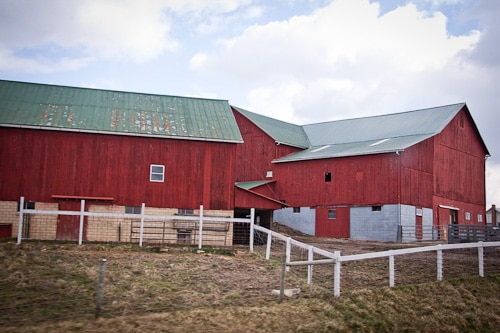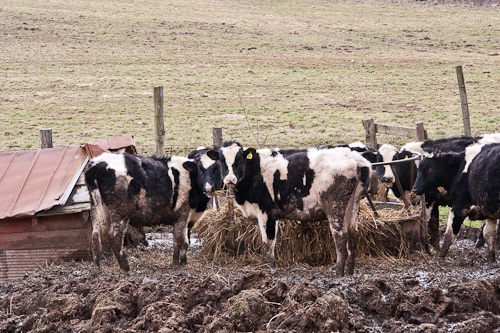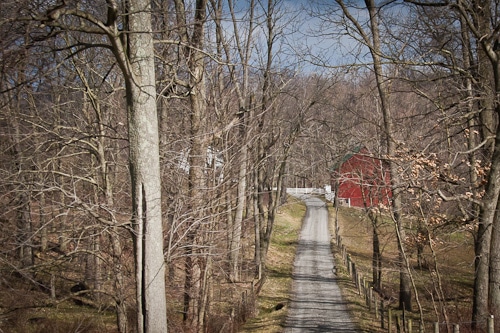 The Inn at Cedar Falls is located, as you might guess, right near Cedar Falls, a glorious waterfall. I've seen my fair share of waterfalls, especially with my trips to Hawaii, but the Cedar Falls hike is pretty spectacular. I can only imagine the beauty of the waterfall in Autumn, walking through the turning leaves, as you hike down to the falls, and then walk under the falls itself. As it was, it was pretty stunning when we saw it. I don't know if my camera did it justice, but I did my best.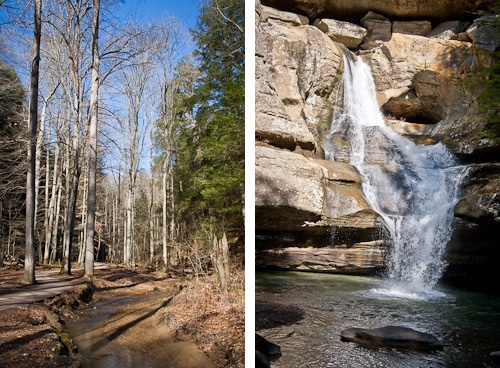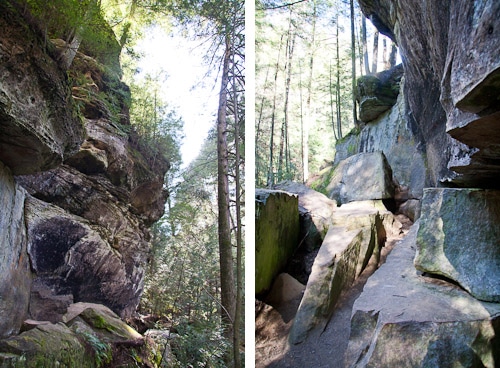 The Inn at Cedar Falls is pretty rustic, but don't let that fool you. I had a wonderful relaxing massage (there might have been some light napping involved with it) and a sprawling grounds and solidly built buildings that made all of us want to curl up and chat late into the night next to the fireplace. Waking up early for the sunrise had me walking with Greg of Sippity Sup to a nearby lake.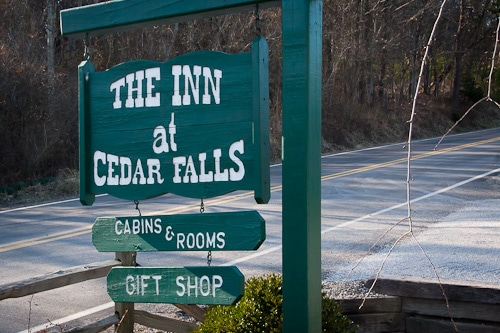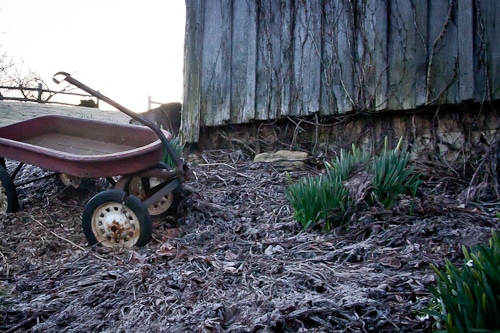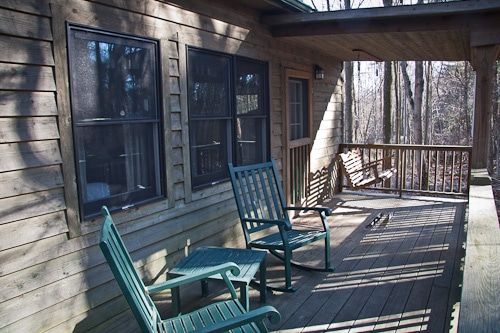 Of course, the highlight (well, one of our highlights) of our stay there was the food. Chef Anthony created a stellar menu, using local distiller Middle West Spirits vodka and whiskey for a memorable experience. Starting with the Bibb Greens salad with OYO whiskey sour vinaigrette to the Cowboy steak with OYO Whiskey Demi-Glaze to the final Lemon Thyme Cake with OYO vodka each bite was better than the last. I had privilege of visiting Middle West Spirits on my last trip to Columbus and their story was pretty unique. The dinner itself had me thinking of all the things I could make with their vodka and whiskey, if only it was distributed out here in San Francisco. Someone get on that!
The next morning, the inn provided us a wonderful down home breakfast to make sure that we were up for the hard arduous journey ahead of us. We were heading to another inn, with food, food and more food. Oh and some more scenery in between. It's a tough life, and I for one thank the Inn at Cedar Falls for taking care of us.
Special thanks goes to The Inn at Honey Run, The Inn & Spa at Cedar Falls and Murphin Ridge Inn for hosting me for this trip to Ohio Amish Country. All travel, accommodations, meals and tours were provided by the hosts. That said, I was not compensated otherwise for what I wrote above and everything I have written is my own opinion. 

Bergamot Orange & Thyme Semolina Olive Oil Cake with Honey Vodka Glaze
By Irvin Lin
The original dessert that was served at the Inn at Cedar Falls dinner was a lemon thyme cake, with vanilla ice cream. You can find the recipe for it over at the awesome Smith Bites who were also on the Amish trip with me. I used the dessert as a jumping off point to create my own bundt cake, with Bergamot Orange, a sour orange most often associated with Earl Grey tea. It's a marvelous citrus fruit but hard to source, so if you can't find it, feel free to substitute a sour citrus like Lemon or Lime in it's place. Semolina flour is a flour most commonly used for making pasta or breakfast cereal. It's normally has coarse texture (though you can find superfine ground semonlina too, which wonderful). I like the texture of it in this cake, but if you don't have any, feel free to make the cake completely with all purpose flour. It will still be wonderful, but might not have the beautiful golden yellow color or slight crunch to it that the Semolina adds.
To Grease Bundt Pan
2 tablespoon butter, melted
2 tablespoon all purpose flour
Olive Oil cooking spray
Cake Batter
280 g (2 cups) all purpose flour
165 g (1 cup) semolina flour
60 g (1/2 cup) almond meal (or flour)
2 teaspoon baking powder
1/2 teaspoon baking soda
1 teaspoon sea salt
400 g (2 cups) white granulated sugar
zest from two medium Bergamot oranges
1/4 cup Bergamot orange juice (roughly from one orange)
1 teaspoon ground dried thyme
1 cup extra virgin olive oil
4 large eggs
1 teaspoon vanilla extract
1 cup greek style plain yogurt (full fat)
Honey Vanilla Vodka Glaze
2 tablespoons Bergamot orange juice (1/2 an orange)
1 tablespoon vodka
1 1/2 teaspoon honey
1/2 teaspoon vanilla extract
40 g (1/4 cup) confectioners' sugar (powdered sugar)
Special Equipment
12 cup bundt pan
kitchen brush
1. Preheat oven to 325˚F. Melt 2 tablespoons of butter and add 2 tablespoons of all purpose flour to it, mixing to make a paste. Brush the paste all over the inside of the bundt pan, taking extra care to brush and cover all edges and crevices. Now spray the entire inside of the already greased pan with olive oil cooking spray (for extra insurance).
2. Place the all purpose flour, semolina flour, almond flour, baking powder, baking soda, and sea salt in a medium sized mixing bowl. Using a balloon whisk, stir vigorously until the dry ingredients are uniform in color.
3. Place the sugar and Bergamot zest in the bowl of a standing mixer fitted with a paddle attachment. Add the dried thyme into the Bergamot juice and mix together with a fork. Add to the sugar and mix on low speed until the sugar starts to look sandy (about 15 seconds). Add the olive oil and mix on medium speed until blended (about 30 seconds).
4. Add the eggs, one a time, mixing between each addition on medium speed until incorporated. Add the vanilla extract and mix on medium until incorporated. Add 1/3 of the dry ingredients to the batter, and mix on medium until incorporated. Add 1/2 of the yogurt to the batter, mix on medium until incorporated. Repeat with 1/3 dry, 1/2 yogurt and ending on the dry ingredients.
5. Scrape the batter into the bundt pan and bake in the oven for 60 to 65 minutes or until a toothpick inserted in the middle of the cake comes out clean. Let cool on a wire rack for ten minutes before inverted and removing pan to cool.
6.  While the cake is warm, make the glaze by mixing the Bergamot juice, vodka, honey and vanilla together in a small bowl. Sift the confectioners' sugar into the bowl and stir until it dissolves. Brush the warm cake all over with the glaze, until the cake has absorbed the entire amount. Serve warm or at room temperature.
Makes 1 bundt cake. Serves 12 people.