Yesterday morning I found myself waving goodbye to AJ as he rode off to Los Angeles, 545 miles away, to raise money for the AIDS Lifecycle. This is his 11th ride and I think every year, I'll be a little more casual about dropping him off and seeing him ride into the distance. And every year it's just as powerful, seeing him and 2300+ other cyclists ride off on their journey to LA (yeah yeah, I got teary eyed again don't look at me like that). Driving home, next to the cyclists I realize that I will be spending the coming week alone, in my home office, without the coworkers of a day job to distract me. And with that thought in mind, I drove directly to the grocery store and bought 6lbs of cherries to comfort me in my loneliness. And though I know I could have eaten them all as is, I actually had been invited to a dinner party later in the evening, so I made a Bing Cherry Honey Sweetened Goat Cheese Corn Flour Tart with Fresh Ground Black Pepper to bring along.
The spring/summer is always an insane time for AJ and I (well, not that fall/winter isn't either, now that I think of it). With the winter months behind us, and the weather (finally) getting warmer, I started seeing spring berries and summer stone fruit coming out at the market. But one of my favorite fruits are sweet cherries. I can eat pounds and pounds of them in one sitting and I've actually skipped meals, eating just cherries alone (this is not good thing. I don't recommend it). AJ usually is around to pull me back from the brink of cherry overload, but the reality happens to be that cherries have a fleeting season and I want to take as much advantage of them as I can.
I rarely bake with cherries, as most recipes call for sour cherries and those are insanely difficult (but not impossible) to find in San Francisco. I do, on occasion, bake with sweet cherries, but the hassle of pitting each individual cherry is a bit of a mental barrier. Once you get in the groove of things however, pitting cherries goes fast (I guess they would go faster if I actually got a cherry pitter, but I loathe to have one more unitasker gadget in my kitchen drawer). But making a tart seemed totally doable, especially since you only have to pit enough cherries to cover the tart with one layer, and besides, baking calms and comforts me. This tart actually uses raw cherries, unbaked, with just a sprinkling of sugar to bring out the juices and a dash of fresh ground black pepper to give the fruit some depth.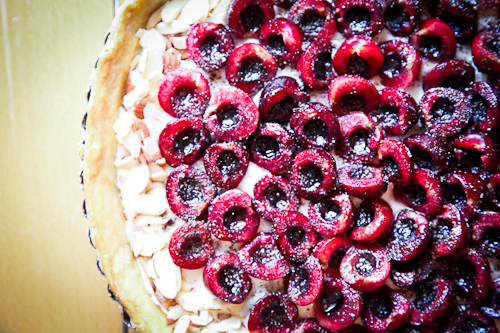 AJ is off on his great adventure, cycling down to LA, where I'll be meeting up with him at the end of the week, which seems forever and day, though I know the time will go quickly. As I putter around the house, alone in my slobby ways (there's no one here to magically pick up all my dirty clothes!), and curl up alone in my excessively large bed for one person, reaching for one more cherry to eat though my stomach is groaning in protest, I'll be thinking of him riding down the coast, raising money to fight a devasting disease that has effect countless of lives. And, I think to myself, my partner is one of the most amazing people that I know. Well, him and 2300+ other people doing the ride as well.
If you'd like to make a donation to help fight AIDS, you still can. Please visit AJ's lifecycle homepage and make a contribution to his fundraising. Thank you.
Bing Cherry Honey Goat Cheese Corn Flour Tart with Fresh Ground Black Pepper
This is one of those tarts that you can throw together in a couple of hours. The only thing that takes a little bit of time is the crust, because you need to let it relax a little in the fridge after you make it. Otherwise the entire thing is easy breezy to make. The black pepper really plays well with the goat cheese. The honey and almond give a subtle sweetness and crunch to the tart. But it's the fresh bing cherries that ties everything together. A little sprinkling of the sugar on top, helps bring the juices out and sweeten the tart from top to bottom.
Corn flour adds a slight sweetness to the tart crust and also decreases the gluten in the crust. Don't substitute masa which is corn flour with lime and water added. If you can't find corn flour, you can just add another 60 g of all purpose flour (1/3 cup plus 1 tablespoon) in it's place but do try to find corn flour if you can. It's a lovely flour to work with.
Tart crust
1/2 teaspoon sea salt
1/3 cup ice cold water
170 g (1 cup + 3 tablespoons) unbleached all purpose flour
60 g (1/2 cup) corn flour (not corn starch, corn meal, or masa)
150 g (1/2 cup + 3 tablespoons) refrigerator cold unsalted butter
1 egg plus 1 tablespoon water for egg wash
Goat Cheese filling
85 g (3 oz) goat cheese
85 g (3 oz) cream cheese
85 g (3 oz or 1/3 cup + 1 tablespoon) sour cream
70 g (2 1/2 oz or 1/4 cup) honey
Cherry Filling
340 g (3/4 lb or 12 oz) of fresh bing cherries (make sure they are firm and fresh)
1/2 teaspoon of fresh ground black pepper
1 1/2 teaspoons of granulated white sugar.
1/4 cup slivered almonds
1. Sprinkle the sea salt in the ice cold water and set aside.
2. Place the all purpose flour and corn flour in a medium sized mixing bowl and, using a balloon whisk, vigorously stir the flours until uniform in color.
3. Cut the butter into 1/4" square cubes. Sprinkle the cubes over the flour, and then, using your hands, toss the cubes with flour, coating them with the flour. Then, using your hands again, squeeze the cubes of butter flat, until all the butter has been flattened. Then start rubbing and squeezing the flour and butter together, until the ingredients start to clump together.
4. Sprinkle the salt water over the dry flour butter mixture and toss with a fork until it forms a shaggy dough. Gather the dough (you may have to press the remaining dry ingredients into the dough and fold them with your hands) and flatten into a 1/2" thick disk. Wrap tightly with plastic wrap and place in the refrigerator for an hour or overnight.
5. Once the dough has chilled, preheat the oven to 375˚F and place a 10" tart pan with a removable bottom on pizza pan or baking sheet for easy removal from the oven.
6. Take the chilled dough out of the fridge and roll it out to a 12" circle. Fit it into the tart pan, being careful that you don't stretch out the dough. Trim the dough around the tart pan, pressing the dough so it lines up with the top of the tart pan. Prick the bottom of the pan with a fork and then line the pan with a piece of parchment paper and fill with pie weights or dry rice/beans.
7. Bake the tart shell for about 25 minutes or until the crust looks lightly brown and slightly dry. Remove the parchment paper with the pie weights and stick the pan back in the oven from three more minutes. During those three minutes, beat the egg with 1 tablespoon of water. Take the pan out after those three minutes and brush the tart with the egg wash. This will help seal the tart crust and and prevent if from getting soggy. Once the tart bottom, sides and top have been completely brushed with the egg wash, place it back in the oven for two minutes more to bake.
8. Remove the tart shell and let it cool to room temperature on a wire rack.
9. While the tart shell is cooling, make the goat cheese filling by placing the goat cheese, cream cheese, sour cream and honey in the bowl of a standing mixer fitted with the paddle attachment. Cream on medium speed until smooth (a few lumps is ok).
10. Cut a cherry in half lengthwise with a butter knife and then twist the cherry to remove one side without a pit. Using your thumb, remove the pit from the other side and place in a medium bowl. Repeat with the rest of the cherries until they are all cut in half and pitted.
11. Once the tart has cooled, spread the goat cheese filling on the bottom of the tart crust. Then sprinkle the slivered almonds in a 1 1/2″ round circle around the edge of the crust. Then place the pitted cherries, cut side up, in concentric circles in the middle of the tart, filling up the center.
12. Sprinkle the fresh ground pepper and then the sugar over the cherries in the middle. Serve at room temperature.
Serves 10-12 people