It's been a rather insane past month and I look at my packed calendar and I realize that I don't seem to have much time in the kitchen to do what I love to do best. Bake. In fact, it was with much sadness that I missed the May's Daring Bakers' Challenge, especially since the recipe seems like so much fun (and my friend Jenny of Purple House Dirt was cohosting it with Emma of CookCraftGrow). But if it's something I learned from my years of expensive therapy, it's that I have to learn to say "no" every now and then – especially for my own sanity. However, I couldn't miss the Daring Bakers' Challenge AND also miss the Gluten Free Ratio Rally. This month we were all tasked with coming up with a variant of pate a choux, a French dough that you make on the stove and then use in a number of ways (cream puffs, éclairs, profiteroles, savory gougères, cruller donuts). It's such a versatile dough and I've used it before to make éclairs and a croquembouche. So this time I decided to go for a savory variant, and made White Cheddar Fennel Gougères stuffed with Porcini & Shallot Goat Cheese.
I'll be honest that I was a little apprehensive about making the gougères. First off, I couldn't pronounce it properly (AJ, who speaks French, kept on asking me why I kept on adding an "R" to the beginning of the word, saying "grew-jerrs" which baffled even me once he pointed it out). Second off, I know that the gluten in the flour is usually what keeps the dough held tight together, as the steam on the inside of the dough causes the pastry to rise. Would the flaxmeal slurry be a strong enough substitute for the gluten?
My fears proved to be unfounded. I knew that gluten free creampuffs were possible, as my friends over at Zest Bakery had brought some to a picnic, post-BlogHer Food 2010 that the famous Shauna had organized. So I pinged them and asked them what flours they used. From there, I reworked their formula, (as they were making sweet creampuffs) and went with some savory flavored flours like corn and garbanzo bean. Done.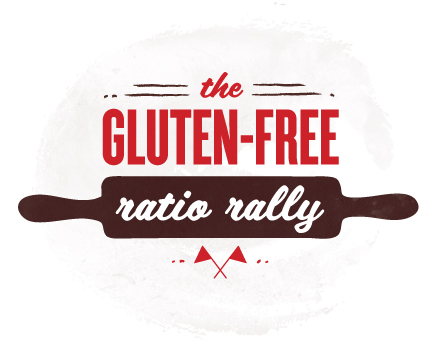 My first attempt came out so great that didn't even bother making another one! A few things I did learn while baking gluten free gougères. The first batch rose higher than the second batch. So if you can use all the batter right away, that's the best way to ensure height. If you do have to do the gougères in batches, make sure to cover the batter with plastic wrap to prevent moisture from evaporating and wait a sufficiently amount of time to preheat the oven back to the initial 425˚F before putting the dough into the oven. Finally make sure to bake them until they sounds hollow when tapped on top and are truly golden brown. The longer you bake them, the drier the gougères are, meaning they are less likely to collapse as they cool.
In the end, I realized that gougères may sound fancy schmancy, but they are nothing to be scared of, even if baking them gluten free. That said, I still can't pronounce them properly so feel free to mock me next time you hear me offer you some "grewjerres."
This month's Gluten Free Ratio Rally is hosted by Erin over at The Sensitive Epicure. You can find her take on Gluten Free Gougeres filled with Herb Goat Cheese Mousse as well as a list of other participants this month on her blog post.
White Cheddar Fennel Gougères stuffed with Porcini & Shallot Goat Cheese Filling
Adapted from Michael Ruhlman's Ratio book. The baking percentages are fairly basic. Flour at 100% Fat 100% Liquid 200% Cheese 100% Egg 200%. Or if you are a ratio person. Flour: 1 Fat: 1 Liquid: 2 Cheese: Egg: 2 (keeping in mind each large egg weighs about 50 g)
The lovely Dorie Greenspan inspired me to create the cheese filling for the gougères. What's great about the filling is that it can be made with any flavoring and herbs that you have on hand. Fresh thyme or garlic would work wonderfully in place of the porcini powder and shallots.
My specific recipe calls for porcini mushroom powder. You can find it at specialty stores and online. It's wonderful for soups, gravys and pasta sauces as well as baking savory items like these gougères.
Gougères Batter
113 g (4 oz or 1/2 cup) milk
7 g (1 tablespoon flax meal)
1/4 teaspoon sea salt
17 g (2 tablespoons) garbanzo bean flour
15 g (1 tablespoon + 1 1/2 teaspoons) corn flour (not corn meal)
15 g (1 tablespoon + 1 teaspoon) potato starch (not flour)
10 g (1 tablespoon + 1 teaspoon) tapioca flour
1/2 teaspoon mixed peppercorns, ground
1/2 teaspoon fennel seeds, ground
pinch of nutmeg
57 g (2 oz) butter
65 g (1/2 cup) grated white cheddar cheese
2 larege eggs (100 g)
1 large egg yolk plus 1 tablespoon of water for egg wash
Goat Cheese Filling
2 teaspoon of olive oil
2 regular sized shallots, minced fine
1/2 teaspoon mixed peppercorns, ground
1 tablespoon porcini mushroom powder
1/2 teaspoon sea salt
85 g (3 oz) goat cheese at room temperature
85 g (3 oz) cream cheese at room temperature
57 g (2 oz or 1/4 cup) heavy cream
1. Preheat the oven to 425˚F and then line a baking sheet with a nonstick silpat or parchment paper.
2. Measure the milk in a glass measuring cup and stir in the salt and flax meal to the milk. Put it aside to sit while you prepare the dry ingredients.
3. Place the garbanzo flour, corn flour, potato starch, tapioca flour, ground pepper, ground fennel and pinch of nutmeg in a medium bowl. Taking a balloon whisk vigorously stir the dry ingredients until they are uniform in color.
4. Place the milk (along with the flax meal slurry that has settled in the bottom) and butter in a medium size pot. Turn the heat to medium high, melting the butter and bringing the milky liquid to a simmer. Once it starts to simmer (do not bring to a boil) lower the temperature to a medium low and add the dry ingredients. Stirring with a heat proof spoon cook the dough until it starts to gather together and feels a little more stiff, about two or three minutes.
5. Scrape the dough to a bowl of a standing mixer, fitted with a paddle attachment. Immediately add the grated cheese and turn to medium, beating the dough for about 30 seconds until the cheese is incorporated and the dough has cooled a bit. Add one egg and do the same. Add the final egg and beat until the dough incorporates completely. The dough will look sticky but that's fine.
6. Scoop, spoon or pipe 1 inch balls onto the prepared baking sheet (I used a 1 inch ice cream scoop, but you can use a spoon if you don't have that, or you can get all fancy and pipe it with a pastry bag fitted with a round tip). Make sure that there is plenty of room for each gougères to expand. I fitted 12 gougères onto a sheet pan.
7. Beat the egg yolk and the water together until foamy. Brush the egg yolk on top of each gougères, using the brush to push down and "tips" or bumps in the dough. You can also wet your finger with some water and use that to push down and irregular bumps on top of the dough.
8. Bake the gougères for 10 minutes and then lower the heat to 350˚F and bake for another 12 to 15 minutes longer, until the gougères are puffed up, golden brown and sounds hollow when you tap them.
9. While the gougères are baking, make the filling by first heating the olive oil in a small skillet on high until the air above the oil gets shimmery hot. Lower the heat to medium low and add the shallots. Cook the shallots until they become translucent, about five minutes.
10. Pour the shallots into a heatproof mixing bowl and add the ground peppercorn, porcini powder and salt and toss until the shallots are coated. Then add the remaining goat cheese, cream cheese and heavy cream and mix with a fork until the filling is an evenly distributed color. Spoon into a pastry bag, fitted with a small round tip.
11. Once the gougères are out of the oven and cooled, stick the pastry bag into the bottom of each gougères and pipe in some goat cheese filling. Serve at room temperature.
Makes 24 small gougères.