Today I enter my "bonus days" of our paradise vacation. I had left for Hawaii on July 1st and we initially had thought we would be staying for exactly one month – July 1 to July 31st. Then we found out that airplane tickets were exceedingly cheaper if we extended our trip to August 3rd. Once we explained that to the person we were renting our condo from, she said that  since we were renting the condo for so long, she'd throw in the extra three days for free! Score! That said, right before I left, I received an email from the editor of Martha Stewart Everyday Food magazine telling me about their most recent special summer edition issue. She wanted to know if she could send me a copy of the issue for my perusal. I told her that I was heading over to Hawaii, but if she could send me a copy before I left, I'd take it along and she made sure to send one overnight to me. Thank goodness because it's pretty awesome. It was what inspired me to make this Tropical Cornmeal Shortcake, with Kiwis, Pineapple and Liliko'i (Passion Fruit), something that I know I'll be making at home, to remind me of our magical trip here to Hawaii…as these bonus days will fly by fast and soon I will be home, without the warm ocean and tropical breeze that I've grown accustomed to.
Hawaii, of course, is full of tropical fruit, and I've eaten a whole pineapple a day for each day that I've been here (luckily the local grocery store Foodland has them on sale for 49¢ a lb, making most pineapples about $3 or less). My pineapple addiction aside, I've also been on the hunt for new and different fruit that I can't get on the mainland, and that's how I ended up with some liliko'i or passion fruit in my fridge. These small alien-like fruit are very unassuming with their speckled skin but the minute you cut them open the room fills with the scent of beautiful floral tropics and the insides of the fruit spill of their crunchy seeds and tangled fragrant juices.
Strangely, most grocery stores on the island don't carry liliko'i but it's easy to find at the numerous farmer's markets around the island. I picked up a bunch for cheap, but I know it can be hard to find on the mainland. If you can track it down, it's worth it. Look for wrinkled ones, as the inside juices are more sweet and less tart (the fruit itself can sometimes be yellow like the ones I found, or a vibrant purple). You can press out the juice through a fine sieve if you don't want to eat the seeds but I happen to like the crunch and textures the seeds give.
The special full size summer edition of Martha Stewart Everyday Food is great not only because of their quick and easy recipes (who doesn't love quick and easy?) but also because it features a number of food bloggers, who I adore. Not only are there recipes from Ree of The Pioneer Woman and Heidi of 101 Cookbooks, but there's a full spread on Aran from Cannelle et Vanille and I adore Aran. I met her in Atlanta at the BlogHer Food conference and she was just as gorgeous and charming as her photographs. It was a thrill to see her featured in the pages of Everyday Food.
The tropical shortcake is actually inspired by the July/August issue of Everyday Food, not the large format special Summer Edition that's out on the stands now. The original shortcake recipe was for a peach and blueberry shortcake, which are some of my favorite summer fruits. But since I'm here on the island of Maui, I figure why not adapt it to my local fruit. Thus the Tropical Shortcake, which let me tell you, is like having a bit of Maui in your mouth. I know you aren't here on the island with me, and soon I'll be leaving paradise as well, but make this and you'll feel like you on a beach, with the ocean breeze blowing your hair back and the sand between your toes. Aloha!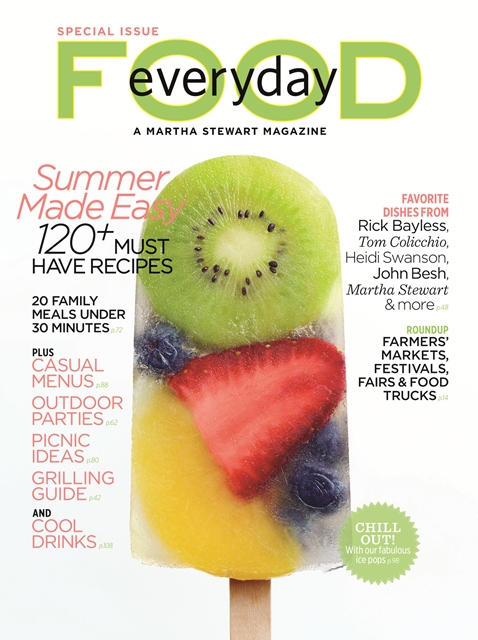 The special full size summer edition of Everyday Food is available in stores now. Martha Stewart Publications sent me a copy of both the special summer edition and the July/August edition of the magazine as a review copy. All thoughts and opinions are my own.
Tropical Cornmeal Shortcake with Kiwis, Pineapple and Liliko'i (Passion Fruit)
This recipe is adapted from Martha Stewart Everyday Food. The original recipe called for peaches and blueberries which I have substituted out for tropical fruit. Feel free to use whatever fruit you have in season. I've also used clobbered milk (milk mixed with an acid – in my case lime juice) instead of buttermilk, which the original recipe called for. I felt the touch of lime juice helped create a hint of tropical flavor. Feel free to substitute buttermilk or make your own clobbered milk with vinegar or lemon juice. I did find the original recipe created way too wet a batter, so I've increased the flour, and I have changed some of the methods on mixing, as my condo's bare minimum kitchen did not have a box grater.
1 tablespoon fresh squeezed lime juice
1 cup minus 1 tablespoon whole milk
300 g (2 cups) all purpose flour
85 g (1/2 cup) yellow cornmeal
25 g (2 tablespoons) white granulated sugar
2 teaspoons baking powder
3/4 teaspoon baking soda
1/2 teaspoon sea salt
113 g (1/2 cup or 1 stick) cold unsalted butter
1 cup (1 pint) cold heavy whipping cream
3 tablespoons confectioners' sugar
1 vanilla bean
3 medium sized liliko'i (passion fruit)
3 medium sized kiwis, peeled and sliced into 1/2" rounds
1 1/2 cups sliced pineapple
Additional 2 tablespoons white granulated sugar to sprinkle on top.
1. Preheat the oven to 400˚F and line a baking sheet with parchment paper or a silpat.
2. Add the tablespoon of lime juice to a liquid measuring cup, then fill the measuring cup to the 1 cup mark with whole milk. Stir and set aside to thicken.
3. Place the flour, cornmeal, sugar, baking powder, baking soda and sea salt in a large mixing bowl. With a balloon whisk vigorously stir the dry ingredients until uniform in color. Cut the butter into 1/4" cubes and sprinkle them on top the dry ingredients and toss them with your hand to coat with the flour mixture. Using your hands, squeeze and flatten the butter and flour until they start to stick together and form a cornmeal like texture. You want to work relatively quickly before the butter melts.
4. Add the milk to the flour and, using a large spatula, quickly mix together until the batter is wet. You may have a few dry spots, but that's ok. Spoon the batter into 6 large heaps onto the lined baking sheet (about 3/4 cup per shortcake). Dip you finger in water or leftover milk and pat down the tops of the shortcake batter. Then sprinkle the additional 2 tablespoons of white sugar on top of the batter. Bake in the oven for 17 to 20 minutes or until the tops of the shortcakes are golden brown.
5. While the shortcakes are baking, place the cream and the confectioners' sugar in a metal bowl. Split the vanilla bean lengthwise and scrape the seeds into the cream. Whip the cream until soft peaks form. Refrigerate the whipped cream.
6. Once the shortcakes are done, remove them from the baking sheet and let them cool to room temperature. Once they are cooled, assemble the shortcake by splitting the shortcake horizontally. Then place some pineapple and kiwi slices on the bottom half of the shortcake. Dollop a spoonful or two of the whipped cream on top of the fruit, and then slice a liliko'i in half. Spoon the inside of half a liliko'i on top of the whipped cream of one cake and then place the top of the shortcake over it. Repeat with the remaining five shortcakes. Serve immediately.
Makes 6 servings