This edible sugar bowl looks like impressive blown glass but is the perfect project for the crafty candy loving person. (Jump directly to the recipe.)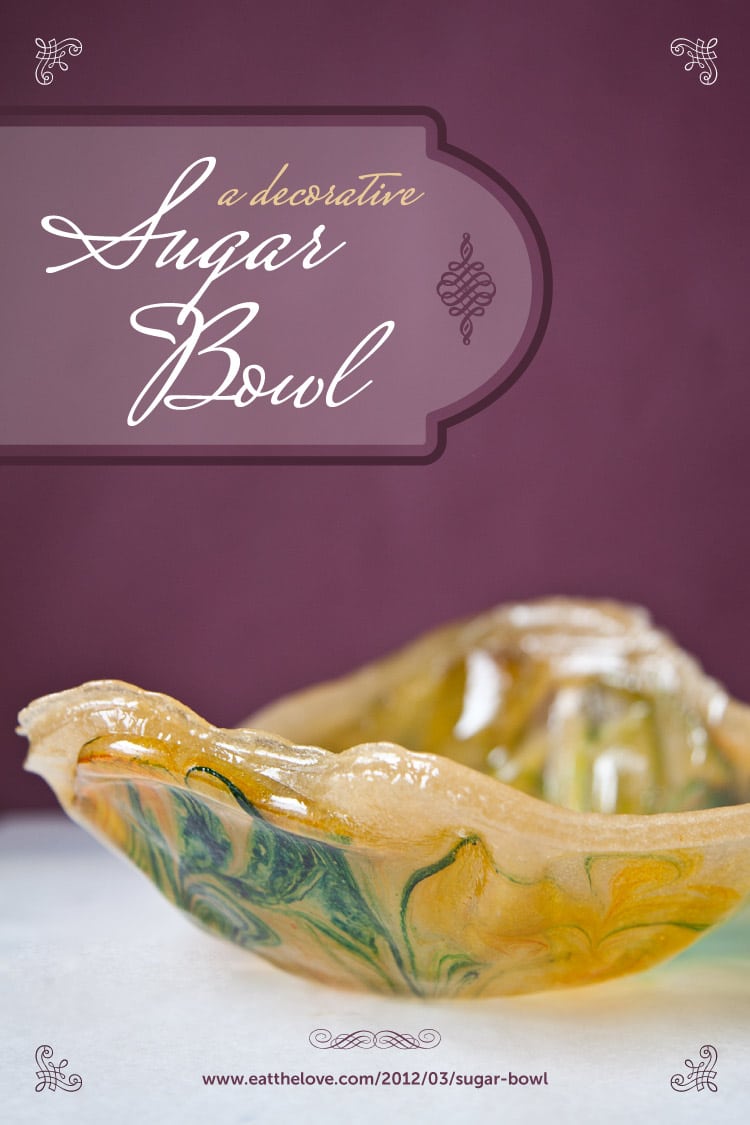 It's my blog-o-versary today. Eat the Love turns two years old. It seems like yesterday that I was just tentatively clicking that "publish" button and then waiting for what ended up being the deafening silence of no one reading it. Undeterred, I soldiered on with the blog, and who would have thought that my life would have changed as much as it has in the two years since. Eat the Love pushed me out of my comfort zone both in the kitchen and in real life. It lead me to enter (and win) baking contests, something I never thought to do. It made me realize it was time for me to quit my day job and see what else the world held for me, outside a corporate desk job. I found myself becoming friends with people who I previously only admired or knew from their cookbooks or online presence. Soon, I was co-leading breakout sessions at food blogging conferences and co-hosting local quarterly dessert events at a non-profit community organization. And now I'm here, after two years, wondering where the next two years will lead me. Hopefully even greater things will happen, and I can't wait to find out. In the meanwhile I wanted to make something special to celebrate my blog birthday. Of course, a birthday cake seemed appropriate but I'll be making cake for the upcoming cake-themed DIY Desserts event at 18 Reasons this Sunday 2pm to 4pm (everyone in the SF bay area should come out and bring a cake or an empty stomach!) so I opted to do something else, something I've always wanted to make. I cooked me up A Decorative Sugar Bowl.
I've wanted to pull sugar ever since I watched the movie Kings of Pastry, with members of the San Francisco baking group The Bakers' Dozen. In the movie, French pastry chefs compete in the Meilleurs Ouvriers de France competition, which basically is the French Pastry Olympics. The chefs have to do a million different things over the course of the competition, but the most breathtaking and challenging is the pulled sugar sculptures that they have to create and then move to the display room. It's a harrowing experience seeing them delicately carry their creations from the kitchen to the display room and let me tell you that the stress involved is nothing compared to the reality food television contests I've seen (or was nearly involved in, but that's a story for another time).
I, of course, immediately declared it my life mission to do a pulled sugar sculpture, and then queried every food blogger I know that had gone to pastry school. All of them said that it was a pretty specialized thing, and there weren't really any specific classes I could take in pulled sugar sculptures. Apparently only fancy pants pastry chefs do that sort of thing, for hotels and special occasion events. All the research I read (ie, Wikipedia) said that it took years to master the technique and it was a dying art as few people did it nowadays and there's wasn't much demand (though apparently there's been a slight resurgence in interest in sugar sculptures because they are featured in some of the chef reality TV shows, so I guess they aren't a complete waste of time). Even the Culinary Pastry textbooks I had scant information on it, with a mere two or three pages about how it can be done.
Then, last year, I received a review copy of the awesome book Sugar Baby by Gesine Bullock-Prado. Those who have followed my blog saw that I included it in my round up of my favorite cookbooks from 2011. Though I've made a few things from the book, the decorative sugar bowl recipe has sitting in the back of my mind as something I've been wanting to make and just haven't gotten around to. Turns out it's not so hard as long as you aren't scared of molten sugar. Melt the sugar with some corn syrup, pour it onto a prepped piece of parchment paper and drop some food color on it and once it's cooled, drape it over a heatproof bowl. Suddenly you have an edible sugar bowl, perfect for any occasion, like St. Patrick's Day, Easter, or, you know, my blog-o-versary. Happy two years Eat the Love. May there be many many more.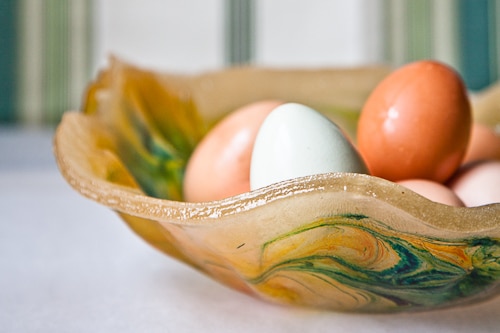 Join me at 18 Reasons for the upcoming DIY Dessert event on Sunday afternoon, March 18, 2012 from 2pm to 4pm. The theme is cakes so bring a cake of some sort, whether it's big towering layer cakes, cupcakes, tea cakes, bundt cakes, coffee cakes, sheet cakes, even cheesecakes, mooncakes, and fruitcakes. Whatever your fancy! Or come with an empty stomach and sweet tooth to eat some cakes. Either way, hope to see you there.
Special thanks to Stewart, Tabori & Chang publishing for sending me a review copy of Sugarbaby by Gesine Bullock Prado. I was not compensated for the above post, and all opinions are my own.
Decorative Sugar Bowl
By Irvin Lin
This is a impressive little piece of sculptural sugar that will make you feel like a badass in the kitchen. Keep in mind that you're heating the sugar up to a molten 310˚F which is super hot and it can burn! Keep a bowl of ice water around in case you need to plunge your hand into it. Otherwise it's not difficult at all. One thing to take not is that that the bowl is a translucent honey yellow. That's because I ran out of regular granulated sugar and had to resort of organic evaporated cane sugar. If you want to make a bowl that is more translucent clear, be sure to use regular white granulated sugar, and not the organic kind. The organic sugar has impurities that will color the bowl.
I wouldn't recommend making this bowl (or any sort of spun sugar creation) on a humid day or a day that is raining. The bowl won't last as long. Also keep in mind that the food coloring will be on the outside of the bowl when made, and if you are using the bowl in a hot humid day, the coloring will seep out rub off on anything it is sitting on.
Adapted from Sugar Baby by Gesine Bullock Prado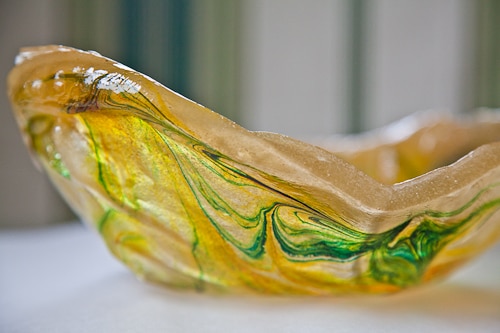 Ingredients
400 g (2 cups) white granulated sugar
3/4 cup (180 ml) light corn syrup
1/8 teaspoon cream of tartar
liquid food coloring (a couple of colors, your choice)
Special equipment
Candy thermometer
10 inch springform pan
Cooking spray
Parchment paper
Toothpicks
Medium sized heatproof bowl (see note below)
Directions
1. Preheat the oven to 225˚F (you probably won't need to use the oven, but just in case). Line a baking sheet with parchment paper. Spray the parchment paper generously with the cooking spray. Place the ring of the springform pan (without the bottom) upside down (with the ridges at the top) on the parchment paper. Spray the inside of the ring generously with the cooking spray.
2. Place the sugar, corn syrup and cream of tartar in a medium cooking pan. Turn the heat up to medium high, and stir with a heatproof spatula or wooden spoon until sugar has started to dissolve into the corn syrup. Stop stirring (but occasionally swirl the sugar by lifting the pan up and shaking it gently) but continue to cook until the sugar reaches 310˚F (the hard crack stage).
3. Carefully pour the sugar (it hot!) into the springform pan ring, onto the parchment paper. Now drop three or four drops of food coloring onto the sugar and take a toothpick and swirl the color around. Drop a few more drops of a different color and swirl it around with a different toothpick. If at any point the sugar starts to harden too much and you can't swirl, stick the pan in the oven for five minutes to soften it.
4. Let the sugar cool until the sugar is stiff enough that you can remove the springform pan ring without the sugar running, but warm enough to the touch that it is still pliable. This might take you a few attempts at making a bowl, to get to know the optimum temperature. Remember, if at any point the sugar seems too stiff, you can stick it in the oven to help soften it. Once the sugar has stiffened enough and you have removed the springform ring, lift the parchment paper with the sugar circle up from the baking sheet and drape it over an inverted (bottom side up) medium sized heatproof bowl with the parchment paper resting on the bowl.
5. Mold the sugar down around the bowl gently (fold and bends are totally cool, and make the bowl look even more handmade), and let the sugar bowl cool on the bowl, to harden. Once the bowl has cooled completely, remove it from the bowl, turn it right side up, and peel away the parchment paper. The bowl can be used immediately or saved in an dry airtight container for a few weeks. Just don't place fruit or any sort of moist things inside the bowl. Water is the enemy!
Makes one bowl.
Note about the bowl: I used a 9" round duralex bowl, made of tempered glass. You can use whatever bowl you want. You just need to make sure that it is big enough for the 10 inch circle of sugar to mold around but not too big that the sides of the bowl won't bend up.