This stuffed pork chop recipe with chard and cherries in the stuffing and a plum balsamic glaze that is dinner party worthy but weeknight easy! (If you're impatient like AJ, jump directly to the recipe.)
It's a known among my close friends that I'm the one that usually orders the pork dish at restaurants. Maybe it's because of my Asian heritage (the pig is much more common than the chicken or the cow in Asia) but give me a good pork chop and I'm happy camper. So when Le Creuset approached me about making a pork dish with their new stainless steel line of cookware (as well as hosting a giveaway for a piece of their new line – see the end of this post for details <- This giveaway is closed!) I was totally excited. Turns out my partner AJ was pretty excited too, as he kept on eyeing my stuffed pork chop recipe with chard, cherries and plum balsamic glaze, asking me when he could eat it. It's the blessing and the curse of being the partner to someone that runs a food blog. Everything takes twice as long to plate and it all has to be documented first!
Of course, I've been a fan of Le Creuset and their cookware for awhile. My current cookware is a hodgepodge of various pieces I've picked up over the years, with some of it dating back to my post-college days, with the sad nonstick coating slowly coming off. I've been gradually replacing my old pieces with better more sturdy pots and pans and the stainless steel cookware from Le Creuset doesn't disappoint. Not only is it pretty to look at, but it reacts quickly when I turn the heat up and down, something I look for in cookware, and it feels great in my hand with a nice balance and heft.
Of course, these stuffed pork chop were exactly the sort of thing I would want to cook with the stainless steel pans. I've been obsessed with plums lately, especially with my insanely prolific plum tree out back so I knew those would go well with the pork. I'm also a fan of chard, with its sweet tender leaves and crunchy colorful stems. Combining the two with the pork chop meant an all-in-one dinner, easy for a weeknight dinner but sophisticated enough for company. Next time though, I'll make it without all the photographs, so AJ can get to eating faster…
Le Creuset has generously offered a 3 quart sauce pan with lid to one lucky reader. It's the sauce pan that I use to make the plum balsamic glaze for this pork chop and it's awesome! To enter, all you need to do is leave a comment below and tell me what's the first thing you'd make with this awesome pan! THIS GIVEAWAY IS CLOSED.
The Fine Print
By leaving a comment below to enter, you are agreeing to the Official Rules.
▪ NO PURCHASE NECESSARY
▪ VOID WHERE PROHIBITED
▪ You must be over the age of 18.
▪ This contest is only open to U.S. Citizens. Sorry non-US people!
▪ The contest starts as of today, and will run until Monday, August 18th, 2014, 9am PST.
▪ The retail value of everything is about $180.
▪ The winner will be chosen by a randomly selected comment. All comments will be numbered and I will use Random.org to pick a random number.
▪ The number of eligible comments below determines the odds of winning.
▪ If there's a problem with contacting the winner, I reserve the right to award everything to someone else randomly chosen. So in other words, make sure you type in your correct email address if you want the membership and respond within a week to me when I contact you or I'll give everything to someone else.
▪ The prize is being delivered directly from Le Creuest or the PR company that is working with Le Creuset. If they have not delivered the prize to you within three weeks of me notifying you of winning, please reach out to me again and I will do follow up to make sure everything is OK. Please keep in mind we are all human and things happen. I will do everything within my power to make sure the prize is delivered in a timely manner.
Special thanks to Le Creuset  for sponsoring this post and giveaway. I was compensated for the post and for developing the recipe. However all opinions above (and below) are completely my own and not endorsed by Le Creuset.

Stuffed Pork Chop Recipe with Chard, Cherries and Plum Balsamic Glaze
By Irvin Lin
Don't be scared of the long ingredient list or the multiple steps, as everything is pretty easy. Brining the pork chop, even if it's for an hour, makes it more tender and juicy. It's an easy step that most people will want to skip but I highly recommend it, as you can use the time it brines to prep the other ingredients. If fresh plums aren't available or out of season, you can always use fresh or frozen cherries or blueberries or even cranberries. I used dried cherries in the stuffing, but feel to use dried blueberries, golden raisins or dried cranberries instead if that's what you have on hand.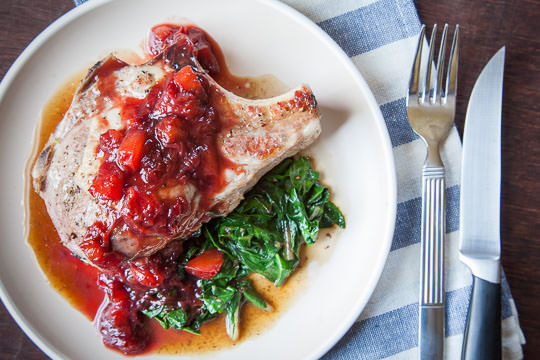 Ingredients
Brine
1/2 cup kosher salt
2 tablespoon white sugar
2 tablespoon dark brown sugar
1 quarts water
4 thick cut (2" thick) bone-in pork chops
Stuffing
3 tablespoons olive oil, divided
2 cups cubed (1/2 inch) crusty bread
2 bunch (about 1 1/2 lb) rainbow chard
5 cloves garlic, minced
1 cup (1/2 large or 1 small) onion, chopped
1 tablespoon minced fresh rosemary
1/4 cup dried cherries
1/2 cup chicken stock
salt and pepper to taste
Plum Balsamic Glaze
2 medium firm red plums
2 tablespoon dark brown sugar
1 tablespoon honey
1/2 cup dry red wine
2 tablespoon balsamic vinegar
Directions
1. Make the brine by combining the salt, sugars and water together in a large 2 1/2 gallon ziplock bag. Put the pork chops in the bag and seal it tightly. Place in the refrigerate and let brine for 1-2 hours.
2. While the pork chops are brining, make the stuffing by putting 1 tablespoon of olive oil in a large oven proof skillet. Heat until the oil shimmers and then add the bread cubes. Sprinkle with 1/4 teaspoon salt and pepper and sauté over medium heat, stirring frequently, until the cubes look golden brown. Remove from heat onto a medium sized bowl.
3. Wash the chard and remove the tough stem in the middle. Slice the stem into small 1/2 inch pieces, like you would chop celery. Slice the tender leaves of the chard into 1/2 inch thick ribbons. Add 1 more tablespoon of olive oil to the skillet and heat on medium until it shimmers. Add the garlic and cook until fragrant, about 30 seconds. Add the onion and the chopped chard stems and cook for 5 minutes, or until the onions start to soften and look transparent. Add the rosemary and cook until fragrant, about 30 seconds. Add 1 1/2 cup packed chard leaves and wilt them in the pan with the other ingredients, another 30 seconds. Add the dried cherries, the toasted bread cubes and the chicken stock. Cook until the chicken stock is absorbed. Add more salt and pepper to taste. Remove from heat and pour into the bowl that held the toasted bread cubes.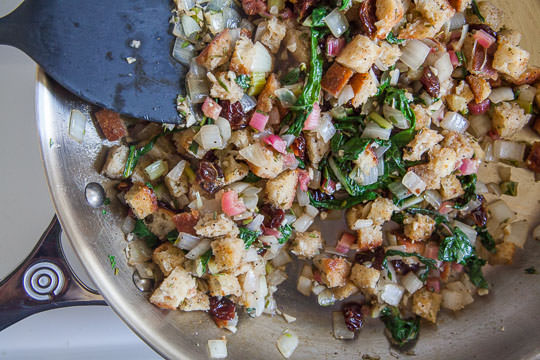 4. Preheat the oven to 350˚F. Once the pork chops are brined, remove them and dry with paper towels. Slice a pocket into the meaty side of the pork chop all the way to the bone. Fill each pocket with 1/4 of the prepared stuffing and "seal" each pork chop with toothpicks. Sprinkle each side of the pork chop with salt and pepper. Pour the final tablespoon of olive oil into the skillet and heat until the oil shimmers. Place each pork chop in the pan on medium high heat and brown each side for 5 minutes or until the side of the pork is golden brown. Move the pan to the oven and continue to cook it there, 25-30 minutes or until the juices run clear when the pork chop is pierced with a sharp knife.
5. While the pork chops are in the oven, make the plum balsamic glaze by chopping the plums into 1/2 cubes. Add them to a sauté pan along with the brown sugar and honey. Cook until the fruit starts to disintegrate completely, about 7-8 minutes on medium high heat. Add the wine and balsamic vinegar and cook until it thickens a bit more, about 2 -3 minutes more. Once done, place aside until pork chops are ready.
6. When the pork chops are done, put them on individual plates for service, let them sit for 5 minutes then remove the toothpicks. Meanwhile, deglaze the skillet by adding 2 tablespoons of water (or chicken stock), heating the pan on the stove and loosening all the caramelized bits from bottom of it. Once loosened, add the remaining chopped chard leaves and wilt for a minute or two on medium heat. Serve with the pork chop, with the plum balsamic glaze on the side or drizzled over the pork chop.
Makes 4 servings.
If you like this stuffed pork chop recipe, check out some of these other pork chop recipes from around the web:
Use Real Butter's Grilled Pork Chop
Leite's Culinaria's Coffee-Crusted Grilled Pork Chops
Guilty Kitchen's Spice Rubbed Pork Chop
Blue Kitchen's Turmeric/Ginger Grilled Pork Chops
Food Republic's Spicy Grilled Jerk Pork Chops Recipe