This smores cocktail recipe that I call The S'mores Crunch is like a nostalgic campfire treat for adults. (Jump directly to the recipe.)
I have numerous friends who are cinephiles, obsessed with the latest auteur films. They worship at the altar of Scorsese, breathe Tarantino and drop everything for the Coen Brothers. These are the people who closely follow the Oscars nominees, cursing the Academy for their ridiculous choices and cheering when they pick an appropriately obscure and under-the-radar movie. So it didn't surprise me in the least that when the movie The Big Lebowski came out 15+ years ago, it sparked a revival within my circle of movie buff friends of the classic cocktail The White Russian using Kahlúa, the Dude's signature drinks. In fact, it seemed for awhile that everyone I knew was drinking it.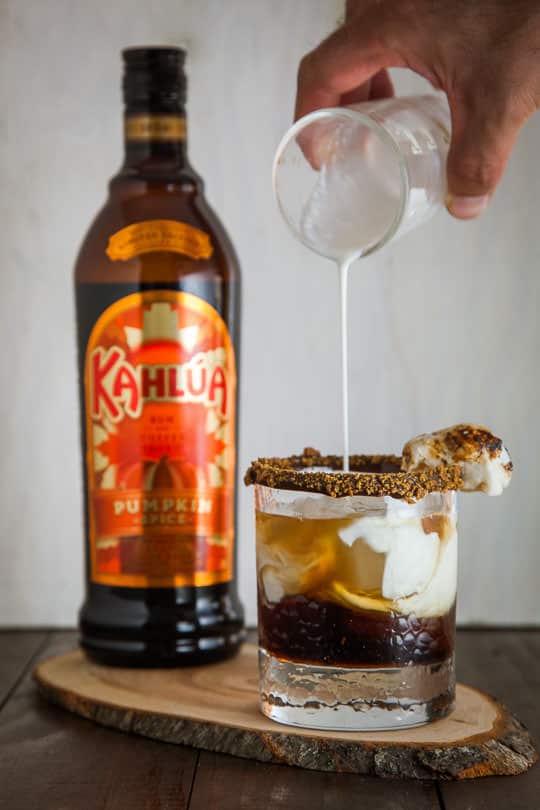 It's not that I don't appreciate The White Russian but my tastes in movies aren't quite as sophisticated. Sure I've watched the occasional Coen Brothers movie (in fact, I recently re-watched Fargo, mostly because of the FX TV show was rather brilliant in my opinion) but my tastes run closer to classic 80s comedies. Movies like Ruthless People, Vacation and Ferris Bueller's Day Off all hold a place in my heart.
But one of the underappreciated film of that particular era for me is Troop Beverly Hills starring Shelley Long as the sassy socialite Phyllis with a heart of gold and a checkbook to match. Inspired by her turn as troop leader of a band of misfit girl scouts, I came up with a riff on the White Russian, using smoky whiskey in place of the vodka. The resulting cocktail I call The S'Mores Crunch, with its chocolate rim, dusting of graham crackers crumbs and toasted marshmallow garnish. I think Phyllis would approve.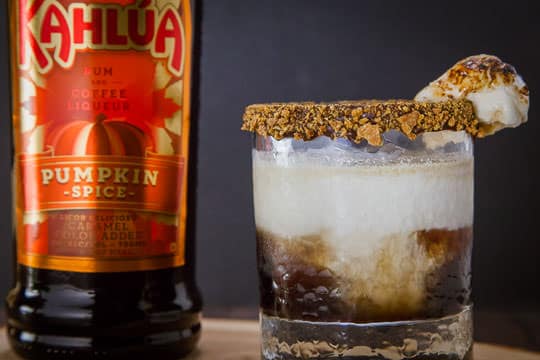 This post was sponsored by Kahlúa. For the months of October, November and December I'm teaming up with Kahlua to bring you recipes and cocktails using their various Kahlua liqueur flavors. I was compensated for the post and for developing the recipe. However all opinions above (and below) are completely my own and not endorsed by Kahlúa. Visit Kahlúa's various social media pages (Facebook, Twitter, Instagram, Pinterest) for more cocktail and holiday entertainment ideas and join in on the fun by sharing your own Kahlúa creation using the hashtag #KahluaHoliday

The S'mores Crunch Cocktail
By Irvin Lin
The classic White Russian cocktail is one part Kahlúa, two parts vodka, and one part heavy cream served over ice. It's a creamy smooth and sweet cocktail that the Dude from The Big Lebowski drinks. In my head, if there were a cocktail that Phyllis of Troop Beverly Hills would drink, it would be this drink, the smore cocktail I call the S'Mores Crunch. Equal parts Kahlúa Pumpkin Spice, Whiskey and heavy cream, with a little bit of chocolate, graham crackers and a marshmallow garnish, the perfect adult nostalgia drink.
Adapted from a cocktail recipe from the October 2014 Cosmopolitan magazine.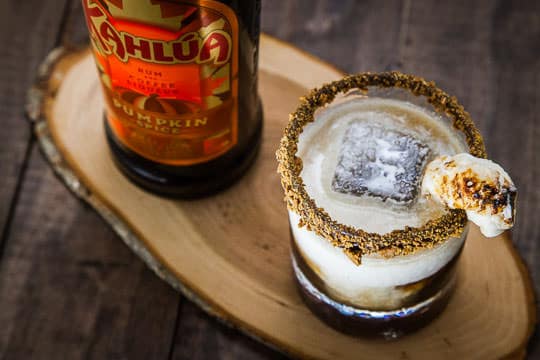 Ingredients
1 ounce chocolate (whatever you like to eat)
1 graham cracker
1 1/2 ounces Kahlúa Pumpkin Spice
1 1/2 ounces whiskey
1 1/2 ounces heavy whipping cream
1 marshmallow
ice
Directions
1. Chop the chocolate into 1/2 inch chunks and place in a microwave safe bowl. Microwave on high for 30 seconds, stir and microwave for an additional 30 seconds. Stir until chocolate is smooth and completely melted. While the chocolate is melting, crumble the graham cracker into a bowl with your hand until they are in crumbs.
2. Once the chocolate is melted, dip the rim of a double old-fashioned glass into the chocolate, covering the entire rim. Immediately dip the chocolate coated rim in the graham cracker crust so it is coated.
3. Place the Kahlúa Pumpkin Spice, whiskey and cream into the glass. Add ice to the glass. Place a marshmallow on a skewer and toast it with a crème brulee torch or the burner from a gas stove. Garnish the glass with the marshmallow and serve immediately.
Makes 1 cocktail.