Laminated dough, the basic building block for croissants and puff pastry, has been on my baking bucket lists forever. Though I know the basic technique of rolling out the dough and forming a butter block, having read about them in various cookbooks and seen the numerous youtube videos, I've never really gotten around to do it at home. So when my friend Laiko offered a spot in the Laminated Dough intensive workshop class at the sparkling new San Francisco Cooking School, I jumped at the chance.
Taught by James Beard award winning Pastry Chef Nicole Plue, who happens to be the new Director of the Pastry Arts program at SF Cooking School, the Laminated Dough class covered all the basics, from croissant dough which we used to make classic croissants, chocolate croissants and savory braided croissants, classic puff pastry which ended up in our apple tarts and palmiers/elephant ears and kouign amann dough (which is so awesome – more on that tomorrow). Chef Plue even demoed how to make blitz (rough) puff pastry, which was dead easy to make at home. In fact, it's the puff pastry dough that she makes most of the time, skipping the more labor-intensive traditional puff pastry.
The class itself was insanely fun, but also a workout. The San Francisco Cooking School has only been around for a few years and the pastry arts program is even more new. In fact, their second pastry arts class just graduated! The facilities were brand new and beautiful to work in. Obviously Chef Plue was incredibly knowledgeable and answered pretty much any and every question we had on making laminated dough (and baking in general).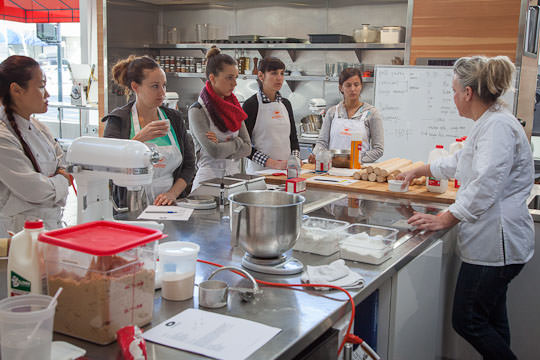 Of course watching someone demo how to make the dough is way different than tackling the croissants yourself. Rolling out cold butter and cold dough is serious work, and everyone's arms were sore after a day of pounding butter and folding and turning the dough. Some people jumped on the professional equipment, as there was a laminated dough sheeter  available for us, but I was determined to do it by hand so I could get a sense of how the silky smooth dough should feel. Still, the reward of biting into a flaky shatteringly crisp croissant made it all worthwhile. We went home with boxes of baked goods to eat and giveaway to our friends and the satisfaction of accomplishing something that scares even the most seasoned home baker. Best of all, we left with the skill set and the knowledge base to tackle the dough at home. Chef Nicole Plue completely demystifying laminated dough for me, and I found myself, the very next day, developing a quick and easy version of the Kouign Amann for the novice home baker. You'll have to stop by tomorrow for that recipe! Thanks Chef Plue and San Francisco Cooking School for breaking down laminated dough and giving me the tools to tackle what seemed so intimidating, and showing me how easy it really is.
Special thanks to Laiko Bahrs and the San Francisco Cooking School for letting me attend the Laminated Dough Intensive Three-Day Workshop. Even though the class was provided complimentary to me, I was not monetarily compensated for this post and all opinions are my own.