It's been nearly three weeks since the Japanese earthquake and tsunami happened. I've written about it a couple of times since then, as well as how the food blogging community has rallied together to help raise money for the victims. Tomorrow, March 30th, 2011, my friend Sabrina over at The Tomato Tart will be hosting a fundraising online bake sale. With over 90 people donating, we're all hoping to raise a lot of money for Second Harvest Japan, that nation's first food bank. My donation to it: Salted Exotic Bourbon Blood Orange Burnt Sugar Caramel Candies.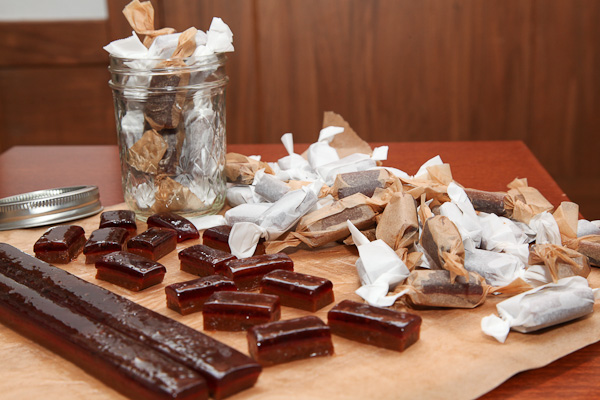 I've been tinkering with the recipe for the past couple of weeks, ever since Sabrina started asking people to donate baked goods. Technically these are cooked not baked, but I figured homemade candies might travel better. That is, if I can keep AJ from eating them all. He's kind of a little bit in love with them.
The original recipe I started with was a chewy soft caramel where I partially replaced some of the crème fraiche called for in the recipe with fresh squeezed blood orange juice. I used some candied lemon and orange peel in them, hoping it would make the citrus pop a little more. I had suspected that the combination of burnt sugar, crème fraiche and orange juice might muddy the flavors and I was right.
I mean the candies were good. Don't get me wrong. But they weren't spectacular. So I went back to the drawing board. I left out the candied peels. I left out some of the spices. I decided to separate out the layers of candy. One layer of caramel. One layer of blood orange candy. Leave the crème fraiche caramel recipe alone and let it stand on it's own (it's an amazing recipe all by itself). Concentrate the blood orange flavor in it's own shiny sticky candy layer made the tart-sweet blood orange citrus tang sing. Add a hefty dose of Tahitian vanilla bean, grains of paradise, pink Himalayan salt and just a touch of bourbon to warm it up subtly and you got a winner. These suckers are amazing. Blood orange, burnt sugar caramel with creme fraiche, and exotic spices all equal one sophisticated sweet treat that you won't find anywhere else.
So I present to you these candies. I might or might not give you the recipe. I'm not sure yet. But the only way you get them, for now at least, is to bid on them tomorrow. You'll get 12 precious little candies for you to savor, in a cute little mason jar. Plus the knowledge that 100% of your money is going to those who desperately need it.
Sabrina has a sneak peak preview of some of the goods up for auction. Check out the amazing items that food bloggers from around the world are donating, from scrabble cookies, to home made jams and preserves to cookies and brownies and cakes. It's pretty astounding this here food blogging community. I love my peeps. I really do. But remember: tomorrow. Bid for these caramels. You may never get another chance at them…