Forget hot chocolate and double lattes. This salted caramel drink is rich, sweet and knock your socks off delicious. (Jump directly to the recipe.)
"If I had a candy factory filled with strange little green-haired orange-skinned employees that helped make my magical sweets, I would totally want a waterfall made of THIS…" said AJ right after he took a sip of a salted caramel drink at a Meals on Wheels fundraiser we had attended a few years ago. I immediately made a mental note to reverse-engineer it when I got home. Of course I never got around to doing that as I'm utterly filled with good intentions that are rarely realized. In truth, I have a crazy long laundry list of recipes and ideas that I want to attempt but have never really get to. Thankfully I finally decided it was time to whip up the caramel drink in our kitchen this past weekend and immediately wondered how our lives were ever complete without it!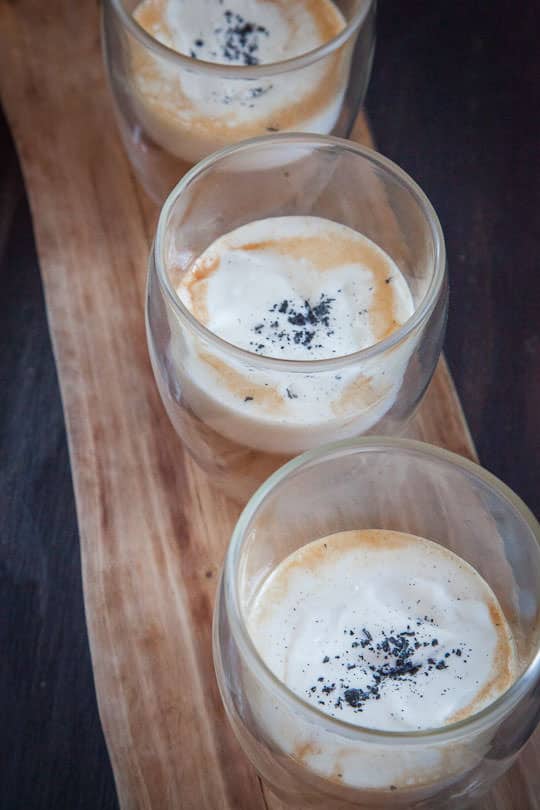 Of course, nearly every coffee house worth it's sea salt has the option for hot chocolate or caramel lattes. But I've never understood why the sipping salted caramel drink hasn't taken off. After all, the super trendy salted caramel flavor has been around for a number of years, to the point where I can barely visit any semi-popular food sites without being assaulted by their "appointed food trend expert" proclaiming how tired and overplayed salted caramel is. I don't care though, I still love the stuff and will continue to consume it in any fashion I can.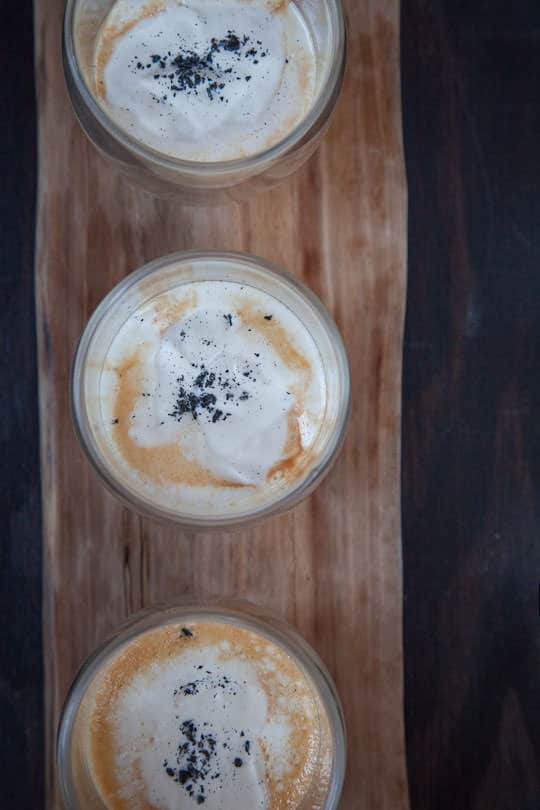 Which leads me back to this salted caramel drink and the mystery behind why it's not more popular. AJ's love of burnt sugar caramel cannot be overstated. He just loves the stuff. Whether it's in ice cream form, drizzled on a cheesecake, or made into a cookie bar, every time I make something with salted caramel, it's pretty much gone by the next day. Which makes the drinking caramel pretty darn dangerous to have around. But you know, not Fizzy Lifting Drink dangerous. Just, you know, caloric dangerous.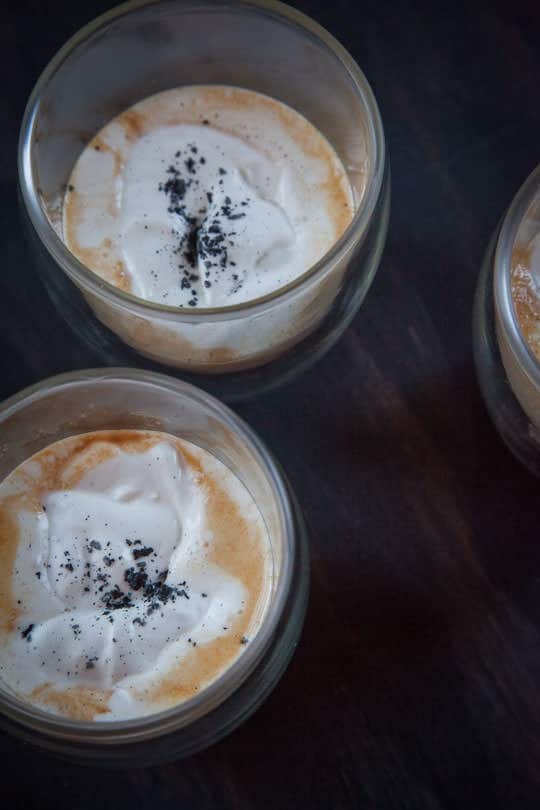 Salted Caramel Drink Recipe
By Irvin Lin
The salted caramel drink is the rich cousin to the drinking chocolate that you'll find in Europe. Sweet and rich, a little goes along way. Feel free to double the recipe if you want, just make sure to use a larger pot when you make the caramel sauce, as it bubbles up when you add the cream. You can make the caramel sauce ahead of time and save it in the fridge for when you want to make the drink, or use the caramel sauce for ice cream, hot caramel chocolate or to make your own caramel latte. It's versatile that way.
A few things to note about the recipe. I steep Lapsong Souchong tea to the cream which adds a nice subtle smokiness and extra dimension to the drinking caramel. Feel free to substitute another tea like Earl Grey or just leave it out if you want. I also use a Cypress Black Flake Salt on top of the drink because the black salt looks really sharp against the billowy white cloud of whipped cream. If you can't find it, use another sea salt like Maldon but avoid regular table salt as the iodized table salt has a harsh chemical taste. And if you want to make the drink "adult" add a tablespoon or two of bourbon, Irish crème, or mezcal to give it a little bit of a kick.
Inspired by a drink by William Werner, adapted from a recipe by Autumn Martin.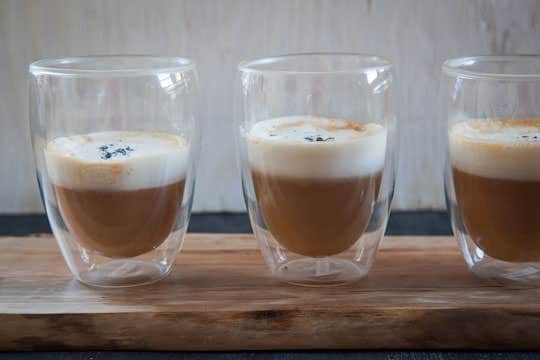 Ingredients
Caramel Sauce
3/4 cup heavy whipping cream
2 teaspoon Lapsong Souchong or Earl Grey tea (optional, see headnote above)
3/4 cup (150 g) white granulated sugar
1 tablespoon salted butter
1/2 teaspoon sea salt
Whipped Cream
1/2 cup heavy whipping cream
1/2 teaspoon vanilla extract or paste
Cream Base
1 cup half-and-half
3/4 cup whole milk
1 teaspoon vanilla extract or paste
2 tablespoons bourbon, Irish crème or mezcal (optional)
Topping
Heavy pinch or two of sea salt (see headnote above)
Special Equipment
Small mesh strainer
Balloon Whisk
Directions
1. Make the caramel sauce by placing the whipping cream and the tea (if using) in a small pot. Turn the heat to medium-high and stir until bubbles start to form on the side of the pot. Turn the heat off and cover the pot.
2. Place the sugar in a large deep pot (preferably one with a silver bottom so you can see the color of the caramel) and turn the heat to medium-high. Cook the sugar, shaking it occasionally, until the sugar starts to melt and the edges of the liquid sugar starts to turn brown. Turn the heat off and stir the rest of the sugar together until completely dissolved. Let the residual heat caramelize the rest of the sugar until it turns a deep dark brown (think the color of a dark brown beer bottle). If the caramel stops browning, you can turn the heat back on to medium low and help nudge it along.
3. Once the caramel reaches the desired color, turn the heat off and pour the steeped cream through a strainer (to catch the tea leaves) into the caramel pot. The caramel will steam and bubble up so be careful! Once the bubble subsides, stir to dissolve any hard bits of caramel. Add the butter and the sea salt and stir until smooth, turning the heat on low to help dissolve and smooth out the caramel is necessary. At this point, you can cool and store the caramel in an airtight container in the fridge for up to a week.
4. To make the drinking caramel, add the heavy whipping cream and then whip it until soft peaks form. You can do this by hand (and develop your arm muscles!) or just use a stand mixer or hand mixer (which is how I do it, thus my lack of guns).
5. Make the cream base by heating the half-and-half, whole milk and vanilla paste or extract in a medium pot on medium-high heat, stirring constantly, until bubbles form on the side of the pot. Whisk in the caramel sauce. Divide into four mugs (the servings are small but they are rich so you don't need much). Top with the whipped cream and sprinkle a little bit of sea salt over the whipped cream. Serve immediately.
Makes 4 servings.
If you like this caramel recipe, try some of my other caramel recipes:
Caramel Bars with Salted Roasted Cashews
Pumpkin Cinnamon Rolls with Caramel Sauce
Apple Pie Bars with Easy Caramel Sauce
Super Easy Caramel Apples
Caramel Apple Popcorn
Chocolate Caramel Cheesecake
And check out these awesome caramel recipes from around the web:
Shutterbean's Bourbon Salted Caramels
David Lebovitz' Salted Butter Caramel Ice Cream Recipe
Love and Olive Oil's Chocolate Whiskey Bundt Cake with Whiskey Caramel Sauce
Recipe Girl's Caramel Apple Scones
Sprinkle Bakes' Triple Salted Caramel Cupcakes