These salted caramel bar have an adult twist with a kick of smoky Kentucky bourbon in the dark chocolate ganache!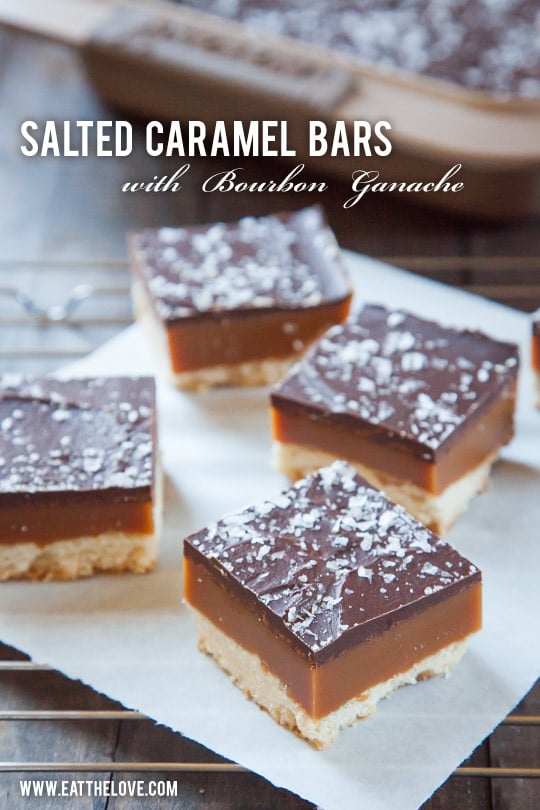 "CONGRATULATIONS!!!" said the text from my friend Shauna. I hadn't a clue what she was congratulating me on but anything that merits three exclamation points must be exciting. This was not the first time that I had an odd feeling of excitement and confusion. When I responded back "Wait. Congrats for what?" Shauna immediately called me. Apparently the news that I was nominated by the International Association of Culinary Professionals judges for a finalist in the category of Best Recipe Based Food Blog was important enough for her to actually call and tell me on the phone, not via a text once she figured I didn't know. I may or may not have screamed out "SHUT. UP." to her on the street corner as I nearly walked into a street sign because I was too preoccupied with sheer, giddy happiness. Shauna has also been nominated for her work on the amazing A Splendid Table radio show, so we immediately started planning on being the power couple at the award ceremony. Expect us to have coordinating outfits and to wear sunglasses through the evening.
I've been planning on going to Louisville for the annual IACP conference for some time now. It's happening this coming weekend and I will be on a panel about content creating for brands as well as leading a small hands-on workshop on Snapchat and Instagram Stories. If you follow me on either of those channels, expect to see some ephemeral Louisville goodness as I eat and drink my way through the city. It's always a great conference (this will be my third one) and tons of fun. Maybe I'll even do some Snaps and stories about the award ceremony. Who knows?
In the meanwhile, my friends over at Anolon (who are sponsors of the IACP conference), approached me to develop a recipe using their cookware. I decided to go with a slight Kentucky riff on a recipe from my cookbook Marbled, Swirled, and Layered*, a Salted Caramel Bar with Bourbon Ganache on top. The original recipe is in my cookbook, but this version is pretty fantastic as well. Bounce on over to the Anolon website to get the full recipe!
* BTW, my cookbook sadly did NOT get nominated for an IACP award but I'm OK with that. My friend Anita totally said I was like the Beyonce of the food world for not getting the nomination and I'll take that!
I've teamed up with Anolon to create this recipe for their site. I was compensated for developing the recipe on their site as well as this post and all Anolon products were provided by them. However all opinions above are totally my own and are not endorsed by Anolon.