It was my friend Grant who gave me the idea of the donut flavor that I should create for this month's Gluten Free Ratio Rally. "What goes well with vanilla?" I asked my friends, while hanging out on their deck in Sonoma. I was thinking about the pound of chef quality Tahitian vanilla beans I had splurged on a few months ago (turns out a pound of vanilla beans is a LOT of beans). The vanilla seeds have pretty much made it into nearly all my baked goods, the way salt goes into nearly all savory goods. I had even brought a ziplock bag of them with me with Hawaii. Grant put his science fiction book down after I asked the question, looked over at me and said "How about rose water?" and I started to think about the beautiful results that would come from that combination. Donuts are such a blank palette, and elevating them a bit sounded perfect. Why not? So I present to you the Roses and Pearls Vanilla Bean Donut.
I rarely bake with floral flavors. Rose, lavender, orange blossom. They are all lovely, if slightly girly flavors, more suitable for potpourri in most people's mind than on a plate served up as dessert. AJ usually rejects them outright, telling me that they just taste like soap. But secretly I adore them, my favorite ice cream flavor from our local ice cream parlor being Honey Lavender – one of the inspirations for my honey lavender cheesecake. But rose water isn't something I've played with before so I was eager to jump into the kitchen with it.
AJ and I had spent this past Labor Day weekend up in Sonoma, with Grant, his partner Peter, and our friend Hadley who recently relocated here from Minneapolis. You might remember their awesome cabin that we borrowed to host a number of friends up there last year. This time round, they were there with us, the consummate gracious hosts, making dinner for us, entertaining us, and pour wine for us to nonstop (I don't drink much, but AJ appreciated it immensely). Every night Hadley, Peter and I stayed up late chatting about our past and our future and who we were and how we viewed each other. We laughed, cried, and generally acted like old friends did when they got together. It had been way too long since I've had the chance to spend quality time with old friends.
I didn't have the chance to bake for them this past weekend, though I offered to make dessert one night but Peter said it wasn't necessary. I had actually brought up some leftover caramel bars (I'll be posting about those soon) and we noshed on those after our steak dinner with grilled corn, heirloom tomato salad and summer squash gratin (the last item had me reaching for third and fourth helpings). Instead of baking, I took it easy, lounged about, read a book (how did reading a book become a luxury for me? I never seem to have time for it anymore) and talked until all hours of the night.
In fact, it was the last night we were there, where Peter, Hadley and I stayed up, talking until 4am, just catching up. We had spent the day apple picking, wine tasting, feasting at an award winning farm to table restaurant in Sonoma and hanging out in a Guerneville bar, where I ran into a past fling of mine. It was a full day and as Peter, Hadley and I chatted away, laughing at everything and nothing at all, I looked around at my surroundings and realized how lucky I was. To have friends like these, to have a partner who loves me, to be there in Sonoma at the moment in time, I never wanted it to end.
When I got back from the weekend, tired from the lack of sleep but recharged more than I thought I would be, I set out to make some gluten free donuts. It had been awhile since I had developed a gluten free recipe from scratch, but playing with flours can be so inspirational. Wheat flour is great, but it's a one-note song. The minute you start reaching for different flours, you start incorporating new instruments, and soon you've got an orchestra of different musical notes, all playing in harmony with each other. Reach for this flour, that starch, this binder, that fat and soon I've got myself a new recipe for donuts. Add some rosewater glaze and sprinkle on some decorative pearl sprinkles and I'm proud to include these donuts with the rest of the Gluten Free Ratio Rally donuts.
This month's Gluten Free Ratio Rally is hosted by Meg over at Gluten Free Boulangerie. Feel free to bounce over to her post on the rally and visit some of the other people who have contributed to this month's donut-a-polooza.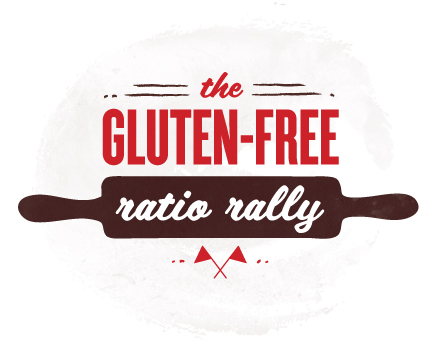 Roses and Pearls Vanilla Bean Gluten Free Donut
Rose flavored items are rather polarizing, with some people finding the floral scent overwhelming. The trick is to use just enough rose water to infuse the glaze, but not enough to overwhelm the nose and mouth. Rose water can be found in Mediterranean or Indian grocery stores, or at specialty food stores. The pearls are small decorative sprinkles that can be found at specialty food stores as well.
You'll also notice that this donut has both yeast and baking powder in it. I found that the additional baking powder helps lift the dough a little more than just the yeast. Don't expect these donuts to have the same sort of texture or flavor to a regular gluten filled yeasted donut. They are more in the vein of an old fashioned cake donut, but with a little more lift.
Ingredients
Donut Dough
10 g (2 tablespoons) psyllium husk
10 g (1 tablespoon) golden flax seeds
1 cup of buttermilk (divided)
160 g (1 cup) millet flour
120 g (1/2 cup plus 2 tablespoons) white rice flour
100 g (1/2 cup plus 1 tablespoon) potato starch (not potato flour)
100 g (1/2 cup plus 3 tablespoons) tapioca starch (sometimes called tapioca flour)
75 g (6 tablespoons) of granulated white sugar
15 g (2 tablespoons) soy flour
2 1/4 teaspoon (1 envelope) rapid rise yeast
1 teaspoon baking powder
2 large eggs
85 g (6 tablespoons) unsalted butter, at room temperature
1 vanilla bean
1 teaspoon vanilla extract
5 cups of shortening or vegetable oil for frying
Rosewater Glaze
Adapted from a recipe at Gourmet Traveller
2 medium strawberries
120 g (1/2 cup plus 1 tablespoon) granulated white sugar
1 tablespoon rosewater
1 vanilla bean
190 g (1 1/2 cup) powdered sugar
1 tablespoon of decorative pearl sprinkles
Directions
1. Place the psyllium husk and golden flax seeds in a small food processor or spice mill and process until finely ground. Measure 3/4 of the buttermilk and place into a small bowl. Stir in the psyllium husk and ground flax and set aside.
2. Place the millet flour, white rice flour, potato starch, tapioca starch, granulated sugar, soy flour, yeast and baking powder into the mixing bowl of a standing mixer. Using a balloon whisk vigorously stir the dry ingredients until evenly distributed and uniform in color.
3. Place the remaining 1/4 cup buttermilk into a small bowl, and add the two eggs. Beat until you cannot see anymore egg white and it is uniform in color.
4. By now, the buttermilk with the psyllium husk and flax meal should have gelled. Scrape it into the dry ingredients and place the bowl on the standing mixer fitted with a paddle attachment. Turn to medium speed and beat to break the gelled buttermilk up. Slowly drizzle the egg buttermilk mixture into the ingredients to form a stiff dough.
5. Once you have added all the egg buttermilk mixture, add 1 tablespoon at a time, the butter, while the mixer is on medium speed. Once all the butter is added, split the vanilla bean lengthwise and scrape the seeds into the dough. Add the vanilla extract.
6. Scrape the dough from the sides of the bowl and pull off about 1/4 cup. Flatten into a disk about 1/2" thick and cut with a round 3" round biscuit cutter. Then use the large end of a decorative frosting tip (I used the size 1M) to cut a center hole in the donut. Place the donut on a baking sheet and repeat with the rest of the dough. Cover the donuts with plastic wrap and place in a warm area to rise for 90 minutes.
7. Place a wire rack over a rimmed baking sheet to catch oil. Once the dough has risen and looks puffy, place the shortening/oil in a large dutch oven and bring to 375˚F. Fry the donuts on each side about 15 to 20 seconds or until each side is golden brown. Since it take so little time to fry each donut, I ended up doing it one at time, which meant I didn't have to worry about overcrowding or having the oil temperature drop too much between donuts. Move the cooked donuts to the baking sheet and let drain and cool.
8. Once all the donuts are done frying, make the rose glaze. Stem and husk the two strawberries and place them in a small pot. Using a fork, smash them to release their juices. Add the sugar and 1/4 cup (50 g) of water. Bring to a boil over high heat and then reduce the heat to medium low so it simmers. Let is simmer for 3 to 4 minutes until the liquid has thickened. While the strawberry syrup is simmering place a fine mesh sieve over a heatproof bowl. Once the syrup is finished, pour it through the sieve, catching all the solids.
9. Split the vanilla bean lengthwise and scrape the beans into the strawberry syrup. Add the powdered sugar and beat until incorporated. If the glaze is too thick, add a teaspoon of water to thin it out, continuing to add water by the teaspoon until the glaze is the appropriate consistency. You want it thick enough to spoon onto the donut and drizzle over the edges, but not too thin that it will run off the donut. Better to error on the thick side and then add a little more water, than to have to add more sugar to thicken.
10. Spoon the glaze over the cooled donuts and immediately sprinkle with the pearl decorations. Serve the same day.
Makes about 20 donuts
This recipe is part of the Gluten Free Ratio Rally.
In Baking Percentages the ratio I used is:
Flour 100%  Liquid 40%  Eggs 20%  Fat 17%  Sugar 15%
Feel free to use whatever flour you want, but I recommend using at least a tablespoon or two of soy flour. For the reason why, bounce over to Lara Ferroni's post about soy flour in donuts.