Roasted mushrooms on toast is an easy to make but elegant to serve appetizer for any dinner party!
I'm late to the party but things have been hectic in the Eat the Love household what with my book promotions and the holidays. But one of the cookbooks that I've been obsessing over (other than my own Marbled, Swirled, and Layered, and the numerous ones I listed in my favorite cookbook lists part 1 and part 2) is Small Victories by Julia Turshen. Not only is it beautifully photographed by the amazing team of Gentl + Hyers (do you know them? They are one of my absolute favorite food photographers) but it is filled with interesting and accessible recipes that I actually want to make and eat at home.
But more than that, Small Victories focuses on the tiny shortcuts and hints and tips that everyone needs in the kitchen. The name of the book really focuses on how you can make fresh meals from scratch, and adapt it to your own personal tastes easily. I adore the idea of adapting and shifting recipes in a casual way. I also hate the phrase "kitchen hack" or "life hack" when it comes to tips and trips. For me, the term "small victories" is perfect. Tips and easy recipes ideas that get your excellent dishes are definitely a small victory for everyone, so it makes sense that author Julia Turshen would name her book after the joy of finding little things that make folks happy in the kitchen.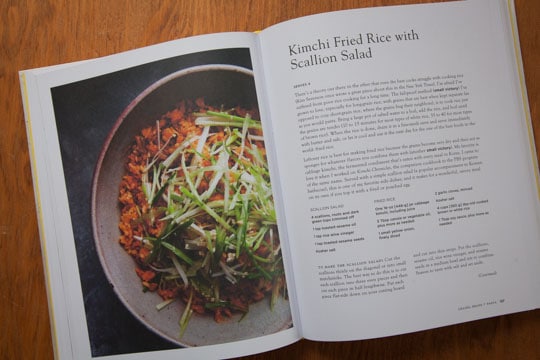 The recipes are interesting and sophisticated without being complicated (most recipes only call for 5 to 10 ingredients). And even though the book is geared toward beginners or folks who are just starting out in the kitchen there's enough in the book for seasoned cooks to learn from as well as stretch a little bit out of their comfort zone. Small Victories show that it doesn't take much skill or experience in the kitchen to create memorable and fantastic meals.
Roasted Mushroom on Toast
By Julia Turshen
There are so many recipes in the book that I wanted to share, some of which are barely recipes at all. There's a page of 7 different easy desserts that are all brilliant and are barely a sentence or two each. But when I saw the roasted mushroom on toast recipe in Small Victories, I knew that's was the recipe. The idea of throwing mushrooms in the oven to roast is something I hadn't thought to do but it's no brainer. The mushrooms to shrink down…a LOT. But once they cook, they are concentrated in flavor and make for an easy appetizer or first course. There are a couple of awesome riffs on the recipe as well showing how you can make it into spaghetti or a main course vegetarian dish. But the brilliance for me is the idea of roasting mushrooms. It's those simply ideas that make me love this book.
Recipe from Small Victories, courtesy of Chronicle Books and Julie Tushen
Ingredients
2 pounds (900 g) assorted mushrooms, tough stems discarded, torn into bite-size pieces
1/4 cup (60 ml) extra-virgin olive oil, plus more for drizzling
Kosher salt
2 tsp minced fresh thyme
Twelve 1/4-inch thick slices baguette or country bread
1 garlic clove
1/2 cup (115 g) creme fraiche
1 tablespoon finely chopped fresh Italian parsley
Directions
1. Preheat your oven to 425°F. Line a baking sheet with parchment paper.
2. Spread the mushrooms on the prepared baking sheet, drizzle with the olive oil and sprinkle with a large pinch of salt and the thyme. Use your hands to toss everything together. Roast the mushrooms, stirring occasionally, until they are tender and well browned, about 40 minutes.
3. When you take the mushrooms out of the oven, toast the bread and rub one side of each piece of toast with the garlic clove (the toast will act almost as sandpaper and will catch little bits of the garlic). Spread the garlic-rubbed side of the toasts with the crème fraîche.
4. Divide the roasted mushrooms among the toasts. Drizzle each toast with a little bit more olive oil and sprinkle each one with a little pinch of salt and some of the parsley. Serve immediately.
Serves 6 to 8 as an hors d'oeuvre.