These Potato Chip Chicken Tenders are as easy to make as they are fun to eat! The not-so-secret ingredient is LAY'S Wavy Hickory BBQ Chips. (Jump directly to the recipe.)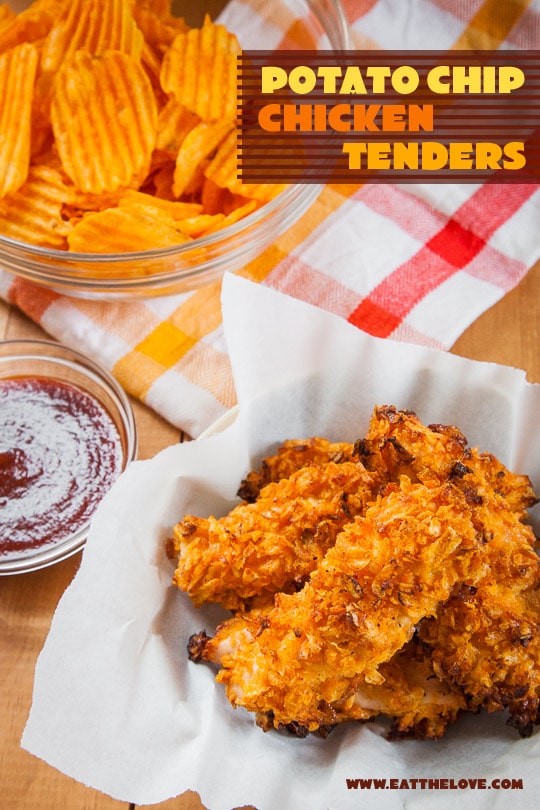 This post was sponsored by Frito-Lay. I'm teaming up with Frito-Lay this summer to bring you recipes using Lay's potato chips. Check out more great summer recipes at Frito-Lay's Summer Hack Pinterest Board! I was compensated for this post and for developing the recipe. However all opinions below are completely my own and not endorsed by Frito-Lay.
I'm fascinated by the idea of finger foods. For me, it's goes against my upbringing. My parents were pretty adamant that I used utensils whenever I ate food. I'm not sure if it's an Asian thing or not, but I know I bonded with my friend Peter about it. He's Vietnamese-American and his parent's used to make him eat food with a fork. ALL food. He would tell me about how his parents would ask for a knife and fork at the fast food restaurants so his brother and him could eat the burger and fries with utensils. My parent's weren't that extreme but I certainly could relate. That's why I love the idea of finger foods like these Potato Chip Chicken Tenders. It feels like I'm doing something naughty when I make them and serve them. But clearly, they are designed to be eaten with your fingers! And, of course, using LAY'S Wavy Hickory BBQ Potato Chips to give the chicken tenders coating a super crunchy coating means I can make these insanely fast as well. Total win-win situation if you ask me.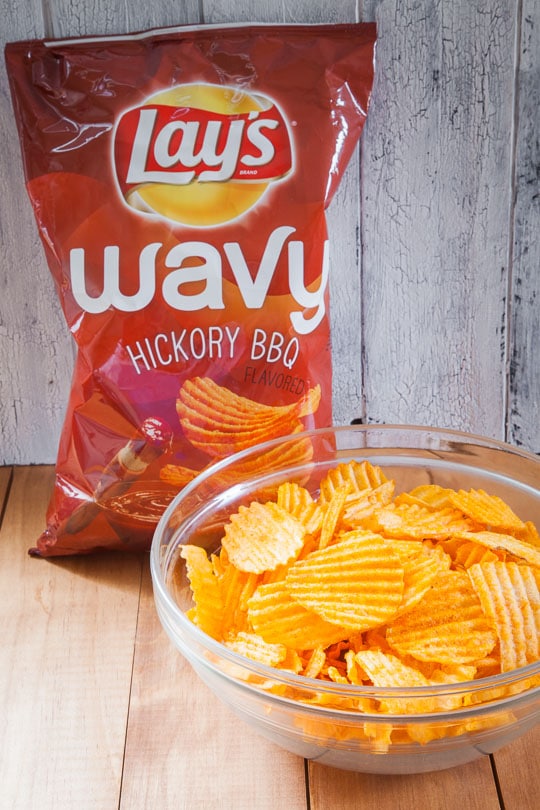 Memorial Day is the mental start of summertime for me (and probably for everyone else). Though San Francisco weather is pretty gorgeous all year round, once Memorial Day hits, our already crowded parks become even more overrun with folks taking advantage of the weather. And though summertime means more picnic events and outdoor gatherings, basically any excuse I have to make food to share, I get excited. And that's where making these Potato Chip Chicken Tenders comes in. They're the perfect quick and easy bite for pretty much anyone to make. And since the LAY'S Wavy Hickory BBQ Chips are salty seasoned crunchy perfection, these chicken tenders keep well for the park, a picnic or any sort of party buffet.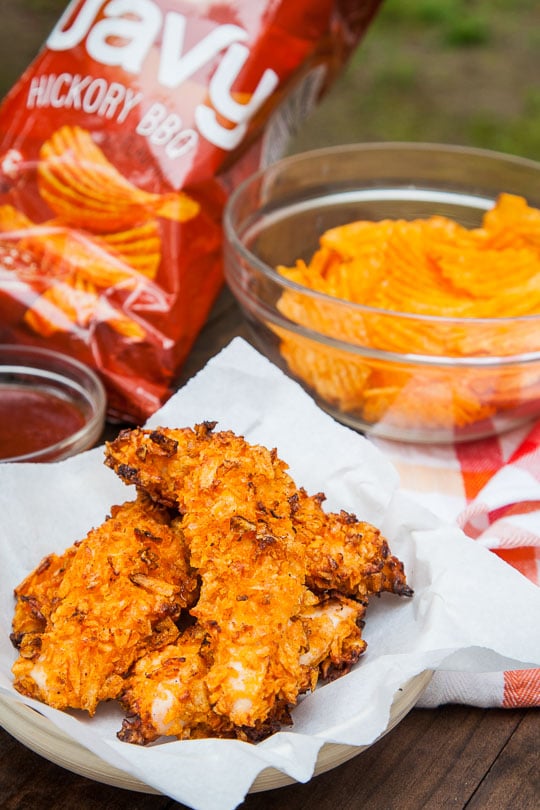 The other reason I love making these is because they're super easy and fast to prep. And though I try to reserve them for guests and picnics, I also make them at home (probably a little too often) for a quick fun meal as well. AJ rarely complains about it because he's a fan of both potato chips and chicken tenders. So the combination is pretty awesome for him. For me, I just get a thrill from eating social acceptable food with my fingers. That's more than enough incentive for me to make these pretty much all the time.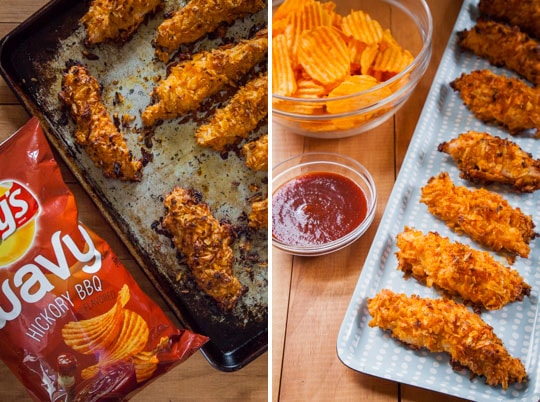 Potato Chips Chicken Tenders
By Irvin Lin
This super easy and fast recipe uses Lay's Wavy Hickory BBQ which not only have their own seasoning but also have a little extra crunch because of the wavy cut. But if BBQ isn't your thing, feel free to substitute another potato chip flavor like Lay's Kettle Cooked Maui Onion or Lay's Wavy Roasted Garlic and Sea Salt. I've also kept the seasoning in the sour cream coating to a minimum of salt and pepper because the Hickory BBQ has so much flavor. But if you want to customize it, feel free to add your own touch of spices to the sour cream along with the salt. For instance, if you like it a little spicy, try 1/4 to 1/2 teaspoon of cayenne pepper, or maybe you like garlic, in which case add 1 teaspoon of garlic powder. Have fun and make it your own! Of course, the hardest part of this recipe is refraining from eating the Lays chips instead of using them for the coating!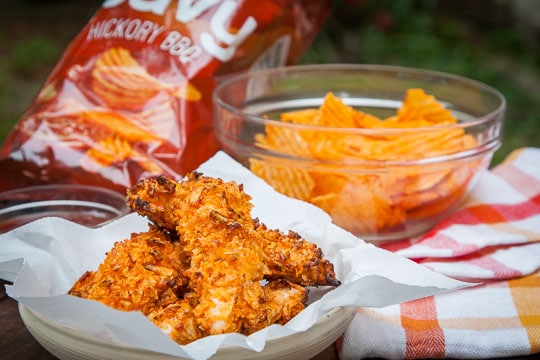 Ingredients
2 pounds chicken breasts
15 1/2 ounces (2 regular size bags) LAY'S Wavy Hickory BBQ Chips
1 cup sour cream
1 large egg
1/2 teaspoon kosher salt
1/2 teaspoon ground pepper
4 tablespoons olive oil
Directions
1. Preheat the oven to 400º F and spray two large rimmed baking sheets with cooking oil.
2. Cut the chicken breasts into 1-inch thick strips (about 4 per breast). Crush the chips into crumbs by using a food processor or opening the bag slightly to let out air and smashing the chips in the bag with a rolling pin. Empty the chip crumbs into a large bowl.
2. Mix the sour cream, egg, salt and pepper in a large bowl until smooth and uniform in color. Dip the chicken strips in the sour cream mixture, let any excess sour cream drip off and then roll the chicken strips in the chip crumbs. Place on the prepared baking sheet. Continue with the remaining chicken.
3. Drizzle the strips with the olive oil (2 tablespoons per baking sheet) and then bake in the oven for 18 to 20 minutes or until the chicken is no longer pink in the center and the outside coating has started to brown. Let cool and serve with your favorite dipping sauce.
Makes enough for 8 people as appetizers.