I've been meaning to post about my pomegranate dark chocolate tart for ages, especially after Saveur Magazine picked me as their Site We Love and mentioned it in their post. A few people asked me about it, but I just haven't had a chance to write it up yet. I created it a couple of years for one of my annual holiday parties and it's one of those last minute desserts that I threw together. I was at Trader Joe's buying supplies and as I navigated my increasingly full cart through the crowds, I walked by the produce section one more time and saw pomegranate seeds, clean and deseeded from their fruit all shiny and ready to use. I knew I had to make something with them. Which is how I ended up making my Pomegranate Dark Chocolate Tart. (Jump directly to the recipe.)
I'm not usually one buy packaged prepared ingredients. There's something nice about taking a whole ingredient and slicing, dicing or cutting it up. I scoff at the pre-sliced mushrooms, shrug my shoulders at the jarred minced garlic and dismiss the chopped onions that I find on the shelves. If I'm in the mood to cook I want to cook from scratch, with the prepping and chopping becoming a meditative event. Chefs sometimes call it deep prepping and I can fall into a zen like state doing it, peaceful and meditative as the raw ingredients slowly reduce into components for the dish. But when I'm baking and creating a dessert buffet for 100+ people with twenty-five different desserts, shortcuts don't seem as much an issue with me. And glittering shiny pomengranate seeds? How could I turn those down?
So I bought them, unsure what I was going to do, until I realized that I had recently been sent some POM Wonderful brand pomegranate juice to play with. They had contacted me soon after BlogHer Food 2010 and asked me if they could send me some juice to experiment with in the kitchen. I told them to send me a few bottles if they want, and a couple of weeks later, I had six bottles in my fridge waiting for me to use.
Coming up with the tart was easy-peasy after that. The only extra step in the process is making the pomegranate molasses. You can buy it from specialty stores, but if you have pomegranate juice around, it's easy to make. My friend Kamran over at The Kitchen Generation has a great tutorial on deseeding pomegranates without getting the red juice all over yourself, it's how I deseed pomegranates (which is normally what I do when I'm not cranking out desserts). Feel free to cheat and buy the seeds already pulled from the fruit. I won't tell.
[special thanks goes to POM Wonderful for providing me samples of pomegranate juice to play with in the kitchen]

Pomegranate Chocolate Tart
By Irvin Lin
This is one of those tarts that you can make ahead of time for a special dinner, especially since it needs a chill in the fridge overnight to set. It makes a sparkly presentation and is perfect for the wintertime when you want something bright and beautiful but are a little tired of citrus. The tart sweet pomegranate molasses works beautifully with the dark chocolate filling, and the crunch of the pomegranate seeds give a nice texture to tart. If you can locate it, just use 1/2 cup of purchased pomegranate molasses, or make your own (the recipe is below).
A couple of things to note. Keep in mind that some planning is needed, as the chocolate short dough needs to set in the fridge for at least 4 hours (or overnight) before it can be rolled out. The chocolate tart shell dough uses teff flour which adds a great depth of flavor and makes the crust nice and soft. Teff can be found at specialty stores or international grocery stores. If you don't have access to it, you can just substitute 55 g (1/4 cup + 2 tablespoons cup) of all purpose flour in its place. I also used Dutch-processed cocoa powder because I wanted a darker color for the crust, but if you want to substitute natural cocoa powder feel free.
The pomegranate molasses is adapted from the fabulous Jen over at Use Real Butter and the tart itself is adapted from one of my baking idol Sherry Yard's book Dessert by the Yard.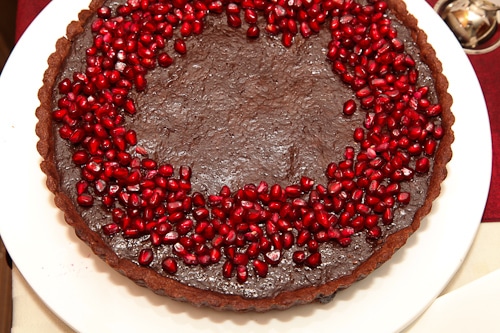 Chocolate Tart Shell Dough (chocolate pâte sucrée)
1 cup (140 g) all purpose flour
1/4 cup _ 1 tablespoon (55 g) teff flour or additional all purpose flour
1/4 cup (25 g) Dutch-processed cocoa powder
1/4 cup (50 g) granulated white sugar
1/2 cup (115 g or 1 stick) unsalted butter, cold
1 large egg yolks, cold
1 tablespoons + 1 1/2 teaspoons heavy cream, cold
1 egg yolk + 1 tablespoon water beaten together for egg wash
Pomegranate Molasses
2 cups pomegranate juice
1/4 cup (50 g) granulated white sugar
1 teaspoon lemon juice
Chocolate Tart Filling
8 oz (225 g) bittersweet chocolate (find one that is at least 55% cacao)
3/4 cup heavy cream
1/4 cup whole milk
2 tablespoons (25 g) granulated white sugar
1 large egg, room temperature
1/4 teaspoon fleur de sel, maldon salt or other quality finishing salt
1/2 cup of loose pomegranate seeds
1. Make the chocolate tart shell by placing the flours, cocoa powder and sugar in the bowl of a standing mixer. Using a balloon whisk, vigorously stir the dry ingredients until they are evenly distributed and uniform in color. Cut the butter into 1/2 inch cubes and sprinkle them over the dry ingredients. Place the bowl back on the standing mixer fitted with the paddle attachment and beat on low until the butter is blended in (2 or 3 minutes). Add the egg yolk and beat for 30 seconds until incorporated. Add the heavy cream and beat for another 30 seconds until the dough starts stick together. Scrape out onto a large piece of plastic wrap and flatten into a disk. Wrap tightly and refrigerate for 4 hours, or overnight.
2. Once the tart shell has chilled, preheat the oven to 350˚F and generously flour a flat surface lightly. Roll the dough out into a 12 inch round circle (the dough will be really stiff, so you might want to pound it with a rolling pin to flatten it and make it more pliable). Fit the crust into a 10 inch tart pan with a removable bottom. Line with a piece of parchment paper and fill with pie weights (or dry beans/dry rice/pennies). Bake in the oven for 15 minutes. Remove the parchment paper with the weight and bake an additional 10 minutes. Remove from oven and brush the egg wash over the crust, to help seal it. Place back in oven for 3 minutes and remove and cool on rack. Lower the oven heat to 300˚F.
3. While the tart is baking, make the pomegranate molasses by pouring the pomegranate juice, sugar and lemon juice into a large skillet. Bring to a boil and then reduce the heat to a simmer (do not cover). Cook for about 20-25 minutes until reduced to about 1/2 cup. Be careful that you don't let it boil or reduce it too much, as it will scorch and you'll have to start over. Cool in pan or in a heatproof measuring cup. The molasses will be more fluid when hot, but will become more viscous when cooled.
4. Once the tart shell cooled, make the chocolate filling by chopping the chocolate into 1/2 inch chunks and placing them in a large heatproof bowl. Microwave the chocolate for 30 seconds to heat it up a bit. Stir and microwave for another 30 seconds. Stir again and place on a heatproof pad.
5. Heat the heavy cream, milk and sugar in a small pan over the stove, stirring until small bubbles start to form on the side (do not let the cream boil). Pour the hot cream over the half melted chocolate and stir with heatproof spatula until the chocolate is completely melted and the cream is blended with the chocolate. Beat the egg in a small bowl and then scrape into the bowl with the chocolate. Stir until incorporated.
6. Pour the pomegranate molasses into the bottom of the cooled chocolate tart. Sprinkle 1/4 teaspoon of the finishing salt, and then carefully spoon the chocolate filling over the pomegranate molasses, making sure to cover the entire tart shell. Place on a baking sheet with a rim and place back in the oven heated to 300˚F. Bake for 25 to 30 minutes, or until the chocolate filling is just set. Cool completely on a rack, then refrigerate for at least two hours or overnight.
7. Remove from fridge 15 minutes before serving. Right before serving, sprinkle the pomegranate seeds around the edge of the tart and remove the side rim of the tart pan.
Make one 10" tart, serves 10 to 12 people