This red wine poached pear upside down cake is made with almonds and olive oil, creating a sophisticated dessert worthy of any dinner party! (Jump directly to the recipe.)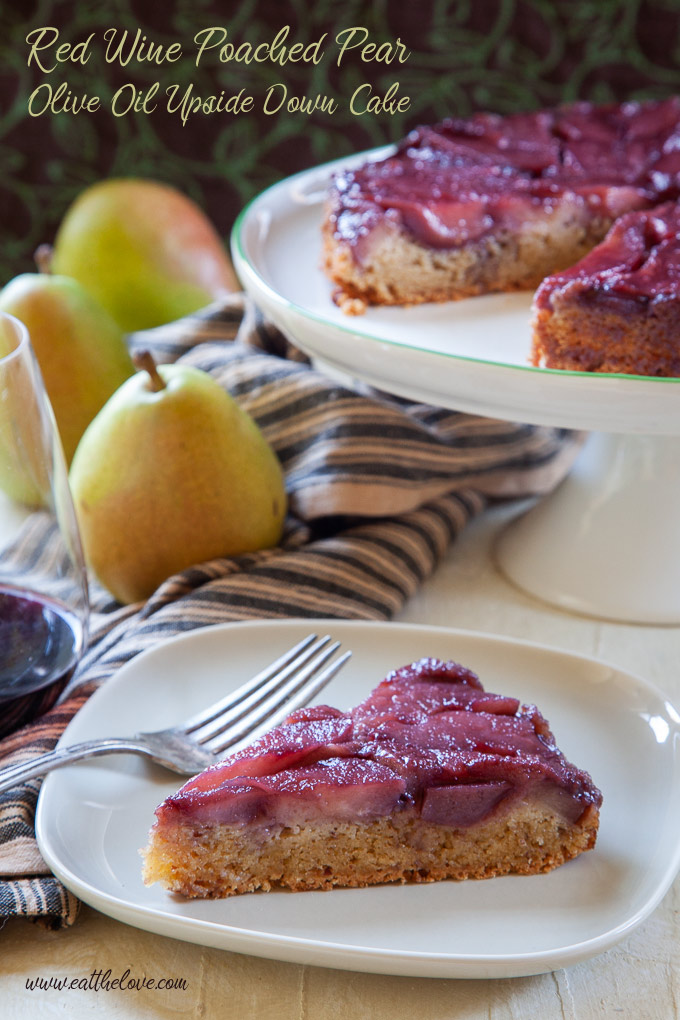 This post was sponsored by B. R. Cohn Winery and Olive Oil Company. I was compensated for this post and for developing the recipe. However, all opinions are my own.
There are hundreds of reasons why I live in San Francisco, but one of my absolute favorites ones is the close proximity of wine country, just a single hour drive north over the magical Golden Gate Bridge. I live a spoiled existence and I am fully aware of it. But wine country isn't just filled with vineyards and winery. Olive country is up there as well, and there are some amazing olives and olive oils being produced here in California.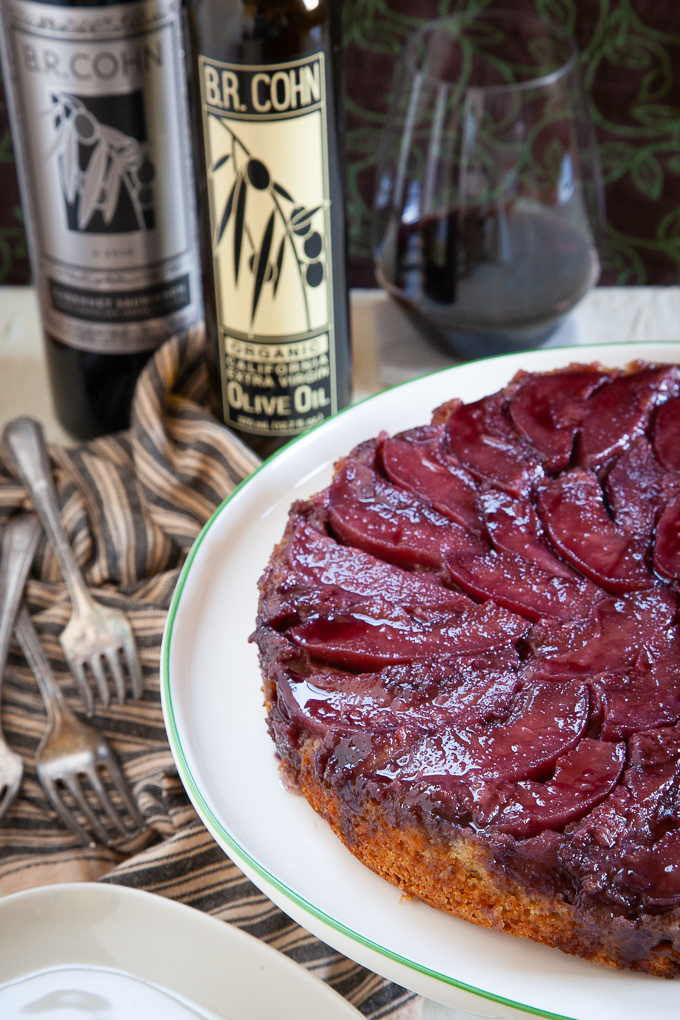 B.R. Cohn Winery and Olive Oil Company is one of those gorgeous wineries that's a double threat, producing award-winning wines AND award-winning olive oils. Located in Glen Ellen, just 10 minutes outside the town of Sonoma, the company was founded in 1984 by Bruce Cohn (manager of legendary rock band The Doobie Brothers!) and were one of the forefront leaders in the California olive oil boom, with its first estate olive oil being pressed in 1990. Currently they have nearly 500 olive trees on their land (in a location aptly called Olive Hill Estate) with 160-year old olive trees! Their olive oil is truly fantastic and only available at B.R. Cohn Winery.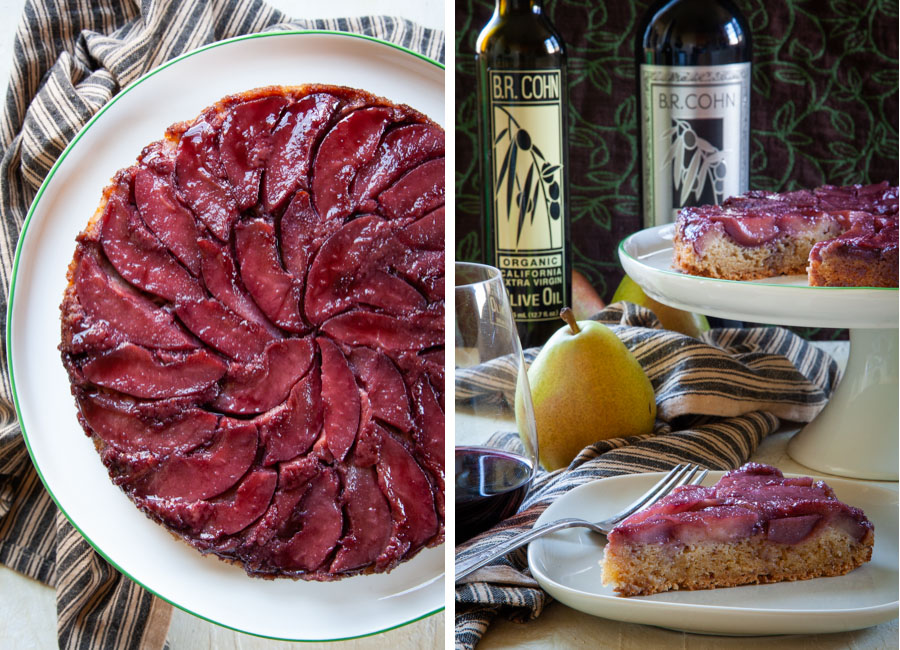 Last week, on November 3rd, B.R. Cohn also hosted their third annual Sonoma Extra Virgin Festival which featured all things olive, including tastings, cooking demos and music. You can check out B.R. Cohn's Instagram account highlights for some photos and videos of the event, or search for the hashtags #BRCohn or #BRCohnRocks to see what other people shared from the event.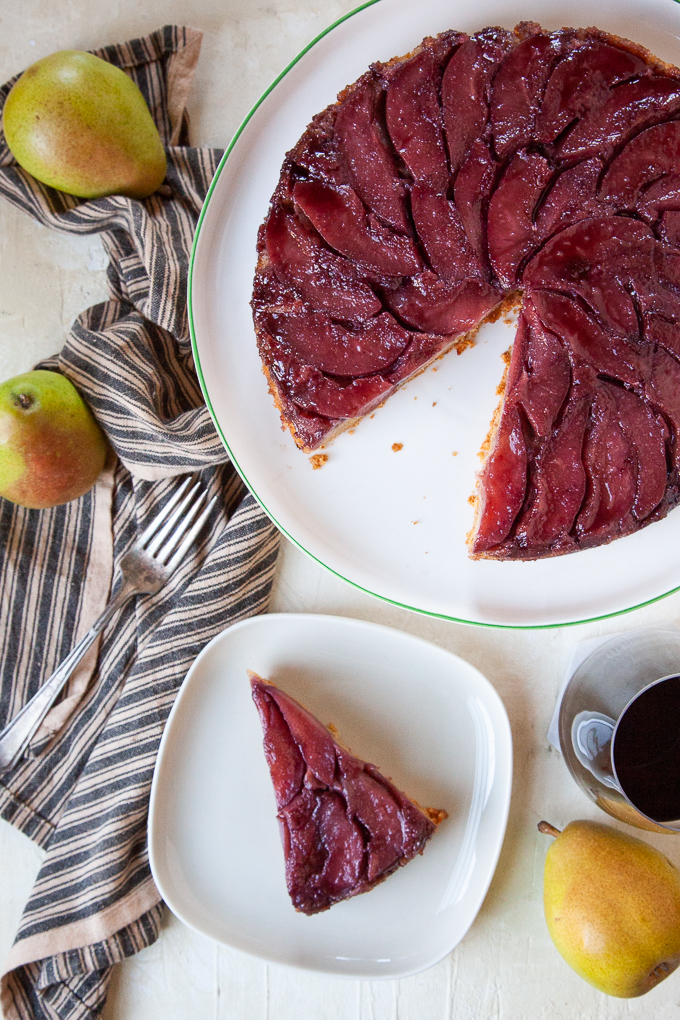 All that said, I was absolutely thrilled when B.R. Cohn reached out to me for a partnership. I was immediately inspired by their wine and olive oil to come up with a sophisticated dessert for the holiday season. Wine poached pears are always an easy sophisticated dessert. But when I paired it with an almond olive oil cake, I knew it's going to be a dessert that I'll be making for the entire season that pears are available. If you have a chance to visit B.R. Cohn Winery, do it. Grab some of their olive oil which is made in limited quantities (and while you're at it, grab some of their wine too!) and make this cake.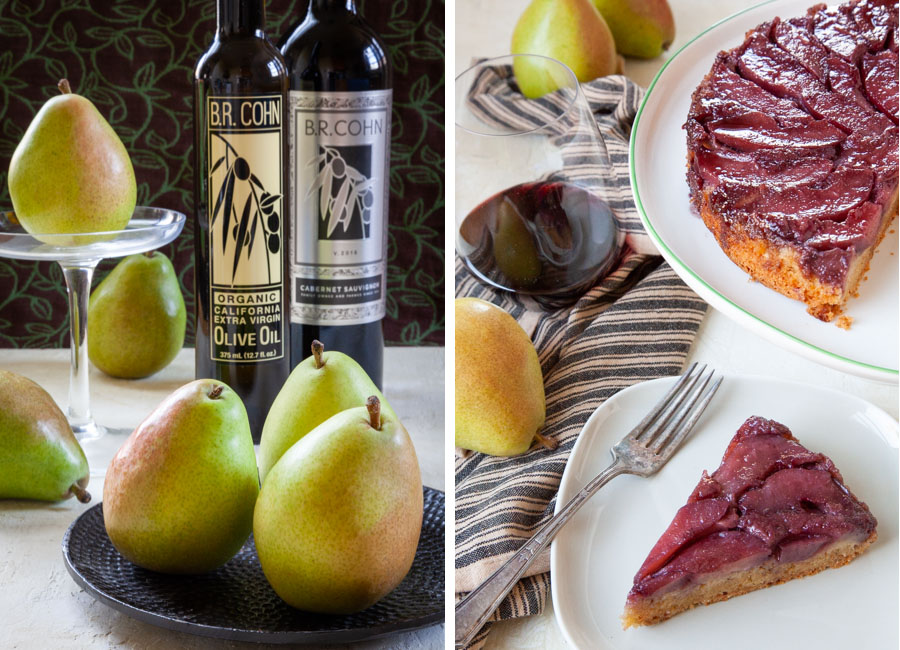 Red Wine Poached Pear Upside Down Olive Oil Cake
Red wine poached pears are a simple stunning dessert all by themselves but paired with this almond olive oil cake, it's next level. If you've never made a cake with olive oil, you're missing out. Olive oil adds a bright rich moisture to the cake without being overly heavy. A touch of almond extract and almond meal means you have an elegant dessert suitable for a dinner party without being cloyingly sweet. Feel free to make this cake the day before and keep it covered overnight at room temperature. Save the reduced wine syrup in a small airtight container in the refrigerator and then warm it up in the microwave or on the stove top. Brush it over the cake right before serving.
Ingredients
Poached pears
4

small to medium firm pears

d'Anjou or Bosc

2

cups

dry red wine

like B.R. Cohn Silver Label Cabernet Sauvignon

1

cup

water

1

cup

white sugar

200 g

3

strips of orange peel

1 3-

inch

cinnamon sticks

3

whole allspice

5

whole black peppercorns
Olive oil cake
1

cup

all-purpose flour

140 g

1/4

cup

almond meal

35 g

1

teaspoon

baking powder

1/4

teaspoon

kosher salt

1/2

teaspoon

ground ginger

1/4

teaspoon

cinnamon

3/4

cup

white sugar

150 g

1/4

cup

packed brown sugar

65 g

2

large eggs

6

tablespoon

B.R. Cohn Extra Virgin Olive Oil

1/2

teaspoon

vanilla extract

1/2

teaspoon

almond extract

1/2

cup

sour cream

140 g
Instructions
Poach the pears by first peeling the skins off of them. Combine the remaining ingredients in a large saucepan. Heat on high until the sugar has dissolved completely.

Submerge the pears in the liquid and cover the top with a piece of parchment paper cut to fit in the saucepan. This will help keep the pears submerged in the liquid. Bring the liquid to a boil, then reduce heat to a bare simmer. Cover the pan and let the pears poach in the liquid for 30 minutes or until the pears are tender enough for a thin paring knife to be inserted easily into the pear. Remove pears from the liquid and let cool.

While the pears are cooling, increase the heat on the wine until the liquid is boiling, and reduce the wine into a syrup, about 20 minutes or until the syrup coats the back of the spoon and holds a line when you draw a finger through it.

Preheat the oven to 350°F. Spray a 9-inch springform pan with cooking oil lightly, then place a round of parchment paper on the bottom of the pan. Place the springform pan on a rimmed baking sheet or pizza pan in case it leaks.

Once the syrup has reduced and the pears have cooled enough to handle them, slice them in half, then scoop out the inside seeds with a melon scooper or spoon and cut out the stems and bottom end. Slice the pears into 8 to 10 slices per pear and arrange them in a spiral pattern on the bottom of the prepared springform pan.

Spoon 4 tablespoons of the syrup over the pears, reserving remaining syrup for later.

Make the cake batter by placing the flour, almond meal, baking powder, salt, ginger and cinnamon in a bowl. Stir vigorously together with a balloon whisk until blended and uniform in color. Place both sugars and eggs in a different bowl and stir vigorously with a whisk until eggs are incorporated. Stir in B.R. Cohn Extra Virgin Olive Oil, both extracts and sour cream.

Add the dry ingredients to the wet ingredients and fold together with a large spatula until there are no more dry pockets of ingredients. Pour or spoon the batter over pears and spread evenly to cover. Bake in the oven 45 to 55 minutes or until a toothpick inserted comes out clean in the middle.

Let the cake cool in the pan for 20 minutes, then release the sides of the pan, sliding a thin knife around the cake in case any of the cake is sticking to the pan. Invert a cake stand or serving plate over the top of the cake, then flip it over. Remove the bottom of the pan, then peel off the parchment paper.

While the cake is still warm, brush the cake with the reserve wine syrup, warming the syrup up if necessary. Serve warm or at room temperature.
Nutrition