Growing up I had a slight fascination with other "outsider" cultures. Perhaps it was because I was Asian, or "Oriental" as they referred to it back then, living in the Midwest surrounded by white people. I have specific memories of asking the one other oriental girl in my grade school if she spoke Chinese at all. She looked at me as if I were crazy and emphatically said NO with derision as she stormed off (later I would discover that Janet Kim was, in fact, Korean not Chinese). I was fascinated by anyone that identified as "other" and read young adult books voraciously whose themes were about growing up different. Looking back, this is pretty much the theme of EVERY young adult novel (who doesn't feel different and alienated growing up?) but I loved my books.
The Girl with the Silver Eyes talked about a kid whose mom took a prenatal pain killer and instead of being born without arms, she was born with silver eyes and an ability to move things with her mind. Creepy and cool. A Wrinkle in Time has an awkward teen traveling with her near idiot savant brother and a handsome popular high schoolmate to a distant planet to try to rescue her father. Awesome. And The Westing Game had a neglected teen girl named "Turtle" who is finally solves the murder mystery that of the eccentric millionaire (aren't all millionaires eccentric?).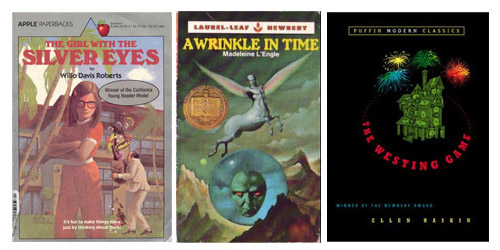 But there was a book whose name I can't remember that stuck with me all these years. It takes place in upper Pennsylvania about a teen that moves there and has to readjust to the Pennsylvania Dutch culture. Though I have since forgotten the name of the book, I distinctly remember being fascinated by this subculture, with their own language and their own old worldly ways. Affiliated with the Amish and the Mennonites, the Pennsylvania Dutch were a subculture of people who refused to give up their own culture, even in the modern world.
I remember very little from the book or the plot. I believe there was an Anti-Semite subplot, where the girl befriends a Jewish classmate and other classmates warn her it was not in her best interest, but she sticks with it and eventually all the other classmates discover that having the last name Goldstein does not preclude you from being cool. I remember being surprised that the Pennsylvania Dutch were actually descended from Germans, with the word "Dutch" being a bastardized version of "Deutsch". And I learned cool new phrases like "Grex" which means complaining, "Outen the lights" which means "turn off the lights" and "don't eat yourself full" which is fairly self explanatory.
So it was no wonder, when I was flipping through Nick Malgieri's book Perfect Cookies, Cakes and Chocolate and came across a recipe with the name Pennsylvania Dutch Soft Sugar Cookies that I had to make them. The name alone was calling to me, homey and no frills. And that's exactly what they are, wonderful in their simplicity. And whenever I make them, I get nostalgic, for a childhood that I never lived, but still had, via a book that I can't quite remember.
Pennsylvania Dutch Soft Sugar Cookies
By Irvin Lin
Now these cookies are a cross between a soft cookie and sweet buttermilk biscuit. Simple and basic, it's believed that the Pennsylvania Dutch created them to use up soured old milk. Now I could have fancied them up, made them with honey, or added some lavender or Meyer lemon zest to give that special twist. But I didn't, because the Pennsylvania Dutch are a simple folk. They don't get all uppity with their food and so I decided not to either. I do occasionally serve them with homemade strawberry jam, but a lot of my friends love them just as they, soft, toothsome and just slightly sweet. If you want to make your own soured milk, place 1 tablespoon of lemon juice or vinegar (white or apple cider) into a measuring cup and then pour regular milk on top until you have 1 cup. Stir to combine and let it sit for about 5 or 10 minutes to thicken and curdle. You have soured milk. I like to make vanilla sugar with my leftover vanilla pods. Just place the pod in a jar with some regular sugar and let it sit for two weeks (or longer). Give it a shake now and then. The vanilla pod will have scented the sugar. If you have this around the house, you can use the vanilla sugar to sprinkle on the Pennyslvania Dutch soft cookies, but that might border on getting too fancy.
Adapted from Perfect Cookies, Cakes and Chocolate from Nick Malgieri
Ingredients
4 cups (560 g) all purpose flour
2 teaspoon baking powder
1 teaspoon baking soda
1/8 teaspoon salt
1 cup (225 g or 2 sticks) unsalted butter at room temperature
2 cups (400 g) white granulated sugar
1 vanilla bean, split lengthwise
1 1/2 teaspoon pure vanilla extract
3 large eggs
1 cup buttermilk or soured milk (see note above)
2 or 3 tablespoons of vanilla sugar (see note above) or regular granulated white sugar
Directions
1. Preheat an oven to 375˚F. Line a baking sheet with a silpat or parchment paper. Place the flour, baking powder, baking soda and salt in a large mixing bowl. Take a balloon whisk and vigorously stir until the thoroughly combined.
2. Place the butter and sugar in the bowl of standing mixer fitted with the paddle attachment. Cream the butter and sugar until pale and fluffy, about three minutes. Take the vanilla bean and using a sharp knife, scrape the seeds out of the pod into the batter. Reserve the vanilla pod for another use (see note above). Add the vanilla extract and then beat until combined. Scrape down the sides of the bowl with a spatula and add one egg. Beat until incorporated and scrape down the sides again. Repeat with the other two eggs, pausing to scrape down the sides between additions.
3. Add 1/3 of the flour mixture to the batter and beat until incorporated. Scrape down the sides and add 1/3 of the buttermilk. Repeat, alternating with the flour and buttermilk, 1/3 each, remembering to scrape down the sides between each addition. Drop tablespoons of the dough about 3 inches apart from each other (the cookies will spread). Sprinkle the top of each mound of dough with granulated sugar. Bake until the cookies have spread, risen and turned lightly golden, about 13 to 15 minutes. Cool on the baking sheet for about 10 minutes and then remove them with a spatula to a wire cooling rack to cool further.
Makes about 60 cookies.