This mead poached pear galette with almond frangipane is the sort of rustic dessert that makes a stunning finish for a holiday or winter meal. (Jump directly to the recipe.)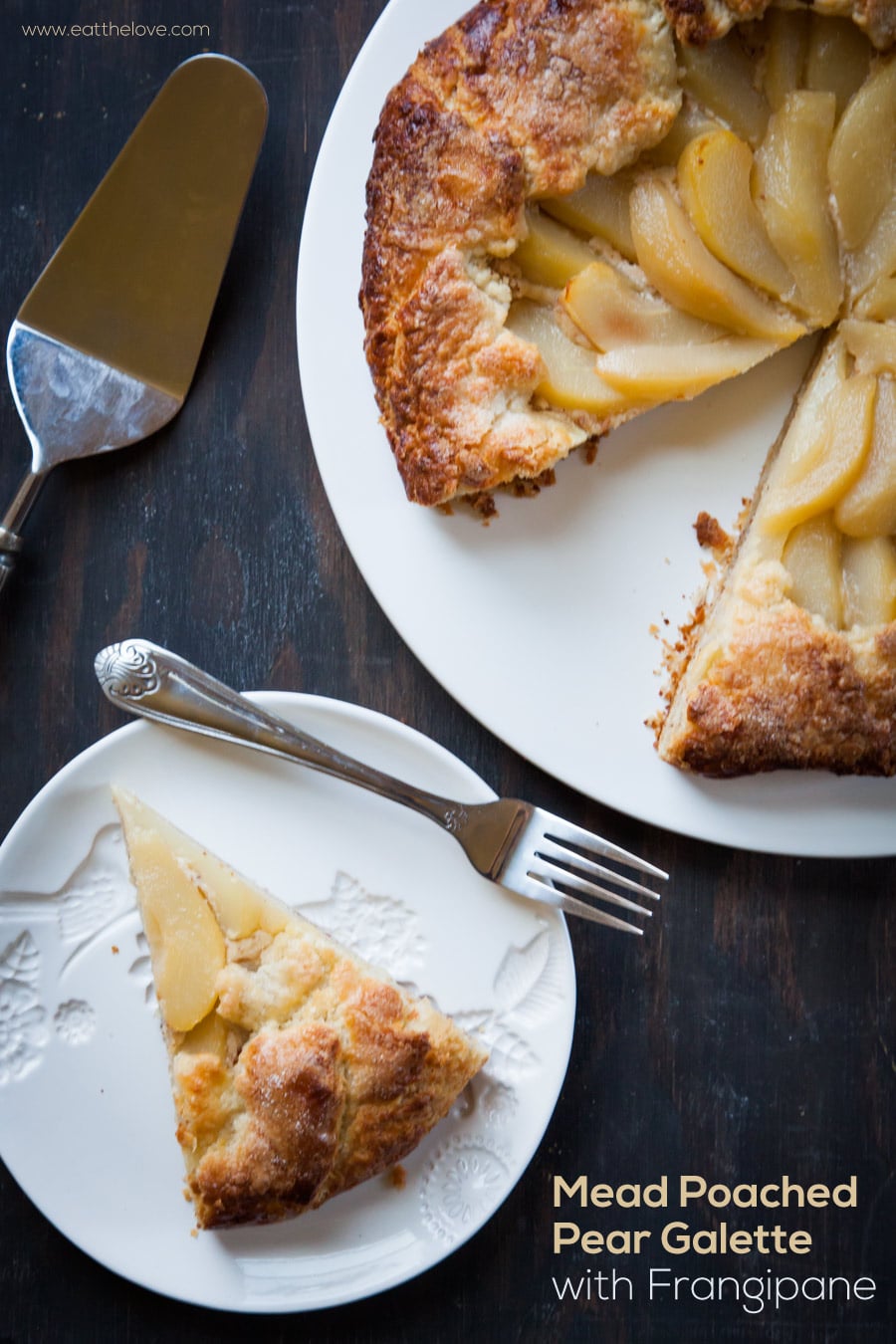 If you've been following along with my Instagram feed recently you might have notice that I've been sharing a bunch of photos from my archive that I recently found buried in my hard drive. Most of them are photos of recipes from my cookbook Marbled, Swirled, and Layered that were never seen the light of day, as I ended up hiring a photographer and food stylist. Folks have asked me why I didn't photograph the book myself, and there were many factors involved. But the main reason was how difficult and time consuming it was to develop all the recipes, have them tested, write the book as ambitious in scope as I had pitched, and then also photograph and style each dish. Something had to give, and in the end, the photograph was the one thing I had to let go of.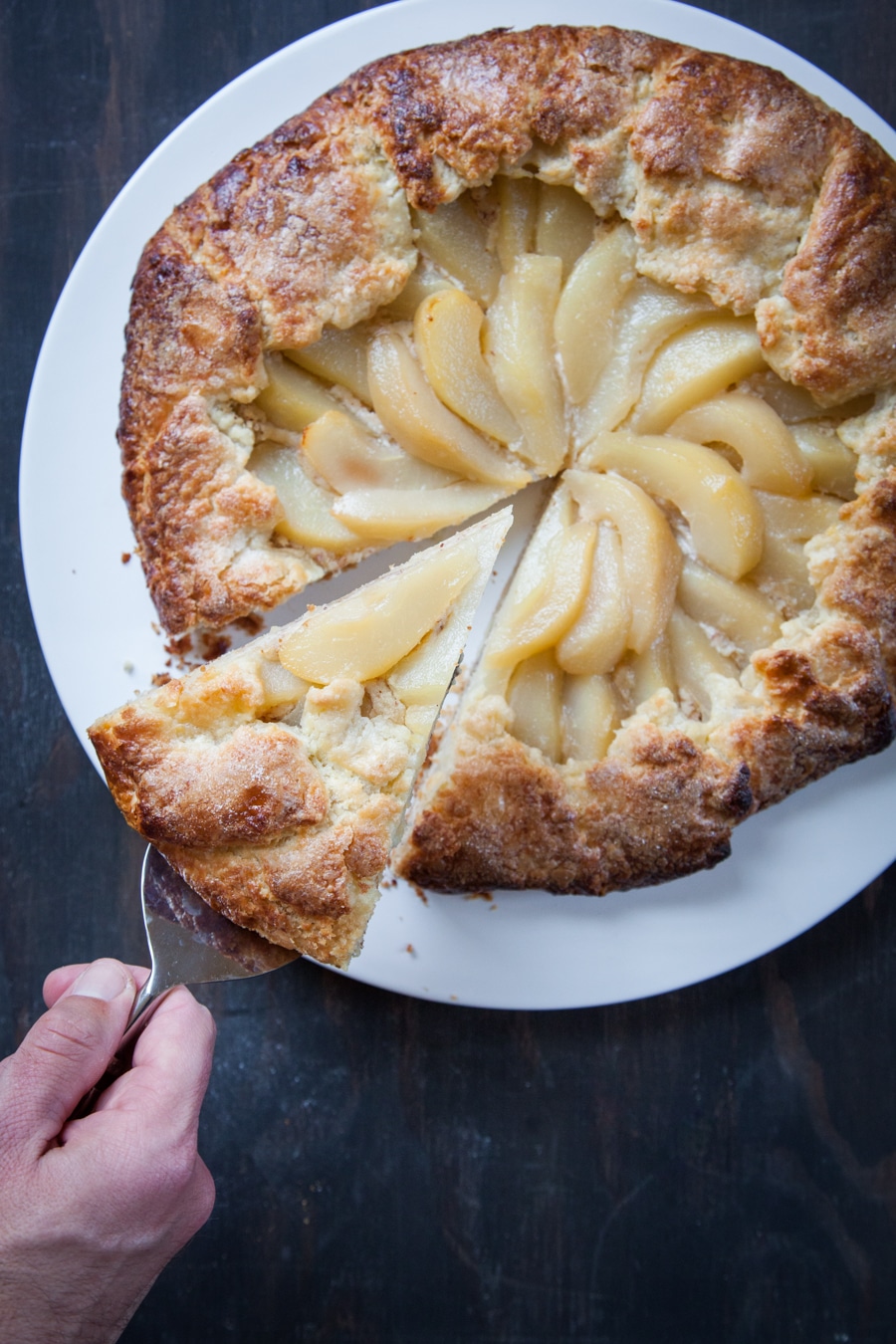 I have no regrets about hiring the food stylist and photographer. Suzanne Lenzer is an amazing food stylist, and I would work with her again in a heartbeat. The photographer Linda Xiao captures light in ways I just can't seem to in my tiny little one bedroom apartment, and the end result is a cohesive beautiful book that I am still proud to look at a year after it was released. I would be lucky to work with them again on book two, three and four if I ever get the opportunity to write another book.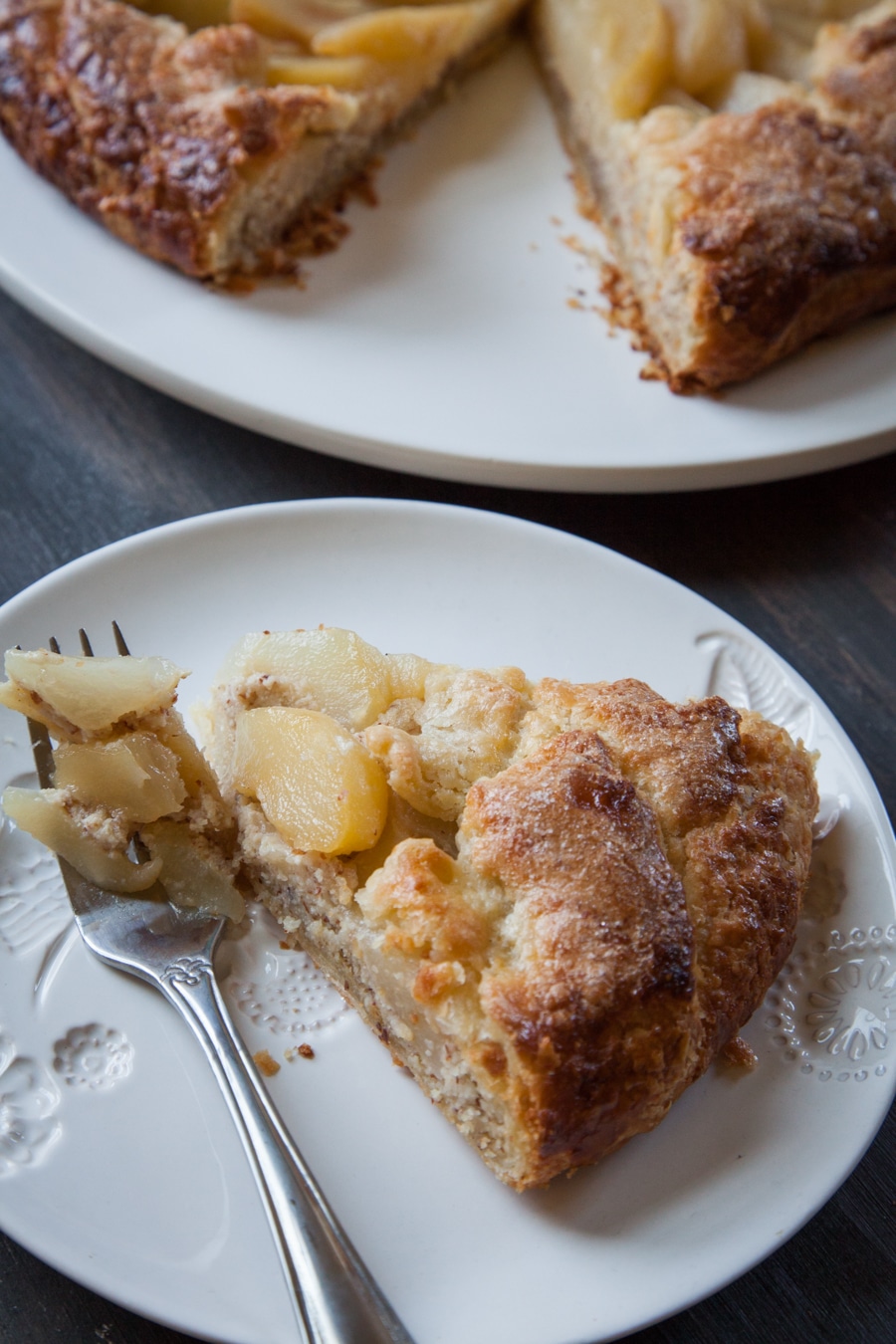 I learned so much writing my first book, including what to do and what not to do. I've heard from many fellow food bloggers that they hated writing a cookbook and I certainly can understand that. It's a tough road to take and the expectations can be pretty high for each book. Writing a blog is extremely different from a cookbook and most folks don't understand that going into the process. I certainly didn't and the learning curve is steep. But now that I've done it, I know what to expect. Does that mean I have news about another book? Nope! I haven't even started thinking about another one but don't worry. When and if it happens, you all will be the first to know! In the meanwhile, I'll keep on sharing some of the outtakes of photos from my archives as I dig deeper into my hard drive. And if you haven't picked up my cookbook, it's available everywhere you can buy cookbooks, including Amazon, Barnes and Noble, and your favorite independent bookstore. And if you want a signed copy, you can reach out to Omnivore Books here in San Francisco. I'm happy to swing by there and sign a copy to you or to whomever you want to gift the book to!
And make this frangipane pear galette. It's a bit of an unassuming rustic looking dessert. But once you get a taste of it, you'll be making it again and again. I first poach the pears in mead (a honey wine) then bake it up in a bed of homemade frangipane, which is an almond paste. I absolutely adore it and it's a great holiday dessert or really any occasion. The recipe comes from my cookbook, so if you like this one, you'll love the other 150 recipes in the book.
Mead Poached Pear Galette with Frangipane
The sophisticated combination of honey mead, almond frangipane and silky smooth pears make this a memorable holiday or winter dessert. Don't be put off by the long list of ingredients and the directions. Most everything can be made ahead of time, and the crust is very forgiving to work with. Mead comes in various sweetness, from dry, semi-sweet and sweet. I use a sweet, dessert-like wine for this recipe, so if you can only find semi-sweet or dry mead, you might have to up the honey or sugar. The initial poaching liquid should be sweet like apple juice, and any leftover liquid can be saved in the fridge and used over ice cream, for cocktails or as a glaze over cakes. Make sure to poach the pears overnight in a liquid for maximum flavor.
Ingredients
Poached pears
2

pounds

ripe by firm pears (Bosc or Anjou)

about 5 medium

2

cups

sweet mead

1/2

cup

water

1/4

cup

granulated white sugar

50 g

2

tablespoons

honey

1

cinnamon stick
Crust
2 1/2

cups

all-purpose flour

350 g

1/4

cup

granulated white sugar

50 g

1/4

teaspoon

kosher salt

1

cup

cold unsalted butter

225 g or 2 sticks

2

large egg yolks

1/2

cup

cold water

plus 1 tablespoon if needed
Frangipane filling
4

tablespoons

unsalted butter, at room temperature

57 g or 1/2 stick

1/4

cup

granulated white sugar

50 g

1

large egg

1

teaspoon

vanilla extract

1/4

teaspoon

almond extract

1/4

teaspoon

kosher salt

1

cup

almond meal

105 g

2

tablespoons

pear poaching liquid
To Finish
1

large egg yolk

1

tablespoon

cold water

2

tablespoon

granulated white sugar
Instructions
Make the poached pears by first peeling the pears, slicing them in half, then using a melon baller or small spoon to scoop out the seeds. Place pear halves in a medium saucepan and add the remaining ingredients. Bring the liquid to a boil, then reduce heat to a lower simmer and poach pears until a knife pierces the pears easily, about 10-15 minutes. Let cool to room temperature, remove cinnamon stick and discard it, then transfer pears and liquid to a glass or ceramic bowl and cover. Refrigerate overnight or up to 3 days.

Make the crust by combining the flour, sugar and salt in a large bowl. Stir vigorously with a balloon whisk until ingredients are evenly distributed. Cut the butter into 1/2-inch chunks and sprinkle over dry ingredients. Using your fingers and hands, toss the butter in the dry ingredients to coat, then smash into thin slivers, breaking them up as you go. Once they've been broken into pieces about the size of peas, add the egg yolks to the 1/2 cup of water and beat together with fork. Drizzle over the butter and flour. Toss with a fork until the dough starts to come together. If the dough looks dry, add the additional tablespoon of water. Massage the dough with your hand to form a cohesive dough, then flatten into a disk about 1-inch thick and wrap with plastic wrap. Refrigerate the dough for 1 hour or up to 24 hours.

Once the dough has chilled, preheat the oven to 375°F. Make the frangipane filling by combining the butter and sugar in the bowl of a stand mixer fitted with a paddle attachment. Beat on medium speed until the butter is fluffy and clings to the side of the bowl, about 2 minutes. Add the egg and beat to incorporate. Scrape down the side of the bowl and add the vanilla, almond extract, and salt. Mix to incorporate, scrape down the side again, then add the almond meal and 2 tablespoons of the pear poaching liquid.

Dust a clean surface with flour, then roll out the dough to a 15-inch round circle. Slip the dough onto a piece of parchment paper (if it hangs over the edges of the paper a bit, don't worry, you'll be folding in the edges). Spread the frangipane filling into the middle of the dough, leaving about a 2-inch border all the way around the edge of the dough. Cut each pear half into 3 slices and arrange them in concentric circles on top of the frangipane. Once the center is filled with pears, fold the dough edges over the pears, "pleating" the dough to make it fold around the pear in a circle. Once folded in, you should have about 2-inches of dough folded over the pears, and a hole about 7-inches wide exposing the pears in the center.

Carefully use the parchment paper to lift and move the galette onto a 13 x 18-inch rimmed baking sheet (leaving the galette on the paper). Beat the egg yolk and water together and brush it over the top of the crust, as well as under the pleats of the crust, to seal them together. Try not to get any egg wash on the parchment paper though, as it will make it hard to remove the galette from the paper once it's baked. Sprinkle the tart with the sugar, then bake until the crust is golden brown, about 45 to 50 minutes. Let cool completely on the baking sheet before slipping the galette onto a serving plate.
Nutrition