Looking for an unusual summer pie recipe? Try this contemporary take on a peach and blueberry pie, with blueberry milk cream crumble! (Jump directly to the recipe.)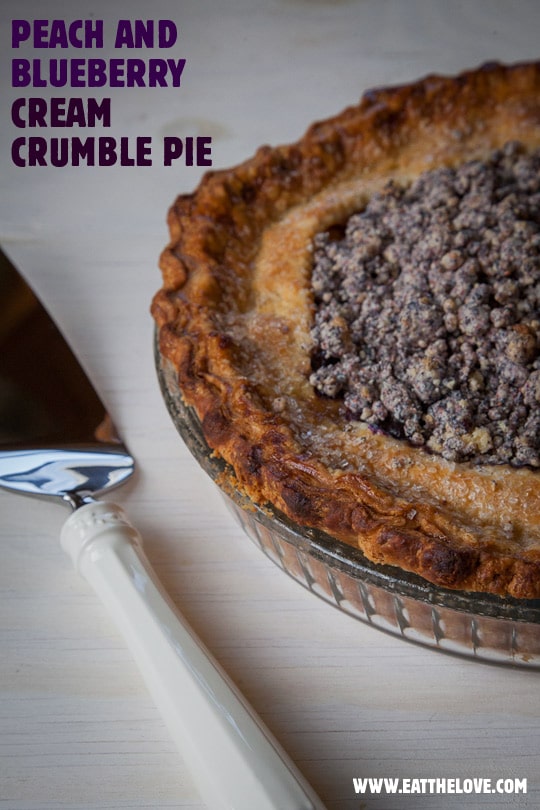 "So don't tell anyone, but your pie was totally the best…" whispered my friend Stephanie, conspiratorially into my ear. I was at the 18 Reasons DIY Dessert: Pie! event that I cohost with my partner-in-crime Melanie. I had brought a Peach and Blueberry Cream Crumble Pie which was a total experimental pie for me and I wasn't 100% sure of the outcome. Something about the blueberry cream crumble on top looked a bit odd to me. But apparently I was in the minority as the pie was nearly gone by the time I left and clearly it was my friend Stephanie's favorite (though, being my friend, she was obviously bias).
Of course there were insanely awesome pies at the event as well. As always with our DIY Desserts event, we open 18 Reasons to public and ask people to bring a homemade dessert of their own choice around the theme. Pies are one of our more popular events and we definitely had some wonderful ones that showed up. Frangipane (almond flavor) pie seemed to be pretty popular with both a Fig Frangipane Pie showing up (I love fresh figs!) and a Quince Frangipane with Spelt Crust (the quince had been home canned from the previous fall).
Of course I wasn't the only person there with a peach pie, there was a classic peach pie that came fresh right from the oven, still warm as we spooned it into our plates. My cohost Melanie was running late and ended up bringing a peach, apricot and berries pie from Mission Pie as well. Talk about a peach extravaganza!
I was pleased to see a blackberry blueberry pie with whole wheat flour at the event. I had made a black and blue pie a couple of years ago for this blog and I know the combination is pretty awesome. There as gorgeous apricot and blueberry (or was it huckleberry?) tart there as well that had me salivating. And one of my favorite pies of the evening was a straightforward coconut cream pie with cherries on top. The big luscious cherries just burst with juice and went so well with the rich coconut cream.
Our next DIY Dessert event will be the popular Ice Cream event in September, right about the time that San Francisco starts to get warm (we have pretty cool summers) so if you're in the SF Bay Area, I hope you stop by. Otherwise, I'm sure I'll be churning up something for it (maybe my perfect fresh mint chocolate chip ice cream?) and will be sharing it with you all!
Peach and Blueberry Cream Crumble Pie
By Irvin Lin
The idea behind the Blueberry Milk Crumble came from Momofuku Milk Bar, which is a bakery in New York that does awesome intriguing nostalgic twists on childhood classic treats. It does require some special ingredients, including milk powder (nonfat dry milk powder can be found at most grocery stories, but I used whole milk powder which can be found at health food stores. The nonfat will work though – just makes sure it's crushed to a fine powder as the nonfat stuff has a habit of clumping up.) Freeze dried blueberries can also be found at upscale and specialty markets like Whole Foods or Trader Joe's. If you can't find it, just skip it. The milk crumble won't have the blueberry punch but it'll still be pretty awesome.
Milk Crumble adapted from Momofuku Milk Bar by Christina Tosi
Ingredients
Blueberry Milk Crumble
3/4 cup (60 g) milk powder, divided
1/4 cup (40 g) all purpose flour
2 tablespoons (25 g) white granulated sugar
2 tablespoons (14 g) tapioca or corn starch
1/2 teaspoon (4 g) sea salt
1/4 cup (55 g) melted butter
1/2 cup (34 g) freeze dried blueberries, crushed to a powder
1/4 cup (90 g or 3 oz) white chocolate, melted
Pie Crust
3 cups (420 g) all purpose flour
1 tablespoon sugar
1 teaspoon sea salt
1 cup + 5 tablespoons (300 g) unsalted butter
2/3 cup ice cold water
Filling
1 cup (155 g) blueberries
5 cups (2 3/4 lbs) peaches – abut 8 to 10 medium
4 tablespoons (32 g) tapioca or corn starch
3/4 cup (150 g) white granulated sugar
1/4 cup (50 g) dark brown sugar or coconut palm sugar
1/2 teaspoon sea salt
2 teaspoon vanilla extract
1 teaspoon cinnamon
1/4 cup (65 g) Greek yogurt
Egg Wash
1 large egg yolk
1 tablespoon water
1-2 tablespoons white granulated sugar for topping
Directions
1. First make the blueberry milk crumbs by heating oven to 250˚F and lining a baking sheet with silpat or parchment paper. Combine 1/2 cup (40 g) of the milk powder, flour, sugar, and salt together in a medium bowl. Drizzle with melted butter until clumpy. Add blueberry powder. Toss to coat.
2. Pour crumbles onto the baking sheet line and bake for 20 minutes or until the edges of the crumble start to brown ever so slightly (don't overbake). You may want to stir it once in the middle of the time to make sure they bake evenly. Cool on the baking sheet and then pour into a bowl and add rest of milk powder and toss. Drizzle melted white chocolate over the crumbs and toss every 5-10 minutes until cool and not too sticky (depending on the white chocolate, it might stay a little sticky, don't worry too much about that). Keep in fridge or freezer for up to a month.
3. Make the crust dough by placing the flour, sugar and salt in a large mixing bowl. Cut up the butter into 1/2 inch chunks, sprinkle over flour and toss to coat. Flatten the cubes of butter with your fingers until all the butter has been smashed. Start rubbing and squeezing the butter together with your fingers, until the ingredients start to clump together. Sprinkle the water over the mixture and toss with a fork until it forms a dough. Gather the dough, split into two balls and flatten each into a large 1/2 inch thick disk. Wrap tightly with plastic wrap and place in the refrigerator for an hour or overnight.
4. Once the dough has chilled, preheat the oven to 400˚F. Roll out one dough disk into a 10 inch round dough circle on a floured surface and fit it into a 9 inch deep dish pie pan. Place the pie pan with the pie dough in the fridge for ten minutes and make the filling by combining all the ingredients together in a large bowl, tossing together to mix. Remove the chilled pie pan with dough and pour the filling into the line pan. Roll out the other dough disk into a 10 inch round circle and cut a 7 inch in diameter circle in the middle of the disk (I cut a 7 inch piece of paper first to make a stencil but you don't have to get that particular). Gently place the dough, with the cut out circle in the middle of the pie, on top of the filling. Crimp together decoratively all the way around the edge of the pie. Beat the egg yolk and water together until foamy. Brush top of crust with egg wash and sprinkle with sugar on top.
5. Place pie on rimmed baking sheet or pizza pan (to catch any drippings and to help facilitate easy removal from oven) and bake in the middle of the oven for 30 minutes. Reduce heat to 375˚F and continue to bake for 30-40 minute until the filling is thick and bubbly. Sprinkle the milk crumbs on top of the pie, in the middle of the cut out circle and bake for an additional 5 minutes. Cool and serve immediately.
Make 1 pie.