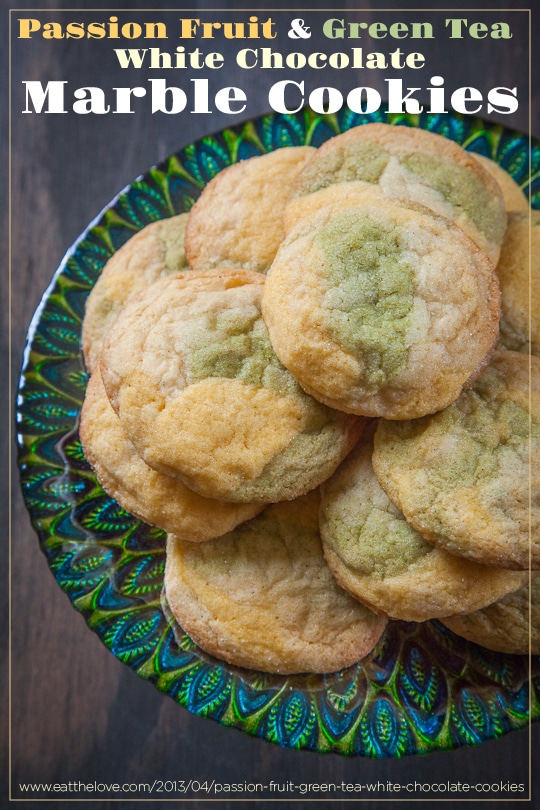 "Well the secret to getting me to eat things I don't normally want to eat… well it's not G-rated." said my lunch companion, as he grinned mischievously. Then he laughed loudly and shook his head while his girlfriend giggled. I was lunching with three complete strangers and we were having a grand old time at the Pebble Beach Food & Wine event. I had driven down there from San Francisco (waking up at the early hour of 6am which, if you know me at all, is insanely early) for the day and was enjoying the Omakase Lunch with Masaharu Morimoto and Roy Yamaguchi. The final course, a dessert entitled White Chocolate Passion inspired me so much that I found myself in the kitchen the very next day developing these Passion Fruit & Green Tea White Chocolate Marble Cookies.
The lunch started out with some Champagne Perrier-Joulët "Belle Epoque" Épernay 2004 which sort of had me wishing I hadn't tasted it. The fact is, once you've tasted really good champagne (or wine, or chocolate, or anything in fact) you can't go back. As my friend Rita once told me, every upgrade is actually a downgrade as you can't go backwards and are now forced to eat & drink the good stuff. Ignorance really can be bliss and let me tell you, it is difficult having the tastebuds of a rich person on a freelancer's salary. Of course, the champagne wasn't the only good stuff as the passed hors d'oeuvres include salmon ceviche, wagyu beef & uni, kimchee oyster explosions and toro paddles. I probably could have filled up on appetizers alone but I had a job to do. I was there to document the event, not eat myself silly (though that happened anyway).
After being assigned to a table, I was bounced around a few times until I landed at a small intimate table for four. Turns out my other three tablemates were also bounced from their original tables but it didn't matter. We bonded over our situation and quickly became friends. The first course, a braised ocean rose abalone with fava bean tofu and bacon dashi was pretty inspiring. The smoky dashi played well with the bright green tofu and the abalone was superbly cooked, not too chewy as abalone can sometimes get. An impressive feat, having to make plates for 180 people all at the same time.
In fact, the entire meal was pretty spectacular. Spicy miso cod congee with pickled veggies was the next course, and as my sister commented when she saw my instagram "that's WAY fancier than the congee I make." She wasn't wrong. It's probably the fanciest congee I have ever had. I loved the slight kick that the spicy miso gave the tender cod and the cooling congee on the tongue and tart crisp veggies balanced it all out.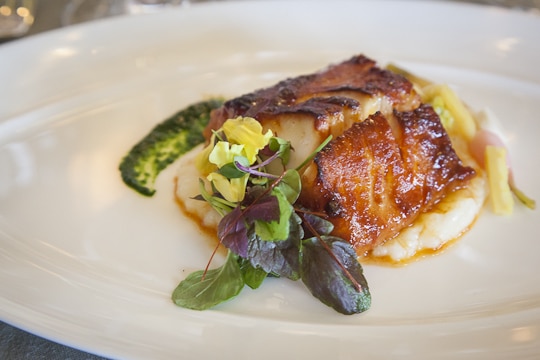 The third course of tea-smoked liberty farm duck with turnip, ramps and cippolini onions was probably everyone's favorite, as I noticed that all our plates were practically licked clean. The hint of smoke and the crisp duck skin made me wish I had room for seconds, though in truth I was pretty full by then.
Of course the wines that came with each course seemed perfectly matched. Sohm & Kracher Grüner Veltnliner 2011 we had with the abalone was crisp with just a hint of citrus, while the Château D'Escalans Côtes de Provence 2012 was a rosé that was fresh and floral and worked with the earthy spicy miso sauce over the cod fish. Even the heavier tea-smoked liberty farm duck was paired with a nice punchy pinot noir from SAMsARA Melville Vineyard 2010. For a pinot it was pretty robust, with a juicy fruity body, something I normally don't associate with pinots but with the duck I was not complaining. And, along with the dessert, came a Kunin Late-Harvest Viognier "Paradise Road" Santa Ynez 2010 which was honey sweet.
The dessert of the lunch is what perked my tastes buds up, which is no surprise. If you know me at all, you know that I never leave a restaurant without at last looking at the dessert menu. Often times dessert is an afterthought, something people consider if they aren't too full. Shame I say! Shame. Dessert is the punctuation mark on a fine meal and this one was an exclamation point. The white chocolate passion with green tea cake and pink guava sorbet had me thinking of the combination of flavors that worked so well together. Slightly tropical, slightly Asian but totally approachable, I knew I wanted to create something using those flavors, and into the kitchen I went the very next day.
By the way, it turns out that the secret to getting someone to eat something they normally wouldn't is actually very g-rated. Just make sure to serve that person the very best of whatever they dislike. Whether it's fish or game or vegetables, just makes sure that you make something that is irresistible to eat. If they still don't like it, at least you've tried your best. But I doubt that any of my lunch mates (or pretty much anyone) would turn down this cookie. Like it's inspiration, my passion fruit and green tea white chocolate marble cookies are as pretty to look at as they are to eat. And that, my dear readers, is the final long lasting punctuation mark of a lovely day of eat at Pebble Beach.
Special thanks to Pebble Beach Food & Wine and Wagstaff PR for allowing me into the Omakase Lunch with Morimoto & Yamaguchi as media press. Though the meal was provided for me, I was not monetarily compensated for this post and all opinions are my own.
Check back on Thursday for more photos of Pebble Beach Food and Wine.
Passion Fruit & Green Tea White Chocolate Marble Cookies
By Irvin Lin
I'm not going to lie to you, this is a "baking project" sort of recipe; the sort that you put a weekend afternoon aside for. Though it's not a difficult recipe, it uses ingredients you probably don't have around the house (matcha green tea powder, passion fruit pulp, coconut flour, white chocolate) and takes awhile to do because you have to make two different doughs (three if you count dividing the first dough in half and stirring in the matcha green tea). Then there is the chilling and rolling the dough together. But don't think of it as chore as much as you having fun with cookie dough. Pretend you're back in kindergarten, sculpting with playdough only you're not smushing it into your best friend/worse enemy's hair. Instead you're rolling it in sugar and baking it into tropical inspired cookies. Turns out everything you need in life REALLY did come from kindergarten!
A note about the ingredients. Matcha green tea powder can be found in international, Japanese or upscale grocery stores. Or you can buy it online. I use culinary grade powder. Passion fruit puree can be hard to find, but I've found it at ethnic grocery stores that sell Latin food (look in the freezer section, Goya is a common brand that I find). Whole milk powder can be hard to find but upscale and health food stores often times stock it (look in the bulk section). If you can't find it, you can substitute nonfat dry milk, just be sure to turn the slightly chunkier dry milk into fine powder by placing it in a ziplock bag and using a rolling pin to crush it. The addition of 1/4 coconut flour seems odd but coconut flour actually sucks up moisture and helps add a tinge of "tropical" to the passion fruit dough without it becoming too overt. If you can't find it or don't want to spend the money, just substitute in 1/3 cup (50 g) of all purpose flour. If you don't have a vanilla bean, just increase the vanilla extract to 1 tablespoon. When shopping for white chocolate, make sure to flip the package over before you buy it. Cocoa butter should be listed in the ingredients. Cheap white chocolate has a lot of the cocoa butter replaced by vegetable fat and it's not worth using. Finally, I added a touch of food coloring to the passion fruit dough to really punch up the color difference. It's totally optional though, and is there strictly to help with the marbling color.
Inspired by a dessert by Roy Yamaguchi
Ingredients
White chocolate cookie dough
1 1/3 cup (225 g or 8 oz) chopped white chocolate
1/2 cup whole milk
1 tablespoon honey
1 teaspoon vanilla extract
3 1/4 cups (455 g) all purpose flour
1/2 cup (80 g) whole milk powder
2 teaspoon baking powder
1/2 teaspoon sea salt
1/2 cup (113 g or 1 stick) unsalted butter, at room temperature
1 1/2 cups + 2 tablespoon (325 g) white granulated sugar
1 vanilla bean
2 large eggs
Green tea cookie dough
1 tablespoon matcha green tea powder
Passion fruit cookie dough
1 cup passion fruit puree
1 tablespoon honey
1 1/2 cup (210 g) all purpose flour
1/4 cup (40 g) coconut flour
1/4 cup (40 g) whole milk powder
1 teaspoon baking powder
1/4 teaspoon sea salt
1 cup (225 g or 2 sticks) unsalted butter, at room temperature
3/4 cup (150 g) white granulated sugar
1 large egg
6 drops yellow food coloring (optional)
1 drop red food coloring (optional)
To finish
1/2 cup granulated white sugar
Directions
1. Make the white chocolate cookie dough by first melting the white chocolate by placing it in a metal bowl sitting over a pot of simmering water (making sure that the bowl does not touch the water) and stirring occasionally until fully melted. Once liquid, turn the heat off and let it cool.
2. While the white chocolate is melting, mix the milk, honey and vanilla extract in a measuring cup and stir until the honey dissolves in the milk. Place the flour, milk powder, baking powder and salt in a medium mixing bowl and stir vigorously with a whisk until all ingredients are evenly distributed.
3. Place the butter and sugar in the bowl of a stand mixer fitted with a paddle attachment. Split the vanilla bean lengthwise and scrape the seeds into the bowl with the butter and sugar. Reserve the vanilla pod for another use. Cream the butter, sugar and vanilla seeds together until blended, about thirty seconds on medium speed. Add the eggs, one at a time, mixing thoroughly to incorporate before adding the next egg. Scrape in the melted white chocolate into the bowl and beat to incorporate.
4. Add 1/3 of the dry ingredients to the stand bowl and beat to incorporate. Add 1/2 the milk and beat to incorporate. Repeat with the dry ingredients and wet ingredients, ending on the dry ingredients. Split the dough in half and place each half in a clean bowl, reserving the dirty stand bowl to make the passion fruit dough. Add the matcha green tea powder to one of the bowls and stir it in with a wooden spoon. Cover and place in the refrigerator for at least an hour or overnight.
5. Make the passion fruit dough by first pouring the passion fruit puree into a skillet and cooking it over medium high heat until it is reduced to 1/2 cup (about 5-7 minutes). Stir in the honey and set aside to cool. Place the flours, milk powder, baking powder, and salt in a medium bowl and stir vigorously with a whisk until all ingredients are evenly distributed.
6. Place the butter and sugar in the dirty stand mixer bowl and cream together for about 30 seconds until blended, about thirty seconds on medium speed. Add the egg and blend to incorporate. Add food coloring (if using) and blend.
7. Add 1/2 of the dry ingredients to the stand bowl and beat to incorporate. Add the passion fruit puree and beat to incorporate. Add the remainder dry ingredients and beat to blend. Scrape into a clean bowl, cover and refrigerate for at least an hour or overnight.
8. Once all three doughs are made and chilled, preheat the oven to 350˚F and line a baking sheet with silpats or parchment paper. Assemble the dough by pinch off two small bits of each dough (roughly the size of a garbanzo bean or a generous pea). Line all six of the dough rounds next to each other alternating order (I repeated passion fruit, green tea and white chocolate in that order but you can do whatever you want). Once lined up, squish them down and then roll them into one big ball. Roll in the sugar and place on the baking sheet making sure the top of the ball has a good mix of all three doughs on top. Then gently, with the palm of your hand, squash down the dough to make a 1/2 thick disk. Repeat, making more cookie dough disks until the baking sheet is filled up.
9. Bake in the oven for 10-12 minutes or until the edge of the cookies are golden brown. Let cool on the baking sheet for 10 minute before moving to a wire rack. Repeat with the remainder of the dough, chilling the dough while the cookies bake.
Makes 84 cookies.