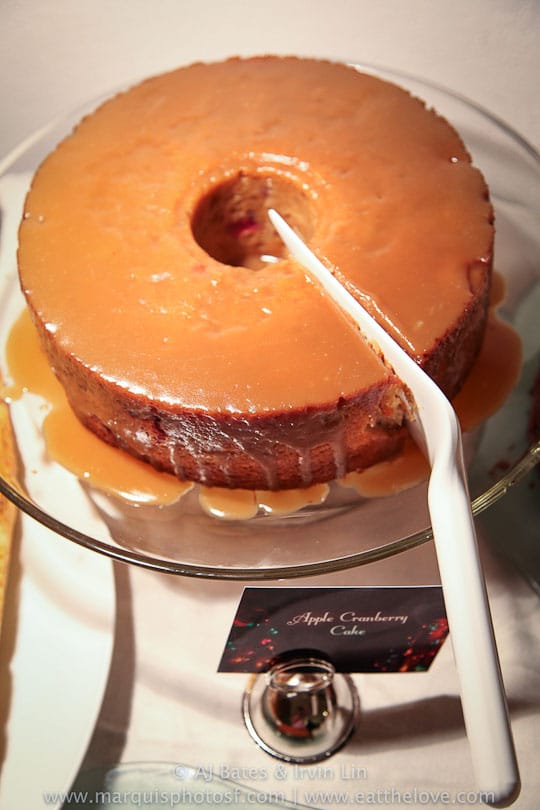 I'm not sure exactly what happened but the doorbell rang exactly at 5:05pm on Sunday December 19th and I realized that We. Weren't. Ready. Our annual holiday dessert party had started and I hadn't even frosted the final cake, plated the multitude of cookies and brownies, or put tableclothes on our computer desks that functions as our dessert buffets for our party. The dishes were piled up in the sink, the makeshift folding card table we used to put my cooling desserts on during the day was still in the middle of our tiny living room taking up valuable real estate and AJ hadn't finished putting out the drinks or prepared the savory food, including the glazed ham that he makes every year.
Yet somehow we did not panic.
This is not how it was at our last dessert party, where AJ and I nearly came to blows over the anxiety and stress of not being prepared in time. Perhaps we had just realized that there was nothing we could do about it this time, as opposed to lamenting what we SHOULD have done which is what happened at our last party ("I don't understand why we aren't ready?!?! We throw these parties EVERY year! We should know better by now!" proclaimed AJ as the timbre in his voice raised higher and higher to decibels that only a teenager could hear as he strained to remain calm). Even when AJ realized we didn't have cups – prompting an emergency trip to the convenience store (after the party started mind you) – we took the British World War II classic sign of "Keep Calm and Carry On" to heart. The party was scheduled, people were going to show up, we might as well keep calm.
Officially the party was slated for 6pm. But in the past couple of years a number of close friends have had babies. So AJ and I decided to open the party up to those with kids and a few close friends one hour earlier, to accommodate their earlier bedtimes (and to avoid the mad crush of people). But what that means to us is that we have one hour less time to prepare for the party. Or, if you look at it from a different perspective, we have one extra hour of people who are close friends coming to help pitch in!
And pitch in they did. Debra was the first person to show up, having driven up from Redwood City, expecting traffic and finding none, and then miraculously finding parking in our block without a problem, thus ringing the doorbell exactly five minutes after 5pm. We told her to just hang out as we finished up, but she immediately started washing dishes (bless her heart!). Aric and his wife Nina showed up shortly afterwards with their adorable baby Kaely – and Aric started plating cookies and cutting up brownies right away.
Eric arrived, immediately assessed the situation, and started to rearrange the plates on the computer desk (after I pulled off the plates to put the table cloth on it to hide the fact that it WAS a computer desk) and slicing bread for the savory table. And numerous other people preoccupied themselves, answered the door and helped out as AJ and I scurried back and forth from the kitchen to the living room and back again in an elaborate dance, trying to avoid one another and the growing number of people who had come for the pre-party hour. The party hadn't "officially" started yet, but we were hosting about twenty people already.
By the time 6pm had rolled around and the "official" time for the party had arrived, the place looked like it was suppose (sans the cups – which AJ had to run out and get). I ran around and took a few pictures of the plated desserts and ran back into the kitchen and promptly forgot that there were people waiting to eat them. Eric came in and asked me point blank "Um. People are asking, can we start?" and I realized that when you have a buffet of desserts, people are always scared to be the first one to take a slice of the cheesecake/layer cake/pie/tart.
So I ran back and announced, "YES! Please start eating desserts!" And with that, the party finally got under way.
I had woken up early that morning, after baking until about 3:30am the day before (I wanted to get to bed earlier, but the adrenalin wouldn't let me) and made two more desserts that morning (I had wanted to make three more, but I realized early on that I had to let one of them go if I had ANY chance of finishing on time – which clearly I did not). The pumpkin cranberry bread that I had made the day before for the chocolate pumpkin bread pudding was the first thing I put in the oven as the pudding and needed time to bake and set up. Then the pomegranate chocolate tart (POM had contacted me and sent me a case of their pomegranate juice to play with, thanks POM!) was put in the oven so it would have time to cool for the party.
I pulled out the sweet potato cheesecake and made the marshmallow topping (this time with homemade marshmallows as opposed to store bought ones) then put it back in the fridge to firm up. Then I cut up those homemade marshmallows for the s'mores caramel cheesecake and pulled out the kitchen mini torch (a gift that AJ gave me LAST Christmas, but I hadn't actually used yet) and torched the top of the marshmallows to give it that fireside toasted marshmallow taste that s'mores are known for. Why oh why have not used that kitchen torch before? Talk about fun!
I took out the ginger lemon (inspired by Shauna over at Gluten Free Girl) bars with the brown butter pine nut crust (crust taken from Tartine Bakery cookbook
) and made a meringue topping for them, piping them on the precut bars to give it that fancy shmancy look (something I blatantly stole from the Ad Hoc at Home
cookbook).
Then I remembered that I had to pull out the various brownies and cookies I had frozen out of the freezer to let them thaw. Don't think my friends would have enjoyed the cookies frozen. Thankfully I remember or it would have been a bad scene.
I made the frosting for the red velvet cake (cheating a little and using the KitchenAid to help fold in the whipped cream to the sweetened whipped mascarpone and cream cheese instead of doing it by hand). Then made and glazed the apple cranberry cake and started to make the lemon curd buttercream frosting for the second cake when the doorbell rang.
By everyone's account, the party seemed to be a success, though our apartment is pretty small and having EVERYONE crowded in there was definitely a tight fit.
Having invited a number of food bloggers, I tried to avoid hearing them discussing my baked goods out of paranoia, though a few of my non-blogging friends were fairly amused to hear the crowd talking about food in such detail, discussing the fine points of one dessert over another. At one point I went into the kitchen and found my friend Forrest and Ali (who showed up with two adorable handmade ornaments!) surrounded by only food bloggers. I'm sure Forrest held his own though. He's can pretty much talk about anything about anyone, though I did try to throw him some food blogging cred by telling everyone that he was real life friends with Heidi over at 101 Cookbooks. All the food bloggers seem suitably impressed, nodding appreciatively.
My friend Emily however, was not as amused with the food bloggers, as she impatiently waited to get to the baked goods. "They're just standing there in front of the cakes! I can't get to them! All they are doing is eating a sample and discussing it! I want to tell them to keep moving…keep moving…" I guess that's the food blogger's curse. Always talking about the food.
Many people seemed to love the Red Velvet Cake with Whipped Mascarpone Cream Cheese Frosting (it's a variant of this recipe). I like to make it because it just looks super festive for the holiday party (and with it's three cake layers, it also looks really tall and gives a little height to my table). Marcia from Tablehopper seemed to like it so much that she tweeted about it, and Nimisha from Club Dine In totally said that she thought it was better than her and her husband's Red Velvet cake that the served at their wedding, proclaiming the dark red, near burgundy color of the cake "sexy". Sadly my friend Catherine, couldn't get to it, as it was constantly surrounded by food bloggers throughout the evening. Next time!
The final count of desserts for our holiday party was 21 different items (my record for a party being 22). As always, I didn't realize how many items I had actually made and, of course, fretted and fussed about being fearful that I wouldn't make enough for the party. The number of food bloggers that said they were going to come also freaked me out a bit. More than my last party, this time I felt like I had to step up a bit.
This, of course, led to some of my desserts being more labor intensive than I normally do. I mean it seemed like such a good idea to make my own peppermint marshmallows and then cut them out, put them on lollipop sticks, dip them in chocolate and then roll them in crushed candy canes. As the evening before the party wore on, I realized that I might not have time to make the pops but I had already drilled holes in custom cut 2 x 4s (the drilling made me feel very butch lesbian) so I asked AJ to help me out, which I have never really done before (usually he's too busy cleaning the apartment and running errands to even help me). He gladly obliged until he hit that brick wall and collapsed from exhaustion. In the end, I'm not sure if it was worth it, though they did look pretty cute sitting on the shelf.
Signature Congo Bars
Spiced Oatmeal Golden Raisin Cookies
Spicy Mexican Crackle Brownies
Toffee Mocha Peanut Bars
*Lemon Honey Ginger Molasses Marble Cookies
Double Chocolate Dried Cherry Toffee Cookies
Meyer Lemon Shaker Tart
Red Velvet Cake with Whipped Mascarpone Cream Cheese Frosting
Pomegranate Chocolate Tart with Gingersnap Crust
Pumpkin Cranberry Chocolate Bread Pudding
Italian Cream Cake with Lemon Curd Buttercream
Apple Cranberry Cake with Brown Sugar Glaze
*Mediterranean Olive Oil Citrus Cake
*Sweet Potato Cheesecake with Marshmallow Sour Cream Topping
S'mores Cheesecake
Ad Hoc Brownies
Spiced Apple Slab Pie with Dried Fruit
Ginger Lemon Meringue Bars
*These things were Gluten Free. I usually have more Gluten Free stuff, but my friend Kim couldn't make it to our party so I originally didn't plan on making any gluten free stuff. Then another friend of AJ called him last minute and told him he was trying to limit his gluten intake, so I went ahead and made a few things because really, baking gluten free isn't that hard, if you have the extras flours lying around the kitchen like I do.
In truth, even though I did have to give up that one extra dessert that I had planned on making it seemed like I had made enough. We did have some leftovers, always a sign of enough food, and people left telling AJ and I that they did the best that they could but they couldn't sample everything.
My dear friend Cathy said that the party, as always was the highlight of her year, and my friend Megan told me that even though everything was wonderful, she still loved the Mediterranean Olive Oil Cake the most. I had several people tell me they loved the Red Velvet Cake (as mentioned before) and more than one person raved about The Ad Hoc Brownies (you can't go wrong with a Thomas Keller
recipe I guess).
My friend Sandrine made sure to pull me aside to tell me how much she loved the Pumpkin Cranberry Chocolate Pudding right before she left. Ben of You Fed a Baby Chili later tweeted that he had to stop at 14 desserts, and couldn't get to all of them, as much as he tried. And several people seemed to have taken photos with their iPhones and tweeted about the desserts. And I never even had a chance to taste the meyer lemon shaker tart that I had made specifically for my friend Grant who requested a lemon dessert from me (I know he loves meyer lemons, what's not to love?)
Food blogger Azmina of Lawyer Loves Lunch (who I hadn't actually met in real life, but is moving into the city from the East Bay so I can't wait to hang out with in the new year) turned to AJ before she left and told him "I am SO impressed! You guys make it seem SO effortless." AJ looked at her like she was crazy and told her "NO! There was a LOT of effort that went in this party. A LOT! You should have seen it right around 5:30pm…." Ha! I verified AJ's statement, but Azmina just shook her head and said that regardless, by the time she had arrived the party looked effortless.
It was one of the less flashy desserts I made (yes that was gold luster dust on the Ad Hoc Brownies) was the apple and cranberry cake, which my friend Emmie loved. Many people seemed to skip over it, picking the more sexy red velvet, or the bright meyer lemon shaker tart. Several people, when I pointed out the apple and cranberry cake, said they immediately gravitated toward the chocolate or spicy desserts but they'd give it a try and when they did, their eyes lit up as they tasted the moist, dense but not heavy, just the right amount of brown sugar glazed cake that seemed perfect for the winter season.
Emmie has good taste though, and did not need me to steer her in the cake's direction. She knew that it was a winner from the start. Out of all the leftovers, this was the one cake that I ate everyday, for breakfast (don't look at me like that, there's nothing wrong with cake for breakfast!) until it was gone.
I've known Emmie for over fifteen years, when we met in Taiwan back in our youth. She's the creator of the hilariously informative Fomato Cards (go check them out and buy lots of them! And I say that not because AJ and I make a cameo appearance on her website, but because they're awesome). She had driven up here from Los Angeles to sell her cards at the Renegade Fair, where she had actually sold some cards to my friend Catherine who was at the party and recognized her, and luckily enough our party coincided with the fair.
What was unlucky for her was that she parked in a towaway zone, and as she left the party, she found out her car had been towed. Oh no! After the party ended, AJ and I took her to the impoundment lot (after a quick detour to the tacqueria, as AJ and I hadn't eaten any real food all day) to pick up her car. We were very sad about the fact that any money she might have made at the Renegade Fair might have gone to the city for the towing fee.
So for you, Emmie, I dedicate this recipe. Not out pity for your towed car, but because you were awesome enough to travel up here to SF for the Renegade Craft Fair and because stupid San Francisco Department of Parking and Traffic treated you so wrong. I hope you make this cake and revel in the good times you had here in SF, not the (very expensive) bad times!
Happy Holidays everyone. I hope you all had a good one.