This stunning open faced nectarine blackberry pie isn't as difficult to make as it looks but will impress nearly everyone you serve it to! (Jump directly to the recipe.)
I'm going to throw out a few words at you: Nectarines. Blackberries. Pie. What do you have? The makings of what could be a pretty straightforward pie for our second annual "Pie Day" celebration! But no, this pie is a little bit fancy schmancy because the roots of our "Pie Day" was to create a virtual pie party, where people across the world can make pie and share pie via their blogs or facebook for all the world to see. And if the world is going to see my pie, I wanted to show off! That said, I'm luckier than most bloggers because I get to actually have a REAL LIFE pie party, as I help co-host the 18 Reasons DIY Dessert event that occurs quarterly and the last one had the theme of pie. I brought a couple of pies to the event, but this one was my "show stopper" pie, a Nectarine Blackberry Open Faced Pie.
18 Reasons is a non-profit organization that tries to foster relationships with food and community. I've been working with them for the past couple of years, helping to co-host the DIY Dessert event with my friend Melanie. We're a couple baking geeks that loves to eat and chat and eat some more. For the DIY Desserts event, we open up the space for anyone to stop by (with or without a pie) and hang out for a couple of hours. Desserts for all!
Our group this time round was small and intimate, but packed full of fun. Melanie arrived with a classic Key Lime Pie with a graham cracker crust. She had never made it before and, in fact, had never bought or used condensed milk in her life. She was baffled when she opened up the squat can and found a sweet viscous liquid that looked like Elmer's glue. Her initial squeamishness changed, however, when she tasted her final product. Who doesn't love key lime pie?


This being the season for awesome summer fruit, there was a mixed fruit pie that I adored. Baker and DIY regular Jo, went to the farmers market, picked the best fruit there and made the pie, a method I highly recommend when it comes to making pies. We also had an Apricot Cherry pie with crisp topping that had the baker Maggie balancing its juicy pie pan on public transit. I love it!
Barbara showed up with a chocolate nut pie, based on a King Arthur flour recipe, which was ridiculously good. Warm, still from the oven, just the fragrance alone when you cut into it was almost enough. Almost. We also had a banana toffee pie, brought in from BiRite, which was wonderful, but that was to be expected (I mean, it is a Bi Rite, my favorite grocery store, ever).
Finally there was a savory ham and egg pie that was pretty fantastic. Historically, pies were created to help preserve savory foods and the crust was more of a preserving package. Pies were usually savory and it wasn't until America, when we started to make sweet dessert pies. I was super thrilled that we had one savory pie at the DIY dessert pie party!
As for my pies, I had brought two pies, one that was still in the recipe developing phase, and my Nectarine Blackberry Open Faced Pie. I had seen a nectarine tart in the Martha Stewart Baking Handbook and fell in love with the way it looked. It didn't seem too hard, though a bit more time consuming than the average pie (go figure, it was a Martha Stewart recipe) and I was right. Simple slicing and curling was totally within my baking ability. I, of course, adapted it to my own taste, adding a dash of tequila and a bunch of blackberries along with a crumble topping around the edges. Exactly the show stopping pie that I wanted to share with 18 Reasons and everyone else for Pie Day. Happy Pie Day everyone!
For more pie posts, bounce on over to Gluten Free Girl, Just Cook NYC, Vanilla Garlic and Not without Salt.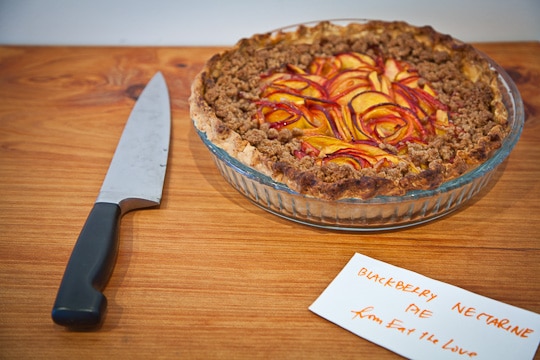 Nectarine Blackberry Open Faced Pie
By
Irvin Lin
This elegant pie makes for a great presentation at the end of a fancy meal, or to impress you friends at a pie party. Be sure to find ripe but firm nectarines. If the nectarines are too ripe, they will fall apart when you try to curl them, but if they are too ripe, they won't bend. Look for nectarines that have a little give when you gently (gently!) squeeze them. Allow for plenty of time to slice and curl the nectarines. You'll find that you will have extra nectarine slices leftover, so enjoy them over yogurt or granola, or just eat them while you slice and curl. That's what I did.
Adapted from Martha Stewart's Baking Handbook
Ingredients:
Crust
250 g (1 3/4 cup) all purpose flour
1 teaspoon sea salt
1 tablespoon white granulated sugar
150 g (1/2 cup plus 2 tablespoons) unsalted butter
1/4 cup ice cold water
1/4 cup gold tequila
Filling
270 g (9 oz or 2 cups) blackberries
27 g (3 tablespoon) all purpose flour, divided
65 g (1/4 cup plus 1 tablespoon) white granulate sugar, divided
8 firm but ripe medium nectarines
3 tablespoon unsalted butter
1 large egg
1 tablespoon orange juice
1 tablespoon gold tequila
1/4 teaspoon sea salt
1/2 teaspoon cinnamon
Crumb Topping
55 g (1/4 cup) dark brown sugar
50 g (1/3 cup) all purpose flour
1/2 teaspoon cinnamon
3 tablespoon unsalted butter
Special Equipment:
Pie tin, preferably one with a straight side
Pie weights, dry beans or uncooked rice
Sharp chef's knife or paring knife
Directions
1. Make the crust dough by placing the flour and salt in a large mixing bowl. Cut up the butter into 1/2 inch chunks, sprinkle over flour and toss to coat. Flatten the cubes of butter with your fingers until all the butter has been smashed. Start rubbing and squeezing the butter together with your fingers, until the ingredients start to clump together. Sprinkle the water and tequila over the mixture and toss with a fork until it forms a dough. If the dough seems too wet, add a little more flour and fold it in, but the dough is meant to be moist. Gather the dough and flatten into a large 1/2 inch thick disk. Wrap tightly with plastic wrap and place in the refrigerator for an hour or overnight.
2. Once the dough has chilled, preheat the oven to 375˚F (190˚C, Gas Mark 5). Roll out the chilled dough on a generously floured surface. The nice thing about this dough is that you can use as much flour as you need. It's very forgiving. Roll it out to 10 inches and then fit it into a 9 inch pie pan. Decoratively flute the edges of the crust.
3. Prick the bottom of the crust with a fork all over. Line the bottom of the pie crust with a piece of parchment paper. Fill it with pie weights, dry beans or uncooked rice to weight it down. Bake in the oven for 20 minutes. Remove the parchment paper with the pie weights and put back in the oven and bake for another 7 to 10 minutes or until the crust looks dry and the edges are golden brown. If the edges are browning too fast, cover the edges with aluminum foil. Once the pie crust is fully baked, remove from oven and let cool completely to room temperature on a wire rack. Maintain the oven temperature at 375˚F.
4. Once the crust has cooled, place the blackberries, 9 g (1 tablespoon) of flour and 13 g (1 tablespoon) of sugar into a medium bowl. Toss to coat, and then line the bottom of the pie crust with a single layer of blackberries.
5. Take a nectarine and slice down near the pit, cutting as much of the nectarine meat as possible. Then place the part of the nectarine that you cut off, on the cutting board flat side down. Cut 1/8 inch thick slices off of the nectarine. Starting with the thinnest smallest piece, curl the nectarine (skin side at the top) into concentric circles forming a "rose" like shape. Once you made the rose as big as you can make it, use a spatula (or the side of a large chef's knife) and move the nectarine rose to the pie, placing it gently on top of the blackberries. Continue to do this with the rest of the nectarines until you have tightly filled the entire surface of the pie. Any gaps in the pie, where the "roses" don't quite fit in, can be filled with extra slices of nectarine.
6. Melt the butter in a microwave safe glass bowl, then add the egg, orange juice, tequila, sea salt and cinnamon. Whisk with a fork to combine and then pour over the nectarine slices. Make the crumb topping by placing the sugar, flour and cinnamon in a small bowl. Melt the butter and then drizzle it over the dry ingredients. Toss until the crumble starts to lump together. Sprinkle the crumble around the edge of the pie forming a ring inside the pie crust. Place on a baking sheet (to help facilitate removing the pie in and out of the oven) and bake for 40 to 45 minutes or until the edges of the pie are golden brown and the middle of the pie's filling starts to look puffy. Cool to room temperature before serving.
Makes one 9 inch pie. Serves 10.