These wild mushroom braised chicken thighs are incredibly flavorful but are also incredibly easy to make. The secret is the long roasting time in the oven. (Jump directly to the recipe.)
"Are you having a party?" asked the woman who waiting in line after me to check out at the big warehouse store. I looked down at my cart with it's 10 pounds of sugar, 5 dozen eggs, 8 pounds of butter, 3 rounds of Brie cheese, 3 pounds of ground bison, 3 racks of ribs and 15 pounds of chicken thighs. Then I told her that this is how I normally shop. She looked incredulous at me. But I mean, how else does one shop at those warehouse stores? If I didn't want to buy in bulk, I'd just go and buy some groceries at the local grocery store a block away fro me? Big warehouse stores are where you go to buy LOTS of stuff at a really decent price. Then I looked at her cart which had one pair of jeans, a bag of spinach and two bottle of wine. Sometimes I just don't understand the way people shop. She probably thinks the same about me.
The problem with shopping at warehouse stores is that I then have to figure out what to do with everything. The butter, sugar and eggs aren't an issue. They keep fairly well and I bake so much and so fast that it never goes bad. AJ basically consumes his weight in Brie every day so that's not an issue either. But I did get suckered into buying ALL those chicken thighs. I better figure out something to do with them.
Recently I made a trip to Ikea (another big box store) and bought two bookcases and put them up behind our television in the living room. It was life changing, allowing me to not only get the dangerously tall stack of cookbooks off my desk but it also allowed me to easily access all those books. Which means I can finally start using some of my books that I always want to but never get around. So when I found myself flipping through the book Taste and Technique and came across a recipe for Porcini Braised Chicken I knew exactly what to do with those chicken thighs.
Of course, I changed a few of the ingredients for the recipe, especially since I found a big jar of mixed dried mushrooms (at that same warehouse store of course) that I substituted out for the dried Porcinis. But what I loved about this recipe was that not only did it make a large amount of food (I love leftovers) but the braising liquid was so incredibly flavorful that I saved it and ended up using it in a risotto a few days later. Total win-win situation for AJ and me.
Mushroom Braised Chicken
By Irvin Lin
Braising is a simply cooking technique that requires you to sear the food at a high direct temperature (on the stovetop) to give the food color and flavor, then place it in a covered container with liquid and let it cook in moist ambient heat (in the oven) to finish cooking. Braising is a great way to cook tough pieces of meat as well as a really easy way to make a large amount of food as it is nearly all "walk away" time. I used a mix of dried mushrooms for this recipe but if you only have dried Porcini mushrooms, you can substitute that in as per the original recipe. Don't discard the braising liquid after you are done. Use it as a base for soup or stock for a dish like risotto as it is incredibly flavorful. The resulting vegetables will be very soft and mushy, but also quite tasty, so serve them along with the thighs.
Adapted from Taste & Technique by Naomi Pomeroy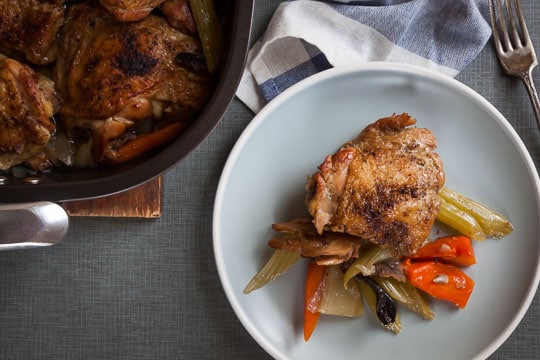 Ingredients
1 ounce dried mixed mushrooms (see headnote above)
3 medium celery stalks
2 medium carrots
3 medium yellow onions
1 medium head of garlic
4 tablespoons olive oil, divided
4 dried bay leaves
4 sprigs fresh thyme
2 cups chicken stock
1 cup white wine
12 bone-in, skin-on chicken thighs
2 tablespoons kosher salt
1 tablespoon fresh ground pepper
Directions
1. Place the dried mushrooms in a medium bowl and pour hot water (from the tap) over the mushrooms until covered. Set aside to let the mushrooms hydrate a bit as your cook and prep the remaining ingredients.
2. Cut the celery into 2-inch pieces. Peel and cut the carrots into 2-inch pieces. Peel and chop the onions. Separate the garlic cloves and peel them.
3. Place 1 tablespoon of oil in a large sauté pan along with the celery, carrots and onions. Cook on medium high heat for 6 to 7 minutes or until the vegetables soften and the onions start to turn a little translucent. Remove from heat. Stir in the garlic cloves. Scoop the mushrooms out of the liquid, reserving the liquid for later and stir the mushrooms into the vegetables. Stir in the bay leaves and thyme. Empty the sauté pan into a large roasting pan, spread the vegetables evenly in the roasting pan, then wipe out the sauté pan with a paper towel. No need to clean it.
4. Preheat the oven to 375ºF. Season each thigh with salt and pepper heavily. Heat 1 tablespoon of oil in the wiped out sauté pan until the oil starts to shimmer but before it smokes. Add 4 chicken thighs to the pan carefully, skin side down. Sear the chicken thighs on medium high heat, occasionally pressing down on the thighs to make sure they get an even distribution of heat on their skin, for about 5 to 7 minutes or until the skin looks golden brown. Occasionally peek to make sure that no super dark spots are forming, you don't want to burn the thighs, but otherwise, don't disturb the thighs too much. Once the skin is golden brown, move them to the roasting pan, in a single layer over the vegetables, skin side up. Wipe out the sauté pan, and repeat the process 2 more times with the remaining oil and chicken thighs.
5. Pour the chicken stock, wine, and 1 cup of the mushroom soaking liquid into a medium saucepan and bring to a boil. Be carefully not to dump the mushroom soaking liquid directly out of the bowl, as there may be grit and settlement in the bottom. Instead ladle out the liquid into a measuring cup. If there isn't enough liquid, add additional chicken stock or plain water to get to 1 cup. You should have 4 cups total of liquid. Pour the liquid into the roasting pan, making sure that the chicken thighs edges are covered in liquid but the skin on top is not completely covered. If the skin is covered, it won't crisp.
6. Cover the roasting pan tightly with aluminum foil and roast in the oven for 1 hour and 15 minutes or until the chicken is cooked through and tender. Remove the foil from the pan, and increase the heat of the oven to 400ºF. Roast for an additional 15 minutes or until the chicken skin is crisp. Serve, making sure to remove the bay leaves and thyme sprigs if possible.
Serve 6 people.