This easy Moroccan Spiced Chicken with vegetables is bursting with flavor but quick enough to make that you can serve on a weeknight.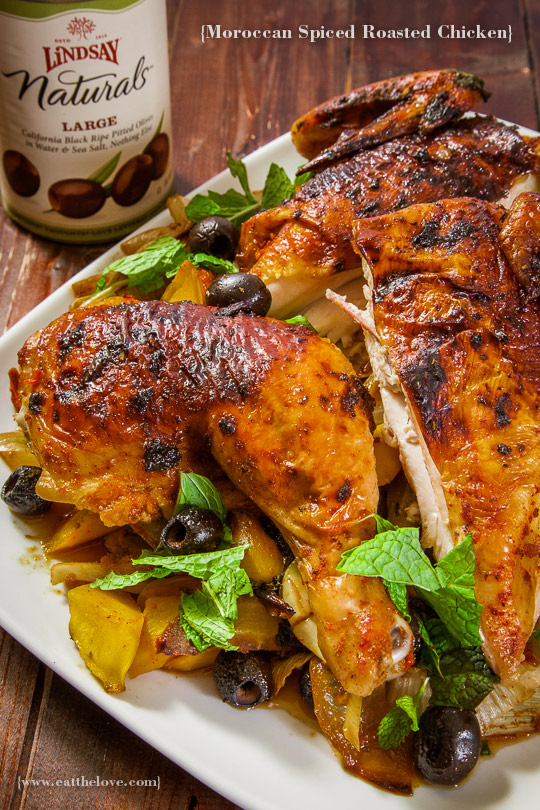 Honestly it took me awhile to really love cooking. Baking I get. I love to bake. I love to throw things into a bowl, pour it into pans and stick it in a hot oven and magically have beautiful treats and sweets come out. When I bake, I'm doing it for other people. You almost never bake for yourself. But cooking? That's a chore. That's something you need to do because you have to eat. It wasn't until I started making food with my partner AJ that I realized that cooking could be fun too. So when Lindsay Olives approached me about their Holiday Moment sweepstake (enter by using their hashtag #LindsayMoment on Twitter or Instagram) and working together around the theme of "making the moment" I realized that what really made the moment for me was cooking with my partner. So I grabbed a can of their large black olives, pulled my partner into the kitchen, and we made a Moroccan Spiced Chicken together. (Jump directly to the recipe.)
For me, the key is to split the tasks in half and find the things that each doesn't mind doing. AJ isn't the most fond of chopping and I actually find it pretty meditative to do the menial tasks like that. I'm not the sort of person that likes to stand there and stir constantly so AJ takes that task in hand. And honestly AJ has no issue with getting his hands dirty, so usually I have him do the rub on the meat. We try to keep it fun and enjoy ourselves in the kitchen. It also helps that I blast sassy pop music to keep it upbeat in the kitchen.
Roast chicken is one of those easy things that still intimidate a lot of people but once you learn how to spatchcock it (butterflying the chicken by the removing the backbone) roasting a chicken is crazy easy. So easy in fact that it's hard to not have roast chicken every single day of the week. No longer do you have to worry about underdone thigh meat and dry breast meat or rotating the bird to make sure it cooks evenly. Instead the flattened chicken cooks evenly and you don't have to mess with kitchen twine in trussing the legs. The spicy Moroccan rub is dead easy too, with store bought harissa but if you want to go crazy, you can also make your own harissa. Served over quick Israeli couscous, AJ and I relaxed and took the evening to enjoy our version of comfort food, with minimal effort. Now that's what I call a great night for us.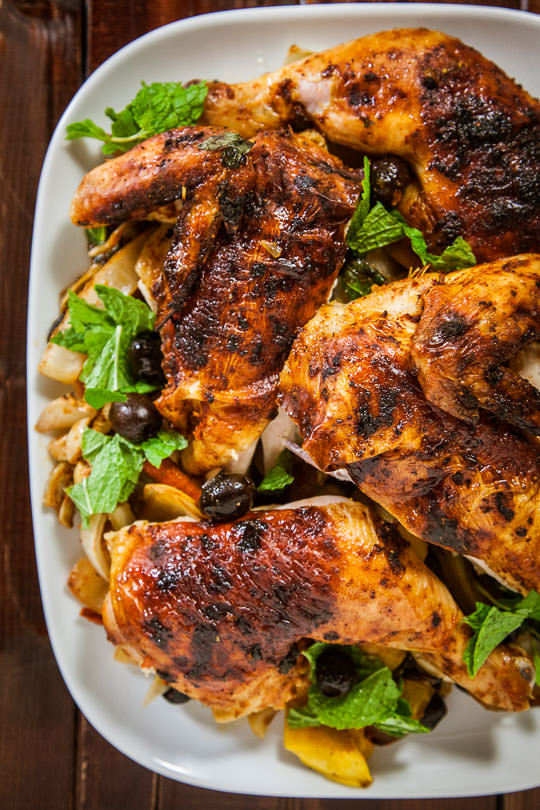 Special thanks to Lindsay Olives for sponsoring this post as part of their "Flavors makes the Moment" campaign. I was compensated for developing this recipe and posting about it, but all opinions above are totally my own and not endorsed by Lindsay Olives. Visit Lindsay Olives to learn more about their Holiday Moments campaign as well as enter their sweepstakes to win some great prizes! Lindsay is also accepting entries via Instagram or Twitter using the hashtag #LindsayMoments.

Moroccan Spiced Chicken with Roasted Vegetables
By Irvin Lin
The secret to great quick roasting a whole chicken is to butterfly it (you can call it spatchcocking which will impress all your friends if you want). Removing the backbone is a snap with kitchen shears but if you don't have any, you can do it with a chef's knife, just be careful with it! Once butterflied, the chicken rests flat on the roasting pan, which means all the meat can cook evenly. Harissa is a North African hot sauce that you can find in ethnic grocery stores or well stock upscale grocery stores. Think a savory less vinegary version of Srirachi sauce.
Ingredients
1 whole roasting chicken (about 3 1/2lbs)
3 tablespoon harissa (storebought or home made)
2 teaspoon smoked paprika
2 teaspoon ground cumin
1 teaspoon ground coriander
2 teaspoon kosher salt
1 teaspoon fresh ground pepper
1 orange
2/3 cup chicken stock
1 fennel bulb, green stems removed
1 large yellow onion
4 medium carrots
1 medium head of garlic, cloves separated and peeled
1 6oz can Lindsay brand large black olives, drained
1 bunch fresh mint leaves, divided
Rice, couscous or Israeli couscous on the side
Directions
1. Preheat the oven to 350˚F. Take the chicken and pat it down with paper towels to dry it. Turn the chicken over so the backbone is facing up and cut the backbone out of the chicken. Flip the bird over and press firmly down on the breasts until the chicken lays flat (you may hear a snapping sound from the bones, that's normal). Place the bird in the middle of a 13 x 18-inch rimmed baking sheet.
2. In a medium sized bowl, stir together the harissa, paprika, cumin, coriander, salt and pepper into a thick paste. Generously spread about half the spiced harissa paste all over the chicken. Cut the ends off of both sides of the orange. With a sharp paring knife, slice down the side of the orange, trying to get as much of the orange zest as possible and getting as little of the white pith as possible. Continue around the orange until you've removed all the orange zest. Squeeze the orange flesh to get the juice (you should get 1/3 to 1/2 cup) and add it and the chicken stock to the remaining harissa and stir to loosen and mix the paste with the liquid.
3. Cut the fennel bulb lengthwise, and lay the bulb, cut side down, on a cutting board. Cut the bulb into 1/4-inch thick slices. Peel and slice the onions into 1/2 inch thick pieces. Peel and cut the carrots into 1 1/2 inch pieces. Sprinkle the orange zest, sliced fennel, onion and carrots around the chicken on the pan. Sprinkle the garlic and olives around the pan, then tear up half of the mint and sprinkle it evenly over the vegetables. Take the harissa chicken stock and drizzle it over the vegetables.
4. Place the pan in the oven and roast for 45 minutes. Remove and stir the vegetables as much as you can. Place back in the oven and continue to roast for 15-30 minutes longer, or until the juices run clear and a thermometer inserted into the inner thigh of the bird registers 165˚F. Tear up the remaining fresh mint leaves and sprinkle them over the roasting pan. Let chicken rest for 10 minutes before carving and serving. Serve with rice, cous cous, Israeli couscous or all on it's own.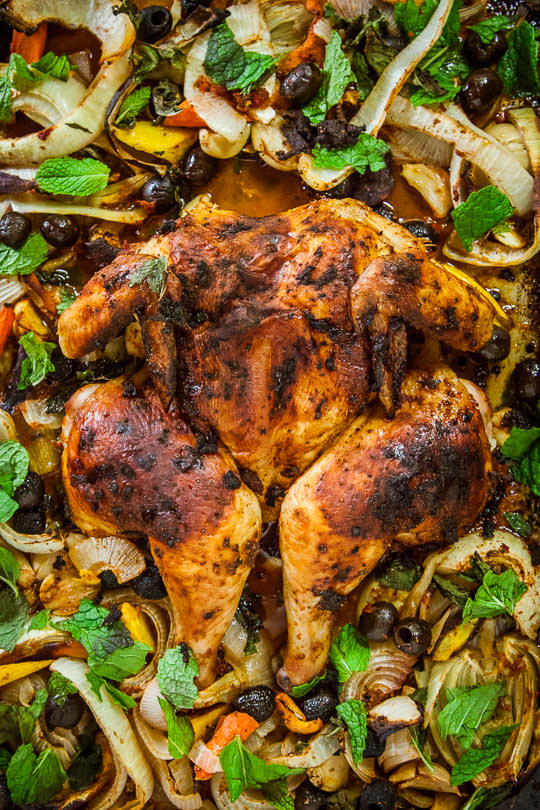 Serves 4.