San Francisco is one of those wacky weather cities where it's cold during the summertime and then (in theory) it starts to get warm right around August, September and October. This messes things up, as everyone I chat with on Twitter talks about how insanely hot it in July and I'm wearing sweaters and turning the heat on. Worse still, as the summer ends and people start going on and on about Fall and the leaves changing and the cooling weather, it warms up here in SF and I'm walking around, wishing I had a pile of leaves to jump into. Worse still, all my virtual friends start talking about how excited they are about a specific Pumpkin Lattes that is only seasonally available at a big chain coffee shop (*cough* Starbucks *cough*) and in truth, I've never been a huge fan. Sure I would go with my co-workers in the morning to said big chain coffee shop, back before I quit my day job, but it was more an excuse to get out of the office cube than a true love of the pumpkin latte. But with the weather shifting for the warmer in San Francisco and days getting shorter, I decided it was time for me to embrace the dichotomy. So I went into my kitchen, pulled out my shiny new KitchenAid blender, and made a Pumpkin Spice Frappuccino with White Chocolate, a blended iced drink that matches the warm fall weather I'm currently loving. (Jump directly to the recipe.)
Now I'm not one to do a copycat recipe lightly. There are plenty of blogs out there that do that sort of thing and do it probably better than I could ever do it. The fact of the matter is, I don't frequent the big chain restaurants that often, which is ironic, as I used to work at a design shop whose main clients WERE big chain restaurants. Over the course of the two or three years that I worked there, I became exceedingly familiar with chain restaurant food (a little bit too much so) and could probably tell you everything you needed to know about burger, fries, fried chicken, burritos, and coffee. But I will freely admit that I succumb to the guilty pleasure of getting a flavored latte or Frappuccino when I'm out of town and can't find a decent independent coffee shop.

Of course, the thing that I noticed whenever I get those drinks it that I know there's stuff in it that I'm probably shouldn't be drinking. I'm not one to completely avoid artificial flavored stuff, but I do try to keep it to a minimum. More though, is the idea that I could probably make a drink like this at home, cheaper and better tasting than what they can offer. I'm always reminded at what my mom says whenever she walks by a coffee shop with a huge line. "Why are they waiting in line so long for an expensive drink? In the time that it takes for them to wait to order, pay and have someone else make that drink, they could have made it at home much faster." My mom is a wise one.
So, with the days getting shorter here in San Francisco, I decided it was time to see if I could make that coffee beverage at home, faster and cheaper and better. I'm not sure if I got the faster part down, but I certainly got the better and cheaper. And let me tell you, I was kinda of loving using my KitchenAid blender, in it's fancy fun crystal blue color. I'm so ready for the Fall and warmer San Francisco weather with my iced blended drink now.
Special thanks to KitchenAid for providing this blender for me to try out. I actually didn't have a decent blender beforehand and I certainly didn't have one in the festive Crystal Blue color that they are now creating their products in. Added bonus is that the blender actually has a "crush ice" button which came in handy when I made this! Though they provided the blender for me, everything stated above is my own opinion and I was not compensated for this post.
Pumpkin Spice Frappuccino with White Choclate Iced Blended Drink (naturally gluten free)
By Irvin Lin
The secret to making a punchy flavored Frappucino like iced blended drink (my partner AJ refers to them as work friendly adult Slurpees) is to first make a "syrup" of hot coffee, white chocolate, brown sugar and spices before adding it to the milk and ice. The hot coffee (double strength brewed – be sure to add twice the amount of coffee that you would normally use as it get diluted in the blending) melts the white chocolate and brown sugar and blooms the spices, helping to bring out the flavor, which is key as cold always dulls flavors. I use less sugar than you would get in a Starbucks Frappuccino because I always felt they were too sweet for me, but feel free to add an extra tablespoon or more of sugar if you prefer it that way. I use two tablespoons of pumpkin puree in this drink, which, of course, means you will have practically a whole can left. Measure out tablespoons of the pumpkin puree and place each tablespoon in the cavity of an ice cube tray. Freeze overnight and then empty the pumpkin cubes into a ziplock bag. Now you have instant, measurable pumpkin cubes to make more ice blended drinks! In the future, don't even bother to defrost, just toss in the blender.
This recipe is pretty easy to adapt. If you don't like white chocolate, use dark chocolate or even milk chocolate. Heck you can even leave out the chocolate if you don't like it (but who doesn't like chocolate?). If you want to leave out the pumpkin, leave it out, or toss in a handful of fresh mint and muddle it in the coffee to give a fresh mint flavor to the drink (just discard the mint before you blend). Try adding a touch of molasses and ground ginger to give it gingerbread flavor. The options are fairly endless!
Pro Tip: If you want this to be even more pumpkiny, cook the pumpkin puree on the stove for 10 to 15 minutes over medium heat, stirring constantly before measuring out. This will concentrate the pumpkin flavor as you drive off moisture and water. The puree will darken as you do this, but as long as you stir constantly, it shouldn't burn.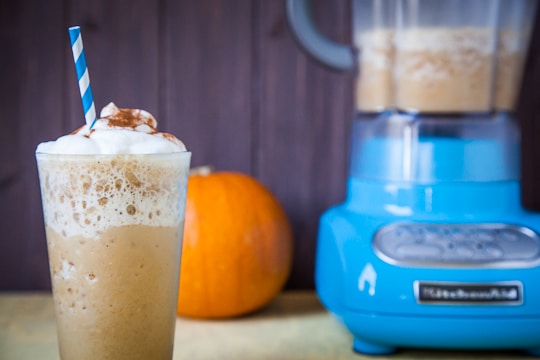 Ingredients
Frappuccino Mix
1/2 cup fresh brewed hot double strength brewed coffee
3 heaping tablespoons (50 gram) chopped white chocolate or white chocolate chips
2 tablespoon (25 g) dark brown sugar
1 1/2 teaspoon ground cinnamon
1/2 teaspoon ground nutmeg
2 tablespoons of canned pumpkin puree (not pumpkin pie filling)
1 standard tray of ice cubes
1/2 cup whole milk (feel free to use whatever milk you want, but I just like whole)
1 tablespoon vanilla extract
Whipped Cream (optional)
1/2 cup heavy whipping cream
1 tablespoon confectioners' (powdered) sugar
ground cinnamon for garnish
Directions
1. Measure the coffee in a heatproof glass measuring cup. Add the white chocolate and brown sugar Stir until the white chocolate and sugar have melted. If you have difficulty getting the white chocolate to melt completely, microwave the glass for 15 seconds and stir, repeating if necessary. Add the cinnamon and nutmeg after the white chocolate and sugar have melted and stir until the spices have incorporated.
2. Place the pumpkin puree, ice cubes, milk and vanilla extract in the blender. Add the coffee syrup and pulse to chop the ice and blend the drink.
3. If you want to get fancy, you can make whipped cream for a topping by placing the cream and powdered sugar in stand mixer. Beat on high until soft peaks form (don't overbeat or you turn the cream into butter). Spoon over the drink and sprinkle with the cinnamon.
Makes one grande Frappuccino.