This easy recipe for mocha hot chocolate adds a touch of rich Kahlúa to the drink and the whipped cream for the best mocha you've ever had.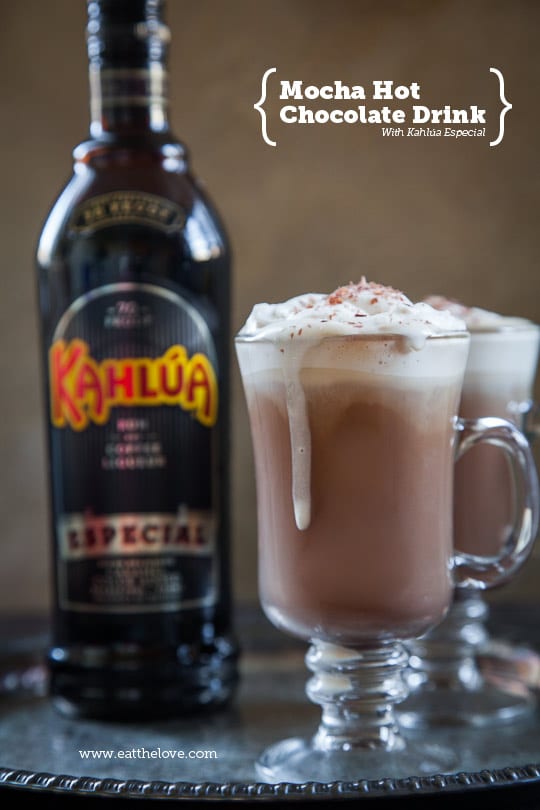 In former life, when I was still living in the Midwest, I was a bookseller at a small independent bookstore. It's still in existence (which is more than can be said about other bookstores) and I have fond memories of working there. But the one skill that I can take from that period of my life, that I still use, was how to make a good coffee drink. See, when I wasn't hand selling books that magically won the Oprah Book Club lottery, I was also working at the bookstore coffee shop, learning how to make espresso drinks and generally drinking my body weight in coffee, mochas and hot chocolate. So trust me when I tell you that this mocha hot chocolate recipe with Kahlúa Especial is what you need in your life. (Jump directly to the recipe.)
The secret to a good hot chocolate or mocha is to "bloom" the cocoa powder in the hot coffee or liquid. By mixing the cocoa powder with the hot chocolate you get a darker deeper chocolate flavor something you can't get from pre-made chocolate syrup. The syrup has a sweetness that is too sharp and overpowering for my taste. I liked a smoother, more subtle bit of sweet in my mochas and using unsweetened cocoa powder means I can control the sweetness. That way the sugar doesn't overpower the tang of the coffee or the earthiness of the chocolate.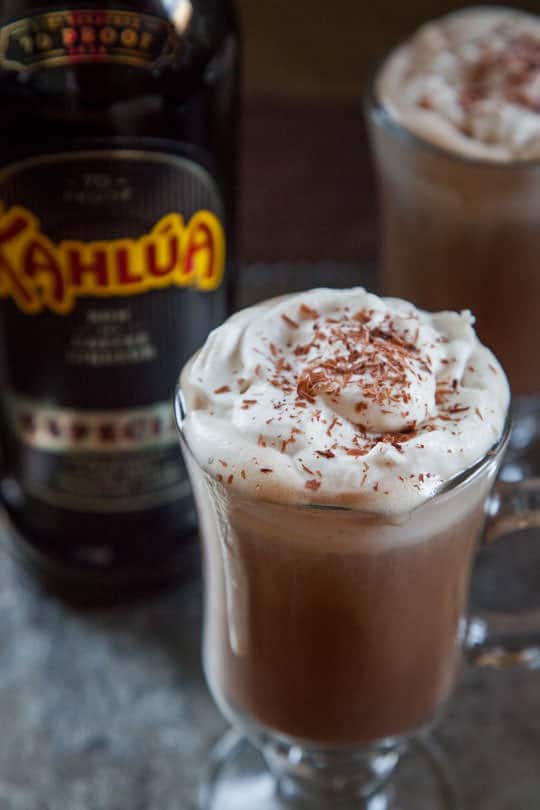 Of course the addition of the Kahlúa Especial wasn't something I learned in the Midwest. I had never heard of Kahlúa Especial until I started working with them this holiday season and they sent me a bottle. Made with a dark strong coffee infusion as well as great coffee beans and sugarcane rum, a couple of spoonfuls of it in the mocha hot chocolate really does make the drink…well pretty darn special. Of course using any flavor of Kahlua will work, whether it's their standard one or their Peppermint or Pumpkin Spice limited edition flavors. In fact, I'd recommend trying any or all of them in this recipe. You know, for research sake. And while your at it, you might as well add a little to the whipped cream topping as well. I mean, it's the holiday season. Why not go all out?
This post was sponsored by Kahlúa. For the months of October, November and December I'm teaming up with Kahlua to bring you recipes and cocktails using their various Kahlua liqueur flavors. I was compensated for the post and for developing the recipe. However all opinions above (and below) are completely my own and not endorsed by Kahlúa. Visit Kahlúa's various social media pages (Facebook, Twitter, Instagram, Pinterest) for more cocktail and holiday entertainment ideas and join in on the fun by sharing your own Kahlúa creation using the hashtag #KahluaHoliday

Mocha Hot Chocolate Recipe with Kahlúa Especial
By Irvin Lin
The extra intense Kahlúa Especial really makes this mocha drink special but if you can't find it on the shelves, regular Kahlúa works just fine as does their other flavor editions like Pumpkin Spice or Peppermint. I like to add a little bit of the Kahlúa Especial to my whipped cream as well, so that every sip of the drink has a little bit of coffee rum flavor. The Kahlúa whipped cream would also be awesome served over your favorite pie or ice cream as well!
Ingredients
Mocha Hot Chocolate
1 cup fresh brewed extra strong coffee (I do French Press)
2 tablespoons natural cocoa powder (not Dutch-process, not sweetened)
1 tablespoon white granulated sugar
1/2 cup heavy cream
2 tablespoons Kahlúa Especial (see headnote above)
Kahlua Whipped Cream
1/2 cup heavy whipping cream
1 tablespoon confectioner's (powdered) sugar
1 tablespoon Kahlúa Especial
Dark Chocolate for garnish
Directions
1. Pour the fresh brewed coffee into a glass measuring cup and add the cocoa powder and sugar. Stir vigorously until the powder and sugar dissolves. Heat the heavy cream in a small pot on the stove until tiny bubbles form on the side of the pot. Pour the cream into the coffee. Add the Kahlua Especial and pour into two glasses.
2. To make the whipped cream, place the cream and powdered sugar in a cold metal bowl. Using a balloon whisk, beat the cream until it holds soft peaks. Add the Kahlúa Especial to the whipped cream and beat the cream until soft peaks form again. Top the glasses with the whipped cream. Take a piece of dark chocolate and, using a hand peeler, shave some chocolate on top of the whipped cream. Serve immediately.
Makes 2 Mocha Hot Chocolates.