I started to write a post about AJ's love of oatmeal for breakfast. I wanted to write about because I made these Gluten Free Maple Oat and Dried Cherry Shortbread cookies based on a recipe from The Sprouted Kitchen Cookbook. But as I wrote the post, I realized I had single handedly written the most boring post ever. Even more boring than the Julie parts of Julie and Julia (you know what I'm talking about, no matter how adorable Amy Adams was, she couldn't save those parts of the movie). Yes, my blog posts was EVEN more boring than that. I couldn't do that to you guys. More importantly I couldn't do that to Sara and Hugh of The Sprouted Kitchen.
The problem is that most of my life is fairly unexciting. I know that it sometime seems like I live a fun packed, crazy life. Jetting off to exotic locales like St. Louis and Indianapolis at a moment notice. Hanging out with goats. Occasionally get crazy with the Amish. But really, my life is rather sedate. In fact, for the entire month of August, I mostly stayed within my apartment and buckled down and did work. I mean, I did get out about a bit, including helping to teach a class with my friend Dianne on food blogging for travel writers (where I got to meet Susan Orlean, who is an amazing individual, as well as Andrew McCarthy who is a super nice guy. Yes, that Andrew McCarthy). But otherwise, I stayed in, did work, and baked a lot.
Sometimes I wished my life was as jet-set marvelous as some other bloggers out there (but really who doesn't wish that?). But instead it's mostly made up of little things like steel cut oats for breakfast or making Sunday dinner with AJ or doing dishes – lots and lots of dishes (I would kill for a dishwasher…and an apartment that could fit a dishwasher in it). But one of the reasons I love cookbooks like The Sprouted Kitchen Cookbook, is that I can live vicariously through their recipes. Whenever another blogger comes out with a cookbook (and there have been many) it makes me even more excited because it means I can just sit on my couch and flip through their book, peering into their lives, one page at a time. Sure I can do that on their blog, but the feel of the pages on my fingers makes it all the more real to me I guess. Cookbooks by chefs and professional cookbook authors are wonderful, I own tons of them, but when I get a cookbook by a food blogger, I get that special thrill because I feel like I already know them a bit. I go to people's food blogs for the recipes but also for their stories and to get to know them. Isn't that why people come to this blog? I mean you guys can get recipes anywhere. But you can only get my utterly charming personality here at Eat the Love!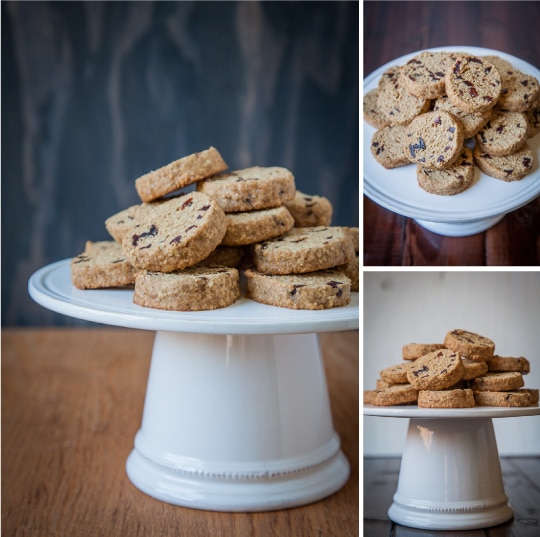 So when I stumbled upon (not virtually Stumbled Upon but real life stumbled upon) their recipe for an oatmeal shortbread cookie in their book, I knew I wanted to adapt it. Sara makes it with regular all purpose flour and adds a drizzle of chocolate which makes it look really seductive. But I wanted to keep the cookie more similar to the way AJ eats his steel cut oats in the morning. AJ thanked me when I made the cookies for him and I think you will too once you eat them.
Sara and Hugh of The Sprouted Kitchen will be visiting San Francisco and signing books at one of my favorite bookstores in the world, Omnivore Books this coming Sunday, September 9th from 3 to 4pm. Sadly I won't be able to attend as I am a hermit (no no, I actually have a prior commitment), but if you can make it, tell them I say hello!
Special thanks to Ten Speed Press for sending me a review copy of The Sprouted Kitchen. Even though they provided a complimentary copy of the book for me, all opinions above are my own and I was not compensated for this post.
Gluten Free Maple Oat and Dried Cherry Shortbread
By Irvin Lin
Sara Forte, of The Sprouted Kitchen, makes these cookies with a drizzle of chocolate and no dried cherries, but I wanted to adapt them to something more morning breakfast in flavor (not that I'm opposed to the occasional chocolate in the morning to kick start things). For me though, this meant adding a sweetener other than table sugar (I went with maple sugar to give it that maple flavor) and some chopped dried cherries. Maple sugar can be found in specialty stores like Trader Joe's or Whole Foods, but if you don't have it, feel free to use dark brown sugar. Because I want to keep the cookies crumbly, I decided to covert them to a gluten free variation, using millet flour and mesquite flour, as both add a great flavor to the cookie, getting the resulting cookie into a nice moist but crumbly state. Both flours can also be found at health and upscale stores like Whole Foods or online. However, if you don't have millet and mesquite flour and don't feel like tracking them down or you don't have any issues with gluten, feel free to just use all purpose flour in its place (105 grams or about 3/4 cup). This recipe requires the dough to rest in the fridge overnight, so keep that in mind when making it and plan accordingly.
Heavily adapted by a recipe from The Sprouted Kitchen Cookbook.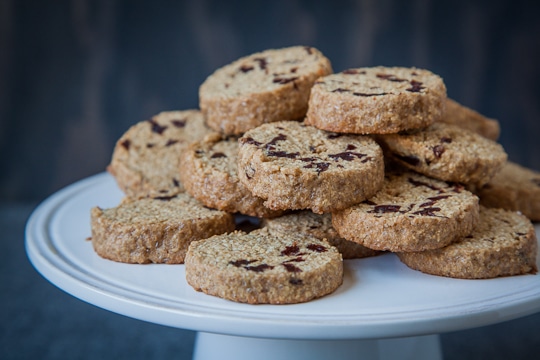 Ingredients
165 g (1 1/2 cups) old fashion rolled oats (gluten free if that is a concern)
75 g (1/2 cup + 1 tablespoon) millet flour
32 g (1/4 cup) mesquite flour
1/4 teaspoon sea salt
1/2 teaspoon cinnamon
113 g (1/2 cup or 1 stick) unsalted butter, cold
75 g (1/2 cup) maple sugar
2 teaspoon vanilla extract
1/2 teaspoon almond extract
1 large egg
75 g (2 1/2 oz or 1/2 cup) chopped dried sour cherries
2 tablespoon turbinado or demerera sugar (sometimes sold under the brand name Sugar in the Raw)
Special Equipment
Food processor
Stand mixer (though you can use a spoon and some elbow grease)
Baking sheet
Parchment paper or silpat
Directions
1. Place the oats in a food processor and pulse until the oats have been reduced to a coarse consistency like grits or polenta. You want to leave the oats a bit more chunky to give the cookie some texture. Once you achieved the right texture, add the millet flour, mesquite flour, salt and cinnamon. Pulse a few more times to blend.
2. Cut the butter into 1/2 inch chunks and place in the bowl of a standing mixer fitted with a paddle attachment. Add the maple sugar and beat on medium until the butter is light and fluffy. Add the vanilla extract, almond extract and egg. Beat on medium to incorporate; the batter might look like it is breaking, but don't worry about that. It'll come together once you add the dry ingredients.
3. Add the dry ingredients from the food processor and beat on low speed until a dough forms. Turn to medium speed and beat for a minute more to fluffy the dough up. Add the chopped dried cherries and mix on low until incorporated. Don't worry if the dough seems a little sticky, that's normal.
4. Sprinkle the turbinado sugar evenly onto a cutting board. Scrape the dough out into your hands and start to form a tube of dough. Once the dough is roughly formed into a tube, place it on the cutting board and roll it out to an even tube of dough, roughly 12 inches long. The turbinado sugar should keep the dough from sticking to the cutting board, but if it sticks, add a little more sugar. You should have an even coating of turbinado sugar all over the tube of dough. Roll the dough tightly in a plastic wrap and refrigerate for at least two to three hours or preferably overnight.
5. Once the dough has chilled, preheat the oven to 350˚F and line a baking sheet with a silpat or a pie parchment paper. Pull the dough out and unwrap it from the plastic wrap. Slice off 1/2 inch thick cookies and place on the backing sheet. Bake for 12 – 14 minutes or until the edges start to get golden brown (or a little longer if you want your cookies to be more crisp). Cool on the sheet for five minutes before moving to a wire rack to cool completely.
Makes 24 cookies.