The Manhattan Cocktail Cake is inspired by the signature bourbon, sweet vermouth, and ANGOSTURA bitters cocktail. Think of it as a new-and-improved fruitcake! (Jump directly to the recipe.)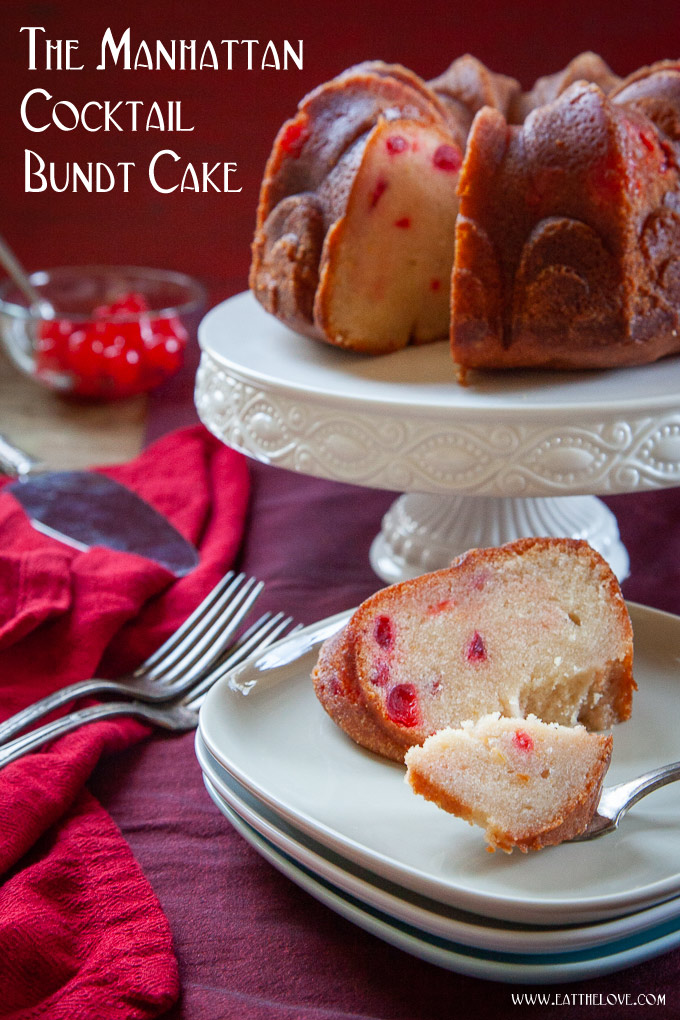 This post was sponsored by THE HOUSE OF ANGOSTURA®. I was compensated for this post and for developing the recipe. However, all opinions below are completely my own and not endorsed by THE HOUSE OF ANGOSTURA.
It's full blown holiday spirit here in our house! We have our Christmas tree up and every inch of it is decked out in decorations. I've been baking up a storm, even though I decided I didn't want to host a holiday party like I usually do (our travel plans made it difficult to plan a proper gathering). Although I haven't done all my holiday shopping, I have at least given some serious thought to gifts…which is more than I can say about other years when I've been a "mad dash to the finish line" sort of shopper.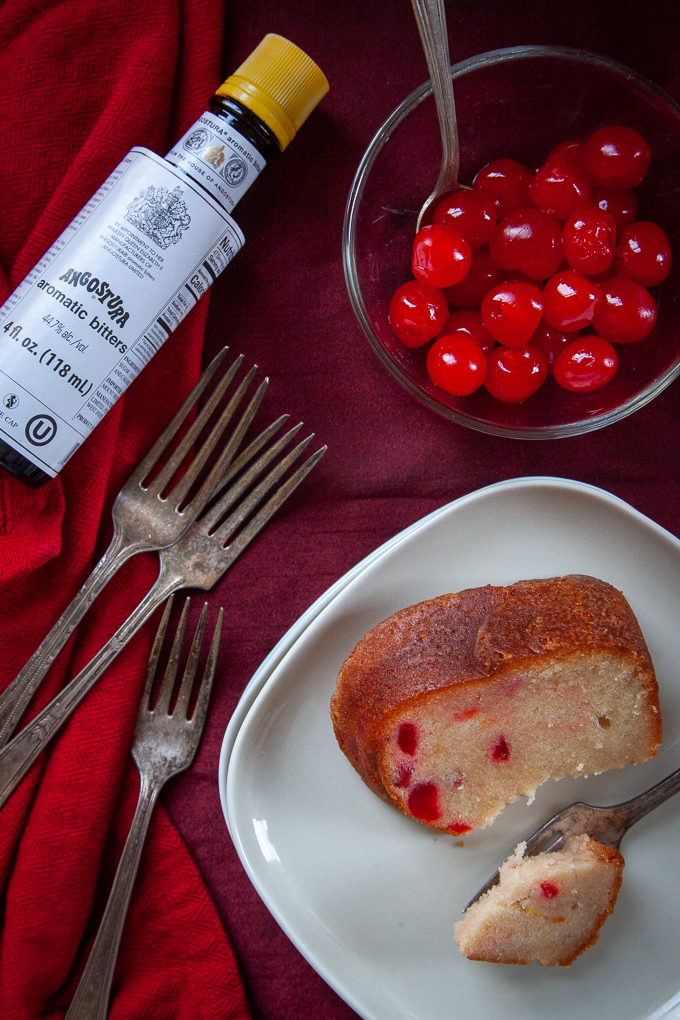 But one of the things I'm most excited about this holiday season is teaming up with ANGOSTURA® bitters. Ever since I had the chance to work with them last year, I've been wanting to try bitters in new ways again and again. Though I certainly have used ANGOSTURA bitters in cocktails, I had never really thought of them as something to use in my everyday cooking and baking…until that project last year. I've been hooked ever since, using them whenever I can to add rich, layered flavor and depth to sweet and savory foods. That little bottle with the oversized label is one of those secret weapons in the kitchen that I can use to add dimension to my appetizers, entrees and desserts. I also know I can use it without worrying if it will conflict with any of my friends' particular diets, as ANGOSTURA bitters are gluten-free, vegan, kosher and sodium-free.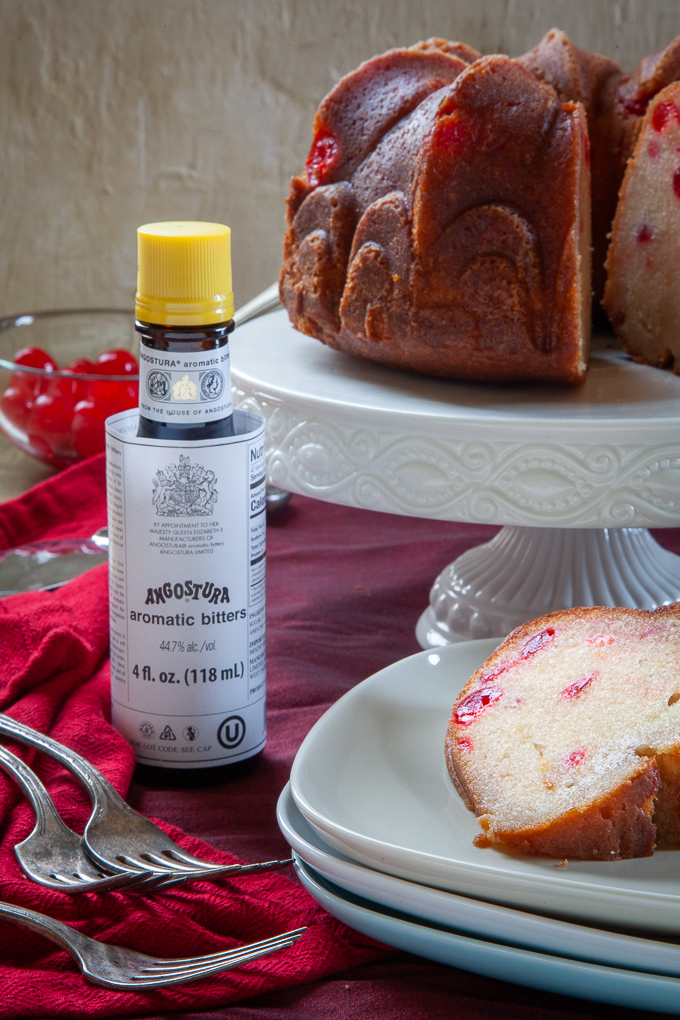 Of course, ANGOSTURA® aromatic bitters are a must-have ingredient for the gamut of holiday cocktails. From the classic Old FashionedOld Fashioned, to the regal Pink Gin to an elevated Eggnog, ANGOSTURA aromatic bitters are an essential ingredient in any well-stocked bar. But I've also found I need a bottle of it in my pantry as well – its bitter, warm spicy notes complement both marinated meat and seafood (it's now a standard addition to my steamed mussels) and season BBQ sauce and other rich sauces and stews (try adding it to beef stew or chili).
But taking cues from the iconic application of ANGOSTURA aromatic bitters as a crucial balancer of cocktails, I knew the minute I gave it some thought that I wanted to try my hand at a holiday Manhattan Cocktail Cake. A cross between a Caribbean rum cake (but with bourbon instead) and a holiday fruit cake, this boozy holiday dessert is exactly the sort of adult indulgence that my friends and family adore. ANGOSTURA aromatic bitters are super concentrated in flavor, so a few dashes go a long way. Baking with them means I can add fresh flavors without worrying about changing the chemistry of the baked goods much. Lo and behold, this cake is my new favorite for Christmas and the New Year. Cheers and Happy Holidays everyone!
You can learn more about ANGOSTURA bitters on their site or blog, or by following them on their various social media channels like Instagram, Facebook, Twitter or Pinterest. You can also follow along by clicking the hashtags #Angostura and #Angosturabitters, and be sure to grab a bottle at grocery stores and liquor retailers nationwide.
The Manhattan Cocktail Cake
Think of this as the love child of holiday fruit cake (without the dense heaviness) and Caribbean rum cake (swapping bourbon for rum), creating a new sophisticated holiday favorite for the adults. Take note that you need to make this cake a day ahead of serving, to properly let the bourbon glaze soak into the cake.
Ingredients
Cake Batter
2 1/4

cups

all-purpose flour

315 g

1 1/2

cups

white sugar

300 g

2

teaspoon

baking powder

1

teaspoon

kosher salt

1/2

cup

room temperature unsalted butter

115 g or 1 stick

1/2

cup

vegetable oil

1

teaspoon

vanilla extract

4

large eggs

1/2

cup

milk

any type

1/2

cup

bourbon

2

tablespoons

sweet vermouth

1/4

teaspoon

ANOGOSTURA bitters

Zest from 1 medium orange

2

cups

maraschino cherries

drained and roughly chopped, two 10 ounce jars
Glaze
1/2

cup

butter

1 stick

1

cup

white sugar

200 g

3/4

cup

bourbon

1

tablespoon

sweet vermouth

1/4

teaspoon

kosher salt

1/4

teaspoon

ANGOSTURA bitters
Instructions
Preheat the oven to 325°F. Spray a standard size (10-cup capacity) bundt pan with cooking oil evenly, then dust lightly with flour.

Make the cake batter by placing the flour, sugar, baking powder, salt, butter, oil and vanilla in the bowl of a stand mixer fitted with a paddle attachment. Mix on medium speed until the butter and oil are incorporated and the mixture starts to look a bit like wet sand.

Place the eggs, milk, bourbon, sweet vermouth, ANGOSTURA aromatic bitters and orange zest in a different mixing bowl and beat together with a fork.

While the mixer is turned on low, slowly drizzle the wet ingredients into the mixer bowl, occasionally stopping to scrape down the sides of the bowl. Once the wet ingredients are incorporated into the batter, fold in the chopped cherries.

Pour the batter into the prepared bundt pan. Bake in the preheated oven for 60 to 70 minutes, or until a toothpick or skewer comes out clean. Once the cake is baked, let cool in the baking pan on a wire rack for 20 minutes.

Meanwhile, make the glaze by combining the butter, sugar, bourbon, sweet vermouth and salt in a medium saucepan. Cook on high until boiling, then reduce heat to a simmer. Be careful, as the glaze will bubble up at first. Simmer the glaze for 5 to 7 minutes or until the glaze starts to thicken slightly. Once done, remove carefully from the heat and stir in the ANGOSTURA aromatic bitters.

Once the cake has finished cooling for 20 minutes (it will still be warm), invert it onto a wire rack and release it from the pan. You might need to coax it out a bit with a thin knife. Once it's been removed, clean up the inside of the pan a bit with a paper towel, or stiff pastry brush (no need to go crazy, just brush out anything big and sticky), then place the bundt pan back over the cake and invert it again. Basically, you are releasing the cake while it's warm and easier to take out, then putting it back into the pan so you can let it soak up the glaze. The cake should now be upside down in the bundt pan.

Using a skewer, poke several holes all over the bottom of the cake. Then, using a spoon, drizzle some of the glaze over the bottom of the cake (while it is still in the pan). Continue to do this until all the glaze has been poured over the cake. Cover the cake with plastic wrap, then let sit at room temperature overnight, allowing the cake to fully absorb the glaze.

The next day, invert the cake onto a cake plate or stand and serve. If the cake is having a hard time coming out of the pan, place it in a 350°F preheated oven for 5 to 10 minutes to help release the cake from pan. Once on the cake plate or stand, slice into pieces and enjoy!
Notes
This post was sponsored by THE HOUSE OF ANGOSTURA. I was compensated for this post and for developing the recipe. However, all opinions are completely my own and not endorsed by THE HOUSE OF ANGOSTURA.
Nutrition