If you're looking for an outstanding Manhattan clam chowder recipe, this is the one for you! (Jump directly to my recipe for Manhattan clam chowder recipe.)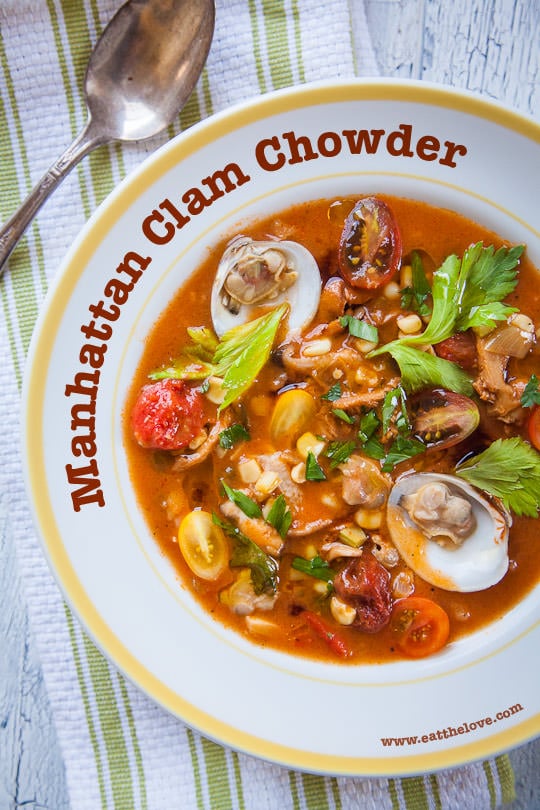 I was lucky that growing up my mom ALWAYS had a home cooked meal on the table for dinner. I never really knew how lucky I was and I often viewed my friend with envy as they would tell me about their meals of delivery pizza or carry-out Chinese-American. Instead we had stir-fry, steamed vegetables or more traditional Chinese or Taiwanese food with the usual side of rice. Occasionally my mom would stretch her culinary sensibilities and make lasagna or T-bone steak with A1 sauce but it was rare that it happened. Us kids never complained about the food (and, in truth, the food was great looking back, something I took for granted) but the few times that there were stumbles in the kitchen was when my mom tried something completely different and outside her comfort zone. The most infamous of the experiments was my mom's clam chowder. I don't really remember much from the meal, other than my brother and sister didn't care for it much and I certainly chimed in my dislike as well. Mom never attempted it again.
It's sad because, on the whole, my mom is a great cook. She's doesn't do much cooking now, and I'm always fearful that the dishes she made for me growing up will be lost. I keep on meaning to ask her to show me again how she wraps her sticky rice dumplings with bamboo leaves into the perfect pyramid shape, a tutorial she once gave me but I never really mastered. Every time I ask her to write down the recipe for her pork and fish paste soup she says she's never really followed a recipe for it, she just sort of free forms it. And, of course, I need to get the recipe for her Asian beef jerky (which AJ loves) but I keep on forgetting. Mostly it's my fault for not following up and, like most moms that I know from that generation, recipes weren't ever really written down but rather made from memory and to taste.
But her clam chowder is not something I really remember specifically. I wonder if it really was as bad as we made it out to be at the time, growing worse and worse as the years pass. A soup that started out just mildly too salty or too weirdly American for us kids who grew up eating napa cabbage with dried shrimp and homemade steam pork buns but escalated into the infamous terrible dish as we all got older. A dish that got was slowly downgraded in our memories because everything else we ate in our childhood was so good in comparison.
I'm pretty sure my mom has no memory of what cookbook or newspaper she got her recipe. But when I decided, on a whim, to make a clam chowder, I decided to veer away from the traditional New England cream based chowder which is what my mom attempted to make and go with a Manhattan style one with a tomato base. Traditionalist will, no doubt, find it blasphemous to use a tomato base for the soup but if you think of a clam based Cioppino soup instead, that should calm all those who cry foul. If only the memory of my mom's soup could be as easily fixed with a name change.
(Special thanks to Sean Timberlake for the loaning of the bowl. Apparently I don't own any photo worthy bowls.)

Manhattan Clam Chowder Recipe
By Irvin Lin
I'm fully aware that this recipe for Manhattan Clam Chowder is ridiculous. I should have expected as much since I adapted it from the I Love NY Cookbook, which was the second book by the people behind Eleven Madison Park cookbook. Eleven Madison Park is one of those books that is both beautiful to look at but utterly impractical as a cookbook, a massive tome of 384 pages in which the only recipe that most people attempt is their granola. I Love NY seems much more subdued with recipes that look actually accessible and doable. After all, the initial recipe that I based this off of only has three major components to make, instead of seven or eight that the Eleven Madison Park dishes usually require. Also all the ingredients are fairly easy to find at a grocery store. But this is soup. Three components seems fussy and once you take a look at the ingredient list you'll realize that it's a pretty costly endeavor at that. Clam juice bottles, fresh littleneck clams and 1 lb of Chanterelle mushrooms (my little addition) really add up. But darn it if this soup isn't tasty good. Well, at least it is in my memory it is. I probably won't be making it again any time soon. I'm not made of money.
Adapted from I Love NY cookbook by Daniel Humm and Will Guidara
Ingredients
Oven Roasted Cherries
16 cherry tomatoes
1 tablespoon olive oil
1/8 teaspoon sea salt
1/8 teaspoon white granulated sugar
Soup base
5 cups (5 bottles) clam juice
3-4 cups chicken stock (low sodium), divided
3 shallots, medium size
2 celery ribs
1 1/2 garlic heads
3 medium tomatoes
3 tablespoon olive oil
1/2 cup chopped parsley leaves
1 can tomato paste
1 cup vermouth
5 lbs littleneck clam, scrubbed and rinsed well
3 large sprigs of thyme
3 tablespoon unsalted butter
1/4 cup cornstarch
2 teaspoons balsamic vinegar
salt and pepper to taste
Clam ragout
1/4 cup chicken stock
1 shallot, medium
1 celery rib
2 tablespoon butter
2 tablespoon olive oil
1 lb Chanterelle or Shitake mushrooms (optional)
1 cup frozen corn kernels
1/4 cup celery leaves
salt and pepper to taste
16 cherry tomatoes, halved
Drizzle
Extra virgin olive oil
Balsamic vinegar
Directions
1. Make the roasted tomatoes by first preheating the oven to 200˚F and lining a small, rimmed baking sheet with parchment paper. Fill a medium to large sized bowl with water and a tray of ice cubes. Then bring a medium sized pot filled with salted water (enough salt to taste it but not overpowering) to a boil. While the water is coming to a boil cut a small shallow X at the bottom of each tomato with a sharp knife. Once the water is boiling toss the tomatoes into the water and let it cook for about 4-5 seconds. Scoop them out with a slotted spoon and dunk them in the ice water. Once they are cold, peel off the skin of each tomato delicately. Keep the bowl of ice water for use later. Then place the tomatoes in a small bowl and drizzle the olive oil, salt and sugar over them. Toss to coat and then pour them onto the baking sheet. Roast in the oven for 2 hours.
2. While the tomatoes are roasting, prepare the soup base by placing all the clam juice and 3/4 cup of the chicken stock in a medium sized pot. You can use the pot that you boiled the tomatoes in if you want (just dump the water out, no need to wash). Turn the heat to high and let the juice boil down, uncovered, to 2 cups (this will take about 30-45 minutes or so, depending on how powerful your stove is).
3. Cut the shallots into 1/4 inch thick slices. Dice them into 1/4 inch pieces. Roughly chop the garlic. Cut the tomatoes into 8 pieces (quarter the tomato, then cut each quarter in half). In large stock pot, heat the olive oil until is shimmers with heat then add the shallots, celery, garlic, tomatoes, chopped parsley and tomato paste. Cook until the shallots and celery start to soften, about 2-3 minutes. Add the vermouth and stir to combine. Bring to a boil and add the clams, stirring them in. Cover the pot tightly and let the clams steam for about 8 to 10 minutes or until most of the clams are open. Remove from heat and scoop the clams out and put them in the ice water bath that you used for the tomatoes, discarding any clams that did not open. Leaving as much soup as possible in the pot. Once the clams are cool enough to touch, remove all but 8 clam meat from their shells (put the meat in a clean bowl). Of the 8 that you didn't remove from the shell, pull the top mantle shell off, leaving the bottom belly shell with the meat attached to it. You'll use those 8 clams to decorate your bowl of soup so place them aside on a plate.
4. Place the pot back on the burner. Add the thyme to the pot. Add the butter to the pot and stir to melt and mix in. Drizzle the balsamic vinegar into the pot and stir. Mix 2 cups of chicken stock with the corn starch in a glass measuring cup and stir with a fork to dissolve the corn starch. Pour the chicken stock mixture into the soup and bring the entire thing to a boil. Lower the heat and simmer it for 10 minutes. Taste the soup base and season with salt and pepper to taste. If the soup base is too salty (clams are creatures of the sea) add more chicken stock to dilute but keep in mind the clam ragout will also dilute the salt.
5. Make the clam ragout by putting the chicken stock in a large saucepan. Chop the shallot and celery rib into 1/4 inch pieces. Add them to the saucepan. Cook for 2 minutes on medium heat or until the shallots and celery start to soften. While the shallots and celery are cooking, chop the mushrooms into bite size pieces (if using). Add the olive oil, butter and the mushrooms to the saucepan and cook for an additional 5 to 10 minutes or until the mushrooms start to shrink and give off a lot of juice. Add the corn and continue to cook for 2 minutes. Add the celery leaves, reserving just a few sprigs for garnish, along with the roasted cherry tomatoes and clam meat and cook until the tomatoes and clams have heated up. Taste and season with salt and pepper, keeping in mind the saltiness of the soup base.
6. Assemble the soup by spooning in 1/4 of the clam ragout into a bowl, and pouring the soup base over it. Garnish each bowl with 2 clams still in the shell, along with a four halved cherry tomatoes and some parsley leaves. Drizzle a little olive oil and touch of balsamic vinegar over the soup. Serve immediately.
Makes 4 ridiculous servings.
If you like this Manhattan clam chowder recipe, check out some of these other clam recipes from around the web:
Savory Sweet Life's Red Curry, Coconut and Ginger Infused Steamed Clams
Chef Dennis' Linguine with Clams
Leite's Culinaria's Clam Shack Fried Clams
Recipe Girl's How to Grill Clams
Bev Cook's Beer-Steamed Clams
Reader Interactions