"So what's up with you and all the Instagram photos of cooking classes? Are you going to culinary school?" asked a few of my friends, well actually a lot of my friends really. And the answer is no, I am not going to culinary school. Mostly because as much as I would love to go, I realize that practicality of it doesn't quite make sense. After all, I have little to no desire to work in a restaurant kitchen or bakery. I'm old and lazy, and that sort of work is ridiculously hard labor (mad props and respect to all you back-of-the-house folks!). But that doesn't mean that I wouldn't love to go to culinary school full time and learn all the ins and outs and basic/intermediate/advanced skills that you can get from culinary school.
Lucky for me, I was able to take some back-to-back classes at a few different culinary schools here in San Francisco to give me a sense of what professional cooking school would be like. I posted about my experience taking a laminated dough intensive class at the shiny new San Francisco Cooking School. The following week, I found myself at the Le Cordon Bleu – San Francisco campus, taking their Techniques I class. An introductory class that covered the fundamentals of cooking (it was like cramming 12 weeks of learning into a week) the instructor, Chef Dan Fluharty was a whirlwind of knowledge and expertise, leading us through five days of basic skills.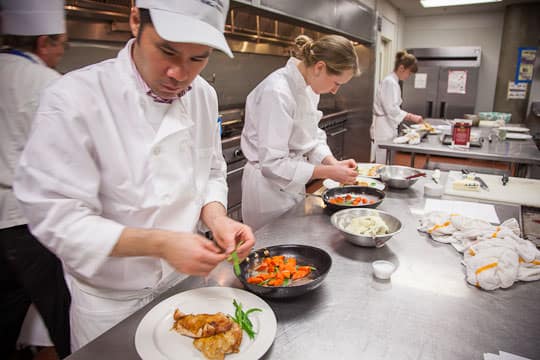 My two classmates and I were put through the paces, learning everything from chopping onions to setting up your mise en place properly, making pasta to cooking eggs, from working the grill station to prepping seafood. I found myself doing everything from learning how to flip an egg in the pan (the trick, to be fearless and confident. Also practice a lot with a piece of toast or English muffin first) making tortellini from scratch (hint, make the filling first before you roll out the pasta…which I forgot to do), and breaking down an entire chicken (cut along the fat lines of the chicken, they make natural cutting lines for you). Throughout the course of the week we made roasted chicken, cherry cobbler, French onion soup, potatoes dauphinoise, chicken picante, Cioppino stew, grilled seasoned steak, tiramisu, cherry cobbler, fresh pasta with cream sauce, meatball with cheese tortellini soup and way, way more.
Each day ended with a meal for ourselves and a guest that we could invite (AJ was pretty happy the entire week I was taking the class). The last day featured a class where we were challenged to make food from the "fresh basket table" of ingredients along with specific ingredients that needed to be incorporated into a meal of our choice. I decided to get outside my comfort zone and challenge myself a bit. The end result included a tea-smoked shrimp over a ribbon salad of carrots, parsnips and broccoli stem tossed with an Asian-inspired pesto. The main course was a rack of lamb encrusted with dukkah (an Egyptian nut-herb-spice blend) served over potato gnocchi tossed in a veal reduction and a side of shredded warm Brussels sprouts tossed in a dijon mustard sauce. I ended with a roasted pear drizzled with honey and ricotta cheese (though the dessert was a bit of a fail because I either didn't let the pears cook long enough or they were too under ripe to begin with as they were pretty rock hard).
After a week of cooking school, I wish I could take even more classes. As much as I love reading my cookbooks and watching tutorial videos, there's something wonderful about learning from a veteran chef like Chef Dan with his 40+ years experience with food. From the basics to the more advanced I was thrilled that I was able to get just a tiny taste of culinary school. Who know when I'll get a chance to work in a professional kitchen like that again? Either way I know I'll be using skills that I acquired from that class for ever.
Swing by tomorrow as well as the rest of this week, where I'll be sharing some recipes and cooking/prepping techniques that I learned in my Le Cordon Bleu Techniques I class!
Special thanks for Le Cordon Bleu for letting me sit in on the Techniques I class. Even though the class was offered to me complimentary, I was not monetarily compensated for this post and all opinions are my own.