The Irish Kahlua Summer cocktail features a caramelized sugar rim for a sophisticated impressive drink to guests and at home. (Jump directly to the recipe.)
I'm gonna be honest. I'm a sucker for setting things on fire. In the kitchen that is. Under controlled conditions. I'm not pyro! But if there's a way for me to flambé a dish or bring out the crème brulee torch I'm all over it. So when I came across a technique for caramelizing a sugar rim around a glass I knew I had to incorporate it into my latest Kahlúa cocktail. The resulting drink that I call the Irish Kahlua Summer cocktail was tasty and terrific, the perfect sort of beverage that will impress the guests with minimum effort.
Now the most important thing about making the Irish Summer cocktail is using tempered glass cocktail cups. Do NOT attempt to make the caramelized sugar rim with a normal everyday glass as it will shatter, which, lets face it, is not a fun thing for anyone. Tempered glass is a specially treated glass that can withstand high heat and is more physically durable. Most places that sell specialty barware can direct you to cups and cocktail glasses made with tempered glass. They aren't expensive, and you can certainly order them online as well (though you often have to buy them in large sets online). You may even have some tempered glasses in your house already (look underneath the bottom of the glass, it will tell you if the glass is tempered) but please don't try to caramelize the sugar on the rim of a normal glass.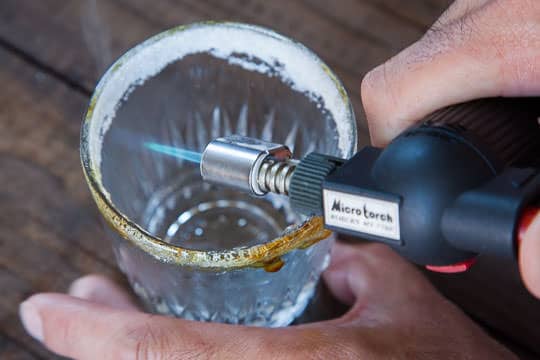 After that, the only little piece of equipment you need is a crème brulee torch. The caramelized sugar rim not only looks great and is impressive but isn't as cloyingly sweet as a regular sugar rim that dissolves in your mouth as you drink. And, for easy clean up, after your done with your drink. Just turn the glass over, rim down, in a rimmed baking pan filled with warm soapy water. The caramelized sugar should just dissolve off in a few hours.
This post was sponsored by Kahlúa. I was compensated for the post and for developing the recipe. However all opinions above (and below) are completely my own and not endorsed by Kahlúa. Visit Kahlúa's various social media pages (Facebook, Twitter, Instagram, Pinterest) for more cocktail and entertainment ideas and join in on the fun by sharing your own Kahlúa creation using the hashtag #KahluaSummer.

The Irish Summer Cocktail
By Irvin Lin
This cool summer beverage adds a sparkling caramelized sugar rim to the glass, impressing guests with minimal effort. However it's important that you use a tempered glass cocktail cup as a normal glass will shatter from the heat of the crème brulee torch. Tempered cocktail glasses can be found at most places that sell specialty barware or online.
Ingredients
1 orange wedge
2 oz Kahlúa
1 oz Jameson Irish Whiskey
1 oz ABSOLUT vodka
1/4 oz heavy cream
ice
white granulated sugar for glass rim
Special Equipment
Tempered cocktail glasses
Crème Brulee torch
Directions
1. Take an orange wedge and rub it all over the rim of the tempered cocktail glass. Dip the rim of the wet glass into a bowl filled with sugar to coat. Using a crème brulee torch, heat the sugar around the rim of the glass until it starts to caramelize and turn brown. Be sure to heat the outside and inside rim to get the caramel on both sides.
2. Once the sugar has caramelized, let it cool to room temperature (about 5-10 minutes). Add the Kahlúa, Jameson Irish Whiskey and ABSOLUT vodka into the glass and stir to mix. Fill the cup with ice then drizzle the heavy cream on top. Serve immediately.
Makes 1 cocktail.