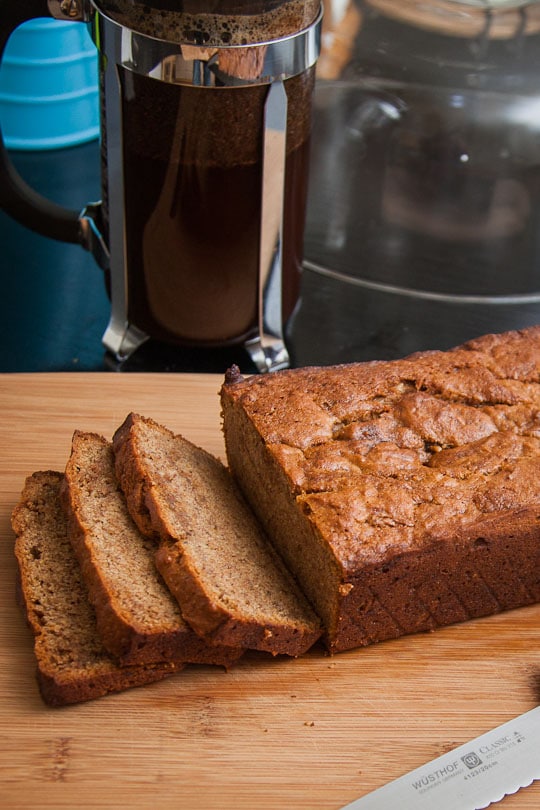 "I'm FAT!"
This was what I kept on hearing from my partner as I started this blog about baking. Which, of course, probably wasn't the best thing for me to hear as I decided that I wanted to bake more. A lot more. Forget that he exercises way more than I do (which, granted is probably not difficult as I go to the gym three times a year, but still – he's usually on his bike at least once or twice a week and at the gym a couple times a week).
Forget that he actually does the AIDS Lifecycle each year, riding over 545 miles from San Francisco to LA. Forget that we had just gone skiing the week before, where he kicked my butt down the slopes. Or perhaps it was the slopes that kicked my butt. Either way I was sore for a week afterwards. I heard nary a complaint from him about the slopes.
"I'm FAT!" is what I heard again and again. What am I going to do with a partner who complains about being fat (when CLEARLY he isn't) especially as I plan on ramping up my baking?
Let me be clear, he's been super uber CRAZY supportive of me starting this blog and baking more. After all, he gets the benefit of me keeping myself busy with whatever crazy new recipe I decided I want to come up with, while he's off doing whatever he's doing (usually photographing, sorting his photographs, or post-processing the photographs, oh yeah and grading papers). But I'm sure deep down he wasn't thrilled with the prospect of me baking food to tempt him. Because, as he often says, he exercises self control at the grocery story. NOT at home.
Slight aside. I'm not allowed to buy ice cream that he likes. I can only buy flavors that he doesn't like or he will eat it. Which is fine as I have a fondness for mint chocolate chip (which he doesn't care), mint cookies and cream (which again, he doesn't care for) and honey lavender from our local ice creamery Bi-Rite (which he claims, tastes like soap, but I love). However if I ever buy Bi-Rite's Salted Caramel ice cream, it's gone in a day. So I don't.
"I'm FAT!" Only one post into my blog, and I started to get self-conscious about what I'm going to bake next.
And then I'm at work. Digging around in the refrigerator, trying to find my Kombuchi (another thing I love but he hates. What does he have against sour pro-biotic slightly carbonated, possibly alcoholic health drinks?). And my eyes land on the browning bananas on the counter that will soon be composted.
That's it. I know what I'm going bake next. Rescuing them from the compost bin, I decide that I will make some banana bread. But not just any banana bread…a healthy banana bread. Not that Banana Bread isn't healthy (it's made of bananas for goodness sake!). But I'm going to up the health factor in this one. And just for kicks, I'm going to make it vegan friendly too. Because vegan baking has always intrigued me. Sure, it's easy to substitute for the butter (just use a trans-free butter substitute like Earth Balance's "Buttery Stick" or better yet, use virgin unrefined Coconut Oil) but how to solve for eggs?
Luckily, banana bread is the easiest thing to make vegan. A lot of banana bread recipes don't even call for eggs. And many vegan baked good recipes actually tell you use bananas as a substitute for eggs. Why? Because bananas are goopy enough to bind the ingredients together as you bake, something that eggs usually does.
So there you go. Vegan Banana Bread. Extra healthy with all whole wheat and some flax seed thrown in as well, for all those significant others that claim to be fat when they really aren't.
Note: Whilst baking, I was listening to Aimee Mann's Bachelor No. 2 album, and James Yuill's Turning Down Water for Air. I contemplated listening to Ani Difranco but then thought it would be too much of a cliché to listen to the bisexual punk folk icon while baking a vegan banana bread.
*The name comes from my not fat significant other who texted me after he ate it for breakfast. "It tastes very unhealthy! It's very moist and breadlike (bananabreadlike)…without being oily!"