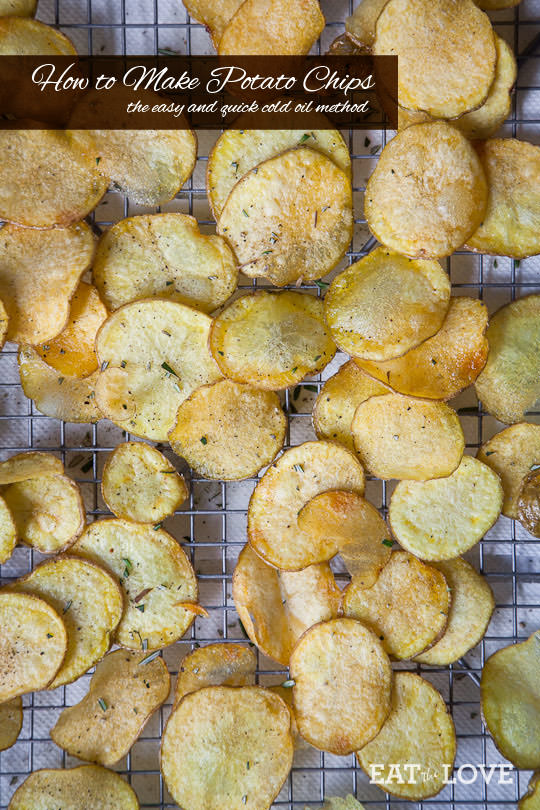 "I have an idea. Maybe we should make homemade potato chips. Once you taste them, all other potato chips from bags will taste like poor imitations of the real thing and you'll eat less of the inferior versions that we buy at the store." I said this in jest as my partner AJ was complaining about how many potato chips he ate on a daily basis. He thought about it, and said it SOUNDED like a good idea, but in reality he doubted that he would stop eating potato chips from the bag. I set about seeing if I could prove him wrong by coming up with the easiest method on how to make potato chips EVER.(Jump directly to the recipe.)
It turns out that there are numerous ways to make potato chips online. You can bake them. You can fry them. You can even microwave them. Most of them required using a fancy mandoline (which, for those who do not know, is not a musical instrument played by Italian men in the mid 1800s but rather a kitchen slicing contraption) but I did not own this piece of equipment. In fact, years ago I acquired a cheap version of one, and my one failed attempt at using it resulted in a scar that I still have on my middle right finger. I've since stuck to using a sharp chef knife and I'm here to tell you that you don't need a fancy cutting machine to make potato chips.
I do, however, prefer to have my potato chips fried and not microwaved or baked. I've made baked potato chips before and they seemed more fuss and work than it was worth. Slicing, oiling, baking, flipping. Microwaving seemed easier, but the individual flipping of the potatoes and the fact that my microwave isn't that large (if I'm going to go the trouble of making potato chips, it better be copious amounts of them) ruled it out. Plus really, deep frying vs microwaving? Which one is going to taste better? No contest.
Of course, most recipes out there also make deep frying potato chips super fussy. Slice the potatoes, pat them dry, use a frying thermometer, maintain the temperature at 350˚F. Talk about persnickety! I had leftover deep fry oil from the French fries I made with my mussels and that had me thinking why can't I use the same method to make potato chips. Turns out the cold oil method works just as well for chips as it does with fries!
In the end I'm not sure AJ will be eating less potato chips or more potato chips with this experiments. My fear is that he'll be eating more, especially with how insanely easy it is to make them homemade. Basically it's fresh potato chips in 15 minutes. This could be a problem.
How To Make Potato Chips
By Irvin Lin
The trick to making these ridiculously easy homemade potato chips is to use Yukon gold potatoes. Don't try it with Idaho russets or Red potatoes. The Yukon has the right balance of starch and waxiness that allow them to first soften and cook as the oil comes to a boil, and then crisp without becoming tough and leathery. Any oil will do, but I prefer rice bran or peanut oil because of the high smoke point. Bonus if you feel like adding a couple of tablespoons of bacon fat into the oil, to give the chips a subtle savoriness, but that's not super necessary.
Ingredients
2 to 3 Yukon Potatoes (medium sized)
6 cups cooking oil (see headnote above for recommendations)
salt and pepper to taste
1- 2 teaspoons chopped fresh herbs of your choice for seasoning (optional)
Directions
1. Line a baking sheet with paper towels and place a wire rack over it. Slice the potatoes thin as you possible can with a sharp chef knife. If you have a mandoline slicer, feel free to use that but be careful with your fingers. Place the sliced potatoes into a heavy dutch oven or stock pot.
2. Pour the room temperature oil over the potatoes, making sure the potatoes are covered completely. Stir them a bit to make sure they aren't sticking to each other than turn the temperature up to high and bring the oil to a boil. Once the oil is bubbling let the potato cook, undisturbed for 5 minutes. Then, using heatproof tongs, stir the potatoes to make sure none are sticking to the bottom of the pan. If any are sticking together, pry them apart carefully with a fork and the tongs in the oil.
3. Continue to fry at high heat, stirring occasionally, for another 5-8 minutes, paying attention to the color of the potatoes. Once they start turning golden brown and feeling firm and crisp when you stir them, remove them from the oil with a mesh skimmer, spider strainers spoon or the tongs if you are careful with them and place on the wire rack over the baking sheet. Some of the thicker cut potatoes may not be done by the time the thinner ones are, just scoop out the done ones and let the others cook a little longer. Season with salt, pepper or any chopped fresh herb you want (I used rosemary because I had some in the fridge). Serve warm or at room temperature.
Makes about 3-4 cups of potato chips.
For more potato chip recipes around the web, check out:
Chocolate Moosey's Salt and Vinegar Potato Chips
Rachel Cooks' Microwaved Sweet Potato Chips
Oh My Veggies' Garlic Rosemary Baked Sweet Potato Chips
Food for my Family's Baked Homemade Potato Chips
Just a Taste's Homemade Barbecue Potato Chips