A quick, easy and sophisticated recipe on how to make homemade cranberry sauce using fresh cranberries and white wine. (Jump directly to the recipe.)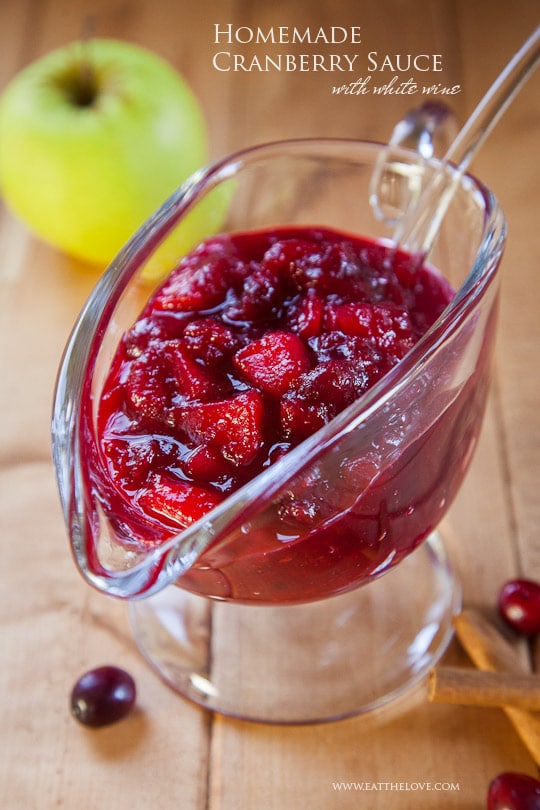 Even though no one, other than my mom, ate it, the canned cranberry sauce always had a place on our Thanksgiving table. In truth, I didn't even know that cranberry sauce came in any other way (solid, with ridges from the can, sliced into burgundy discs, and completely untouched by everyone but my mom). It sat in a special crystal cut dish, one that only came out for Thanksgiving, one seemingly designed specifically for sliced canned jellied cranberries. Nestled between the Turkey, the Stove Top stuffing (which I always made my mom make for the occasion since I loved it) and the Asian sticky rice casserole that my mom always made for Thanksgiving, it laid pristine and untouched except for the one slice taken by mom. It wasn't until I graduated from college that I learned how to make my own homemade cranberry sauce.
I pulled out my beat up manila file with the ancient food stains on them and found the orange booklet with the title William-Sonoma Thanksgiving. I don't know if they still give them out, but for awhile, William Sonoma had an annual guide for Thanksgiving that included recipes. My co-worker Deb Godwin, handed me one way back in about 15 years ago, at my first "grownup job" post college, a non-profit art gallery right after I graduated from college. Deb knew I liked to bake and handed me the booklet with a casual "You're a food person Irvin! You need this." I opened it up and looked at all the various recipes, things I didn't realize you could make from scratch and I was amazed at the possibilities. Mashed potatoes from real potatoes and not flakes from a box? Green beans made from fresh green beans not cans? Real stuffing with torn crusty bread not the stuff that came in a box or a plastic bag? To this day, I've held onto that guide, as it taught me so many things, including how to make homemade cranberry sauce.
When I finally started to host our own Thanksgiving, a vow that AJ and I have stuck to since we were once robbed of a Thanksgiving dinner due to a misunderstanding, I knew where to turn to for recipes. I've since moved on from that little orange booklet, but I still pull it out for the cranberry sauce. I've certainly tried other cranberry recipes since but that is the one that I've turned back to as solid. Of course, I've adapted, it a lot, adding orange and orange zest and most importantly white wine, but at it's essence it's the same as the one I got 15 years ago. Some classics never get old. And my mom? She can't get enough of the fresh stuff. I don't think she's bought a can of the jellied stuff in years.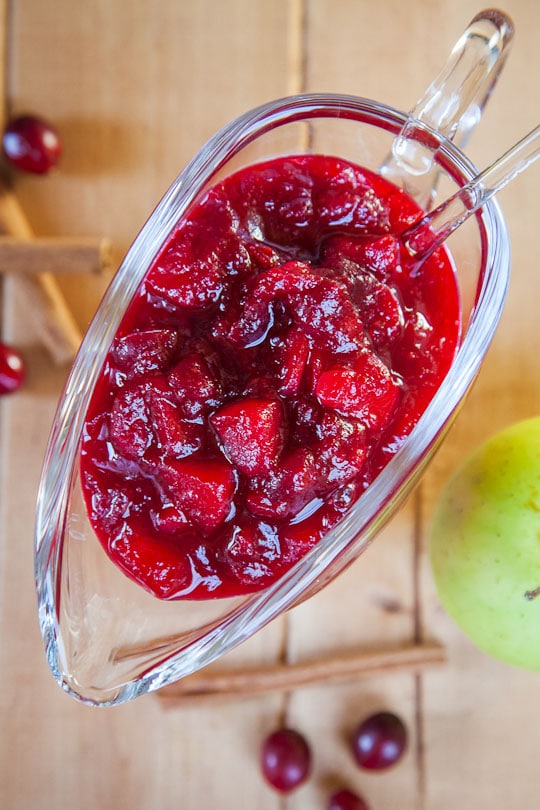 Homemade Cranberry Sauce
By Irvin Lin
Fresh cranberry sauce can be made in under 20 minutes and is world's better than the can stuff. Just toss all the ingredients together in a medium sized pot, cook it for 15 to 20 minutes and you're done! I use white wine in my cranberry sauce because I think the light crispness of it works well with the cranberries. Feel free to substitute a juicy fruit forward red wine in it's place or just use plain water instead.
Freely adapted from an old William Sonoma Thanksgiving Guide.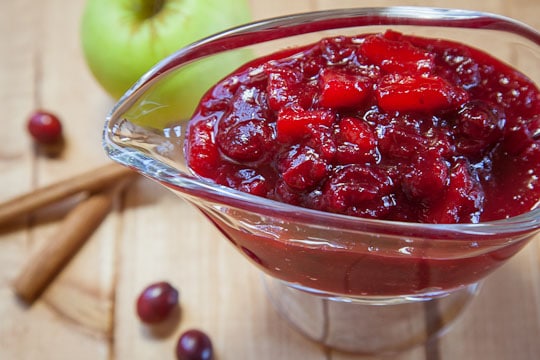 Ingredients
1 medium apple (Granny Smith or another firm tart apple)
12 oz fresh cranberries
1 cup (200 g) white granulated sugar
1 cup white wine
1/2 cup orange juice, fresh squeezed
zest of 1 medium orange
1/2 teaspoon ground cinnamon
1/4 teaspoon ground cloves
1/4 teaspoon sea salt
Directions
1. Peel, core and chop the apple into 1/4 inch chunks. Place in a medium saucepan. Add the cranberries (picking through and discarding any soft ones), and the remaining ingredients to the pan.
2. Cook over high heat until boiling, then lower heat to a simmer and partially cover the pan for 10 minutes, stirring occasionally. Remove the lid and continue to simmer over lower heat for an additional 5-10 minutes or until the sauce has thickened. Remove from heat and let cool to room temperature to serve. Can be made ahead of time and stored in the fridge for 3-4 days. Be sure to bring it up to room temperature before serving.
Makes enough sauce for 6-8 servings.
If you like this cranberry sauce, check out these other cranberry sauce recipes from around the web!
Gimme Some Oven's Orange Bourbon Cranberry Sauce
Cookin' Canuck's Boozy Cranberry Sauce with Port Wine and Cloves
Love and Olive Oil's Hibiscus Cranberry Sauce
Texanerin Baking's Honey Sweetened Orange Cranberry Sauce
Buns in my Oven's Homemade Maple Cranberry Sauce