It's the Eat the Love annual holiday gift guide for 2017!
The holidays are one of those insane times when you are running around baking up a storm, going to parties and desperately trying to figure out what to buy for your friends and loved ones. Well I have you covered with some gift ideas for those hard to buy folks. Here's my 2017 holiday gift guide!
You can't go wrong with a bottle of bourbon for a host gift or for a loved one that happens to enjoy their brown. Made in Alabama, Clyde May's whiskey bourbon has long roots that go back to nearly 70 years. With notes of butterscotch and apple, Clyde May was picked as the official spirit of Alabama in 2004.
Since I cook a lot, I'm always looking for new pots and pans. The new line by Hestan is remarkable for its balance and titanium bonded surface. A deep space age looking silver, the stainless steel cookware has molecular titanium bonded into the pan, creating a surface that is 4 time harder than stainless steel, which means less scratches and stains. More than that, it has higher heat conductivity meaning it heats up and cools down faster. Plus it's so pretty on the stovetop!
The yell of excitement you might have heard last month was me opening up an airbrush pump from CakeBoss. I'm not one to get super excited by kitchen gadgets but I love the idea that I can actually airbrush and decorate my cakes all professional like. If you know someone who loves to bake cakes, this could be an amazing present for them to take their decorations to the next level.
There's cheese, and then there's marinated goat cheese in flavors like Italian black truffle or smoked salt and rosemary. Chevoo not only makes a great addition to an appetizer platter for your holiday party but it also makes a great host gift as well, especially if you host doesn't drink wine or already has WAY too much wine in their possession (an issue that is very prevalent in my circle of friends).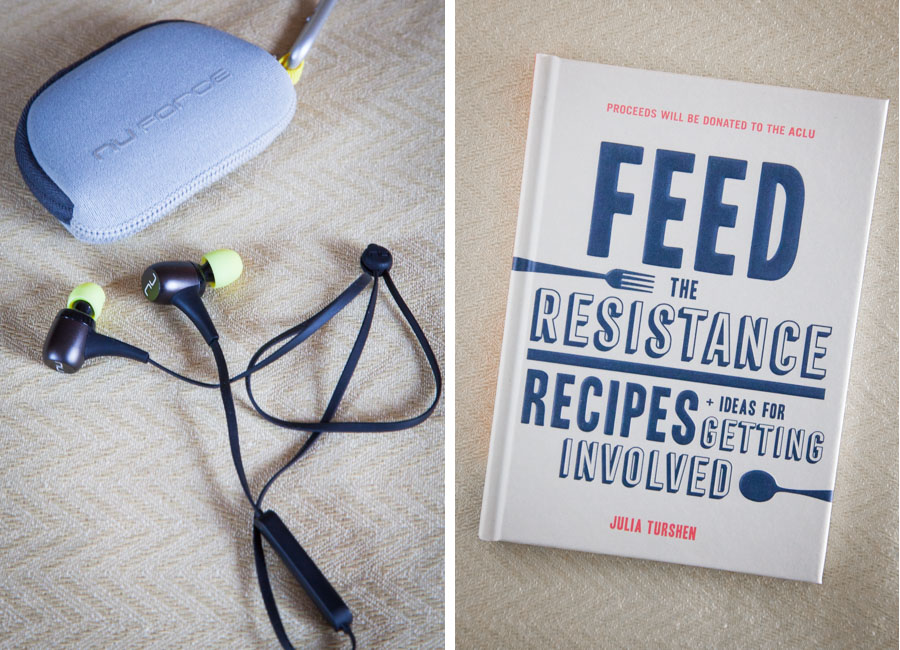 The place that you can most frequently find me is in my kitchen, walking around outside or at my school's ceramic studio trying to throw bowls and plates. And all those things usually have me listening to music. I've been on the lookout for a decent set of bluetooth earphones that are durable and sweat resistant and that hold a charge. Optoma's NuForce Be Sport3 headphones last 10 hours without recharging (more than enough time for me to create and accidentally destroy numerous clay vessels on the wheel) and are reasonably priced as well.
I normally would include Feed the Resistance by Julia Turshen in my cookbook roundup but I think this book is a great little stocking stuffer for pretty much anyone who likes food or is concerned about the current state of affairs here in the United States. It's a short book packed full of essays to inspire political activism as well as recipes to feed you (because you'll need the energy to fight the good fight)! On top of that, all proceeds of the book will go to the ACLU. Buy this book for yourself and for a friend!
I'm a bit of a slug when it comes to exercise. I walk a lot but during the winter months I tend to be more of a shut in. That's why I can totally appreciate Modern Movement's Edge-Board and M-Pad. Both devices are core strengtheners with certain "gamification" options which is awesome for those of us who get bored easily. Expect me to have abs by swim trunk season!
My iPhone is constantly filling up with images, and I'm constantly plugging it into my computer to pull the images off of there to free up space. But one of the problems with that is I can't pull up that image once it's been removed from my phone to show my friends. Kwilt Shoebox is that solution. You plug the device into your home computer and attached an external hard drive to it. Then, when you take a photo out, you can upload it to your home computer using their app and it gets transferred to the hard drive the shoebox is attached to. You can access is any time as well, meaning you can take photos your heart's content. Amazing.
The Art of the Bar Cart by Vanessa Dina and Ashley Rose Conway is for all those booze hound friends who have every single bottle of obscure spirit out there. You might be tempted to give them another bottle of bourbon (like the Clyde May Alabama whiskey bourbon) but in the end, you know they probably already have it. The Art of the Bar Cart however might be just the right gift instead. With ideas on developing just the right sort of bar cart (vodka, gin, beer) as well recipes, this is a great host gift or stocking stuffer.
I've long been an advocate of weighing ingredients when baking. It's easier, you get more consistent results, and it means less clean up because you don't have to wash all those measuring cups. The OXO digital kitchen scale is not only perfect for baking, with a pull out, light up screen that lets you use bigger bowls, but is also pretty to look at. With its sleek black glass, I'm happy to have this out on the counter all the time.
I've thought about splurging and buying myself a slicing mandoline for ages. The original French ones were pretty expensive but they've come down in price and OXO's Chef's Mandoline Slicer 2.0 is a reasonable price for a great piece of kitchen equipment. Now I can slice my potatoes and vegetables wafer thin and pretend I am a French chef. I also love how the legs fold down for easer storage and the big rubber grip feels great to hold onto as you slice.
Happy holidays and happy shopping folks!
Special thanks to CakeBoss Baking, Chevoo, Chronicle Books, Clyde May's, Hestan Cookware, Kwilt Shoebox, Modern Movement, Optoma, and OXO for providing me samples and review copies of their products. Though they sent me product for free, I was not monetarily compensated. I was under no obligation to write about any products sent to me and all opinions above are my own.