Once December rolls around, I get slightly panicky. Where did the year go? Am I going to survive hanging out with all my relatives without going crazy? And what the heck am I going to buy everyone for the holidays? You understand my pain, you know that anxiety of going onto Amazon and browsing the "Kitchen and Dining Holiday Gift Guide" section hoping there is something amazing there to pick up. But this year, thankfully, I have a few tricks up my sleeve. Check out some of my favorite things that I've accumulated over the year, that would make fantastic presents for your loved ones, or, you know, yourself. After all, don't you deserve a little retail therapy? And as a special treat, I also have a nifty little giveaway for a box of Vosges truffles, for one lucky reader because you all deserve it. Details at the very bottom of this post!
Winter is here for the next three or four months, that means grilling and BBQ is harder to do. But that doesn't mean you have to stop adding smoky goodness flavor to your food. Check out this awesome set of smoked salts from The Spice Lab. When I opened up the Applewood Smoked Sea Salt test tube AJ walked by and asked if I had accidentally left something on the stove, as it smelled like something was burning. The pungency of the smoked salt made us both want to bite into something freshly grilled. Luckily we have these salts around to help us through the cold months.
Like all bakers, I have way too many ingredients floating in my pantry. For instance I have about seven different cocoa powders in there, ranging from the Black Onyx cocoa powder that is used in make oreos, to a red cocoa powder that I like to use in my red velvet cake but when I want a rich cocoa flavor that doesn't break the bank, Rodelle's Baking Cocoa is great. It has a deep chocolate flavor that adds a nice richness to the products without being ridiculously expensive.
I'm originally from Missouri so I have a soft spot for small batch crafted food items that come from there. Askinosie Chocolate works directly with the farmers, paying them more than Fair Trade prices, help fund educational programs and are the first small batch chocolate maker in the US to press their own cocoa butter. On top of that, their single origin chocolates, which are unofficially organic (their farmers just but can't afford certification), taste great.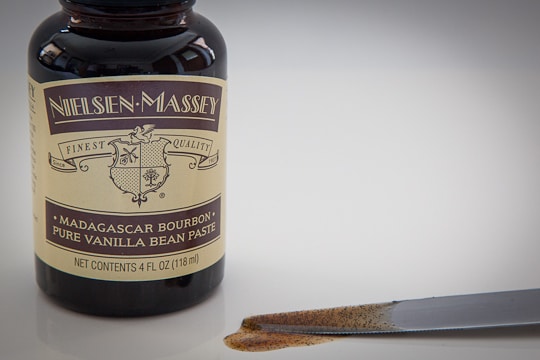 I'm a vanilla hound and absolutely love to use vanilla in most everything I bake. Vanilla beans are expensive, and so when I need to add vanilla flavor and want those specks of vanilla beans in my product but don't have a bean on hand, I reach for Nielsen-Massey Vanilla Bean Paste. Use it with a one to one substitution with vanilla extract but expect more robust flavor and that fabulous vanilla speck look that makes your crème brulle or vanilla ice cream look all the more special.
A little trade secret, I almost always use natural ingredients in my baking when I can, but every now and then I want to give my final product an extra boost, so I reach for LorAnn Bakery Emulsions. Professional bakers often use them to give their cookies and cakes an extra punch of flavor, and they're totally available to the general public. Worth tracking down to give your baked goods that extra kick of flavor.
Whenever I show up at a blogging convention everyone seems to want to talk about camera gear. What camera do you use, what lens do you shoot with, what's that on your flash? But one the best pieces of equipment to improve your photos isn't something you take photos with. It's something you use to help manipulate the photos after you've taken them. I could write a whole blog post about the Wacom Intuos 5 (which I just might do, that's how much I love it) but the pressure tablet gives you precision accuracy when you are working the photo in Lightroom of Photoshop all the while feeling more natural and better for your wrist.
The Intuos 5 is a great improvement over the older versions allowing the tablet itself to be used as a giant touchpad. It takes about two days to really get comfortable working on a tablet versus using a mouse, but once you've started working on it, you'll never go back. I've converted two design studios that I've worked at from mouse to tablet, and forced my partner AJ to get a tablet. Now he doesn't understand how he ever worked with the mouse and has a tablet both at home and at work. I never travel without my tablet and for me, working with a mouse is the equivalent to using my foot to write a term paper. Sure I probably could get the job done, but it would be so much faster and more accurate to use my hand. Trust me on this one, get a tablet and your photos (and wrists) will thank you.
It's hard to show up at a party empty handed and the go-to gift for most people is a bottle of wine. But why not show up with a bottle of bourbon instead? Lately I've been obsessed with bourbon, not only to drink but also in my baking. My latest discovery is Four Roses bourbon, and not just the standard Yellow label bourbon that is more commonly found (which I do love) but their Small Batch and Single Barrel bottles as well. I'm particular to the Single Barrel, with it's deep maple spice undertones but AJ likes the Small Batch with it's warm woodsy caramel flavor.
Not all olive oil is made the same and lately I've been using California Olive Ranch's Arbequina Extra Virgin Olive Oil. Fresh, bright and fruity, it has a green vegetable flavor that makes fantastic salad dressing. I'm not the only person that loves it, as I spotted it being used down in Santa Monica at Milo and Olive, the bakery and pizzerie brought to you by the same people who opened Huckleberry and Sweet Rose Creamery.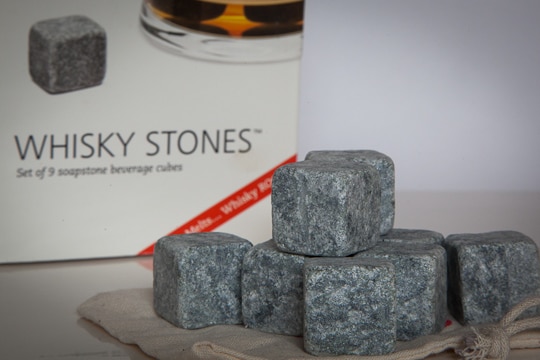 I'm not a huge drinker but I can certainly appreciate a sip of bourbon (see above). But sometimes you want a cool drink without watering it down and that's where Whisky Stones come in. Perfect for the whisky drinker, these flavor neutral soap stones are placed in the freezer until use, and then put in your drink, cooling down your drink without watering it down. Of course, keep in mind these are rocks so don't knock back your whisky or bourbon quickly. You might also be knocking out a tooth!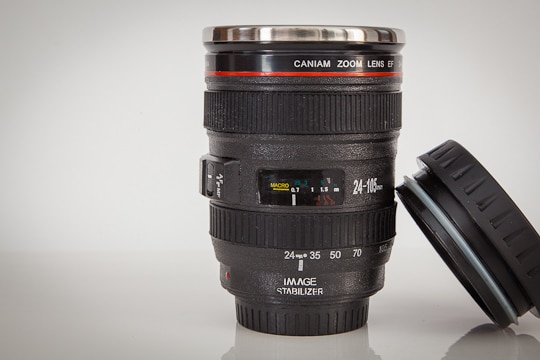 Sure if you shoot Canon, giving (or even better, getting) the 24-105mm f/4 IS USM lens is a pretty sweet present. It happens to be my favorite lens to work with. But for those of you who can't afford the lens or are total camera geeks, perhaps a travel mug that looks just like your favorite lens will make a fun present. Available in lens as well as in Nikon models too! Just be careful you don't accidentally pour coffee into your real lens.
WearEver tends to make solid and moderately priced cookware for the average home. However their new line of ceramic lined cookware is perfect for those who are looking to invest in reasonably priced nonstick cookware that is environmentally friendly. Made without cadium or PFOA, the Pure Living cookware is not only guaranteed for life, but won't break the bank and comes in festive red or champagne color.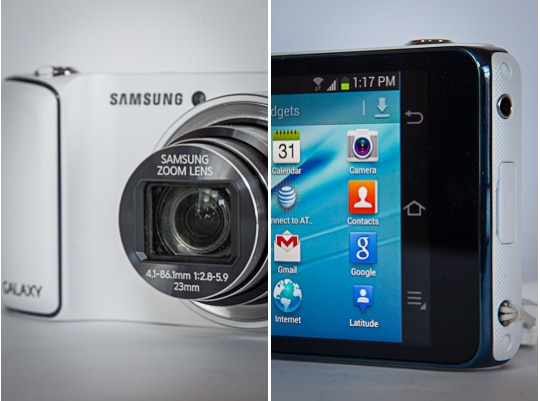 I'm an Apple/iPhone/iPad sort of guy but if anything would make me consider switching over to Android, it's the new Samsung Galaxy Camera. A digital point and shoot camera, the entire back of the camera is a touch screen running the latest Android OS 4.1 (Jellybean), which not only can you surf the web and check your email but any photo you take with it can be instantly edited and uploaded directly from you camera to Facebook, Twitter or Instagram via 4G or WiFi. With a 21x optical zoom lens and an Expert mode which allows you to shoot in manual mode, aperture or shutter priority mode, your food photos will definitely be a step up from your camera phone, without having to lug around a giant dSLR into the restaurant.
Flavor combinations are becoming increasingly sophisticated in the culinary world, but one of the first chocolatiers to start combining interesting flavors with their chocolate is Vosges out of Chicago. I first discovered their chocolates when I was working a seasonal shift at a fancy department store in the epicure section. Curry coconut truffles? Ginger wasabi truffles? Sweet Hungarian paprika truffles? What mad culinary genius was doing this? Years later I was thrilled to see that Vosges chocolates were not only still around but thriving and creating equally daring chocolate flavors (as well as more accessible one as well). Their limited Holiday Truffle collection makes for a wonderful gift for those with sophisticated palates. Marrone Pistacchio, Holiday Plum Pudding, Peppermint Candy Cane, and Eggnog and Jamaican Rum truffles, all wrapped up in a gorgeous purple and gold foiled box, these chocolates are perfect for that food lover that you don't quite know what to get.
Vosges has graciously offered to give away a 16-piece Exotic Truffle Collection to one Eat the Love reader! The truffle collection includes the flavors that originally perked my interest in them years ago, such as coconut curry and ginger wasabi but also have more accessible flavors like crunchy hazelnut praline, milk chocolate and praline bits truffle, dark chocolat with dried Michigan cherry, and milk chocolate with candied violet flower. To enter all you need to do is leave me a comment below with a legitimate email address in the email address form (no need to leave it in the body of the comment) telling me if you prefer dark, milk or white chocolate! Crazy easy.
To get a bonus entry, follow me on Facebook (if you don't already) or tweet about this contest with the message "Win a 16-piece Exotic Truffle Collection from @Vosges! Visit @eatthelove's blog for details. http://www.bitly.com/EtL-Vosges" then come back here and leave a comment telling me you followed me on Facebook or tweeted out about the contest (separate comments for each thing you do please!). If you don't leave a comment below about Facebook or the tweet, I won't know so, be sure to come back and leave separate comments about what you did.
The fine print – PLEASE READ
By leaving a comment below to enter, you are agreeing to the Official Rules.
▪ NO PURCHASE NECESSARY
▪ VOID WHERE PROHIBITED
▪ You must be over the age of 18.
▪ This contest is only open to U.S. Citizens. Sorry non-US people!
▪ The contest starts as of today, and will run until Monday, December 17st, 9am PST.
▪ The retail value of the 16-piece Vosges Exotic Truffle Collection is $40.
▪ The winner will be chosen by a randomly selected comment. All comments will be numbered and I will use Random.org to pick a random number.
▪ The number of eligible comments below determines the odds of winning.
▪ If there's a problem with contacting the winner, I reserve the right to award the box to someone else randomly chosen. So in other words, make sure you type in your correct email address if you want the chocolates and respond within a week to me when I contact you or I'll give the chocolate to someone else.
▪ The truffle box will come directly from Vosges, so if you win, let me know when it arrives or if it doesn't, and I'll be sure to hassle the appropriate people.
This giveaway is closed. The winner is Zan from Texas, entry #58 Thank you for all those who entered!
Special thanks to The Spice Lab, Rodelle, Askinosie Chocolate, Nielsen-Massey, LorAnn Oils, Wacom, California Olive Ranch, Four Roses, and WearEver for providing samples of their product for me to test and review for this holiday gift guide.
Thanks to Samsung for loaning me a three-week review copy of their Galaxy Camera. How I wish I didn't have to send it back!
An extra special thanks to Vosges for not only providing a sample of their product but also providing a giveaway for this post.
There was no monetary compensation for including any of the products you see above in this post, and, as always, all opinions listed are my own.
This blog currently has a partnership with Amazon.com in their affiliate program, which gives me a small percentage of sales if you buy a product through a link on my blog. If you are uncomfortable with this, feel free to go directly to Amazon.com and search for the item of your choice.