The classic New England spiced hermit cookies glazed with a brown sugar icing, crystallized ginger and dried cherries. (Jump directly to the recipe.)
I walked into 18 Reasons and there were already had three or four plates of cookies out. I had come 10 minutes early because I was the co-host, but apparently people take their cookie swaps seriously. People had brought their own cake platters, signage and their beautiful cookies and I was apparently late. Hopefully my hermit cookies with dried tart cherries and crystallized ginger would stand up to the competition!
The early birds had set out candy cane chocolate wafer sandwich cookies, cranberry pistachios cookies Tonga Room Coconut Truffles (named after the infamous Tonga Room here in San Francisco) as well as Golden Gate Gingerettes. Someone had even brought a stack of wooden spoons ribbon tied with candy canes and holiday bells for the cookie swap folks! The competition was fierce. And I say that in a completely non-drag queen sort of way.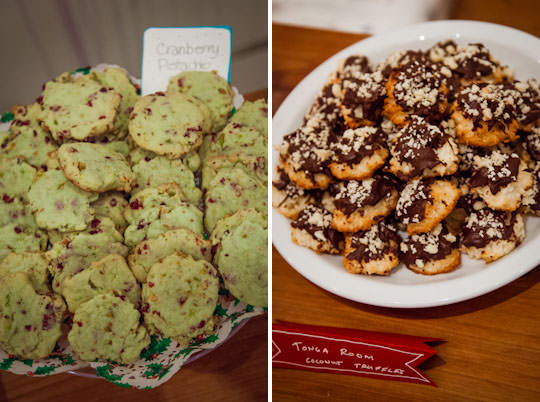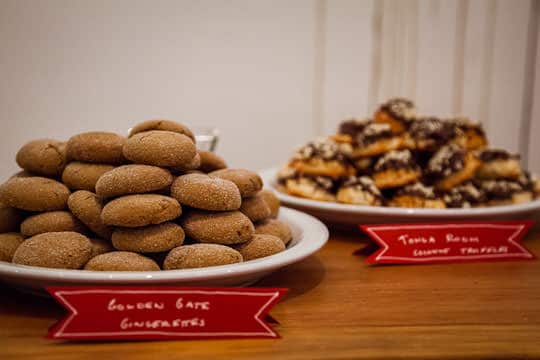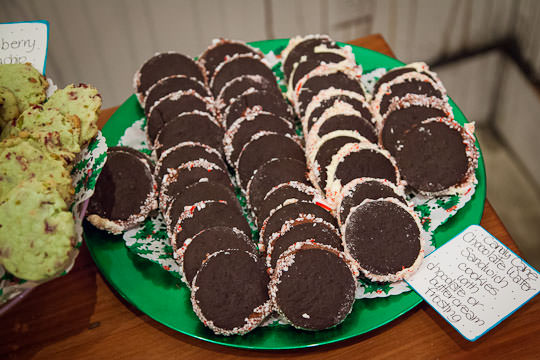 But I should have known people would bring their A-Game. The 18 Reasons Holiday Cookie Swap was always a popular event. Soon people were showing up with classic sugar cookie with sprinkles, ginger chocolate molasses and a hint of cardamom cookies, brown butter pistachio cookies and brown butter pecan oatmeal chocolate chip with sea salt cookies. The tables were groaning with cookie platters.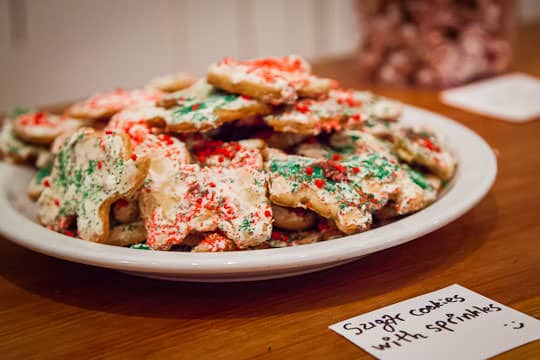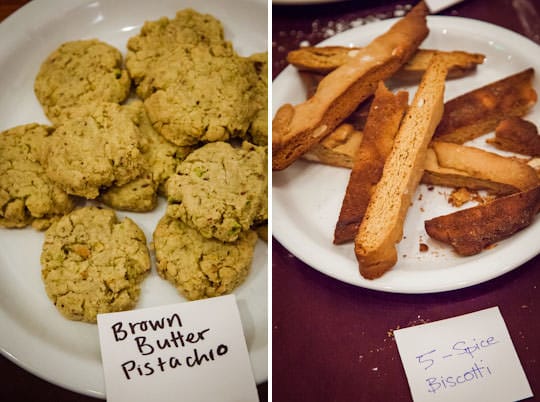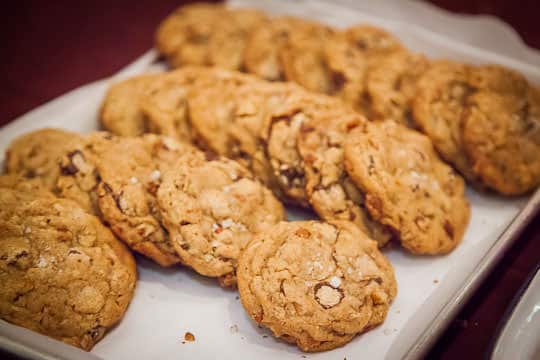 I was taken with the cardamom coffee crisps and the Hungarian butterhorns immediately. In fact, I think I might have to figure out how to make those butterhorns at home. I mean it's a horn made of butter. How hard can that be to make? The chocolate sugar cookies with truffle salt went FAST at the table and everyone seemed intrigued by the persimmon pfeffernusse. Baked mochi snuck into the party on the sly, not quite a cookie but it totally looked like one.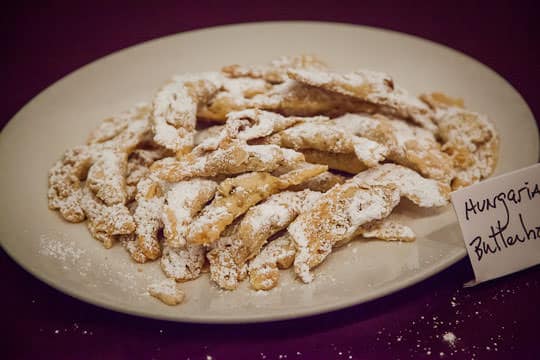 My hermit cookies seem pretty popular with people telling me they reminded me of something they ate as a child. I'm just going to tell myself that was a compliment. And just as we were packing up, my friend Barbara showed up with a huge tin of chocolate chip peppermint chip cookies. We sort of gorged ourselves on those before walking home with a stack of assorted cookies. Because that's exactly what I need in our house. More cookies.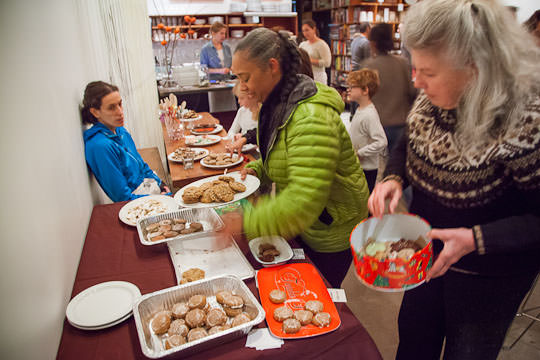 18 Reasons is the non-profit arm of BiRite Market, a local grocery store based here in San Francisco. For more information, please visit the 18 Reasons website.
Hermit Cookies
By Irvin Lin
With a dough similar to spiced molasses cookies, these cookie bars improve over a couple of days as the spices have time to deepen, thus the name hermit cookies. Make them a night or two before you serve them and make the icing the day you serve them. Then watch your friends and loved ones eat them with abandon.
Adapted from a Martha Stewart recipe.
Ingredients
Cookie dough
1/2 cup (115 g) unsalted butter at room temperature
1 tablespoon ground ginger
1 teaspoon cinnamon
1/2 teaspoon nutmeg
1/2 teaspoon fresh ground pepper
1/4 teaspoon ground cloves
1/2 teaspoon sea salt
3/4 teaspoon baking powder
3/4 teaspoon baking soda
1 teaspoon vanilla extract
1 1/4 cup dark brown sugar
1 large egg
1 large egg yolk
1/4 cup molasses, robust flavored preferred
1 cup (140 g) all-purpose flour
3/4 cup (100 g) white whole wheat flour (or just replace with all-purpose if you don't have any)
1 cup (200 g) crystallized ginger (chopped into 1/4-inch pieces), divided
1 cup (165 g) dried tart cherries (chopped in half if large), divided
1/4 cup (50 g) golden raisins
Icing
1/4 cup (55 g) dark brown sugar
2 tablespoons whole milk
2 tablespoons unsalted butter
1 teaspoon vanilla extract
1 cup (115 g) confectioners' (powdered) sugar
Directions
1. Preheat the oven to 350˚F and lightly spray a 10 x 13 inch baking sheet with cooking oil. Place a large enough piece of parchment paper over the sheet that a little bit of it is hanging over the edges of the pan.
2. Place the butter, spices, salt, baking powder and baking soda in the bowl of stand mixer fitted with a paddle attachment. Beat the butter until it is smooth, all the dry ingredients are incorporated and the color is a uniform brown. Add the vanilla and dark brown sugar and beat to incorporate. Add the egg and egg yolk and beat to incorporate. Add the molasses and beat to incorporate.
3. Add both flours and beat to incorporate. Add 1/2 cup of crystallized ginger, 1/2 cup of dried tart cherries and the golden raisins to the cookie dough. Mix to incorporate. Scrape the dough into the baking sheet and spread the dough all the way to the edges. It will be sticky and the dough will seem thin once you've evenly spread it out. Bake in the oven for 18-20 minutes or until the edges of the cookie look darker brown and the center looks dry and baked. Let cool in the pan, preferably overnight but until completely cool before icing.
4. To make the icing, place the sugar, milk, butter and vanilla in a small pan and cook until the sugar dissolves and the butter melts. Sift the confectioners' (powdered) sugar into the pan and whisk to dissolve. If the icing seems to thin, add extra confectioners' sugar (a tablespoon at a time) until thick enough to hold it's shape when drizzled on some paper. If it seems too thick, thin with a teaspoon of milk at a time. Drizzle half the icing on the cooled cookie (I poured the icing into a squeeze bottle and used that for more precision but you can free form it with a spoon or a plastic ziplock bag with the corner snipped off). Sprinkle the remaining crystallized ginger and dried tart cherries over the top of the hermits, pressing into the icing to attach them. Then drizzle the remaining icing over the ginger and dried tart cherries. Let icing dry for 15 minutes or longer before cutting and serving.
Makes 36 cookie bars.
If you like these hermit cookies, check out these other cookies from around the web with dried cherries in them!
Chocolate Moosey's Bacon and Dried Cherry Chocolate Chip Cookies
What's Gaby Cooking's Chocolate Cherry Coconut Cookies
Nutmeg Nanny's Orange Cherry Oatmeal Pecan Cookies
Foodness Gracious' White Chocolate Cherry Cookies
Ari's Menu's Oatmeal Cherry Dark Chocolate Potato Chip Cookies