"So can I eat a pear yet?" asked my partner AJ as he eyed the box from Harry & David greedily. I told him to be patient, as the Royal Riviera Pears weren't quite ripe yet and he looked slightly grumpy but decided to eat the last Honeycrisp apple that we had gotten the month before from them. I was thrilled that Harry & David had contacted me to see if we could work together this holiday season to promote their Fruit of the Month club. Mostly because it means I get to sample some of their great fruit, but also because I get to offer a 3-month subscription to one of you readers as a holiday gift!
If you've read my blog for awhile, you'll know that I visited Harry & David's pear orchard last year. I got a chance to run around the farm, check out their facilities, and pack a basket or two on the assembly line (not as easy as it looks). This year, I didn't have a chance to visit Medford, Oregon where the company is based out of, but that's OK, because H & D are really all about delivery; delivery to your home, to your office, to your loved ones.
And that's probably one of my favorite things about Harry & David. Sure you can go to one of their retail stores and pick up a basket for a gift (or yourself) but the majority of their sales goes through their catalog and if you pick up a phone and call them, you'll get someone who lives here in the US. Harry & David don't outsource their phone centers. It's all about the customer service with them.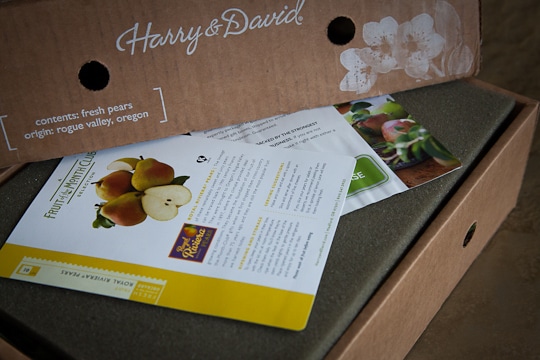 Well customer service, and giving gifts. I adore the holidays and mostly it's because it means I have an excuse to give presents to my friends and family. For me, the fact that I'm spreading the joy and love by gift giving makes the seasonal stress worthwhile. Thankfully with Harry & David, it's a little less stressful too. Their signature Royal Riviera pears that are silky smooth sweet when ripe make an awesome gift for pretty much anyone. As part of their awesome Fruit of the Month, each box shipped per month contains seasonal fruit that's hand picked and selected for the club, which means that the gift gets stretched out over a period of time! November had AJ and me eating Honeycrisp apples (which live up to their name, crisp when you bite into them with honey sweetness that made my mouth happy) while December had a package of their awesome pears for us to enjoy… In January I know we'll be getting a box of Cushman's Honeybell, a super sweet orange like fruit, that is a natural hybrid between tangerine and grapefruit that are only available in the month of January. I can't wait!
And I'm giving away a 3-month membership to the Harry & David Fruit of the Month Club, a retail value of $89.95 for one lucky reader. The details are below. Good luck and happy holidays!
The 3 month membership to the Harry & David Fruit of the Month Club starts in January, with a box of Cushman's HoneyBells, February will include a box of Royal Riviera Pears and March will have you eating a box of super sweet ruby red grapefruit.
To enter all you need to do is leave me a comment below with a legitimate email address in the email address form (no need to leave it in the body of the comment) telling me what your favorite fruit is! Mine changes seasonally, but right now it's probably those pears above. But ask me again in the summertime when I'm gorging myself on super sweet cherries.
To get a bonus entry, follow me on Facebook or tweet about this contest with a "Win a @HarryAndDavid 3 Month membership to their Fruit of the Month Club at @eatthelove's blog. http://bitly.com/winHDFOMC" and then come back here and leave a comment telling me you followed me on Facebook or tweeted out about the contest. If you don't leave a comment below about Facebook or the tweet, I won't know so be sure to come back and leave separate comments about what you did.
The fine print – PLEASE READ
By leaving a comment below to enter, you are agreeing to the Official Rules.
▪ NO PURCHASE NECESSARY
▪ VOID WHERE PROHIBITED
▪ You must be over the age of 18.
▪ This contest is only open to U.S. Citizens. Sorry non-US people!
▪ The contest starts as of today, and will run until Friday, December 21st, 9am PST.
▪ The retail value of the 3 month Fruit of the Month Club is $69.95.
▪ The winner will be chosen by a randomly selected comment. All comments will be numbered and I will use Random.org to pick a random number.
▪ The number of eligible comments below determines the odds of winning.
▪ If there's a problem with contacting the winner, I reserve the right to award the 3 month membership to someone else randomly chosen. So in other words, make sure you type in your correct email address if you want the membership and respond within a week to me when I contact you or I'll give the chocolate to someone else.
▪ The fruit will come directly from Harry and David, so if you win, let me know when it arrives or if it doesn't, and I'll be sure to hassle the appropriate people.
This giveaway is closed. Thank you for participating!
Special thanks to Harry & David for providing the prize for this holiday giveaway. This is a sponsored post and I did receive compensation to write it. However all the opinions written above are my own and not Harry & David.