This ham and cheese pie are made with ham and brie, making them the perfect savory hand pie for a meal or just a fun snack! (Jump directly to the recipe.)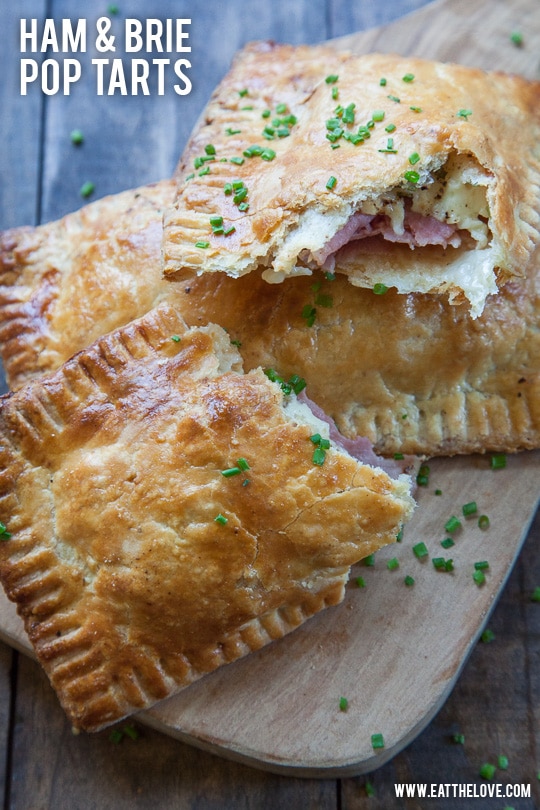 "Let's do a guys night out!" I said to my friend Peter and Hadley one weekend while we were up in Sonoma. For most people, a phrase like that would invoke scenes of drunken revelry, picking up women and hijinks that are not suitable for a blog of this nature. But I meant an evening of shopping, a movie of Hadley's choice (which ended up being Magic Mike XXL) and dinner out. In other words, a pretty gay guys night out, significantly less scandalous than what the phrase implies. Very little hijinks ensued but we did find ourselves at a restaurant where we shared ham and brie pop tarts appetizers. This, in and of itself, was exciting enough for me to go home and immediately make a version for myself and AJ. I mean come one. Ham and brie pop tarts folks! It's like a ham and cheese pie that you can eat all by yourself. Genius.
The night started with Peter bailing on us. "I've caught a cold guys…" was the text which meant it was just Hadley and me for the evening. Hadley, as you might remember, is part of an ongoing lunch that I have along with my friend Tina (who I made strawberry plum jam with) where talk shop about writing. He suggested we meet up to see the movie first. I was hesitant to actually watch Magic Mike XXL, even though Hadley really wanted to see it. Mostly because I had never seen the original but clearly this was the sort of movie that didn't really need previous knowledge of the first movie (I Wikipedia-ed the plot anyway). Plotline and character development is thin. Clearly I expected too much.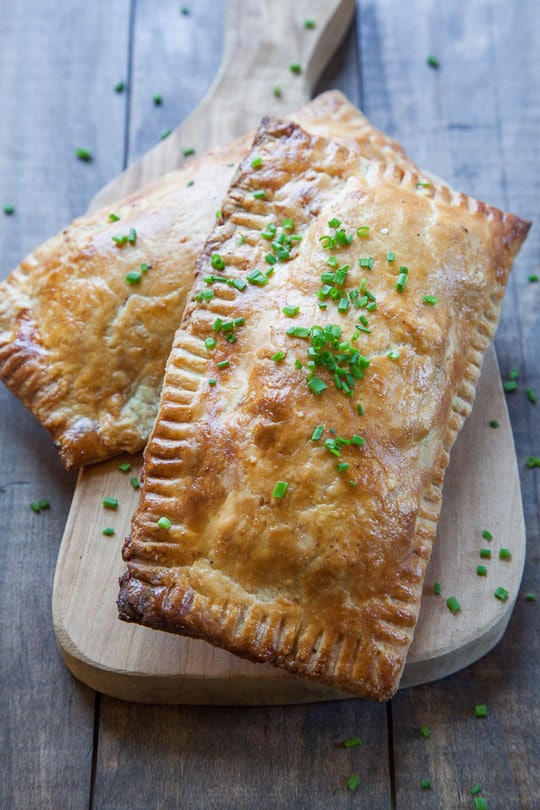 With the movie out of the way, shopping involved shopping! Hadley isn't very well versed on discount shopping (he's more of a Barney's type of guy) but I convinced him to check out a particular department store's discount shop. He found the most expensive suit there while I found cheap Bluetooth earphones; typical purchases for both of us. Dinner was at a reasonably priced, nice atmosphere restaurant though! The actual main course was nothing to write about, but those handheld ham and cheese pies! They were something else. And, to be honest, the ones I made at home were probably better than the restaurant version. Totally worth all the calories!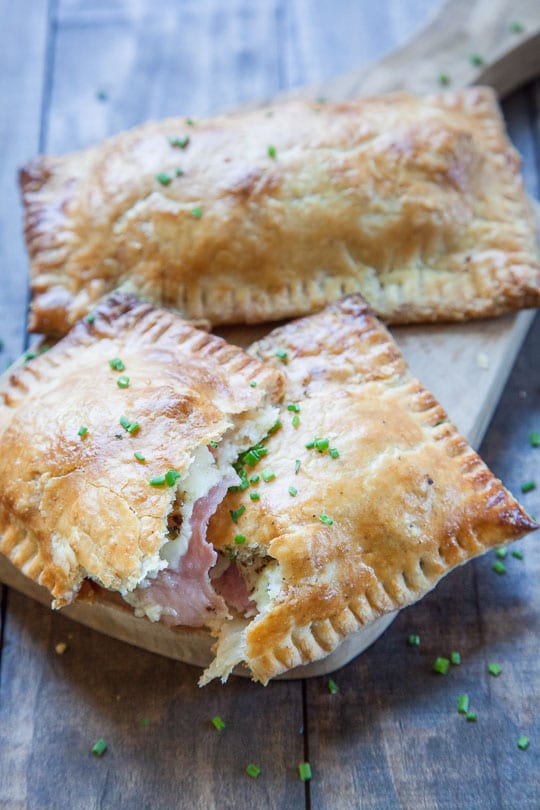 Handheld Ham and Cheese Pie
(aka Ham and Brie Pop Tarts!)
By
Irvin Lin
These ham and brie pop tarts are super fun to serve and eat. A savory pop tart, perfect for a light meal or a snack, the use of mustard in the crust gives a subtle kick to the pastry without overwhelming the hand pie. Serve with more mustard if you like, for those who like a little more kick in the sandwich.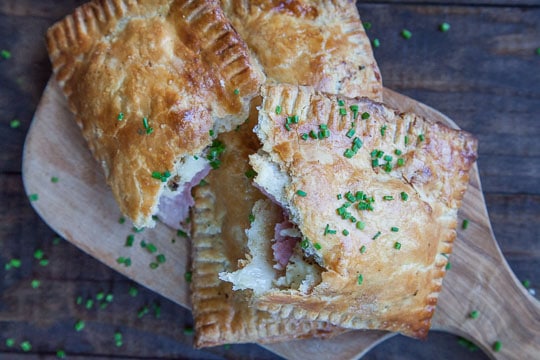 Ingredients
Crust
1 3/4 cup (245 g) all-purpose flour
2 teaspoon baking powder
1/2 teaspoon kosher salt
1/2 cup (115 g or 1 stick) unsalted butter, cold
1 1/2 tablespoon mustard
5 to 7 tablespoon ice water
Filling
8 ounces (225 g) sliced deli ham
5 ounces (140 g) brie
2 tablespoon chopped chives, divided
1 teaspoon fresh cracked pepper
1 teaspoon kosher salt
To Assemble
1 egg, beaten with 1 tablespoon cold water
Directions
1. Make the crust by placing the flour, baking powder and salt in a medium sized bowl. Stir with a balloon whisk until blended. Cut the butter into 1/2-inch cubes and sprinkle over the dry ingredients. Using your fingers and hands, first toss the butter in the flour then smash the butter into thin slivers, breaking them up as you go.
2. When the butter has been broken and flattened into small bits the size of peas, stir the mustard into the 5 tablespoons of cold water and drizzle it over the dry ingredients. Toss with a fork, then use your hands to blend the water in. Keep working the ingredients until they start to stick together. Add more water, 1 tablespoon at a time, until a dough forms.
3. Once a dough forms, place it on a piece of plastic wrap and flatten into a disk, about 1-inch thick. Wrap well with the plastic wrap and refrigerate for 1 hour, or until the dough is firm.
4. When the dough is done chilling, preheat the oven to 400˚F. Line 2 baking sheets with silpats or parchment paper. Generously dust a large clean surface with flour then place the chilled dough on the flour. Roll the dough out to a 16-inch square. Cut the square into 4 quarters, forming 8 x 8-inch squares.
5. Place 1/4 of the ham and brie onto one side of each square, making sure there's about a 1-inch border on the 3 closest edges. Sprinkle 1 teaspoon of chives, plus 1/4 teaspoon of pepper and salt over the brie and ham.
6. Brush the edges of the dough with the egg wash, then fold the empty side of the pastry dough over the ham and brie. Trim the edges if necessary and seal the edges all the way around with a fork. Move the tart to the lined baking sheet and brush the top of the pastry with more egg wash. Repeat with the remaining three squares of dough. Place 2 tarts per baking sheet.
7. Bake in the oven for 15 minutes, then rotate and turn the baking sheets 180˚. Bake another 10 to 15 minutes or until the crust is golden brown. Let cool for 10 minutes on the baking pan, then move tart with a large spatula, to a wire cooling rack. Sprinkle the top of the tart with any leftover chives and serve warm or at room temperature. Serve with some extra mustard if you want.
Makes 4 pies.
If you like this handheld ham and cheese pie, try my chard and cheese tart recipe.
And try some other savory pie and tart recipes from around the web:
Created By Diane's Mini Savory Pies with Spinach and Goat Cheese
Sippity Sup's Sweet Sausage Cabbage Pie with Dill & Feta
She Wears Many Hats' Shepards Pie
David Lebovitz' Herb Ricotta Tart
Food Republic's Chinese Duck and Five Spice Pie