Growing up, my partner AJ had a mild obsession with graham crackers. Well, specifically graham cracker dipped in chocolate frosting. It was a snack that his mother seemed to encourage and I can only mentally picture a child AJ taking the brown crumbly cracker and scooping and smearing generous dollops of frosting from a betty crocker plastic tub as he stuffs it into his mouth with gusto. I know that I probably would have if I were a child, allowed to do such a thing. So when our eleventh anniversary came around this year, we had an unspoken agreement to not get each other presents this year. Instead I went into the kitchen to create something from his childhood, only better. The guilt free homemade unprocessed graham cracker.
In truth we had pretty much ignored our anniversary this year. It fell in the middle of the week, things have been hectic in both our lives and the majority of the day was spent with my brother, sister and niece for personal reasons that I won't go into right now. Sufficient to say, other than a quick "happy anniversary" we didn't really celebrate it the way we have celebrated special dates in the past.
But with all the stress that has come into my life recently I realized that I really needed to get back into the kitchen. It's one of those things that calms me. I haven't really been baking too much lately, what with a trip to the Midwest and then the catching up with work and then the additional family stuff going down. All the while, I thought to myself, I really wish I could be baking.
Baking is where I center myself. It's where I find myself going when things are tough and I need to calm myself. And it's been awhile since I've baked something less fussy, more down home. You can't feel guilty about graham crackers. They are wholesome goodness.
And these graham crackers are even better. I asked AJ what he thought of the crackers and if they lived up to his memory of his childhood ones, and he matter of factly said, "They do. But these taste way better." Perhaps it's because I left out the refined sugars and made them sucanat, which is evaporated cane juice, as well as various whole grains like graham wheat flour, white whole wheat flour, teff and buckwheat. Add a little honey and spices and you have yourself a guilt free graham cracker. Just hold the frosting.
Happy Anniversary AJ. I love you.
Guilt Free Unprocessed
Homemade Graham Cracker
By Irvin Lin
Graham flour is a coarse ground type of whole wheat available in health food stores. The wheat kernel is separated into its components (bran, germ and endosperm) and ground separately, with endosperm ground finely – just as you would white flour. Then the bran and the germ are ground coarsely and added back in to the finely ground white flour. If you can't find graham flour, you can try substituting whole wheat flour, but I haven't had a chance to try that, so I can't guarantee how it will turn out. I've also read that you create a cup of graham flour by combining 84 g (about 2/3 cup) white flour, 15 g (a little less than 1/3 cup) of wheat bran and 2.5 g (1 1/2 teaspoons) of wheat germ. But that seems really fussy.
Teff and buckwheat flours are available at health food stores and at ethnic grocery stores, specifically Ethiopian (for teff) and Japanese (for buckwheat) groceries. Sucanat, which is evaporated cane juice can also be found at health food stores. If you don't have it, you can use an equal amount of brown sugar, but the graham crackers will be sweeter.
Adapted from Kim Boyce's book Good to the Grain, an excellent book if you are interested in baking with alternative and whole grain flours.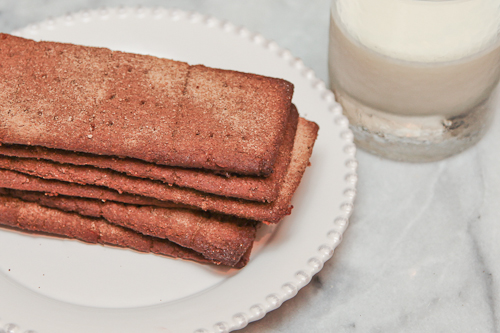 Ingredients
cracker dough
3/4 cup (150 g) sucanat (evaporated cane sugar)
1 cup (170 g) graham flour
1/2 cup (85 g) teff flour
1/2 cup (100 g) white whole wheat flour
1/4 cup (40 g) buckwheat flour
1 teaspoon baking soda
1/4 teaspoon cinnamon
1/4 teaspoon cardamom
1/8 teaspoon all spice
1/8 teaspoon cloves
6 tablespoons (3/4 stick) of unsalted butter
1/4 cup honey
1/3 cup milk
2 tablespoons flaxmeal
for dusting
1/4 cup sucanat (evaporated cane sugar)
1/2 teaspoon cinnamon
1/4 teaspoon cardamom
Directions
1. Place the sucanat in a spice grinder or food processor and process until it is a fine powder. If you don't have a spice grinder or food processor, you can use the sucanat as is, but you graham cracker may be a little bit more crumbly in texture.
2. Place the sucanat, along with the flours, baking soda, and spices in a large mixing bowl. Take a balloon whisk and vigoriously stir until all the ingredients are evenly distributed.
3. Melt the butter in a medium bowl in the microwave (or in a medium saucepan). Once liquid, add the honey and stir until the honey starts to loosen and dissolve. Add the milk and the stir until combined. Add the flax meal and stir so the flaxmeal dissolves and starts to thicken the liquid. Pour the liquid into the bowl of dry ingredients. Using a large wooden spoon or spatula stir the ingredients until you get a moist dough, similar to a cookie dough. I went in with my hand halfway through and worked the dry ingredients into the dough to make sure everything was an even consistency.
4. Take the dough and form a flat disk with it. Wrap it with plastic wrap (or place it in a large gallon ziplock bag) and then flatten it further. Refrigerate for at least an hour, or up to three days. Once the dough has sufficiently chilled, take it out of the fridge. Preheat the oven to 350˚F and line a baking sheet with parchment paper or a silpat.
5. Combine the sucanat, cinnamon and cardamom in a spice grinder or food processor. Process until the sucanat is a fine powder and the spices are blended in. Roll the graham cracker dough out on a well floured surface with a rolling pin. You want to get the dough to about 1/4 to 1/8" thick. Cut out rectangle crackers about 3 inches by 5 inches. Place on the lined baking sheet and score the crackers with a butter knife, making sure not to cut all the way through the crackers (I scored each cracker 3 times, making 4 sections). Using a fork, prick some holes into the crackers as well (I used three fork pricks per section).
6. Sprinkle with the sucanat spice mixture on top. Bake for 13-15 minutes or until the sides of the crackers starts to darken. Be careful not burn them. Cool for a five minutes on the sheet before moving them to a wire rack to cool completely. These crackers are best eaten the day of, but you can store them in an airtight container for about three days.
Makes 15 crackers.