"What?!? I had no idea that you were gluten free too…" I said to my friend Ilysia when I was visiting New York for the Roger Smith Cookbook Conference. It seems more and more of my friends are giving up gluten for health reasons and Ilysia was one of them. She asked me if I was gluten free or if I just wrote about it a lot on my blog and I said that I just happen to like to mix it up a bit. After all, I have a lot of gluten free readers and friend, and this blog is all about sharing the love. And since Valentine's Day is just around the corner, it makes sense to share these Gluten Free Chocolate Shortbread Sandwich Cookies with Salted Butterscotch Filling with you all (don't worry, I have notes in the recipe on how make it with regular all purpose flour as well).
I'll be honest, I've never really been into Valentine's Day. I'm not the usual bitter "Oh Valentine's Day is a total retail trap designed to make everyone feel bad" sort of guy (you TOTALLY know who I'm talking about). But AJ and I aren't the sort of people to go and buy tons of gifts and spend a ridiculous amount of money for heart shaped filet mignon at a restaurant just for Valentine's Day. In fact, holidays and when we celebrate them, tend to be rather malleable in our relationship (true story: we just exchanged our Christmas present last week). But I've said it before, and I'll say it again…AJ is my baking musing and nine times out of ten, I'm baking something because I know he would like it.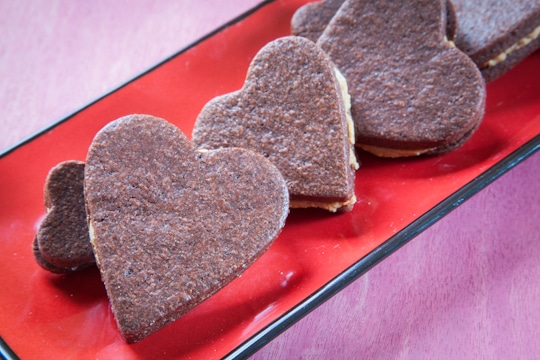 Which is how these gluten free cookies came about. I was leaving for New York and I though I would be back for Valentine's Day, I wanted to make sure that AJ had a little something sweet to eat while I was gone. And after one bite of the cookie, he looked at with his big brown eyes and I realized that THAT was what Valentine's Day was about. Love. Damn you chocolate shortbread sandwich cookies, you made me all sentimental over Valentine's Day. Damn you.
Gluten Free Chocolate Shortbread Sandwich Cookies with Salted Butterscotch Filling
By Irvin Lin
Now if you don't have any issues with gluten, feel free to make these cookies with all purpose flour (a total of 2 cups or 280 g) leaving out the flours and cornstarch. Otherwise these cookies are completely gluten free but you can't tell. At least AJ couldn't tell. Or if he could, he never told me, though was rather busy eating three of them in a row. These cookies actually use dehydrated milk powder, which adds a nice richness. If you can't find whole milk powder (which I know is hard to find) the nonfat should work too, just crush it in a ziplock bag beforehand by smashing it with a rolling pin, as the nonfat milk powder that comes in a box from the grocery store tends to be clumpy. Grind the chia seeds in the recipe with a spice grinder or mortar and pestle. Or if you don't have either, just use the same method I mentioned above about the milk powder and stick the chia seeds in the ziplock bag on the counter and smash the inside with a rolling pin. Oh yeah, and these cookies are totally good year round, just use other cookie cutters for them if you don't want to use hearts.
Ingredients
Cookie Dough
1 large egg
1 large egg yolk
1 tablespoon (10 g) ground chia seeds
1 teaspoon vanilla extract
1/2 cup + 2 tablespoons (100 g) superfine white rice flour
1/4 cup + 1 tablespoon (50 g) mesquite flour
1/4 cup + 1 tablespoon (50 g) cornstarch
1/4 cup (50 g) buckwheat flour
1/4 cup (50 g) teff flour
1/4 cup + 1 tablepoon (50 g) whole milk powder
3/4 cup (150 g) white granulated sugar
1/2 cup (65 g) Dutch processed cocoa powder
1/4 teaspoon kosher/sea salt
1 cup (225 g or 2 sticks) unsalted butter at room temperature
Filling
1/4 cup (57 g) unsalted butter
1/3 cup (75 g) dark brown sugar
1/4 cup full fat greek style yogurt
1/2 teaspoon vanilla extract
1 1/2 cup (175 g) confectioners' (powdered) sugar
Maldon or Grey Sea salt
Directions
1. Make the cookie dough by placing the egg, egg yolk, ground chia seeds and vanilla in a small bowl. Beat with a fork and let sit. Combine the rice, mesquite, cornstarch, milk powder, buckwheat, teff, sugar, cocoa powder and sea salt in the bowl of a standing mixer fitted with a paddle attachment. Turn the mixer on low and mix the dry ingredients together until they are well blended and uniform in color. Add the butter, cut into 1 inch pats, and sprinkle over the dry ingredients. Turning on and off the mixer on low speed, "burst" the mixing of the ingredients, speeding up the mixer to medium low, until the butter has incorporated into the dry ingredients (it will look loose and dry).
2. While the mixer is on medium low slowly drizzle the egg mixture into bowl, making sure the egg doesn't splash back up. The dough should come together into a firm chunk of dough. Stop the mixer and divide the dough into two batches, pressing down on each to make a disk. Wrap with plastic wrap and stick in the fridge for an hour or overnight. Once the dough has chilled, place the disk between two pieces of wax paper or parchment paper and roll the dough out to about 1/4 inch thickness or about a 11-12 inches round. Remove the paper and cut the dough out into the desired shape, gathering any leftovers to reroll (you can continue to do this, as the dough has no gluten so the cookies won't get tough). Preheat the oven to 350˚F for 10 minutes and line a baking sheet with parchment paper or a silpat. While the dough is chilling, place the baking sheet with the cut out cookie dough on it, into the freezer to cool down. Once the oven preheated, bake the cookies anywhere from 6-12 minutes, depending on how large your cookie cutter is. (FYI, for the large shaped hearts, I baked them for 10 minutes). You want the top of the cookie to look a bit dull. Let cool on the baking sheet for 10 minutes before moving them to a wire rack to cool completely.
3. Make the butterscotch filling by placing the butter in a medium sized pot. Turn the heat to medium and start to cook the butter, until it starts to turn light golden brown and fragrant. Once it starts to turn brown, add the dark brown sugar and cook on medium heat until the sugar has dissolved in the butter and then cook for about 1 1/2 to 2 minutes more (if it starts to smell burnt at all, turn the heat off). Immediately add the Greek yogurt and vanilla with care (it will sputter so be careful) to the pan and turn the heat off. Stir until the yogurt has incorporated, gently heating the filling if any of the sugar seizes up to melt it back down. Sift the powder sugar into the pan and stir to incorporate. If the filling seems too stiff, add a teaspoon of milk (at a time) to thin. If the filling is too soft, sift a tablespoon of confectioners (powdered) sugar or more if necessary and stir to incorporate between additions. You want a filling that is soft enough to spread with a knife but not runny enough that you can't use it as a filling. Basically you want it the consistency of grocery store peanut butter.
4. Assemble the cookies, by finding the matching sized cookies (if you cut out different sizes) and spread a dollop of filling on the bottom of one. Sprinkle a touch of fancy salt over the filling (I used five or six small to medium flakes for the large cookies) and then press the second cookie bottom to the filling. Continue until all the cookies are used up.
Makes 24-36 cookies of various sizes, depending on what size cookie you make.