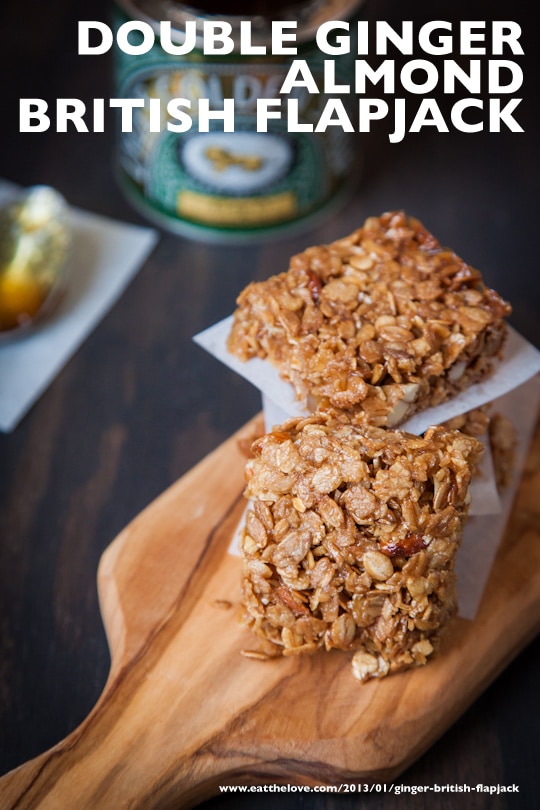 "We'll always have London…" I quipped to AJ as we boarded the Tube for the last time to go to Heathrow and head back to San Francisco. About ten years ago, on a whim, AJ and I decided to go visit Great Britain because I had found us insanely cheap tickets (it was ridiculous, I think we spent maybe $300 each on the roundtrip tickets). So when I came across a recipe for British Flapjacks that the marvelous Molly Wizenberg wrote about in Bon Appetit a few years ago, it sound like a perfect easy-to-make recipe to remind us of our trip from years ago. I had every intention of making them immediately…except I didn't, instead bookmarking them with a soon to become ratty post-it note and then filing it away for future reference.
It wasn't until recently, while cleaning out my magazines (I tossed my old Food and Wine, but couldn't bring myself to get rid of the Gourmets or Cook's Illustrated) that I came across Molly's recipe again. It was high time that I made them, and with that, I took down my can of Lyle's Golden Syrup, which had been languishing in the back of my cabinet, and proceeded to make Double Ginger Almond British Flapjack.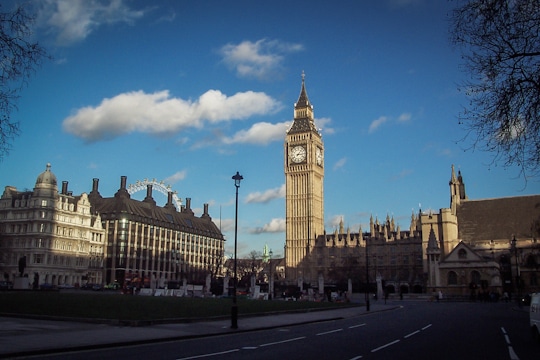 I wish I could say that there was a Ratatouille flashback scene in my head when I bit into the flapjack. You know the scene I'm talking about, when Anton Ego bites into the deconstructed Ratatouille dish and is suddenly brought back to his childhood and his mom handing him a dish of homemade with love ratatouille. But as much I love Pixar, sadly my life is less colorful and not filled with convenient flashback (oh how I wish they were – it would be ever so helpful in remembering people's names).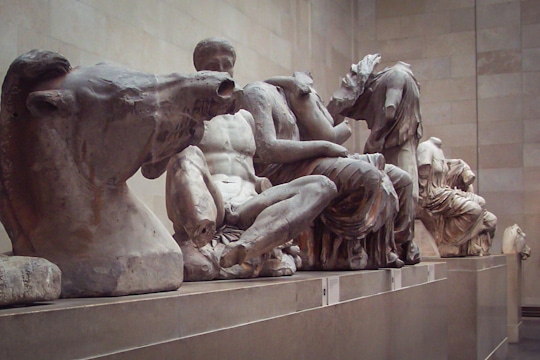 In truth, AJ and I went to plenty of museums (we stayed in a flat just two or three blocks away from the British Museum where we went several times during our stay to admire the Elgin marbles) and wandered about the city always on the verge of getting lost (AJ proclaimed "This is what happens when a city is built before the age of enlightenment!" when we realized that there was no grid system with the streets). We went across the Thames, saw Big Ben, experienced the Tower of London and I even dragged AJ to Charing Cross Road to fulfill my bibliophile needs. And though we ate well, with a few memorable meals, including my insisting we eat fish and chips, bangers and mash and chicken tikka marsala, we did not eat any flapjacks.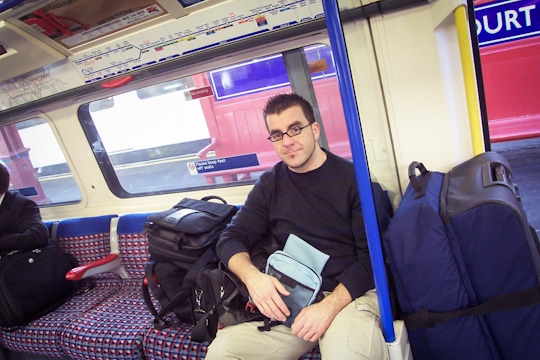 So why did I want to make these treats when I read about them in Bon Appetit? Perhaps it was the way Ms. Wizenberg described them in her article, all sweet and chewy with memories of her brief trip to London. Perhaps it was an unconscious longing that I had for travelling to a foreign country, as it's been quite some time since AJ and I have had a chance to use our passports. Or maybe it's just that they sounded like they would taste really good. Regardless of the reason, they do taste exactly as you expect them to taste, only a just a tiny bit better than that. AJ was smitten with them, taking them on his cycling rides in those tiny snack sized ziplock bags that you see mom's at the playground pull out for their kids, full of cheerios. And I was just happy to have found a use for that can of Golden Syrup in the back of the cabinet. One of these days we'll make it back to London, or at least get out of the country again. Until then, I guess we'll also always have this recipe as well….
Double Ginger Almond British Flapjack
By Irvin Lin
Not to be confused with the American pancake, the British Flapjack is an easy to make bar that is similar to a granola bar, only denser, chewier and less healthy tasting (in a good way). Traditional British Flapjacks don't use the ginger or almonds and use Lyle's Golden Syrup, an inverted sugar that has a fabulous caramelized sugar flavor. If you can't find it or don't want to track it down, you can probably substitute light corn syrup or honey, though I haven't tried either so I can't 100% guarantee that it will work (though I don't see why it wouldn't).
recipe adapted from Molly Wizenberg's Bon Appetit recipe
Ingredients
1/2 cup (115 g or 1 stick) unsalted butter
1/2 cup (110 g) dark brown sugar
1/4 cup Lyle's golden syrup or light corn syrup or honey (see headnote)
2 cups (250 g) quick cooked oats
1/3 cup (65 g) finely chopped crystallizes ginger
1/2 cup (90 g) slivered almonds
1 1/2 teaspoon ground ginger
1/4 teaspoon kosher salt
2 teaspoon vanilla extract
1/2 teaspoon almond extract
Directions
1. Preheat the oven to 350˚F. Spray a 9×9 inch square baking pan with cooking oil, then line it with parchment paper, leaving a few inches overlaying the edges. Place the butter and sugar in a medium pan. Spray the inside of a glass measuring cup with cooking spray and then pour the golden syrup into it to measure. Pour the syrup into the pan (the spray will help the syrup slide right out) and cook the butter, sugar and syrup together over medium heat until the butter melts, the sugar dissolves and it is smooth.
2. Remove the pan from the stovetop and add the remaining ingredients, folding everything together with a heatproof spatula, until the oats, ginger and almonds are evenly coated. Scrape into the prepared pan and press down with the spatula to evenly distribute.
3. Bake in the oven for 20-25 minutes or until the edges of the flapjacks seem to darker brown than the center. Try not to overbake, they'll seem a bit soft when you cut into them but they'll harden as they cool. Allow to cool in the pan for about 5 minutes, then cut them (in the pan) with a butter knife. Allow to cool completely in the pan, then lift the parchment paper up with the flapjacks inside, move to a cutting board and break apart.
Makes 16 flapjacks