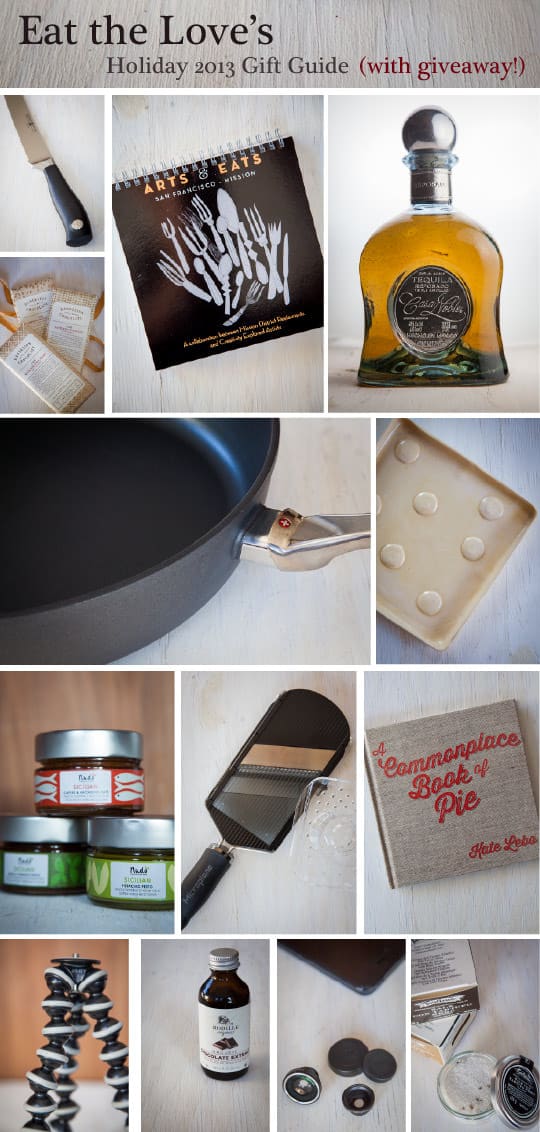 Holy moly, Christmas is less than two weeks away! I'm in a bit of denial about the situation. And if you're like me, you're probably in the same boat. Don't worry though, I've accumulated some pretty cool thing over the year that I think would make swanky gifts for your loved ones (or you know, maybe yourself). Presenting the 2013 Eat the Love Holiday Gift Guide. Plus, stick around, as I'm giving away the Swiss Diamond 5.8 Qt sauté pan! Details at the end of this post. [This giveaway is closed!]
When I received this Wustof Grand Prix II 9-inch double serrated bread knife, I was a little bit scared of it. The thing looked beautiful but in a sort of crazy surgeon type of way. Thankfully once I started using it I realized how awesome it is. Super insanely sharp, not only are the tiny little teeth great for slicing crusty bread (which I happen to have a fondness for, I mean I DO live two blocks away from Tartine Bakery) but it slices tomatoes without smushing them and works on angel food cake and chiffon cake without tearing them. Mmmmm…angel food cake. I need to start baking more angel food cake.
I seriously live in the best neighborhood. About three blocks away is a small batch chocolate maker named Dandelion Chocolate and they make all their chocolate (bean-to-bar) in their shop. Seriously. The chocolate is awesome, and it's so cool to watch them pick through the beans and hand wrap the chocolate. Luckily you don't have to live in my 'hood to get their single source origin chocolate, you can just order directly from their website.
Speaking of neighborhood treasures, the fine people over at Creativity Explored put out the coolest hybrid cookbooks/art book. If you're not familiar with Creativity Explored, they are a nonprofit based in San Francisco (again two blocks away from me – are you sensing a pattern here?) that encourages and help develop artists with developmental disabilities to create, exhibit and sell their artwork. It's a pretty amazing place and every time I walk by their studios, the have gorgeous art in their windows. Collaborating with restaurants in the mission district of San Francisco, this hybrid cookbook and art display piece titled Arts & Eats features 25 recipes from such great restaurants like Bar Tartine, Frances, Mission Chinese Food, BiRite Creamery and Delfina as well as 25 different art pieces inspired by food.
The holidays can be a stressful time for most people so I know that a bottle of Casa Nobles tequila would be a welcome gift. Their Tequila Reposado is triple distilled and aged in French white Oak barrels for a year (well, actually it's aged for 364 days but I'm calling it a year). But you can ignore all that because what you should care about is the fact that it is incredibly smooth and comes in a really pretty bottle. Well, ok, maybe that's all I care about. Check out their nifty store locator to find a place to buy it close to you.


I was super excited to get a new sauté pan as my old one was dying, and let me tell you the Swiss Diamond 5.8 qt sauté pan is a DEFINITE step up from the last one. I actually look forward to cooking food in it (you know I'm a baker more than a cook)! Super heavy duty with even heat distribution the nonstick coating is pretty awesome. Plus it's made of diamonds. Well, the nonstick coating is made of diamonds, but I'm going to say it's made of diamonds. Because that's just so much cooler to say! I'm totally cooking with a pan made of diamonds. How bad ass is that? Scroll down to the end of this post to see how you can win one!
Everyone loves something unique, especially us food bloggers that hoard our plates and silverware. I found out about Fifty-One and Half's unique plates through my friend Gaby over at What's Gaby Cooking. Her mom, who is the person behind Fifty-One and Half, hand-throws and finishes some gorgeous plates and platters and they are reasonably priced for one-of-a-kind pieces. Check out what she has to offer on her Etsy store.
I don't do a lot of pre-made foods, as I try to make things from scratch around the house but I have to say that I was impressed with Nudo's pistachio pesto; basil and tomato pesto; and capers and anchovies pate. Made with real ingredients (no weird chemical preservatives) each bottle not only would make a great gift but also an easy meal or appetizer for a party for those unexpected guests that stop by. Just make sure to refrigerate any leftovers and use them up within a few days, as they really don't have any preservatives in them!
I'm currently obsessed with making potato chips and French fries the cold oil method but I've been cutting my potatoes by hand. But now I don't have to because Microplane came out with an adjustable slicer with julienne blade which will do all the hardwork for me. I've been coveting high end mandolin slicers, but they always seems like more work to use and clean up (and more space in my tiny little apartment). This slicer seems like a good compromise, with a pretty nifty price point too.
Normally I would put books in my cookbook round up (of which I did part one last week and next week part two) but this book isn't your typical cookbook. A Commonplace Book of Pie has a handful recipes in them, but that's not the focus. Prose poetry about pies, along with beautiful illustrations pretty much makes this book a great stocking stuffer or bedside book for those who are obsessed with pies.
For those who are camera hounds, you probably already know about the Joby Gorillapod. If you don't though, you should go check them out. A small, portable tripod, the Gorillapod bends and twists for uneven ground and surfaces. Better yet, it also is small so you don't have to carry around a huge tripod with you. Most people own the small point and shoot capable gorilla pod, but I also own the dSLR capable GorillaPod, which is sturdy enough to hold my Canon dSLR 5DMkII  (it will hold up to 6.6lbs). We took it on our roadtrip across the country and it came in hand on our hikes.
Vanilla paste and vanilla extract is awesome but when you want to add a different dimension to a baked good, check out Rodelle's chocolate extract. Not only will it give baked goods an added depth of chocolate, but it disappears into the baked good, much like vanilla extract does, so you won't see it. I like to add it to my blondie bars, making them seem as if they are more chocolatey without adding chocolate to them.
Every time I bust out my iPhone lenses, people start talking. No serious. I've had completely strangers walk up to me and ask about them, and I've had bloggers at conferences squeal with delight when I show them the results. The little secret about these lenses (which also work for iPads and Android phones) is they are dirt cheap. For less than $10 you can impress your friends, and take some pretty nifty photos. The macro is hard to use, especially outside with a slight breeze but I've gotten some pretty cool shots with it. And the fisheye is perfect for selfies. Who doesn't love a good selfie?
I'm not a huge fan of chemicals in my food, though I do occasionally do it (especially when it comes to red velvet cake). But when I can pick the real thing over the fake thing, I'll obviously reach for the real thing. Which is why I love the truffle salt. It's salt and specks of ground truffle. TartufLanghe makes some great truffle salt, which I sprinkle over eggs, popcorn or over chocolate ganached covered cake. Yeah, I'm fancy that way.
[Sorry, this Giveaway is Closed!]
So now about that giveaway! Swiss Diamond has generously offered me the 5.8 qt sauté pan for one lucky reader of this blog! It's a great pan, retailing at $214.95. I mean, it's a pan made of diamonds folks! All you need to do to enter is leave a comment below telling me what you want for Christmas! It can be specific (a new iPad!) or it can be vague (a cookbook!) or even conceptual (for happiness!). 
For an additional entries:
Go to the Swiss Diamond Facebook page and like them.
Go to my Eat the Love Facebook page and like my page.
Sign up for their email mailing list.
Make sure to come back here and let me know with a comment about EACH entry. That's a total of four ways you can enter – just as long as you leave four comments ok?
The fine print – PLEASE READ
By leaving a comment below to enter, you are agreeing to the Official Rules.
▪ NO PURCHASE NECESSARY
▪ VOID WHERE PROHIBITED
▪ You must be over the age of 18.
▪ This contest is only open to U.S. Citizens. Sorry non-US people!
▪ The contest starts as of today, and will run until Saturday, December 21, 2013, 9am PST.
▪ The retail value of the sauté pan is $214.95.
▪ The winner will be chosen by a randomly selected comment. All comments will be numbered and I will use Random.org to pick a random number.
▪ The number of eligible comments below determines the odds of winning.
▪ If there's a problem with contacting the winner, I reserve the right to award everything to someone else randomly chosen. So in other words, make sure you type in your correct email address if you want the membership and respond within a week to me when I contact you or I'll give everything to someone else.
▪ This sauté pan will be coming directly from Swiss Diamond, which means, I can't guarantee that I'll get it to you in a timely fashion. If you haven't gotten the book from the publisher in a few weeks, please email me again and I'll check with them. Sometimes things take a bit of time.
Special thanks to Swiss Diamond for making this giveaway possible. Special thanks to Casa Noble, Chin Music Press, Creativity Explored, Dandelion Chocolate, Microplane, Nudo, Rodelle, Swiss Diamond, and Wustof, for providing samples for me to try. Even though I was provided samples for this post, I wasn't monetarily compensated for this post and all opinions are my own.