These deep fried chicken skins served with smoked honey are easy to make and taste every bit as good as they sound and look! (Jump directly to the recipe.)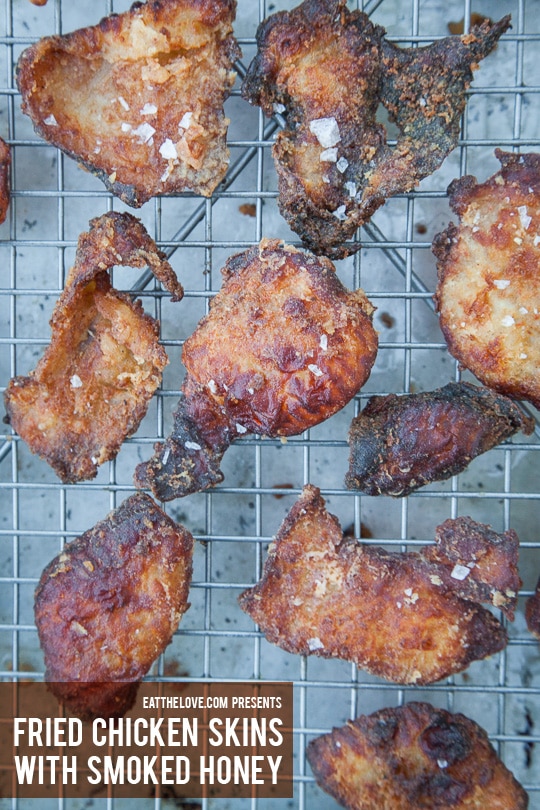 I didn't actually mean for it to be a decadent day of food. But somehow AJ and I ended up getting slow-fast food for all our meals. Slow because the meals were either made at home or bought out at places that used quality ingredients. But fast because…well they were fast food items like burgers, pizza and fried chicken. Well, fried chicken skins actually. Yeah after a trip to Las Vegas where I sampled deep fried chicken skins with smoked honey, I had to make some fried chicken skins for myself!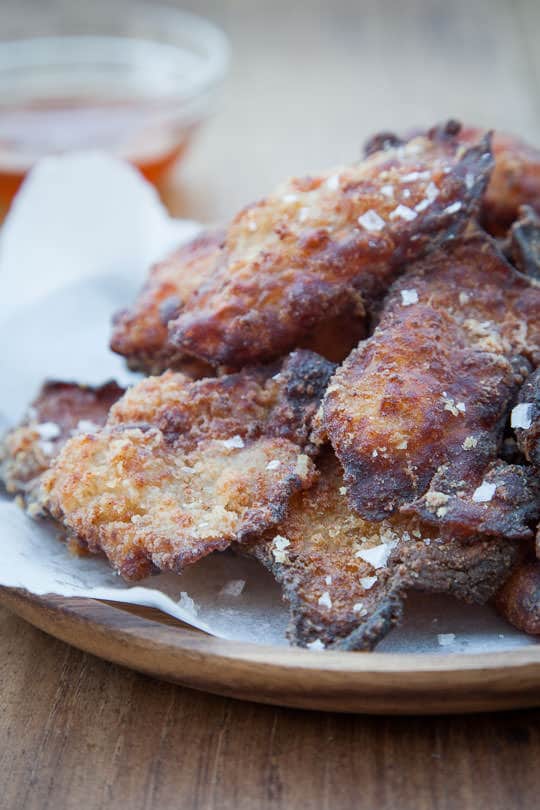 AJ had gone on a long bike ride earlier that day and whenever he goes cycling for an extended ride (anything for 75 miles) he gets a craving for a burger. We go to a local burger chain here in San Francisco, one that has a higher price point than your usual fast food establishment, but also uses grass fed beef that they grind in-house as well as use free-range eggs (which we always add, over easy please!) and house-made buns. It's very San Francisco and we're lucky we have that option.
Of course we had invited over one of AJ's cycling buddies who we haven't seen in awhile to watch Star Wars (the original one, Episode IV otherwise known as A New Hope) because apparently he hadn't seen it before. Something AJ felt needed to be rectified, complete with near running commentary (Han shot first!). I opted to make pizza for all of us, but I had also recently special ordered chicken skins from my local butcher and they had come in. I figured deep fried chicken skins served with my smoked honey as appetizers would round out our slow-fast food day, though maybe they would be too much? Nope. They were just perfect. As AJ probably would have responded if I had even questioned the logic in making them…"I find your lack of faith disturbing."
Fried Chicken Skins with Smoked Honey
By Irvin Lin
I discovered fried chicken skins with smoked honey down in Las Vegas when I ate a restaurant with my friend Sean. They were a little bit of genius, after all the chicken skin is the best part of fried chicken. Why not just make them by themselves? If you can special order chicken skins from local butcher, try to specify you want thigh or breast skins because they are the easiest to work with. Otherwise next time you make a dish with chicken, just buy the chicken with skin and remove it, freezing the skins in a ziplock bag until you have about a pound of them. Then thaw them in the fridge and fry them up for an incredible appetizer!
Inspired by an appetizer from Carson Kitchen in Las Vegas, adapted from a recipe from Heritage by Sean Brock
Ingredients
To prepare chicken skins
1 lb chicken skins (thigh and breast skin preferable)
2 cups buttermilk
1 teaspoon cayenne pepper
1 teaspoon kosher salt
2 teaspoon hot sauce (your favorite)
1/2 teaspoon fresh ground pepper
Fry Coating
2 cups all purpose flour
2/3 cup potato starch (not flour) or cornstarch
1 teaspoon fresh ground pepper
1 teaspoon kosher salt
1 teaspoon garlic powder
1 teaspoon onion powder
1 teaspoon paprika
1/2 teaspoon dried thyme leaves
1/4 teaspoon ground sage
1/4 teaspoon cayenne pepper
salt and pepper to taste
Oil for deep frying (my favorite is rice bran, avocado or peanut)
Serve with Smoked Honey
Directions
1. Clean the chicken skins by first cutting off any fat that may be attached to the skins. You can use a sharp knife to do this but kitchen scissors are easier, just snip off the fast. If your skins are really large, cut them in half, so they are about 2 inches wide.
2. Place the skins, buttermilk and seasonings in a medium size pot and turn the heat to high until the buttermilk starts to boil. Immediately reduce the heat to a simmer and cover. Cook for 30 minutes, stirring occasionally to distribute the skins. Once the skins are tender, individually remove them from the buttermilk and place on a wire rack on top of a rimmed baking sheet to drain and cool.
3. Combine all ingredients for the fry coating into a large bowl and stir with a fork or whisk until uniform in color. Pour enough oil into a sauté pan, Dutch oven or wok to fill it up 2 inches deep. Heat the oil until it reaches 350˚F.
4. Once the oil is at the right temperature, dip the cooled chicken skins into the fry coating, making sure to coat both sides and fry the skins in batches, about 4 to 6 pieces depending on how large your pot is. Don't overcrowd the pan. Fry the skins for about 2-3 minutes on each side, then move to a clean wire rack on a rimmed baking sheet and continue to fry the remaining skins until they are all cooked. Salt and pepper to taste. Plate and serve immediately with smoked honey to dip into.
Makes enough for 6 to 8 appetizer servings.
If you like this fried chicken skin recipe, check out some of my other fried chicken recipes:
Taiwanese Popcorn Chicken
Korean Fried Chicken (which is actually baked not fried!)
Honey Fried Chicken Wings
Pok Pok Wings Recipe
And check out some of these other fried chicken recipes from around the web:
Just Hungry's Karaage Chicken (Japanese Fried Chicken)
Appetite for China's Chicken Lollipops
Jun Blog's version of Ad Hoc Fried Chicken
Shutterbean's Honey Mustard Fried Chicken Sliders
Food Republic's Mexican Fried Chicken