So here's the situation: you're a food blogger (and if you're not, just bounce away and come back next week; I'll have another post for y'all). You're going to a food blogging conference. It's your first one. Or maybe it's your fifth one. Regardless, you're excited, nervous and maybe just a little be confused as to why you are spending large sums of money to fly somewhere to meet people you really don't know in person (yeah yeah, you're TOTALLY BFF with them on Twitter, doesn't count).
Sure, there are some awesome blogs posts out there about what to do and how to act at the blog conferences. Bring business cards. Wear comfortable shoes. Take notes. Blah blah blah. But here's the skinny on what I wish people would have told me about food blogging conferences before I went and what I want you all to know to prepare for the conferences:
1. There will be squealing involved. No matter how low key and how mellow you think you are, there will be at least ONE person who you have never met that presumes to know you and that will exclaim out loud "OH MAH GAWD! I'M SO GLAD TO FINALLY MEET YOU!!!!" and you will be expected to be just as excited. Even if you aren't excited, jump up and down a little bit. It makes for a good show. (<— I totally do this, as you can see below.)
2. There is a high probability that you have no idea who the heck that squealing person is that just ran up to you. Just roll with it and pretend you do. Next time you go to the bathroom, totally take out your phone and immediately find them on Twitter and follow them. They'll never know. Plus you just made a new friend — well, new to you anyway. Either/or it's a win-win situation. (<— If I meet you and then excuse myself to go the bathroom, I swear it's 'cuz I have a small bladder.)
3. You will, at some point, see someone that YOU want talk to. They will be surrounded by other bloggers that are all gorgeous and they will be laughing a lot together and occasionally flipping their long beautiful shampoo-ad worthy hair. Obviously those surrounding people's purpose in life is to make the entire situation seem as intimidating as possible as they are all former models turned successful food bloggers. My advice, just go up and say hello anyway. Nine times out of ten they'll love meeting you. Soon you'll be part of that laughing group and your hair will somehow develop a gorgeous luster just by association. Trust me on this one. (<— Just FYI, my hair is naturally lackluster but I put a lot of product in it so expect some sheen.)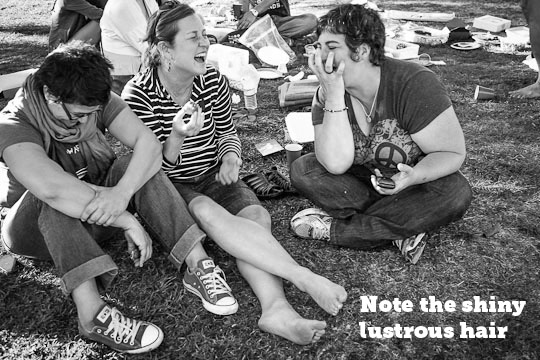 4. You will probably forget the same people you met on the first day, the very next day because they will be wearing different clothes (totally inconsiderate of them). You might even introduce yourself to them again and they'll look at you with hurt eyes and say "We met yesterday." Just pretend you were drunk when you met the day before. Even if you met them at 8am (It's all those damn Bloody Mary's I had for breakfast! Honest!). (<— I've never done this. Promise.)
5. It will seem like everyone will be invited to some private event by some big company and you weren't. It's ok though, because those private events are kind of boring. Really I've been a few of them. Sure they're full of free food and booze but the swag bag is often times really lame. That said, you have two options. You could 1. Ignore all the cool kids going to the event and just hang out in the lobby and meet random bloggers, which in the end is like throwing your own impromptu party because those random bloggers are pretty cool too or 2. Just crash the private event, which no one will really notice you crashing because they are usually pretty open anyway and enjoy the free booze. It's a win-win situation really. (<— If you throw those private events, I'm totally not talking about your event. THAT event was loads of fun and your swag bag was totally the best ever! Thanks for the free can of soup that I couldn't bring on to the plane)
6. If you're a guy, I will probably remember who you are. If you're African American I will probably remember who you are. If you are a white woman and you're not the Pioneer Woman, good luck; all you people look the same to me. (<— I jest. Some of my best friends are white women.)
7. Inevitably there will be three sessions that you will want to attend all happening at the same time. Find a few friends that are going to one of those sessions and make a deal with them to constantly take notes and tweet out the interesting bits during the session while you do the same at a difference session. Expect your followers to either love you for your tweets or quietly unfollow you because you were annoying them with your damn #constant #hashtag #conference #tweets. Don't worry, just find those followers that unfollowed you at the conference and scream "OH MAH GAWD! I'M SO GLAD TO FINALLY MEET YOU!!!!" and jump up and down a lot while you hug them. They'll be guilted into re-following you. (<— I swear I've had people follow and unfollow and refollow me – all because of guilt. Don't underestimate the power of it.)
8. Inevitably there will be a time slot in the conference that will have NO session you care to attend. Go to the lobby and get a drink. Meet people. Socialize. Then when you forget who that person is the next day, you can legitimately say you forgot them because you were drinking. (<— Again this has never happened to me.)
9. Realize that some of the "famous" bloggers are there to have fun as well. And that means they want to see their friends who they haven't seen in ages. This probably comes across as cliquey, but understand this is a chance for them to hang out with friends who they haven't seen in ages and if you only get to see your friend once a year wouldn't YOU want to hang out with them? If you DO get a chance to meet the famous folks, that's great but if it doesn't, then go meet someone else. There's plenty of other bloggers out there that you can meet. (<— Come up and talk to me! I'm crazy awesome fun and jump around a lot. Also my hair is short so I can't flip it around and intimidate you. Plus if you're a male African American food blogger, I promise I will totally remember who you are.)
10. If you whip out your big dSLR camera expect people to totally start asking you questions about it. Is it Nikon or Canon? (<— Because apparently these are only two brands that are acceptable to own.) What lens do you have? Do you shoot natural light? (<— The only acceptable answer seems to be yes, even though professionals totally use artificial light.) Do you shoot manual? What does this button do? Can you explain to me the different between aperture and shutter speed? And OH MAH GAWD! if you happen to have some nifty gadget for your camera (a Gorillapod, a Gary Fong, or even something you made at home), as you'll NEVER get away from the crowds. Expect tons of questions and several people to actually whip out their phones and order those gadgets from Amazon right then and there.(<— Totally true story; happened to me at BlogHer Food 2011)
11. You might feel overwhelmed at times during the conference but that's normal. TOTALLY normal. Feel free to step away from the crowd and realize that even if you want to do EVERYTHING possible (that's your FOMO kicking in) you don't have to. You can't be everywhere at once, and sometimes the best times are just finding an old friend (or making a new one) and just have a one-on-one conversation with them. Don't be afraid to go up to a complete stranger and say hello and ask what their blog is. But make sure that stranger is actually going to the conference and not just staying at the hotel randomly that weekend. Because then they might think you're a weird creepy stalker guy (<— This never happened to me.)
12. Have fun. But also work. I mean if you REALLY wanted to go and have fun, shouldn't you have spent that same money and flown to Hawaii? By all means, enjoy yourself, but keep in mind the conference isn't just for fun. Network by meeting brands, fellow bloggers, agents and publishers. Learn stuff from the sessions and take tons of photos and ask a million questions. Remember that you are there for a reason. And that reason is…wait. Why did I spend so much money to go to this conference? I can't remember….Damn I think I was drinking when I bought those tickets. (<— This is a total lie. I don't rarely drink.)
I'm speaking at BlogHer Food 2013 in Austin, Texas this coming weekend! I'll be talking in two session. The first one is called Beyond Twitter and Facebook: Instagram, Pinterest, Google+, Tumblr and Foodspotting and will have Ben Rhau of You Fed a Baby Chili, Marla Meridith of Family Fresh Cooking, and Kathy Strahs of Panini Happy and Cooking on the Side on the panel. The second workshop will be Salvage that Bad Image with Sabrina Modelle of The Tomato Tart.
I'll also be talking at the Food and Wine Conference over in Orlando, Florida in July. I'm on a panel called The World Through Your Lens along with Carla Cardello of Chocolate Moosey, Cheri Parrag of The Watering Mouth and Renee Dobbs of Magnolia Days.
I hope to see you at one of the conferences! I'll be the gay Asian male food blogger. And yes, I've been told I look just like my photo. Expect spiky hair.